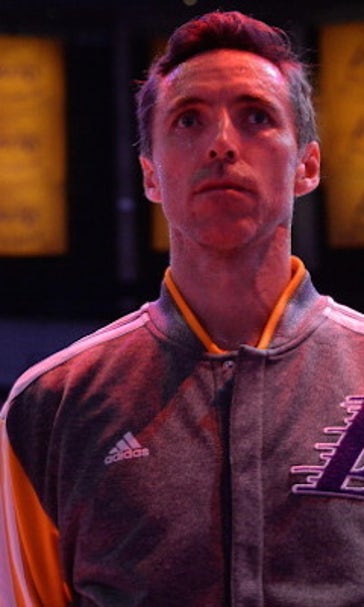 Goodbye, revolutionary: Steve Nash retires
BY foxsports • March 23, 2015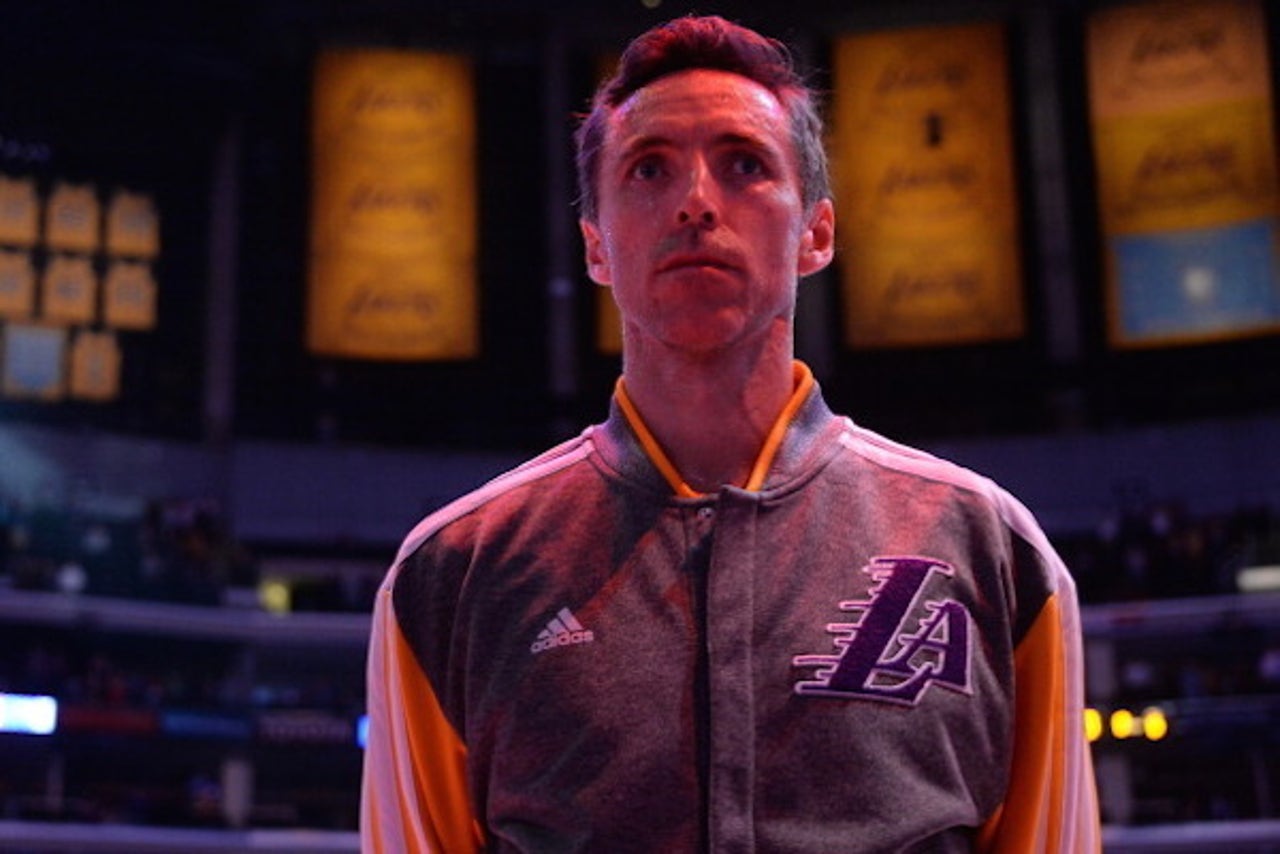 By Kevin Ferrigan
Steve Nash hasn't really played professional basketball in quite a while. His nerve-damaged back and myriad lower body injuries had long since made it clear that the former Phoenix Suns great would likely never lace up his hoopin' sneakers again. Getting the official announcement over the weekend, though, still stung.
A common refrain emerged in the immediate aftermath of Nash's announcement, but it bears repeating: Nash and the Seven Seconds or Less Suns absolutely revolutionized the game. The Suns played four-out, spread pick-and-roll basketball to space out the defense and get those dunks and threes well before anyone else—even Daryl Morey—had really figured out how to target those areas of the floor. The maestro conducting it all was Steve Nash.
Nash was basically impossible to guard, despite being just 6'1" and not an explosive athlete by NBA standards. Nash's off-the-dribble jump shot was so great that opponents had to try to stick to him like glue. The trouble was: if you stuck with Nash like that, he could use a screen or cross you over and get the small edge he needed to get into the paint for a floater or a flashy pass to a teammate for a SportsCenter-leading dunk.
Nash wasn't just a product of the Mike D'Antoni spread system, though. Prior to his time in Phoenix, Nash was the starting point guard for Don Nelson's Dallas Mavericks. With Nash running the show for Dallas from 2001–04, the Mavs' offensive efficiency ranks were fourth, first, first, and first. Not only were those Mavs ranked tops in the league in offense, they were far and away the best offenses in the league.
From 2002–04, the Mavericks didn't just have the league's most efficient offense each year: they were 2.8, 1.9, and 1.8 points per 100 possessions better than the next-best teams in each respective season. The 2003 Mavericks were arguably the best overall team in the league. They led the league in margin of victory, easily, and had the ninth-best defense in the league to pair with their amazing offense. They lost in the Western Conference Finals to the eventual champion Spurs, thanks in large part to Tim Duncan averaging an absolutely absurd 28 points, 16.7 rebounds, 5.8 assists, 3.0 blocks over six games. In 2004, after the Mavericks lost a closer-than-you'd-think 4–1 first round series to the Sacramento Kings, Nash signed in free agency with the Phoenix Suns, the team that originally drafted him.
The offensive brilliance that Nash had played with in Dallas was finally fully unleashed and recognized nationally in Phoenix, where Nash won the MVP in back-to-back seasons. Recently, there's been a tendency to suggest that those awards were unwarranted, with some form of advanced statistics usually cited to undermine Nash's achievement. If you look at the right numbers, however, Nash's dominance shines through. For instance, it should be noted that the Suns were 21st in the league in offensive efficiency prior to Nash's arrival. In Nash's first year back with the team, Phoenix immediately leapt to No. 1 with a bullet (2.3 points per 100 better than the second-best team).
There's actually a pretty strong argument that Nash was the single biggest offensive force in the entire league from 2001 on. Jerry Engelmann, one of the creators of ESPN's Real Plus-Minus, has released a 14-year version of Regularized Adjusted Plus-Minus dating back to 2001. A data set this large is very stable and eliminates most of the noise typically associated with adjusted plus-minus models. In this data set, no one was more impactful on offense than Nash over the last 14 years. Chris Paul—a similarly impossible-to-cover point guard—is the only player to match Nash's offensive impact. Also: Nash's reputation for being an extremely poor defender appears overblown when looking at these numbers. He wasn't a positive defensive force by any means, but he was not the sieve his reputation suggested.
Nash's Suns were remarkable in their consistency. They were always in the top two in offensive efficiency from 2005–10. Nash himself, despite constant back pain, seemed never to drop off. In 2010, at the age of 35, Nash lead the Suns to the league's best offense by 3.4 points per 100 possessions over their next-closest competitor. Nash put up an absurd 50.7 percent from the field, 42.6 percent from three, and 93.8 percent from the foul line on 16.5 points per game. In his age 36 and 37 seasons, Nash still managed to toss up Player Efficiency Ratings over 20.
Many fans hold Nash's lack of a championship ring against him, but he never played with a dominant defensive big man. The road to an NBA title built around one of the smallest guys on the court typically requires an elite defense and Nash's teams just never had them. They weren't bad on defense, as their detractors would suggest, but they were never elite on that end and simply fell in the playoffs to more balanced teams. Still, despite his team's limitations, Nash made it to four Conference Finals (one with Dallas and three with Phoenix) in a beastly Western Conference that continues to grind up teams to this day.
More than his remarkably consistent, sustained greatness, I will remember Steve Nash and the late 2000s Suns as the team that re-ignited my imagination and allowed me to re-discover my love for basketball. I had come up a fan of Michael Jordan and the Chicago Bulls, whose many imitators had lead to a league full of would-be isolation heroes and clutching defenses designed to slow them. It was stagnant, ugly, and it was sapping my passion for the game. Steve Nash and his Suns changed that. While I'm sad that I'll never get to see Steve Nash play professional basketball again, I'm heartened that the league is now full of his stylistic descendants (see: Stephen Curry). It's fitting that a man who loves soccer as much as Nash does was the one to make basketball into the new "beautiful game."
Unless otherwise noted, all stats via basketball-reference.com.
More from The Sports Post:
---
---