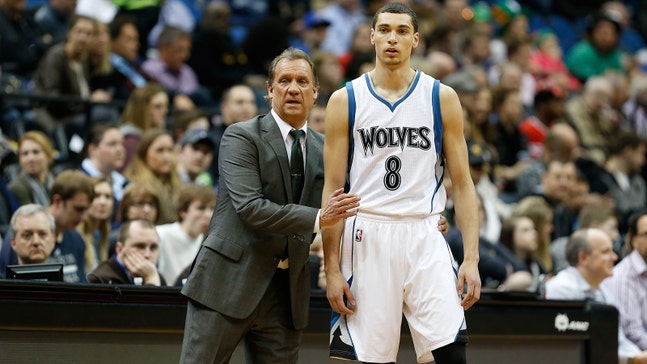 Emotional Wolves share their touching, magic moments with late Flip Saunders
Published
Oct. 28, 2015 5:06 p.m. ET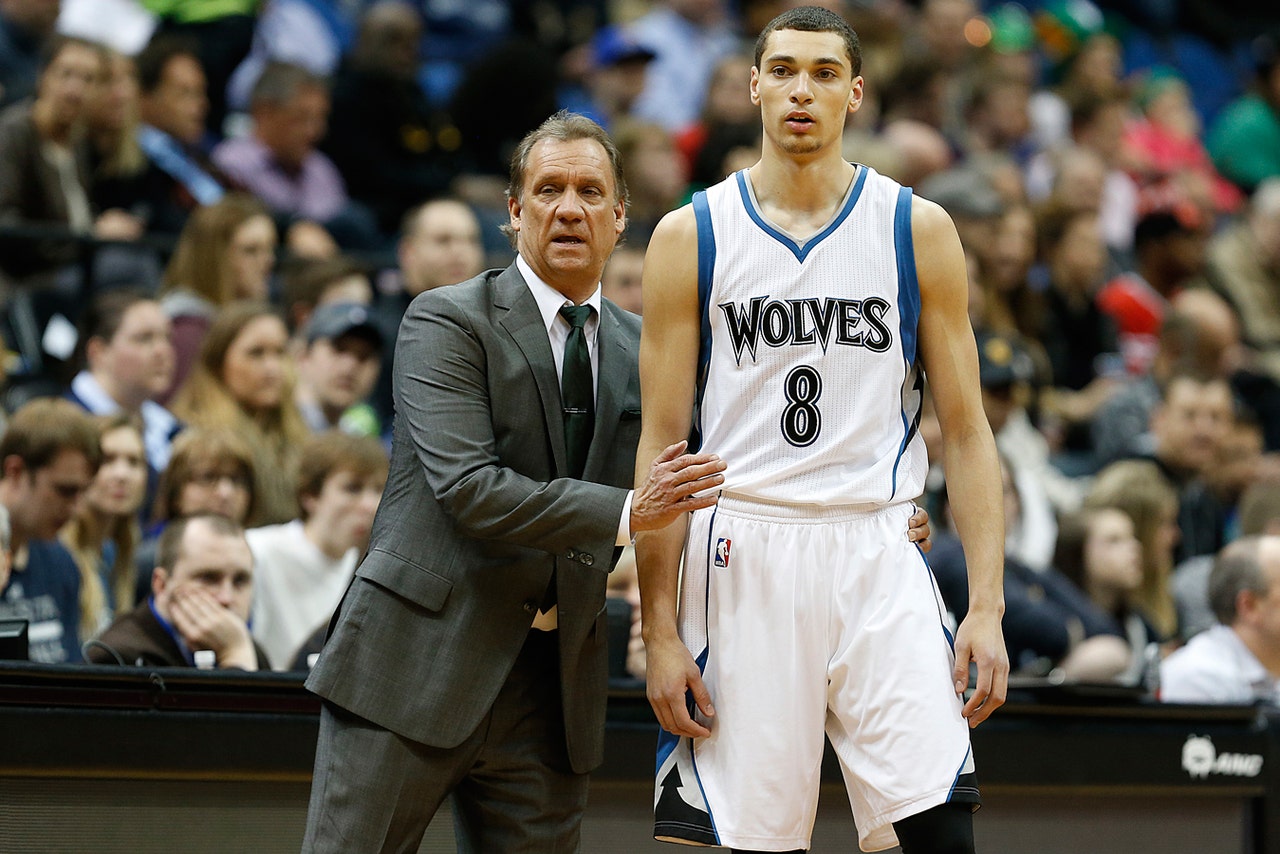 LOS ANGELES — On Tuesday night, with his season a day away and with the tragic passing of Minnesota Timberwolves head coach and president Flip Saunders weighing heavily on his mind, second-year Timberwolves guard Zach LaVine dealt with his pain and anxiety the only way he knew how: by heading over to UCLA's auxiliary gym and getting some shots up by himself.
"I came here late last night just to take my mind off things," LaVine said at Wednesday's shootaround at the UCLA Student Activities Center. "That's my safe spot, so I came here last night and shot."
LaVine, who played at UCLA during the 2013-14 season, said he shot around for just 40 minutes — "not long" by his standards — but the workout was effective in clearing his mind and preparing him for Wednesday's season opener against the Los Angeles Lakers.
"You put it in the back of your head," LaVine said. "When you're playing basketball, you're playing free. It's second nature because you've been doing it for so long. … With everything that's been going on, that's definitely something we're focusing on: going out there and playing hard. It's nothing you can control. We're going to go out there and try our best."
After the Wolves rallied in the fourth quarter for a 112-111 win, their minds were back on Saunders.
"I think we had a little help today," point guard Ricky Rubio said. "It's been a tough week. It's hard to explain. Everybody went through a lot of pain. But even though Flip's gone, he will stay with us forever."
Because of the sudden timing of Saunders' passing while battling cancer — just three days before the Wolves' season was set to tip off — the Timberwolves players have not had a chance to properly cope with the devastating loss and share their feelings with one another. There are games to be played, sets to be learned and opponents to study, none of which makes the situation any easier.
As a result, LaVine said everyone is dealing with the pain in their own way, for better or worse.
"We're really dealing with it on our own," LaVine said. "That's the main thing. Each person is different. I feel like we're just letting it settle in. It has to happen so soon. I feel like we never had time to really talk about anything. You deal with it on your own."
When asked about his favorite memory of Saunders, LaVine's face lit up. He said he has a handful of them, but that one memory, during his second day in Minneapolis, stood out above the rest.
"One of my favorite (memories) is right when I got drafted, we went to this little place called Murray's Steakhouse with me and my family," LaVine said. "He pulled this little piece of paper out of his pocket — it was right when I got drafted — and it said my name on it. 
"He said, 'We were going with you all the way. You had a great workout for us. I respect your work ethic and your confidence. I feel like you're going to be a home run in this draft. I see superstar potential in you. We're going to make you a great player.' "
While LaVine certainly doesn't lack confidence, hearing such high praise from one of the most powerful men in the NBA gave him a comforting reassurance as a 19-year-old trying to find his way in a grown man's sport. Saunders' belief in him helped LaVine exceed expectations and make the All-Rookie second team last season.
"It was really, really cool to see somebody have that confidence in me," LaVine said, as a wave of emotion took over his face. "I had confidence in myself, but seeing somebody else who had the confidence ... From there we sat down and ate dinner and he did a couple magic tricks. It was just an awesome day."
LaVine said one of Saunders' magic tricks was pulling a Wolves-branded coin from behind LaVine's ear, which he told LaVine to keep. LaVine still has the coin in a drawer at his house and says it's his memento to remember Saunders by.
"He said, 'If I walk up to you any time and you have that coin on you, I'll give you some money or something,'" LaVine said.
Tayshaun Prince, now a member of the Wolves and who played under Saunders for three seasons (2005-08) with the Detroit Pistons, said Saunders was more than a coach, he was a mentor and friend.
"A lot of times, Coach would say, 'If there's anything you need, let me know. If there are things going on off the court, on the court, whatever the case may be, come into my office and we can talk.' Those words truly are a testament to what he's about," Prince said. "Anything you had to talk about — on the court, off the court — you felt like he was more than just a coach."
The common refrain from LaVine, Prince and Rubio is that the Timberwolves are using basketball as a bonding mechanism to help one another rally from the tragic loss and all the pain associated with it. 
The hope is that the Wolves can use their emotions in a constructive manner, playing that much harder to overachieve — Minnesota is projected by most pundits to be among the bottom three teams in the West — and honor their late coach.
"I'm going to miss him a lot," LaVine said. "That was my first coach and the dude that believed in me. It's tragic, man. But we're definitely going to keep that memory alive."
Follow Jovan Buha on Twitter at @jovanbuha.
---
---