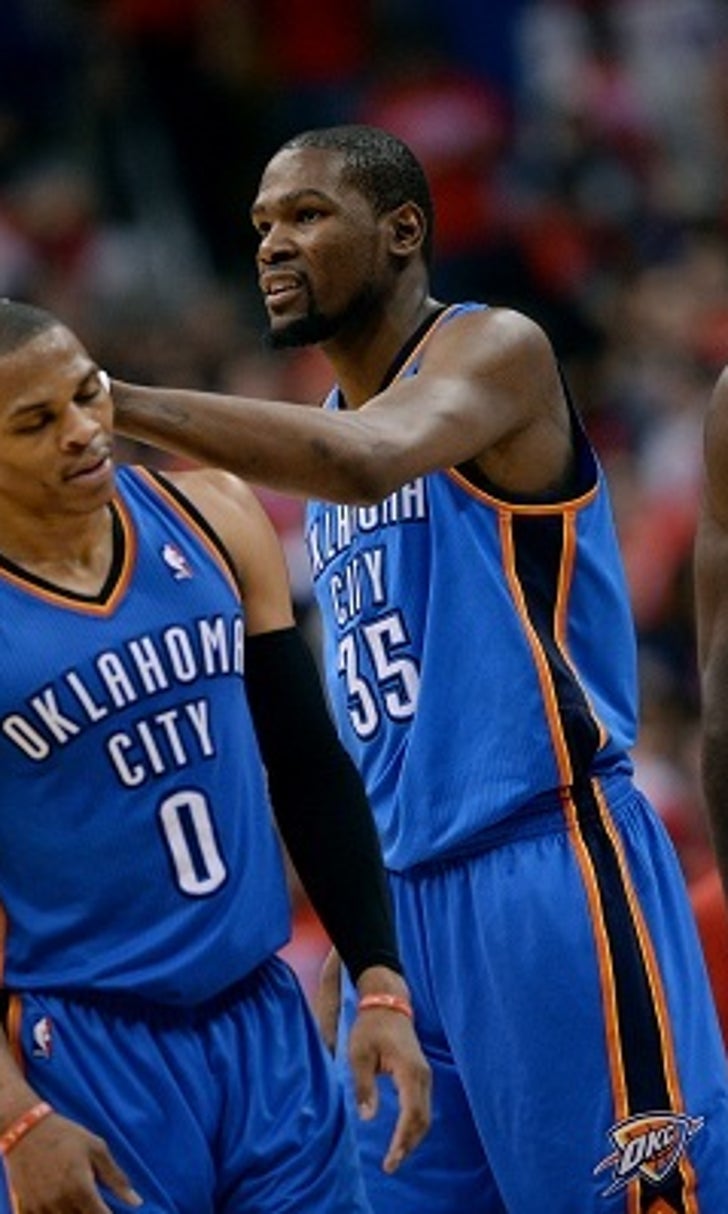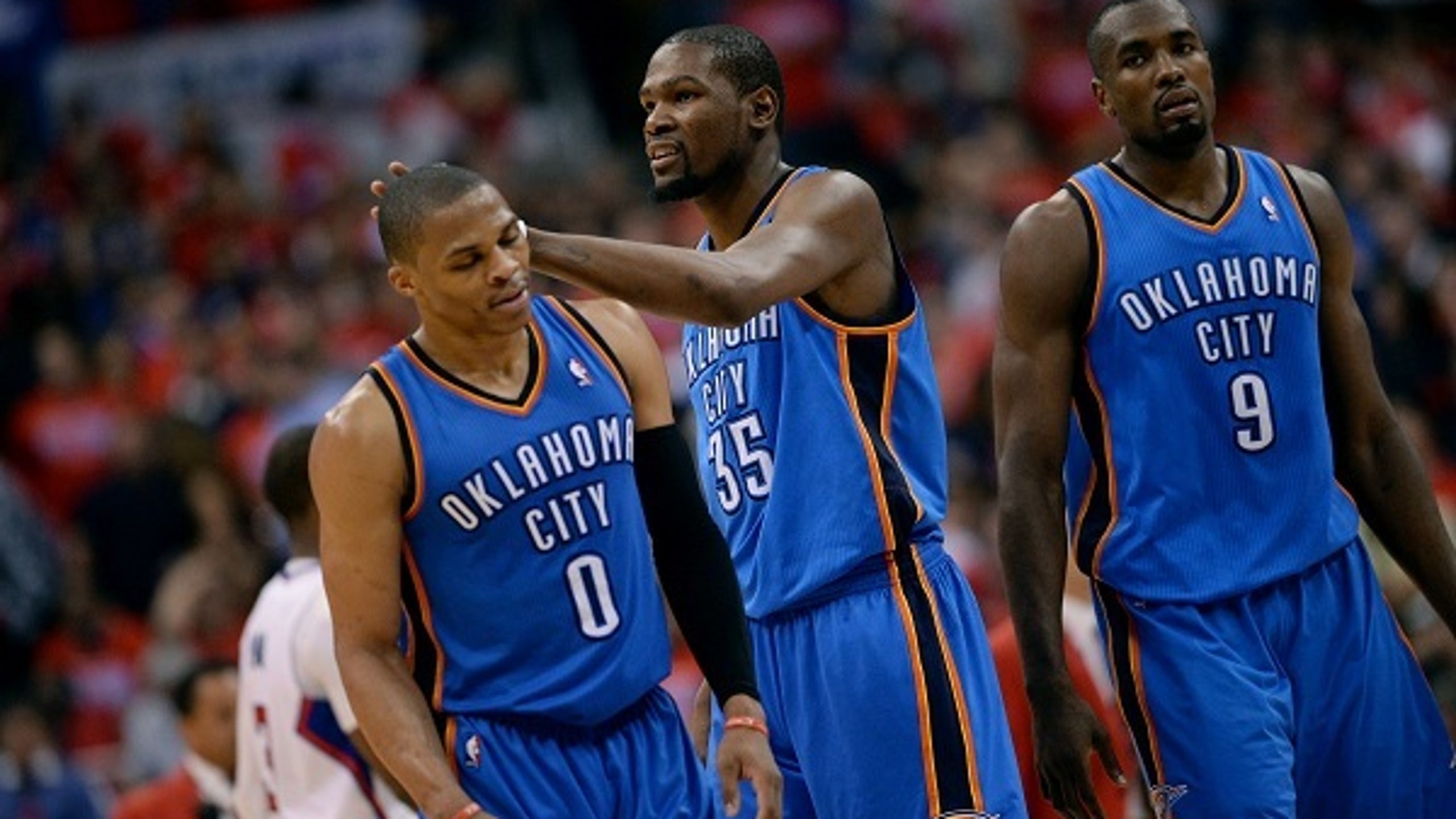 Early look at top contenders for the 2016 NBA Championship
BY foxsports • June 19, 2015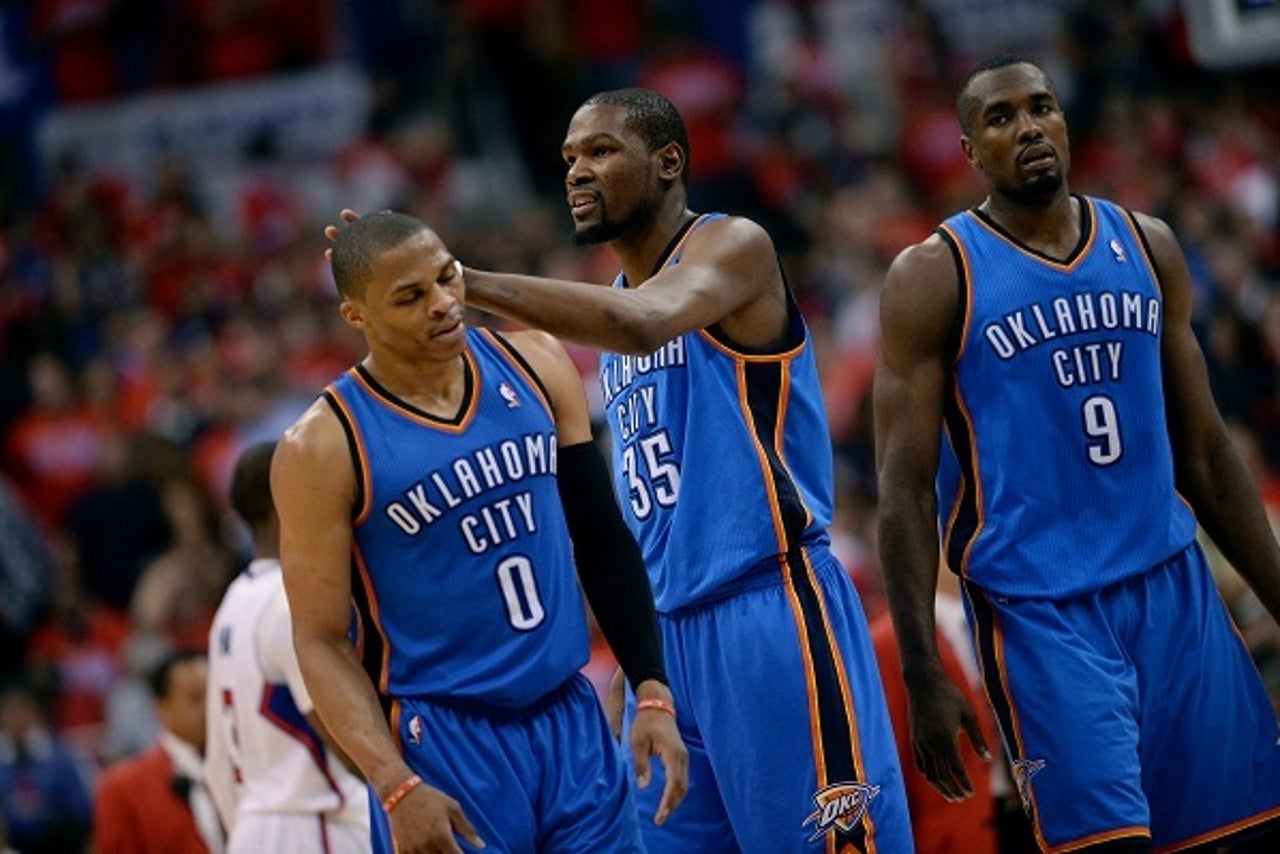 By Vincent Frank
With the NBA draft less than a week away and free agency coming in short order, there really isn't much of a rest for teams around the league. And while some things will undoubtedly change over the coming months, we have a pretty good idea who will be competing to dethrone the Golden State Warriors as champs.
In addition to the Warriors, here are four other teams that currently sit in the best position in the Association. There are going to be a couple surprising squads enter the conversation in the coming months, but these are the five teams currently in the best shape to contend for the title next year.
1. Golden State Warriors
"Strength in numbers" wasn't just a theme for the Warriors during their championship run. It's something that was front and center when head coach Steve Kerr benched Andrew Bogut in lieu of Andre Iguodala for Game 4 of the Finals. Three consecutive wins later, and the Warriors were champs with Iggy winning the MVP of the Finals. Going 9-10 deep is something this squad took pride in. 
Now coming off a 2014-15 campaign that saw the team win a total of 83 games, postseason included, Golden State is primed for another championship run.
Unsung hero Draymond Green is a restricted free agent, but both himand the team have made it clear that he's going to return next season. Outside of that, there isn't going to be much turnover here. MVP Stephen Curry and fellow All-Star Klay Thompson will be the faces of the franchise for the foreseeable future. In addition to Green, who is still just 25-years-old, there is a ton of young talent here. Harrison Barnes upped his game big time this year, and is just 23. Meanwhile, young center Festus Ezeli, 25, showed a ton of promise during the championship run. We can even go deep into the bench to look at the likes of James Michael McAdoo, Ognjen Kuzmic and Justin Holiday to find other youngsters with bright futures.
Outside of Green, the only other real decision this team needs to make here is who to trade David Lee to and whether to seek cap relief in said trade. Iguodala will join Leandro Barbosa and Shaun Livingston as top bench options. Green and Barnes will likely continue to improve. Meanwhile, the core of the team will lead this squad into contention for the foreseeable future. The only real thing holding Golden State back from being odds-on-favorites to win the title is just how difficult the rest of the Western Conference is right now—something you will see below.
Kevin Durant, Russell Westbrook and Serge Ibaka missed a combined 88 games in 2014-15. Despite this, former head coach Scott Brooks was still able to lead the squad to 45 wins. Now with Billy Donovan finally making the jump to the NBA to man the sideline in Oklahoma City, the expectation has to be to hoist the Larry O'Brien Trophy next summer.
There are, however, some roster issues that general manager Sam Presti and company need to work out this summer. How will Dion Waiters fit in with both Durant and Westbrook seemingly healthy? Can he handle being the third or fourth option on a good team? We saw how that worked out in Cleveland.
Can the Thunder find a way to re-sign restricted free agent Enes Kanter? After acquiring him from the Utah Jazz during the season, the 23-year-old former lottery pick played extremely well and fit in nicely. He would give Oklahoma City another inside presence to go up against the top teams in the conference. Considering the big man is a restricted free agent, the Thunder should be able to find a way to lock him up. However, big men on the open market attract attention. The Thunder can't overpay for Kanter knowing who they have to lock up in the not-so-distant future.
Then you have the draft. Oklahoma City finds itself in the rare position of picking in the first half of the initial round. With this comes the opportunity to get a high-quality player to contribute immediately.
For the Thunder, it's obviously all going to depend on health here. If Durant and Westbrook remain on the court throughout the year, Oklahoma City could very well challenge Golden State for home-court advantage in the playoffs—something that is huge in the Western Conference.
As long as LeBron James is suiting up for an Eastern Conference squad, his team will be favored to appear in the Finals. Considering he led an injury-plagued Cavaliers squad to two wins from the ultimate goal of bringing a title back to Cleveland this summer, there is no reason to believe James won't be back on the biggest stage the game has to offer next June.
Cleveland's success could very well depend on Kevin Love's decision and how James and company react to it. If Love were to opt out, the Cavaliers would then look to retain Tristan Thompson on a long-term deal. If he opts in, the focus then becomes to add more talent to the bench and potentially pass up on re-signing Thompson, who is said to be demanding near-max money. Either way, Cleveland will need to add talent to a bench in order to have success in the postseason. That much really can't be denied.
Now that it's clear James will be acting the part of a player/general manager in the coming months, the onus is really on him to surround himself with the depth to succeed when it comes playoff time. Talk about pressure.
Another thing to look at here is Kyrie Irving's health. The former No. 1 overall pick has not played a full season in four years, and is coming off an injury-plagued postseason. He must find a way to overcome his recent bout with injuries if the Cavaliers are going to have a chance to repeat as conference champs.
If Tim Duncan decides to return for another season, San Antonio will be among the best in the Western Conference. This coupled with the likely return of Kawhi Leonard, who is slated to become a restricted free agent, should put the Spurs in position to contend for a title.
There are some major decisions general manager R.C. Buford will have to make in the coming weeks. Does San Antonio re-sign Manu Ginobili? If so, at what cost? What about impending free agents Danny Green and Marco Belinelli? These are decisions that will not only shape San Antonio's roster in 2015-16, but into the future as well. As it relates to Green, he's coming off a career season that saw him average 11.7 points and 4.2 rebounds while starting 80 games. This is what makes San Antonio so scary. Just as Ginobili slows down, it has yet another wing player to step up.
As the Spurs have done for the better part of the past two decades, they will make the right decisions here. If Ginobili and Belinelli depart in free agency, there will be other players prepared to step up. Meanwhile, Leonard will continue his ascension as one of the top two-way players in the NBA.
The larger issue for San Antonio is down the road. What will it do once Duncan decides to hang it up? Can Leonard be the true face of the franchise? Heck, will the team make a play for free agent big man LaMarcus Aldridge? After all, he has been linked to them over the past couple months. It might actually be time for Buford and company to go out there and break from their MO. That is to say, sign a top-tier free agent to take the mantle from Duncan and team up with Leonard.
As it is, San Antonio will remain in good shape in the Western Conference as long as it continues to run a tight ship from the top down. In reality, this franchise is the one constant in the ever-changing landscape of the NBA.
As has been the case over the past several seasons, Chicago's ability to contend for a title will depend greatly on the health of one Derrick Rose. If he goes through a clean season from an injury perspective, the Bulls will contend with Cleveland for the right to play in the NBA Finals in 2015-16.
With Jimmy Butler prepared to hit restricted free agency and rumors swirling about Joakim Noah's future with the team, Chicago's roster may have somewhat of a new look to it. While we can assume Butler will return, I wouldn't put it past the team's front office to make a bold move either in free agency or via a trade. Despite a relatively team-friendly contract, Noah's importance to the team has taken somewhat of a hit in recent seasons. He's still averaging a double-double, but he saw his minutes drop to 30 per game during the 2014-15 season. If the Bulls can find someone to take on that contract while getting a couple lesser pieces in return, it might be the best route to go here.
Chicago's championship blueprint is in place. It has a solid inside-out game with Rose, Butler and Pau Gasol. It also has an intriguing youngster in Nikola Mirotić potentially prepared to take over for Noah inside should the Bulls move on from the former All-Star. It's now all about Rose's health, how Fred Hoiberg will perform in his first season as a NBA coach and the Noah situation. Either way, Chicago should be right there with Cleveland in the Eastern Conference.
More from Sportsnaut:
---
---