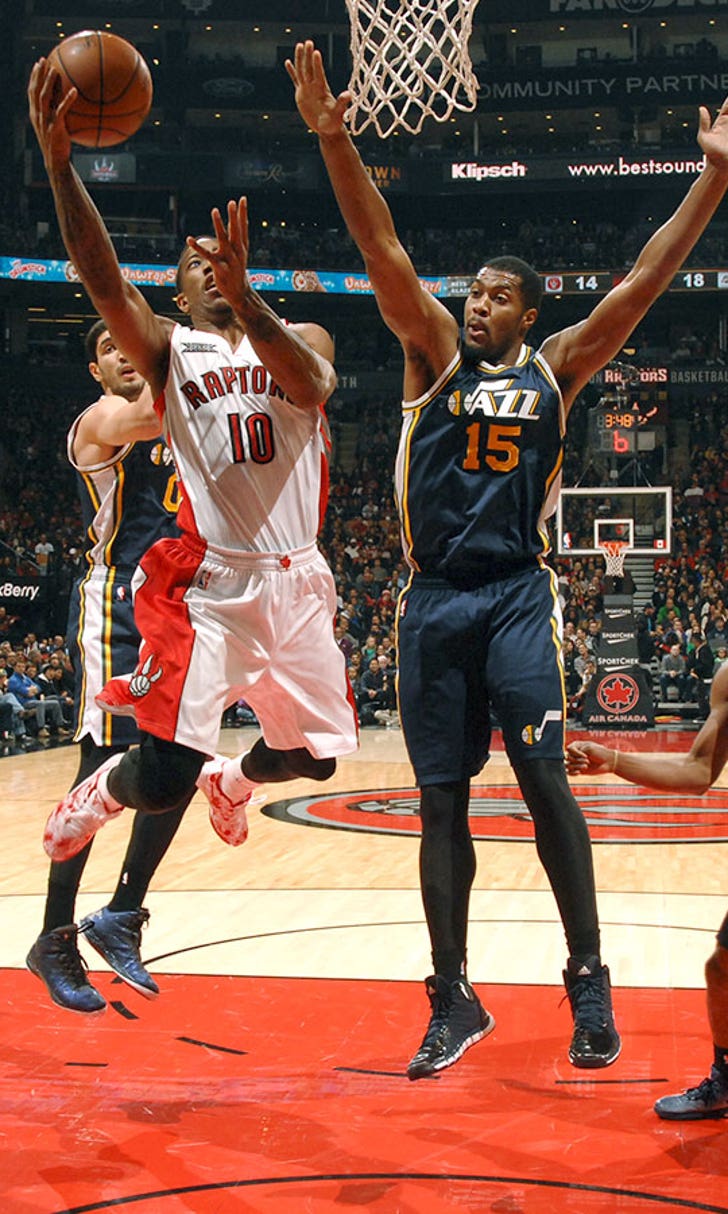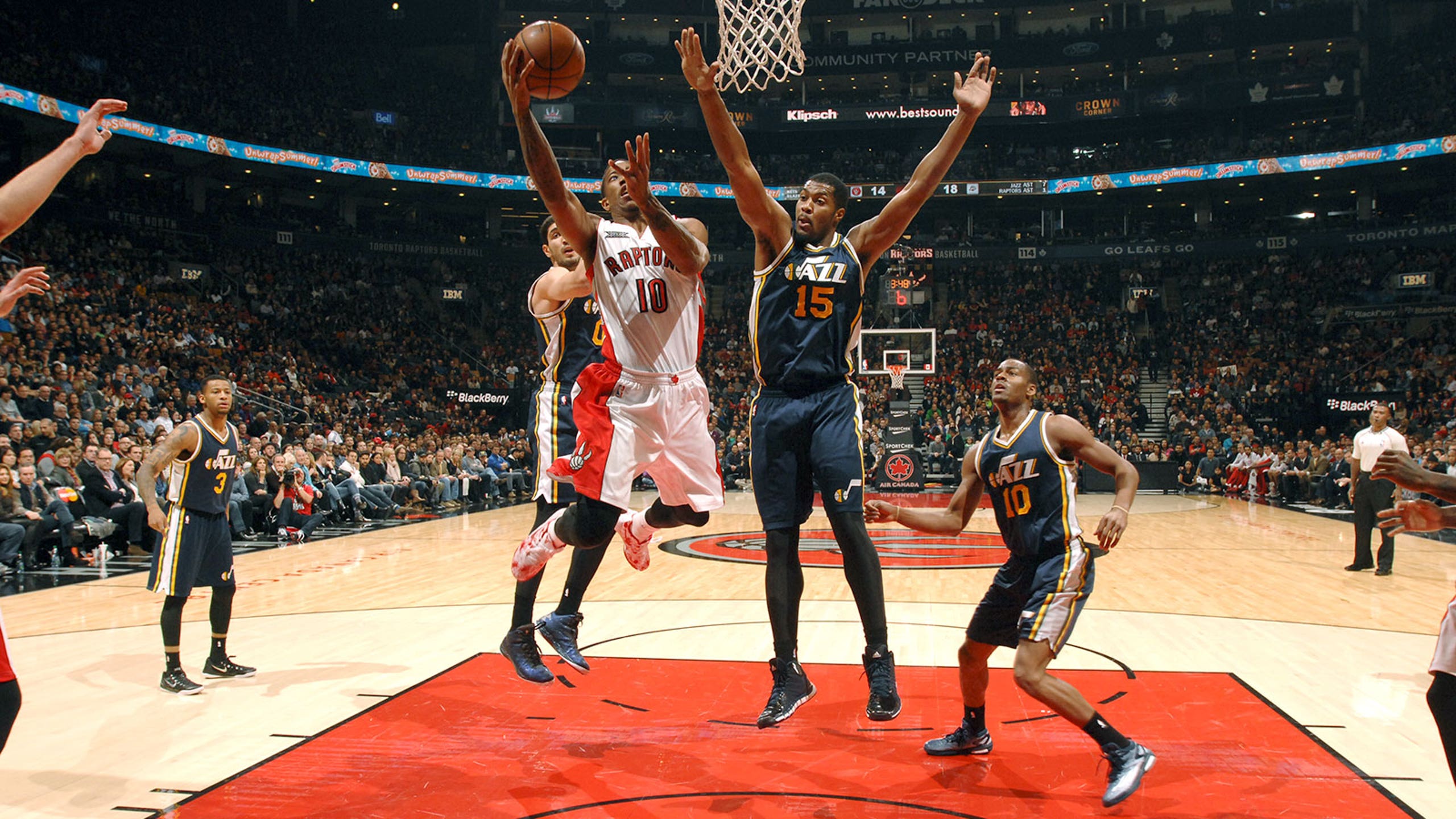 DeRozan nets 27 as Raptors stay hot with by beating Jazz
BY foxsports • November 15, 2014
After the Raptors lost to the Chicago Bulls on Thursday, Toronto center Jonas Valanciunas called it "a cold shower."
One game later, Toronto turned the temperature back up.
DeMar DeRozan scored 27 points, Valanciunas set season highs with 17 points and 14 rebounds, and the Raptors beat the Utah Jazz 111-93 on Saturday night for their sixth win in seven games.
Raptors coach Dwane Casey called Thursday's marquee matchup with the Bulls "a very stressful game."
"It took a little juice out of us," Casey said.
The coach found no fault, however, with his team's response against the Jazz, saying Valanciunas did "an excellent job."
"He set the tone for us rebounding, and I thought that was just as important as the points he scored," Casey said.
DeRozan made 10 of 16 field goal attempts, bouncing back after poor shooting performances in his previous two games. DeRozan shot 4 for 15 in Tuesday's win over Orlando, then went 3 for 17 in against the Bulls.
"I just missed last game, honestly," DeRozan said.
Kyle Lowry had 19 points, Patrick Patterson added 16 and Lou Williams scored 10 of his 13 in the fourth quarter. The Raptors won their third straight over the Jazz and scored 100 or more for the ninth time in 10 games this season.
"They're difficult to defend when they get it going," Jazz coach Quin Snyder said.
Toronto's James Johnson sprained his right ankle after he stepped on the foot of a cameraman along the baseline while chasing a loose ball in the fourth. Johnson stayed in the game briefly but had to leave and was unable to return.
General manager Masai Ujiri was visibly angry about the incident following the game, and Valanciunas had to help a limping Johnson out of the shower and to his locker stall, where a pair of crutches was waiting.
"You always hate to see somebody get hurt because of that," DeRozan said. "It's kind of scary. Hopefully it's nothing too serious with James."
Enes Kanter and Derrick Favors each had 18 points, and Gordon Hayward and Trey Burke both scored 12 for the Jazz, who dropped to 0-3 on the second night of back-to-backs as they wrapped up a five-game Eastern Conference road trip.
Alec Burks had 10 points and 10 assists for Utah.
One night after scoring a season-high 33 points in a 102-100 victory over the Knicks, Hayward struggled through a poor shooting performance as he battled flu-like symptoms. He made three of 10 attempts and missed both his 3-pointers.
"I was struggling out there," Hayward said. "I just don't have the energy right now."
A fast-break dunk by Hayward put Utah up 83-82 with 8:06 left, but Patterson scored on a layup, Lou Williams hit a jump shot and Greivis Vasquez connected on a 3-pointer to give the Raptors an 89-83 lead with 6:22 remaining.
Kanter stopped the run with a pair of free throws, but Patterson made a 3 and Williams followed with a turnaround jumper, putting Toronto up 94-85 with 5:17 to play.
TIP-INS
Jazz: Rodney Hood (right foot) was unavailable. ... Utah had an assist on 16 of its 18 baskets in the first half. The Jazz finished with 22 assists. ... All five starters scored in double digits.
Raptors: Casey won his 113th game with Toronto, matching Lenny Wilkens for second on the team's list. Sam Mitchell (156) is first. ... Valanciunas posted his second double-double of the season. ... F Landry Fields was available after missing the previous two games with flu-like symptoms, while Vasquez played despite a sore right knee.
HIGH FLYER
Toronto's Terrence Ross energized the sellout crowd of 19,800 with a fully extended catch and one-handed finish on Lowry's lob pass in the third. The play was Lowry's first assist of the game.
CROSS-BORDER CHEERS
While the NHL's Maple Leafs were losing 6-2 at Buffalo, Canadian fans who'd crossed the border for the hockey game started up a "Let's go Raptors!" chant.
UP NEXT
Jazz: Visit Oklahoma City on Tuesday.
Raptors: Host Memphis on Wednesday.
---
---