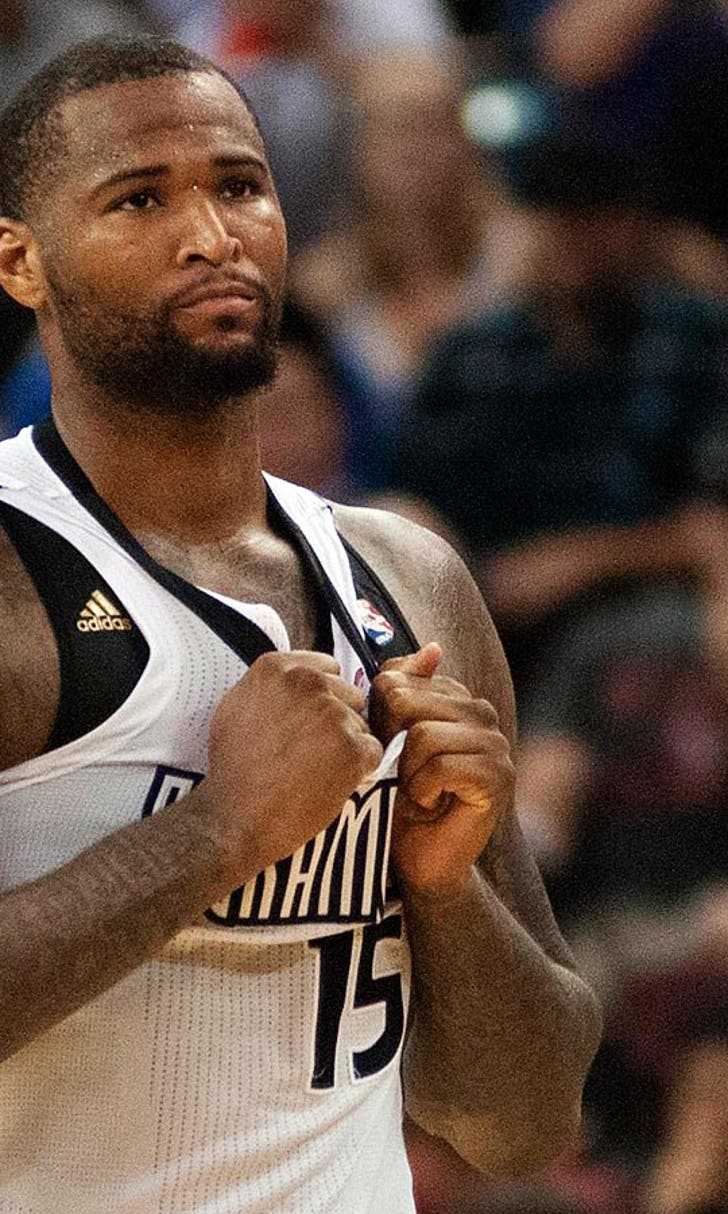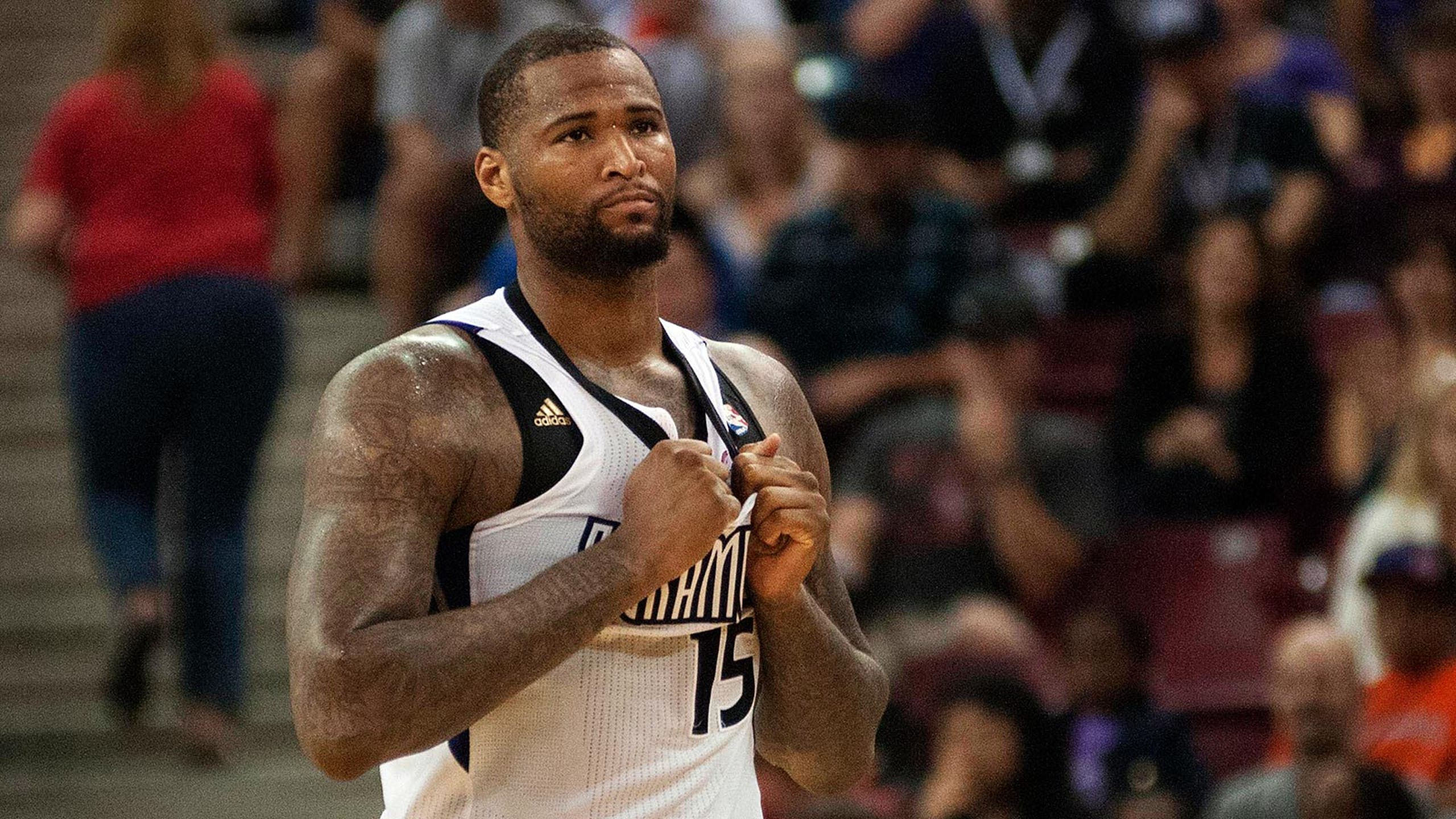 DeMarcus Cousins day to day after injuring right knee in practice
BY foxsports • August 14, 2014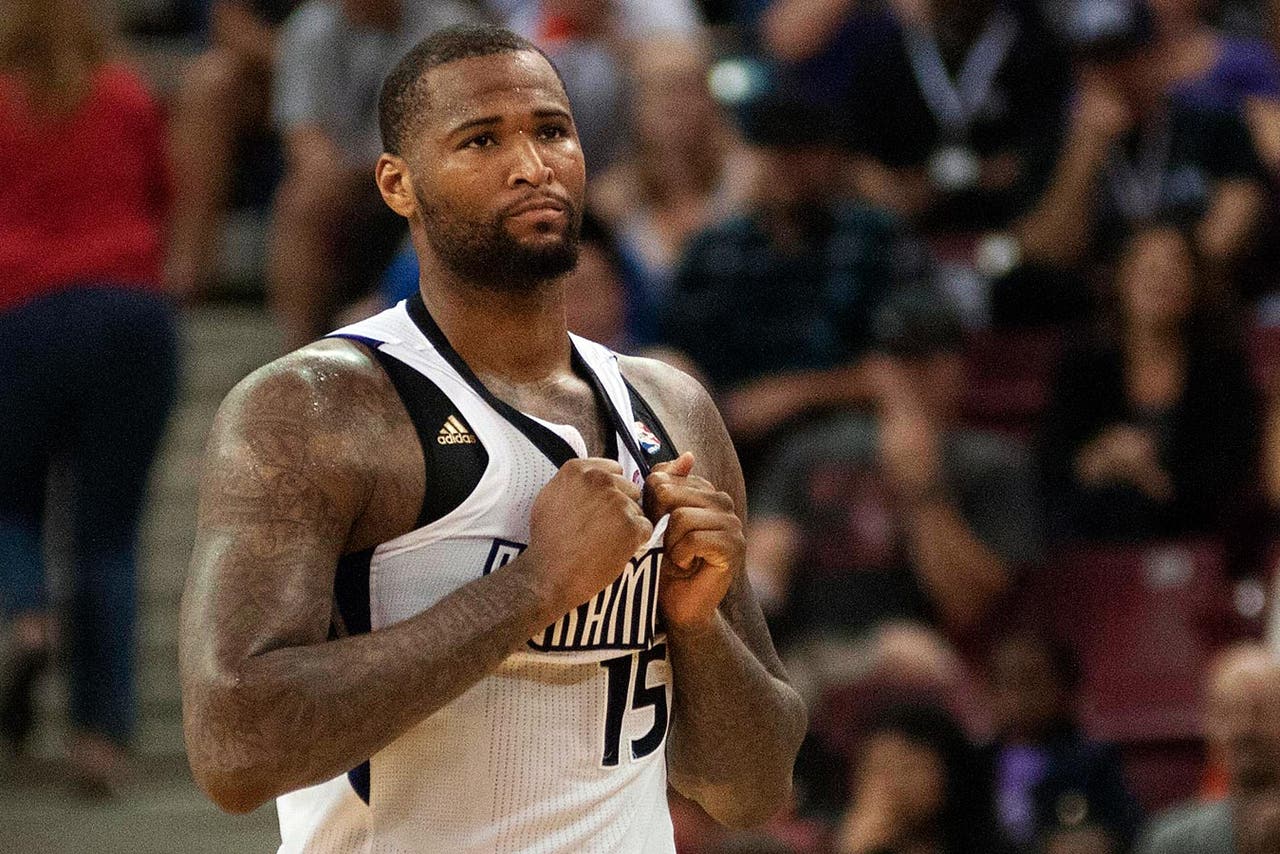 Just making it to the World Cup of Basketball is proving to be quite a chore for the U.S. national team.
Cousins was injured when he got tangled with Anthony Davis after both big men hit the floor going after a loose ball during a scrimmage. An MRI on Cousins' knee showed no structural damage, and USA Basketball said the Sacramento Kings star was day to day.
The test result for Cousins was a breath of fresh air for a U.S. team still recovering from the gruesome injury to Paul George.
"He said he got a little scared, obviously, when you go down after we had that prior injury," said Jerry Colangelo, the managing director of USA Basketball.
Cousins yelled out in distress as the practice pileup dissipated, leaving the center on his back near the free-throw line on one side of the court. He was helped off the floor, and then was confined to the training table for the remaining part of the first of two practices in Chicago before Saturday night's exhibition against Brazil at the United Center.
Cousins took a few ginger steps while players were coming off the floor at the end of practice.
"Definitely scary, not just the fact that he went down, but the fact that I actually was the one who dove on him," said Davis, a Chicago native who plays for New Orleans. "I kind of feel bad and I hope he's fine because he really wants to be here. He really wants to play."
It was the first practice for the Americans since George broke his right leg during an intrasquad scrimmage on Aug. 1 in Las Vegas. George had surgery the next day, and the Indiana Pacers say their two-time All-Star is expected to make a full recovery.
Colangelo has guaranteed a spot for George for the 2016 Olympics, and the rest of the national team seems to have rallied around the talented small forward. They are planning to wear a special shooting shirt for him for their games before the Cup, and several players talked about winning the World Cup for him.
"The week off that we had, after we saw what happened to Paul, it kind of calmed us down a little bit because right afterwards it was kind of devastating," Bulls point guard Derrick Rose said. "You put yourself in that position like him -- that could have been me -- but now that he's had surgery and it seems like he's recovering, our goal is just to come out here and compete for our country."
The U.S. absorbed another big blow last week when NBA MVP Kevin Durant withdrew from the player pool. The Oklahoma City star was the MVP of the world championship in 2010, leading the Americans to that title for the first time since 1994.
Durant said he "could not fulfill my responsibilities to the team from both a time and energy standpoint," joining previous withdrawals by All-Stars Kevin Love, Blake Griffin and LaMarcus Aldridge.
"It was a surprise, but Kevin is a terrific guy and a terrific USA Basketball guy and he was really despondent about not being able to play," Colangelo said. "He wanted to, but he found himself in a situation where he had no choice."
Asked to elaborate, Colangelo responded: "His contractual situation."
Durant's contract with the Thunder runs through the 2015-16 season, but he is believed to be talking to shoe companies about a new endorsement agreement. Messages were left Thursday seeking comment from Leon Rose, Durant's agent, and Nike, which has outfitted Durant for years.
In the meantime, the roster for the U.S. national team is at 16 players after Rudy Gay joined the pool following Durant's departure. It has to be cut to 12 before the World Cup begins on Aug. 30.
The trip to Chicago is a homecoming for Rose, Davis, Colangelo and U.S. coach Mike Krzyzewski, and Bulls coach Tom Thibodeau also is back in town as an assistant for the U.S. team. It's especially sweet for Rose, who has missed much of the last two NBA seasons due to knee injuries.
"It's going to be fun," Rose said. "Everybody's been talking about it in the city, it seems like there's a buzz."
---
---