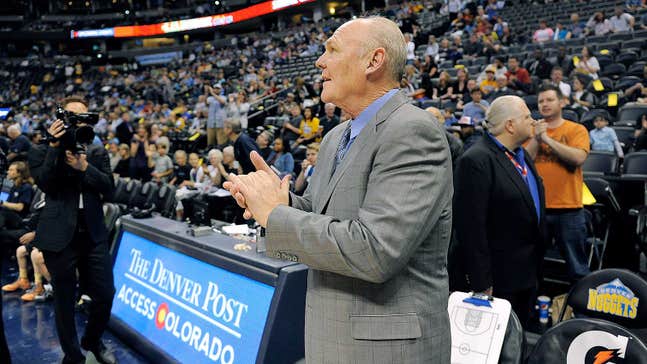 DeMarcus Cousins and George Karl with major roles in NBA's post-up revolution
Published
May. 27, 2015 4:33 p.m. ET

Grantland's Zach Lowe recently ran down a comprehensive breakdown of how the art of the post-up has changed in recent years. Now, it's more of a distributing position than it's ever been, and there are two guys in Saramento who have played two big roles in that: DeMarcus Cousins and George Karl.
Lowe writes about both of those guys, and even has some fascinating quotes from Karl. 
Greg Wissinger penned some thoughts on this at Sactown Royalty:
Cousins might be the most dominant post thread since Shaquille O'Neal. No team can guard him one-on-one. You need to double him. And when you do, you're leaving someone open, probably (possibly?) on the perimeter for open threes.
It'll be interesting to see how Karl uses Cousins after getting a training camp to implement some new offense. We'll find out exactly how dominant the two of them can be together in November.
(H/t to Sactown Royalty for the find.)
Photo Credit: AP Photo/Chris Schneider
I'm not here to give you a book report on the article. Go read it. It's excellent. This post will be here when you're done. But when you're done reading it, this discussion gives us plenty of tea leaves to look at as they pertain to DeMarcus Cousins and George Karl.

"The game is getting out of balance," says George Karl, now coaching perhaps the league's preeminent post-up brute. "But until we figure out a way to make the post-up more efficient, we're not going back. You just can't win throwing the ball into the post 60 times per game."

DeMarcus Cousins is arguably the best post-up big man in the NBA. He's an old school player in the new school game. He powers through double and triple teams, plays back-to-the-basket, and forces defenses to adapt. He's the antithesis to everything else in Lowe's article discussing the death of the post game.

And yet we have George Karl, Boogie's coach, discussing the importance of not relying on the classic post. This is more fuel to fire of "Karl can't mesh with Cousins" speculation, right? Not so fast. If we look at what Karl is saying, it fits with everything we know of Karl, everything we know of modern basketball theory, and everything we know about the ways to make Cousins be his best.
---
---