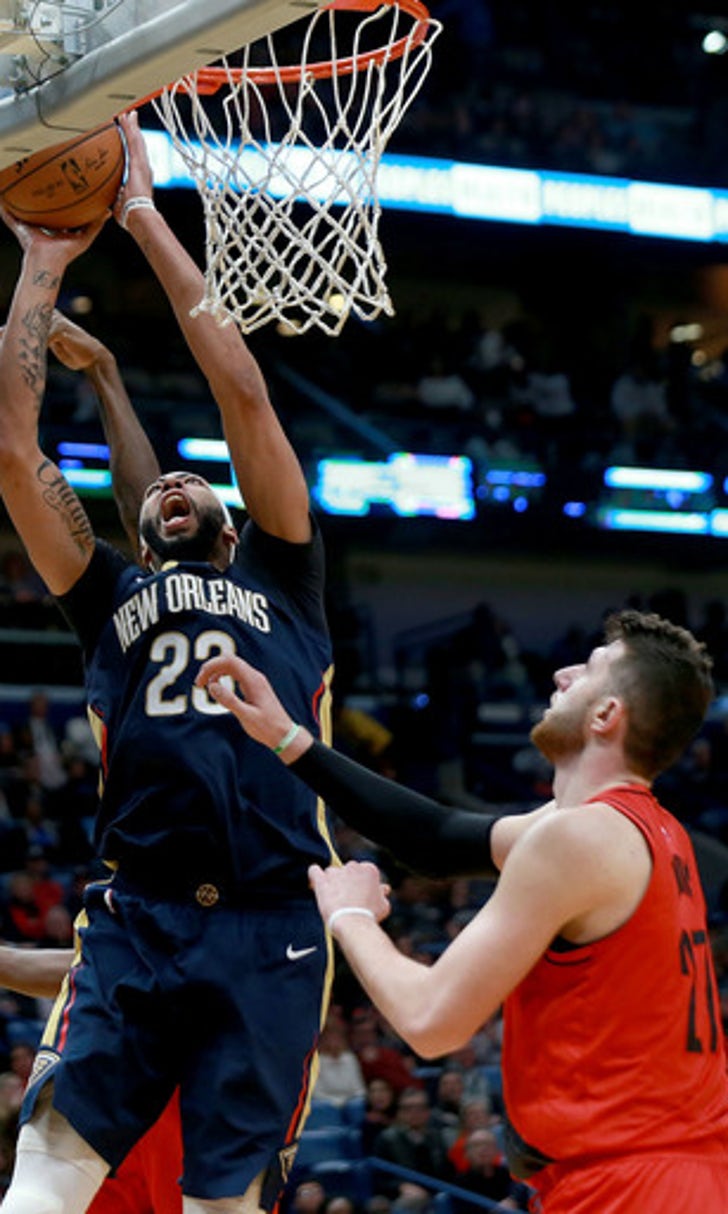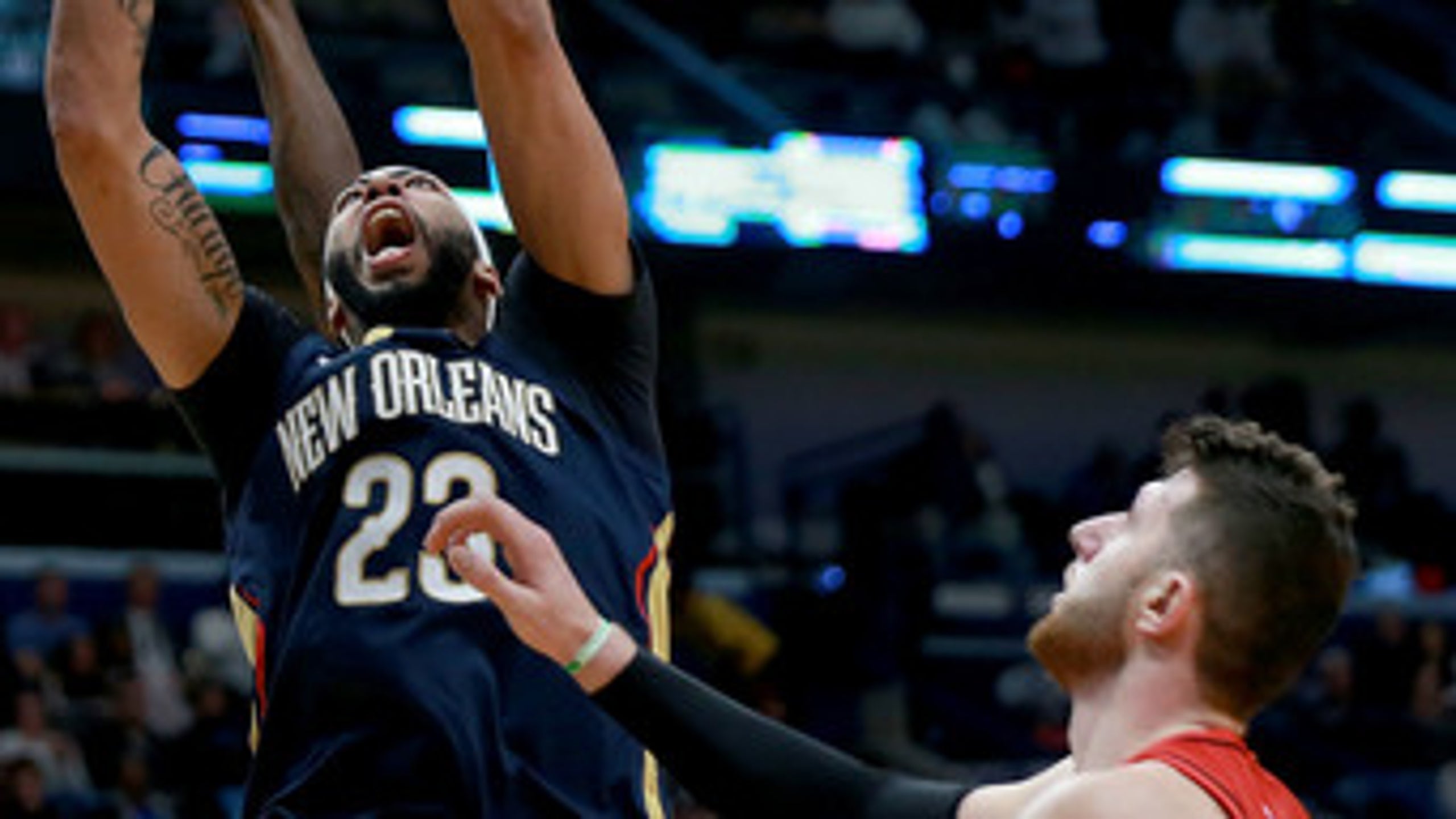 Davis returns, leads Pelicans past Blazers, 119-113 (Jan 12, 2018)
BY AP • January 13, 2018
NEW ORLEANS (AP) Anthony Davis crossed up his defender with a behind-the-back dribble, exploded toward the hoop and scored despite being fouled.
Clearly, Davis' recently sprained right ankle was holding up well.
Davis scored 36 points, grabbed five of his nine rebounds on the offensive end and blocked two shots, and the New Orleans Pelicans beat the Portland Trail Blazers 119-113 on Friday night.
''His presence tonight, it was felt tonight throughout the entire game,'' said Pelicans center DeMarcus Cousins, whose 24-point, 19-rebound performance also included an alley-oop lob to Davis for a two-handed jam. ''Throw him the ball and get out the way. That's our finisher. That's our scorer, so it kind of takes a load off of everybody on the floor. Easy target.''
Jrue Holiday scored 25 points for New Orleans, which hit the halfway point of the regular season one game above .500 and in the Western Conference playoff picture.
''This was one we needed to have,'' said Davis, who sat out a narrow loss in Memphis on Wednesday night.
Still, the Pelicans have yet to prove they can become more consistent and less sloppy.
While the Pelicans shot 54.9 percent (45 of 82), they nearly threw the game away with 18 turnovers, which Portland converted into 28 points.
''We made a lot of mistakes,'' said Cousins, who had five turnovers. ''We managed a win and it's tough to win in this league. But with that being said, I think there's still a lot of things we've got to improve on.''
Damian Lillard and C.J. McCollum each scored 23 points for Portland. Al-Farouq Aminu had 19 points and 11 rebounds, and Jusuf Nurkic added 19 points.
Portland attempted 42 3-pointers and missed 30, but coach Terry Stotts wasn't complaining about shot selection.
''Most of them were decent looks,'' Stotts said. ''When you score 113 points, you can't really look at the offense. But it was an offensive game, and we came up a little short.''
Holiday, however, said New Orleans' defensive approach affected Portland's perimeter shooting.
''That was part of the game plan to not let them have 3s,'' Holiday said. ''We think their offense is based around a lot of 3-point shots.''
Shabazz Napier scored 17 points in his seventh start of the season. His 3-pointer gave the Blazers their biggest lead at 75-67 in the third quarter. Soon after, however, Rajon Rondo's 3 ignited an 11-2 New Orleans run that also included Cousins' cutting dunk as he was fouled. The Pelicans preserved a single-digit lead the rest of the way.
TIP-INS
Trail Blazers: Wing player Evan Turner was scratched because of an illness. Napier started in his spot. .... Portland has scored 110 or more in each of its last seven games. ... Lillard moved into seventh in franchise history in scoring with 9,753 points since entering the NBA in 2012. He passed Geoff Petrie, who scored 9,732 from 1970-76. ... McCollum has scored at least 20 in five straight and 26 times this season. ... Portland's reserves combined for only 12 points.
Pelicans: Darius Miller scored 16 in a reserve role. ... The Pelicans improved to 2-1 against the Trail Blazers this season, winning the first meeting in New Orleans. The teams will meet once more this season.
TESTINESS
Cousins and Nurkic barked at one another periodically.
Cousins ''never started an All-Star Game or playoff game and (is) talking trash for no reason,'' Nurkic said.
Cousins played coy when asked if his aggressiveness against Portland was personal.
''Why would anything be personal?'' Cousins said.
When asked specifically about what Nurkic said on the court, Cousins responded, ''I don't hear anything he's saying.''
TRADING RUNS
New Orleans led by 16 points in the second quarter when Cousins' 3 capped a 16-4 run.
But Lillard, who had just four points midway through the second quarter, added nine quick points during a 13-4 run, hitting two 3s and a driving layup as he was fouled.
McCollum and Aminu added 3s, and Lillard's steal of Holiday's pass for a breakaway dunk tied it at 61 heading into halftime.
UP NEXT
Trail Blazers: Visit Minnesota on Sunday night.
Pelicans: Visit New York on Sunday.
---
More NBA basketball: https://apnews.com/tag/NBAbasketball
A.D. changes the team when he's on the floor. .... He always plays well but even if he doesn't, he does so many other things that help our team out - defensively, blocking shots, talking to us, running the floor, attracting three or four guys.''
---
---