Stephen Curry
Stephen Curry
Curry urged teammates to just be themselves vs Cavs
Published
Jun. 2, 2017 5:48 p.m. ET

OAKLAND, Calif. (AP) Stephen Curry spoke up, just in case his Golden State Warriors needed another reminder from their MVP and leader. His message as the NBA Finals began: be yourselves.
Forget the juicy story lines, or avenging something that happened last June, that championship that got away. Set aside the hyped-up Cavs-Dubs rivalry, constant talk of the trilogy, Part III.
Just go play. And it worked splendidly for the two-time reigning MVP and Kevin Durant in their first Finals together.
Durant was utterly dominant 11 months after leaving Oklahoma City last July to join the Warriors, while Curry found a groove once he removed the black sleeve from his shooting arm protecting his tender right elbow. It just didn't feel right.
They combined for 66 points and 18 assists in a 113-91 Game 1 thumping Thursday night against LeBron James and the defending champion Cavaliers, who must find a way to defend the high-flying Durant when the best-of-seven series resumes Sunday at Oracle Arena.
''We were really, really good in that department at just being ourselves, playing Warriors basketball, knowing that there's a lot of talent out on the floor,'' said Curry, who had 28 points and 10 assists. ''And that's our best effort to win this championship, is just be ourselves.''
Cleveland might be thinking the same thing a day after that startling Game 1 defeat that featured 20 turnovers and Durant driving to the basket at will with nobody even close as he dunked again and again - six times in the first half alone. When the Cavs left him unguarded on the perimeter, Durant hit 3-pointers.
The Cavs watched film and vowed to get back to basics and the solid fundamentals that carried them this far, especially on the defensive end.
''We have to stop the ball first and foremost,'' said Cleveland's Kevin Love, whose 21 rebounds in Game 1 were a franchise postseason record. ''That's very apparent when you look at the film.''
Not only did the Warriors match a Finals low with just four turnovers, they took Tristan Thompson out of the equation by holding him scoreless. Cavs coach Tyronn Lue changed his rotation as he searched for someone who could make a scoring impact in the middle, saying that led to his decision to only play Thompson 22 minutes.
James and Kyrie Irving shot 19 for 42 between them but the sloppy ball handling allowed the Warriors to take nearly as many shots - 106 - as they had points, and 20 more attempts than the Cavs' 86.
Golden State was so good that Lue called them the best team he has seen. Sure, the Warriors won a record 73 games a year ago but in the end they failed to hold a 3-1 Finals lead as Cleveland rallied back in the series to win Game 7 and steal a title in Oakland.
They sure look unstoppable lately. Durant has scored at least 25 points in each of his six career Finals games, losing in his only other appearance to LeBron and Miami in 2012. KD also became the first player with at least 38 points and no turnovers in a Finals game since Shaquille O'Neal did so with 41 points on June 19, 2000.
''You cannot simulate what they bring to the table. No matter how many days that you have to prepare, you can't simulate what they have,'' James said. ''So it's great to get the first game up underneath us. We made a lot of mistakes. They capitalized. And we get an opportunity to get a couple days to see what they did and see what we did wrong and how we can be better in Game 2.''
Golden State realizes it might not get quite the open lanes and looks that Durant had Thursday as the Cavs try to adjust in the paint, yet the pass-happy Warriors are more than capable of opening up the game in other ways as efficiently as they move the ball.
''I think it's part of the reason people enjoy watching us play. People see so much unselfishness, they see the beauty in the pass,'' Andre Iguodala said. ''It can scare teams at times. What do you do? `Are we giving up 3s? Are we giving up runs at the basket?'''
That's up to Cleveland to figure out - and fast.
---
More AP NBA: https://apnews.com/tag/NBAbasketball
---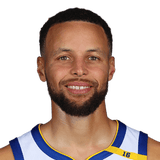 Get more from Stephen Curry
Follow your favorites to get information about games, news and more
---