Chris Broussard: Don't write off a Kevin Love-Carmelo Anthony trade just yet
February 14, 2017

With Kevin Love out for six weeks due to a knee injury, the Cleveland Cavaliers are vulnerable in the Eastern Conference. Now, the question is whether LeBron will request reinforcements in the form of New York Knicks forward Carmelo Anthony.

The conventional wisdom is Cleveland will ride out LeBron's injury through the regular season and flip the switch once the playoffs roll around. And while that might be true, FOX Sports NBA analyst and insider Chris Broussard told Jason Whitlock on Tuesday's episode of The Herd on FS1 that the door is still open on a potential Melo-Love swap:

CHRIS: I would not do it because it's such an upheaval to your team and the way you play, but I think the point about, would you consider, now, trading Kevin Love for Carmelo Anthony, it's just something to think about.
Because, you know, LeBron is about winning it now. Winning championships now. To your point, and I don't think he'll fall off quickly, but we shouldn't assume LeBron's got four or five more years at this level. This is his 14th year. He's already played more minutes than Michael Jordan, postseason and regular season [combined]. He might start to decline next year or the year after, so it's about winning these championships now.
I still probably wouldn't make the move, but man, it makes it a little more interesting to think about should they try to bring in Melo. ...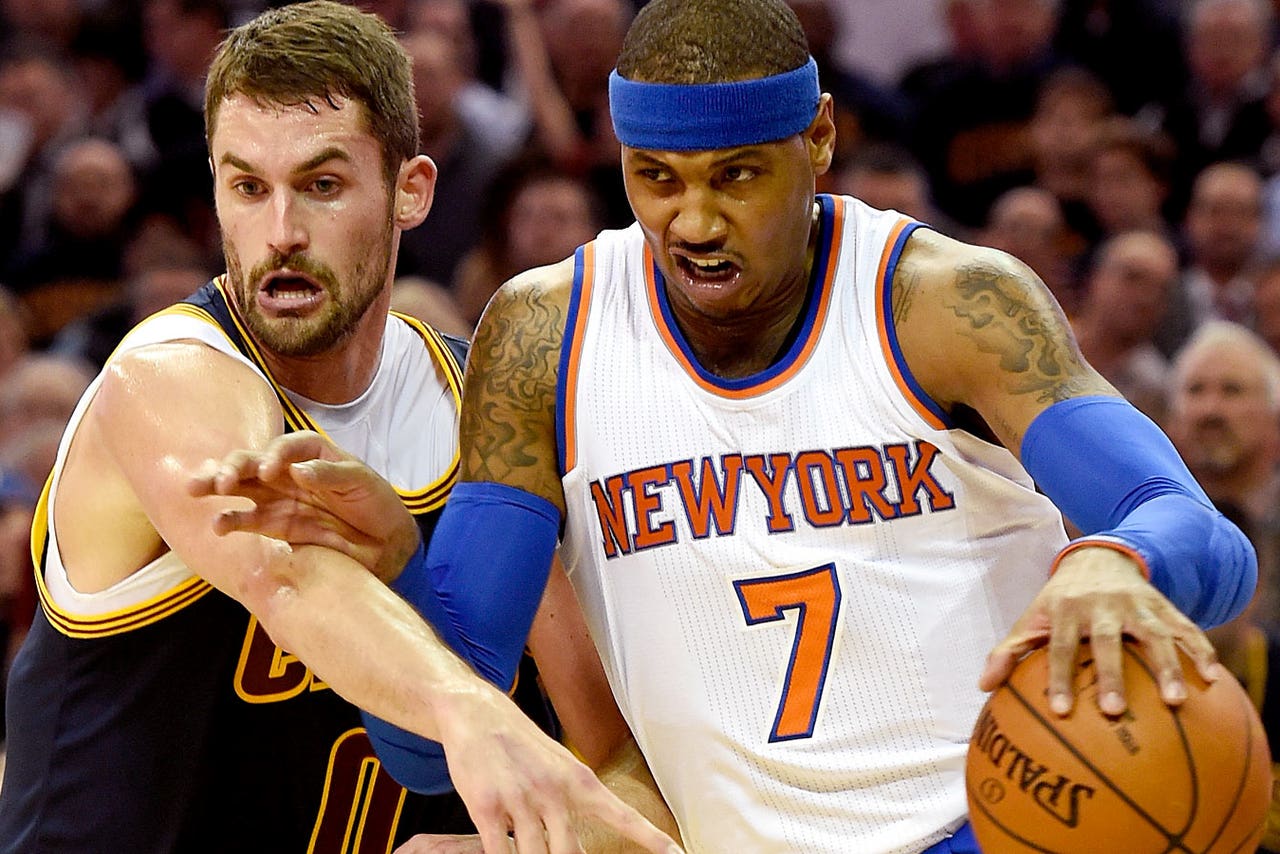 After explaining how the injury went down and whether Love's back problems might have played into the knee issue, Broussard once again returned to the possibility of a Melo-Love trade. As Whitlock suggested, is there any chance the Cavs are secretly OK with Love's injury as it makes a Melo trade more palatable?

CHRIS: I would say no to your theory, but with this news, it might make me think about it if I'm the Cavs in general.
And everybody's talking about Melo's contract. Kevin Love has one more year left on his contract than Melo has. Melo only has two years left after that. So his contract is not as bad as Kevin Love's. And in a vacuum, you can argue Melo is a better player.
It's just a lot of upheaval. They would have to play a different style if they bring in Carmelo Anthony. But can you envision them against Golden State? Kyrie, LeBron, J.R. Smith, Carmelo Anthony and Tristan Thompson? I mean, now Durant or Draymond has to guard Melo and LeBron. You know what I mean? ... One of those guys is going to get a little bit of a break against Love. They wouldn't get a break against Melo.
I don't want to sound like something I'm pushing it, because I'm really not sure what I would do if I was Cleveland. It just makes it something that I would start to think about now, whereas before it was like, "No way."
---
---