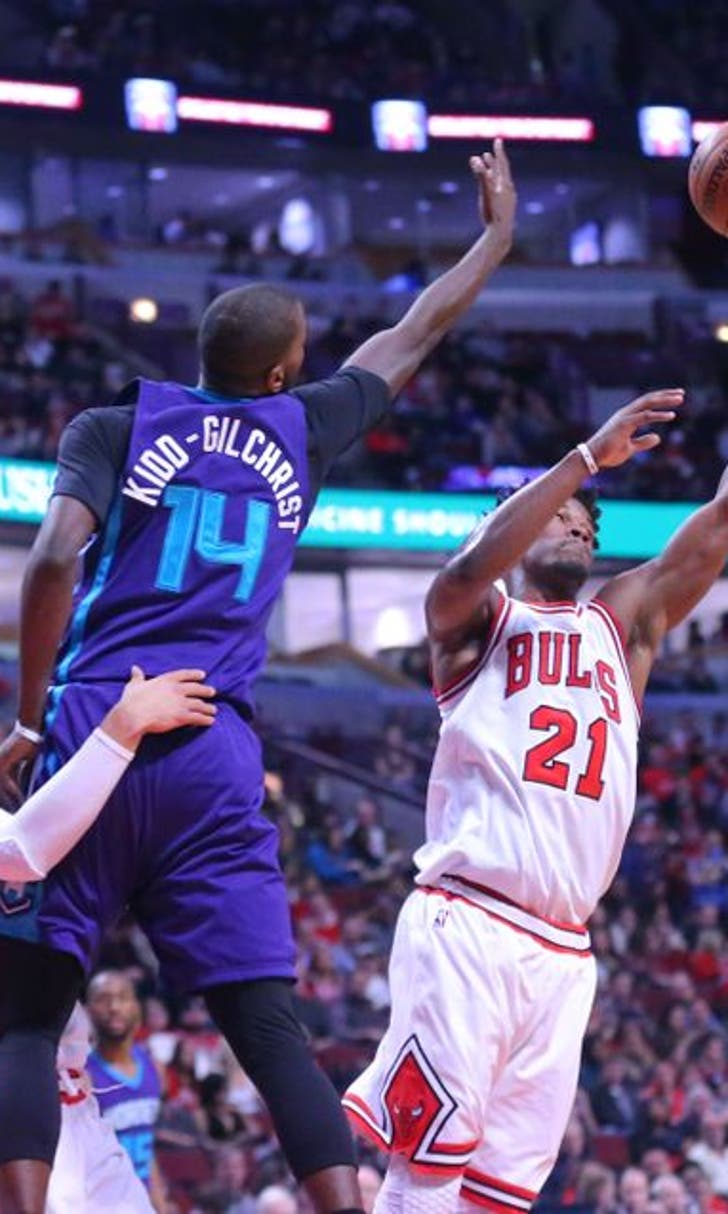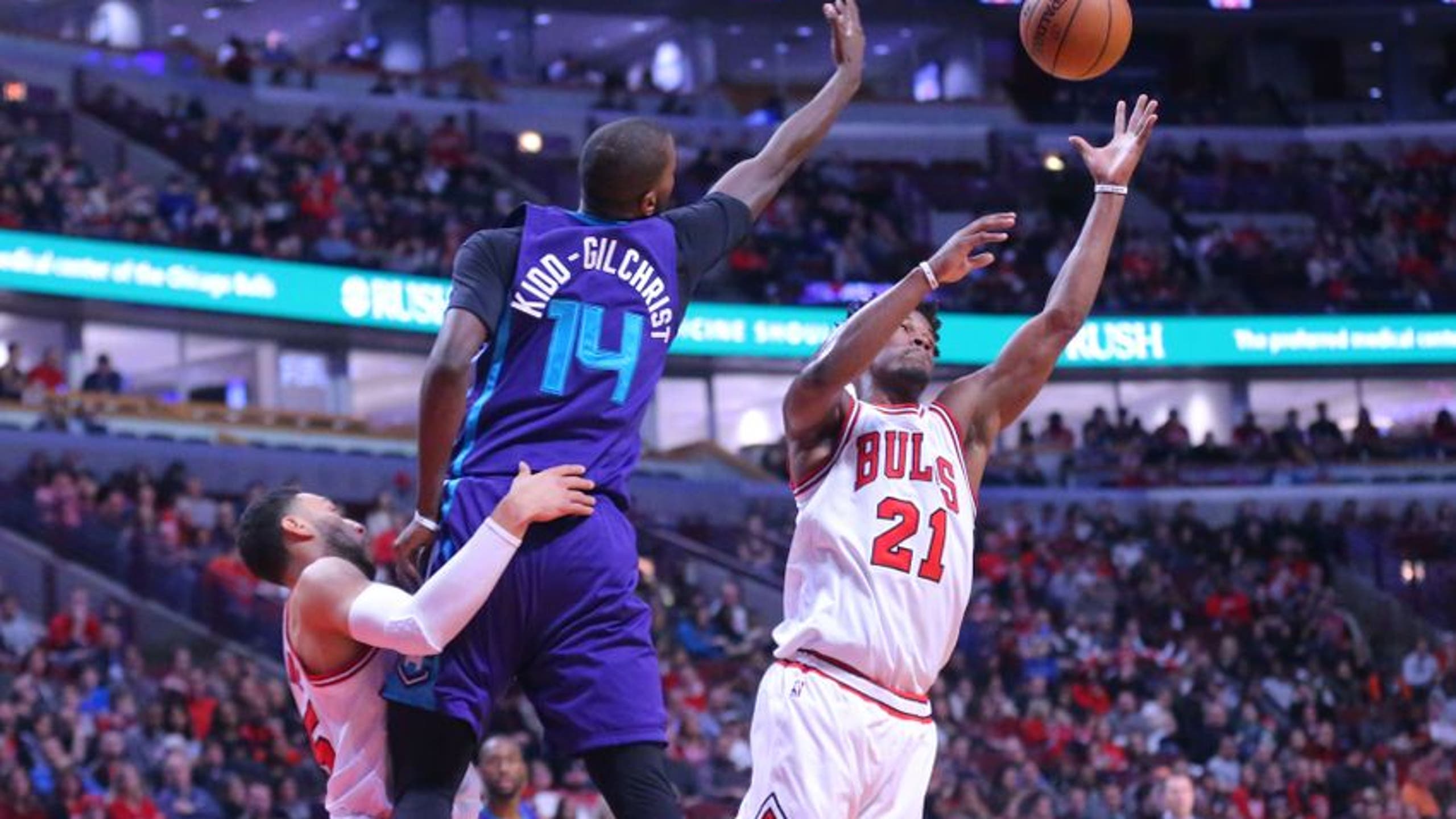 Chicago Bulls vs. Charlotte Hornets: Instant Analysis, Highlights
BY Fansided and Hunter Kuffel/FanSided via Pippen Ain't Easy • January 2, 2017
In the most captivating game in recent memory, the Chicago Bulls put away the Charlotte Hornets 118-111 on the back of an MVP level performance from Jimmy Butler. It was all Jimmy all night in Chicago, so let's go through yet another unbelievable game from Jimmy Buckets.
Jimmy Butler is averaging 52 points a game in 2017.
The Bulls needed a win in the worst way, and they got one with a bow on it courtesy of Jimmy Butler. 52 points on 15-for-24 shooting (21-for-22 from the free throw line). 12 rebounds. 6 assists. Not to mention taking on Nic Batum and Kemba Walker on the end. Butler was a monster, everything else is just details. Read on for a quarter-by-quarter breakdown of a game we won't forget for a while.
First Quarter
Bulls fans who tuned in to the game a little late didn't miss much. It was a lot of Jimmy Butler isolation, Michael Carter-Williams bricks, and eye-glazing play on both ends of the floor. Doug McDermott only tripped over himself once.
Rajon Rondo continued his absence, with Carter-Williams getting the start once again. Jerian Grant was the first guard off the bench. On the Charlotte side, Roy Hibbert started in place of Cody Zeller, who is going through the NBA concussion protocol as of Monday afternoon.
Since Dwyane Wade missed tonight's game, we saw an early look at rookie Denzel Valentine with only a minute left in the quarter. Valentine swished a 3-pointer on his first possession which is always encouraging.
The Bulls ended the quarter up 25-23, mostly due to plays like this:
In the midst of all the drama, we should at least count ourselves lucky that plays like that from Butler aren't at all surprising to us anymore.
Second Quarter
We started off the second frame seeing what's perhaps a renewed commitment from the Bulls to give their young guys more of a run. It was…something. The lineup of Carter-Williams-Grant-Valentine-Mirotic-Felicio immediately started on the losing end of a 10-2 run, with Valentine picking up two quick fouls in the process.
They looked nothing short of helpless on the offensive end, settling for obnoxiously deep 3s from Niko or, you guessed it, more bricks from Carter-Williams. Butler left the game up two; he came back in down six. If younger lineups like that one continue to get more minutes, the Bulls won't need to trade anyone to fall down in the standings.
It wasn't all bad though. The Bulls retook the lead with Butler back in the game, thanks to two consecutive 3-pointers from Valentine and a good finish from Felicio. It's amazing what playing with a top-15 player can do to your game.
If Valentine can figure out how to survive on defense without fouling, maybe he could crack the regular rotation. The spacing would certainly be improved.
Bulls up 58-57 at half. Butler had 20 points, 7 rebounds, and 5 assists in 20 first half minutes. He's good, if you didn't know.
Third Quarter
Jimmy Butler is so good. With three quarters in the books, Butler already had 35 points, 9 rebounds, 6 assists, and a 14-for-15 showing from the free throw line. He was doing absolutely everything for the Bulls. He had all but two of their free throw attempts, he was the backbone of their defense, essentially neutralizing Nic Batum, and was an unstoppable force on offense, scoring despite everything and the kitchen sink being thrown at him.
Dennis Wierzbicki-USA TODAY Sports
The rest of the roster left a lot to be desired. Doug got benched for Denzel Valentine after missing three wide open 3-pointers. MCW had a steal that could've been something had he passed the ball to the best player on the floor, same with Denzel Valentine, same with Jerian Grant (no seriously. They all got a steal, dribbled all the way down the court into three defenders, then missed a layup instead of passing to Jimmy Butler).
More from Pippen Ain't Easy
When it was Denzel's turn, he came down very awkwardly and was slow to get back up. Doug would come back into the game to replace him. The quarter ended with the Bulls down 85-82
Fourth Quarter
I probably shouldn't have to describe what happened when Jimmy Butler when to the bench right?The Bulls just have no creation whatsoever when he sits, and things got ugly real quick. Luckily for Chicago, the Hornets were having similar troubles on their end, and the game stayed close enough in his absence. Maybe it was because the Bulls bench found something defensively. Maybe it was because Ramon Sessions is really bad. We'll never know for sure.
Doug McDermott early in the fourth looked like the United Center had been transported to Omaha. The ball went to him three straight times, and he scored 1-on-1 against Jeremy Lamb three straight times, a little differently each time. Creighton Doug is still there somewhere deep down, and we saw a flash of him for a few minutes.
Jimmy came back with 6:21 left in the game and the Bulls down by three. At that point, the Bulls enacted the very complex and nuanced strategy of having Jimmy Butler, and before we knew it, the Bulls were up three with two minutes remaining. Jimmy was a madman who couldn't miss, and the Bulls had all of the momentum in the final two minutes of the game.
Post Game thoughts
This was arguably the greatest game of Jimmy Butler's career, and it was something to watch. Kinda makes you wonder what might have been if Wade and Rondo hadn't gotten signed in the offseason, and the Bulls were this Butler-centric every night. This was a desperately needed win for the Bulls, as their schedule in January is bearish to put it delicately. The Hornets clearly missed Cody Zeller, but it's hard to imagine Jimmy Butler losing tonight. He was gonna score what he needed to score in order to secure the win. Let's all savor this feeling while we can before the Bulls head to Cleveland on Wednesday.
---
---