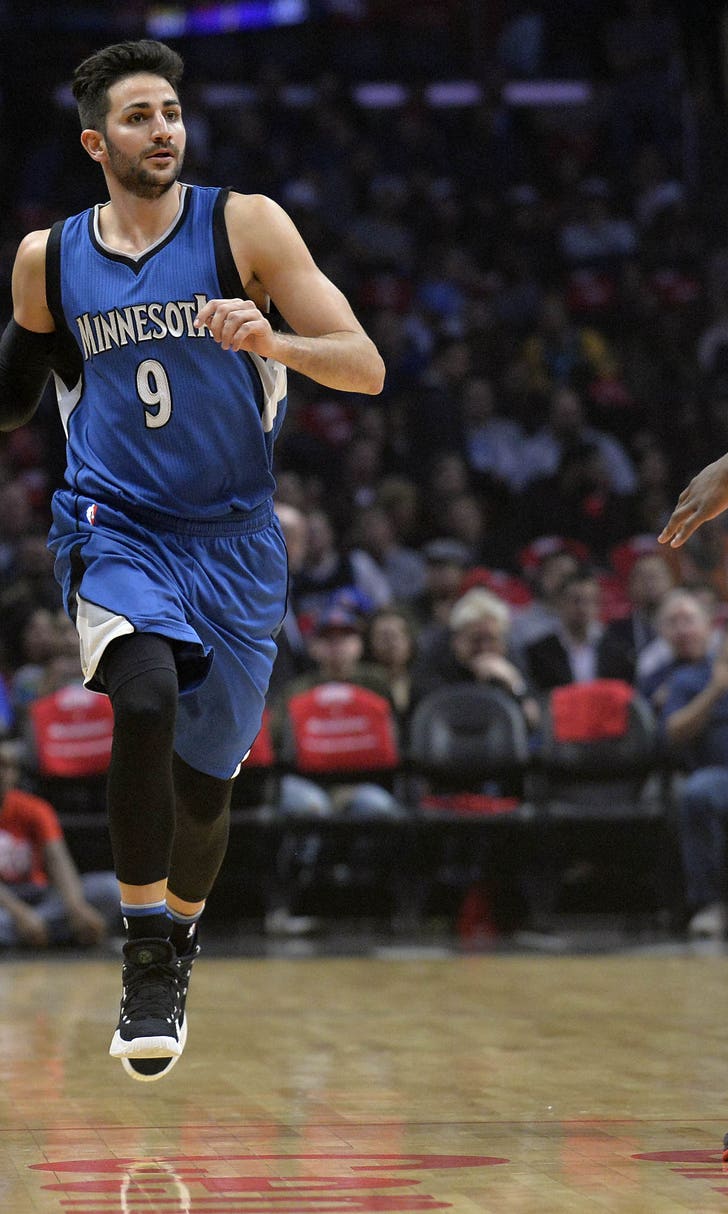 Chicago Bulls getting Ricky Rubio on board turns season around
BY Fansided and Michael RENE KANOY/FanSided via Pippen Ain't Easy • June 30, 2017
If Gar Forman and John Paxson are willing to pull the trigger at the trade deadline and give Tom Thibodeau the cogs he needs without gutting the Chicago Bulls, Ricky Rubio may turn the season around for Fred Hoiberg's offense. The key is not being greedy and being willing to lose Jerian Grant.
Coach Thibodeau is reportedly looking for any playmaker who can guide Kris Dunn and helm his young squad while their prized draft pick learns to run the team. Adrian Wojnarowski of The Vertical on Yahoo Sports has gotten wind of feelers for Rubio packaged with Shabazz Muhammad for the team's needed playmaker, and the Knicks, Pistons and Sixers are reportedly interested.
As general manager, Paxson should help Forman's hand-picked coach, Hoiberg, out of the Rajon Rondo debacle by grabbing the opportunity to get Rubio in exchange for any Bulls guard they can let go.
If GarPax were astute, they could swing Isaiah Canaan plus Grant and Taj Gibson for Rubio and Muhammad.
More from Pippen Ain't Easy
Thibs will get his defensive guard plus a veteran sparkplug in Canaan plus rent Gibson for half a season to help his bigs be more patient at the block.
Chicago gains the playmaker they always needed, Rondo stays as backup feeder to the Bulls shooters for a playoff run that can go all the way. Chicago clears out Canaan and Gibson but they lose Paxson favorite Grant in the exchange. Remember, the Bulls gain big from the trade by getting slashing power forward Muhammad, someone who can rebound and rim run with Rondo, Rubio, and even Bobby Portis or Doug McDermott.
The trade is just too good to pass up because Rubio is playing some of the best basketball right now, peaking at the right moment to lead the Chicago charge and raise the games of everyone from McDermott and Nikola Mirotic to Paul Zipser and Denzel Valentine as shooters. Rubio can also help Jimmy get easier baskets and help Dwyane Wade exert less effort making his own shots. Muhammad on the other hand give the Bulls a wing runner and slasher who can score fast facing the basket, something Hoiberg needs more of if it comes in a Felicio-like body diving and crashing the rim.
With Gibson out of the rotations, Mirotic and McDermott slide into the power forward offense while Shabazz gets most of the scrappy points running out when the Bulls make stops.  I hope Paxson sees the same beautiful addition by subtraction in letting Grant go and gunning for a replacement from the 2017 draft or rehiring Justin Holiday, a better and proven Bulls cog for Hoiball, in the offseason.
Let's have Rubio wearing his number for the Bulls now!
---
---