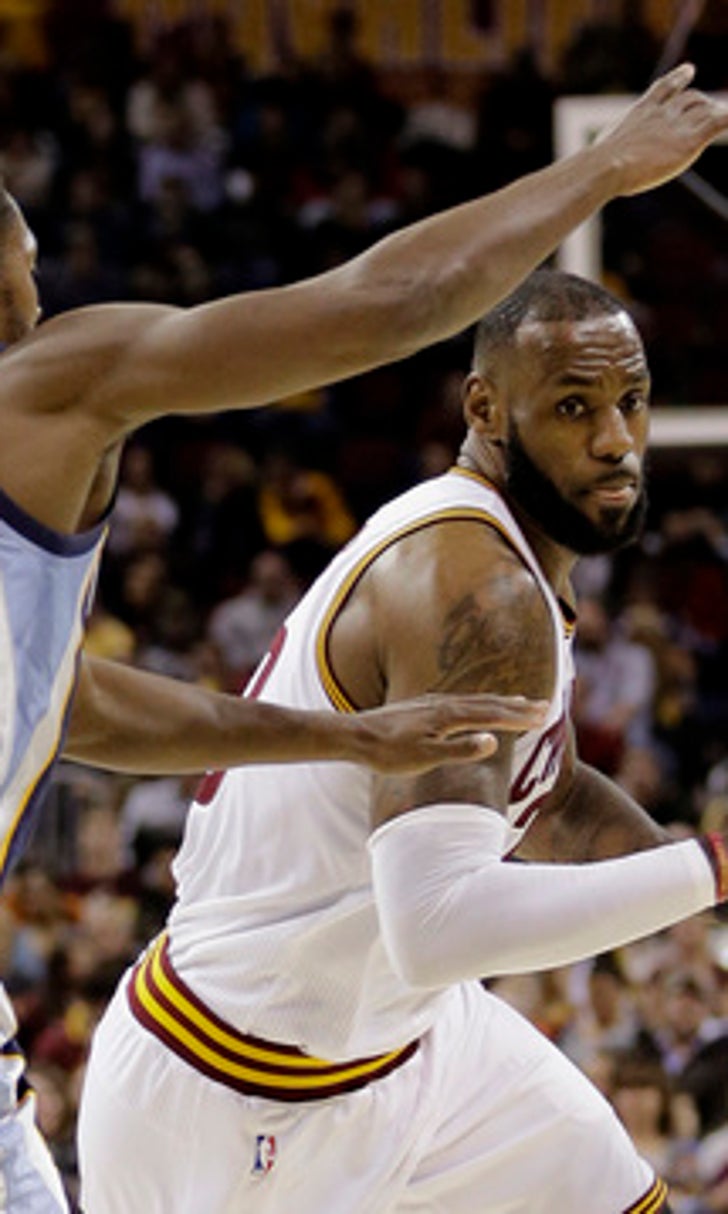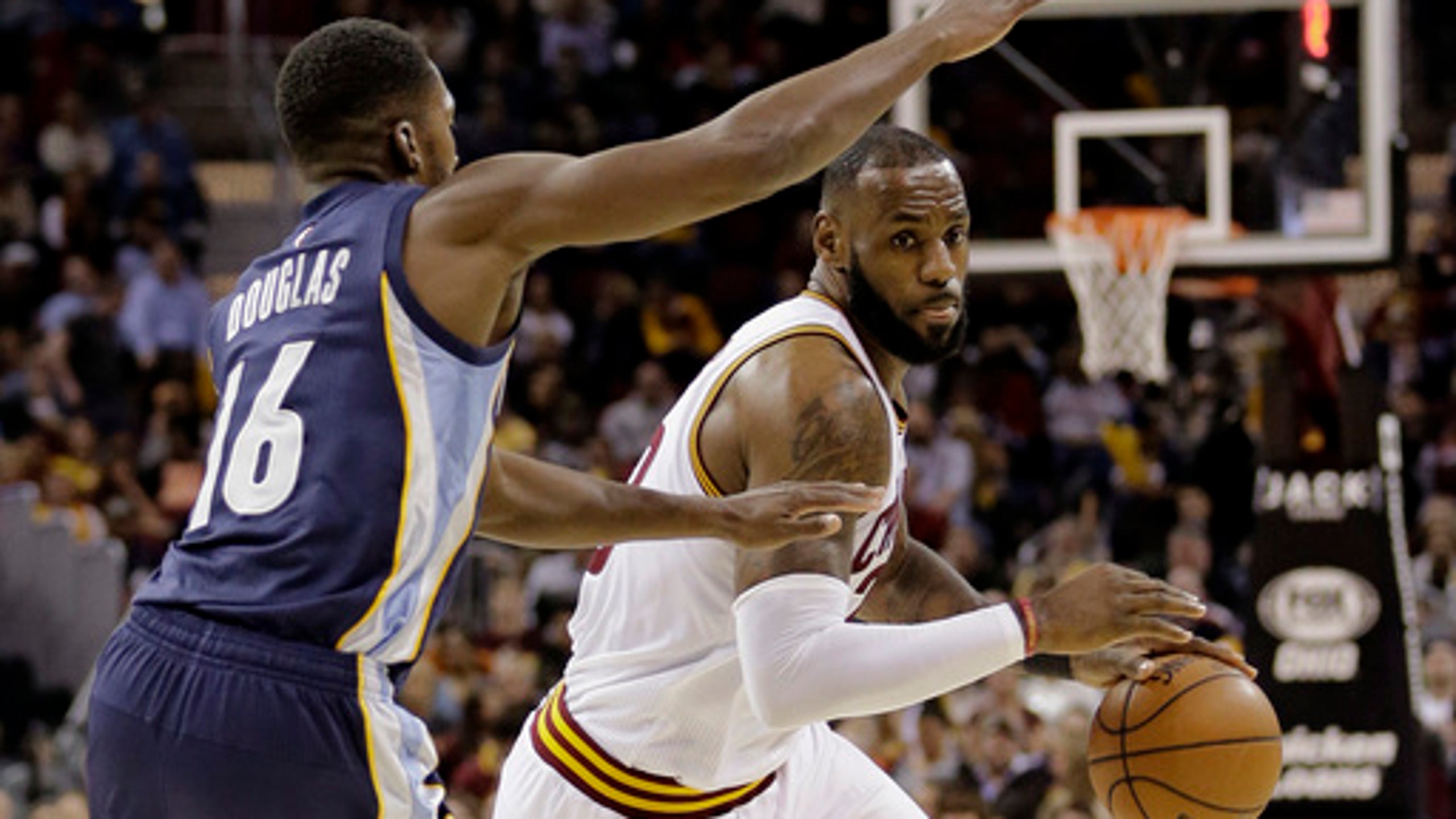 Cavs top Grizzlies; will rest 'Big 3' in rematch Wednesday (Dec 13, 2016)
BY AP • December 13, 2016
CLEVELAND (AP) The Cavaliers showed they can beat the Grizzlies with only two of their three stars. Now they'll try to do it with none.
Kevin Love scored 29 points, J.R. Smith found his aim - for one half - and LeBron James added 23 points as the Cavs won their fifth straight, 103-86 on Tuesday night over Memphis.
With Kyrie Irving sitting out to get some rest, the Cavs built a 22-point lead in the first half and ended the Grizzlies' six-game winning streak.
Following the game, Cleveland coach Tyronn Lue opened his news conference by announcing that James, Love and Irving will stay home when the Cavs travel to Memphis on Wednesday.
''They're not going,'' Lue said before telling one surprised reporter to close his mouth.
Lue didn't want James, who traveled to New York on Monday night to accept the Sports Illustrated Sportsperson of the Year Award, playing in the quirky back-to-back, and Love could use a break because of tightness in his back. Irving complained of ''heavy legs'' in Saturday's win over Charlotte and will have a full week off before the Cavs host the Lakers on Saturday.
''It's a long season and we have opportunities,'' James said of Lue's decision to keep Cleveland's ''Big 3'' behind. ''Coach has looked at it and he's going to do what's in his best judgment for our team going into the future. It's his call.''
Smith said it will be a challenge to take on the Grizzlies undermanned.
''It's going to be tough,'' he said. ''But we have good players and we will figure it out, hopefully. Everybody has to be themselves - nobody can be LeBron, Ky and Kev. Should be fun.''
Memphis rested center Marc Gasol for the first of back-to-back games against the defending NBA champions, but the 7-foot-1 star is expected to play Wednesday.
Zach Randolph replaced Gasol in the starting lineup and scored 18 points to lead the Grizzlies. The reigning Western Conference player of the week, Gasol is expected to play Wednesday in Memphis to complete a brutal three-game stretch for the Grizzlies, who beat Golden State by 21 on Saturday.
Smith came in shooting a career-low 31 percent from the field and 32 percent on 3s, the lowest mark since his rookie season with New Orleans in 2004. He also has been slowed by a sore left knee, which he hyperextended last week, causing him to miss two games.
But Smith got it going early, dropping four 3-pointers in the first half. His fourth put the Cavs ahead 56-34, and he was 6 of 8 at halftime. He missed his first six shots in the third quarter and finished 8 of 17 - 6 of 10 on 3s.
''I joked with him that he should have had 30,'' Love said. ''There were so many shots that went in and out.''
Cleveland seemed disinterested after halftime and Memphis managed to stay within striking distance, but the Grizzlies didn't have enough firepower without Gasol and Mike Conley, who is expected to miss another month with a back injury.
The Grizzlies were still within eight when James scored on a layup and hit a cutting Love for an easy bucket to make it 90-74 with 5:11 left.
MR. PERFECT
Memphis coach David Fizdale spent four years with James in Miami and the two became close friends. Before the game, Fizdale was asked if he could see the superstar coaching one day.
''No,'' Fizdale said with a laugh. ''He would kill somebody. He wants perfection. I could see him owning his own team, but I think he would end up killing a player at some point because they wouldn't live up to the expectations that he would set.''
James smiled and agreed with Fizdale's remark.
''Yeah, he's right,'' he said. ''You've got to be patient as a coach. I don't have that much patience.''
TIP-INS
Grizzlies: G/F Vince Carter returned after missing seven games with a right hip flexor strain. He played 18 minutes. ... Rookie Center Deyonta Davis injured his left foot in the fourth quarter and didn't return. ... Memphis is 12-0 this season in games decided by five points or less.
Cavaliers: James needs 28 points to pass Moses Malone (27,409) for eighth place on the career scoring list. ... With his 3-pointer in the first, Love became the fifth active player with 800 career 3s and 6,000 rebounds. James, Carmelo Anthony, Dirk Nowitzki and Paul Pierce are the others. ... Channing Frye was back after missing two games for his father's funeral. ... Smith passed Dale Ellis (1,719) for 14th on the career 3-pointer list.
UP NEXT
Grizzlies: After facing the Cavs again, Memphis hosts Sacramento on Friday.
Cavaliers: Cleveland's next home game is Saturday against the Lakers.
---
---