Kyrie Irving
Kyrie Irving
Cavs' Irving shares inspirational message to motivate kids
Published
Jan. 20, 2017 7:14 p.m. ET

CLEVELAND (AP) Kyrie Irving spent a day dedicated to transition and big speeches by delivering a message from the heart.
Cleveland's All-Star point guard, whose own life has undergone major changes over the past year or so because of fatherhood, an Olympic gold medal and NBA championship, spoke to hundreds of school kids on Friday about following their dreams.
To kick off a program promoting physical fitness, Irving shared some wisdom and experiences he hopes will help motivate kids to reach their potential. He urged them to listen to their parents, follow their own path and reminded them that life's journey never ends.
''I'm still figuring it out,'' he said. ''I'm still you.''
Teaming with Kids Foot Locker, Irving visited one of the city's Boys & Girls Clubs to launch a six-week fitness challenge which promotes a healthy lifestyle and encourages kids to excel outside and inside the classroom.
Not far removed from their age group, the 24-year-old Irving easily connected with the kids, who wore ''Go Big'' T-shirts and could barely contain their excitement when the Cavaliers' star was introduced and walked to the middle of the basketball court.
''Listen to your parents,'' Irving told them, but not in a preachy way, rather the way an older brother would tell his siblings. ''Make sure you cherish the friendships you have and family is first - always.''
Before the event, Irving, who was named an All-Star starter for the Eastern Conference on Thursday, spent a few minutes with the Associated Press discussing the motivation to support his community and aspirations beyond basketball.
Irving understands both his place and platform and wants to maximize it. And as the nation looked toward Washington, D.C., Irving simply wanted to make a positive impact on some kinds in Cleveland.
''I want to be a generational leader and I am that already,'' he told AP. ''I have to accept that and to do that you have to acquire as much knowledge and still grow every single day, make sure I'm living the truth and share that with the rest of the world. It's not necessarily opening up to the media or anyone else, but it's about opening up to the kids that matter - that are going to be changing our world in a few years.
''I'm OK with this, man. As long as I can shape a kid's day or shape a kid's life in any way possible, and help them realize their potential is endless, you are limitless. You can be your own decider in your life. Whatever else is going on, you have to take control of it.''
Irving was raised almost exclusively by his father, Drederick, after his mother, Elizabeth, died when he was four. The elder Irving didn't have to push his child, who was driven from an early age.
It's that independence, the strength to be unafraid and willingness to fail but learn, that's at the heart of Irving's message.
''I want them to think bigger,'' he said. ''It's a lost simpler for me now as I've gotten older. There were things that I thought were going to stop me and limit me, but those things aren't necessarily real, they're false and created by whatever it is that tells us what we can't do, the outside influences. Never listen to that, man. I've always figured it out one day at a time.
''As long as you can see through it, and find your own truth, you'll be fine. I try to give kids the truth. I still am that kid that was growing up in Boys & Girls Clubs in New York and New Jersey, going to different neighborhoods. I'm that same kid. I've never changed and being able to acquire the knowledge that I have from other people helps me - and hopefully resonates with the kids.''
---
---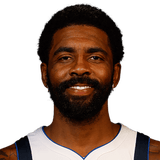 Get more from Kyrie Irving
Follow your favorites to get information about games, news and more
---