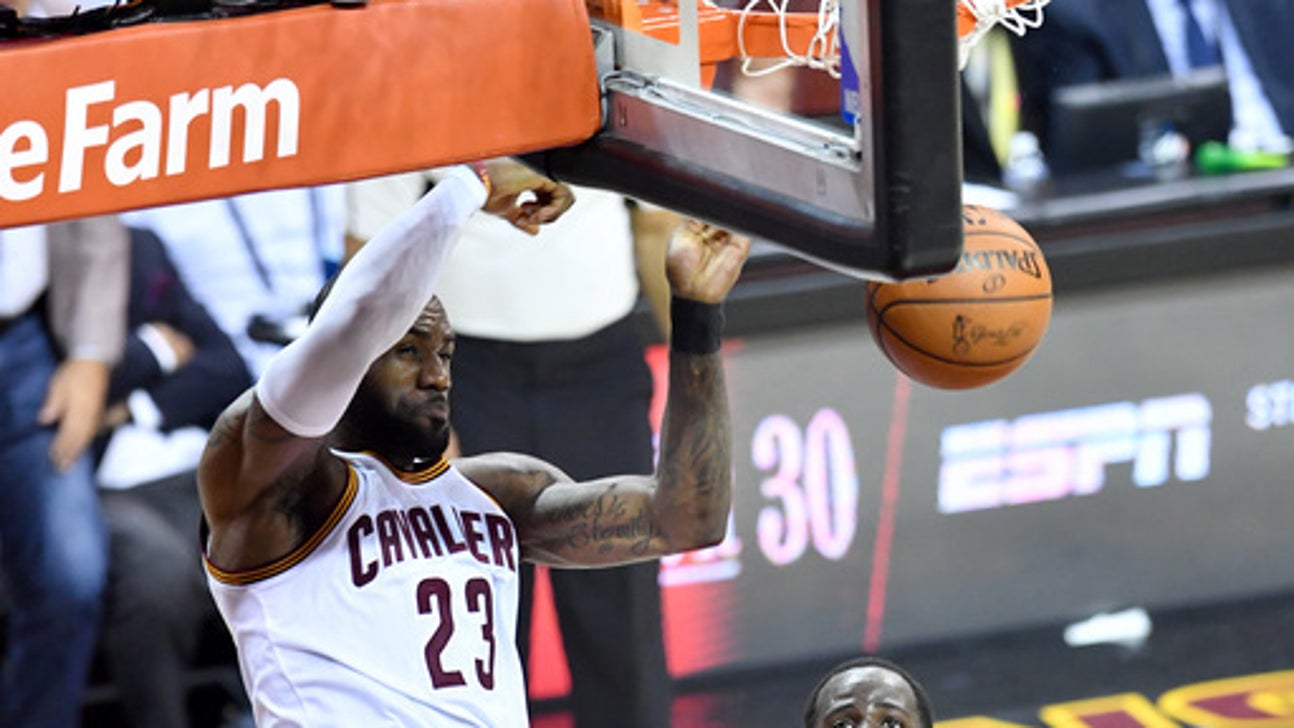 Cavs halt Warriors perfect postseason, party in Game 4 (Jun 09, 2017)
Updated
Mar. 4, 2020 3:13 p.m. ET

CLEVELAND (AP) Golden State's perfect postseason is over, the champagne corks still in their bottles.
The Warriors had planned to party, to pay back Cleveland.
Everything's on hold in the NBA Finals. The comeback Cavaliers are at it again.
LeBron James recorded a triple-double, Kyrie Irving scored 40 points and the Cavs, bothered by chatter from Golden State's players, broke scoring records while outperforming the NBA's most electrifying offense in a testy Game 4 filled with technical fouls Friday night, beating the Warriors 137-116 and snapping their 15-game playoff winning streak.
''We have championship DNA,'' said James, who broke Magic Johnson's record with his ninth triple-double in the Finals. ''We showed that tonight. We just kept our composure. We shared the ball, we moved the ball and defensively we were physical. It's one game.''
But it's one they had to have, and a series that wasn't living up to its hype and seemed headed for a quick conclusion is California bound for Game 5 on Monday night.
''Our mindset is to go out there and get one,'' James said.
The Cavs scored a Finals record 86 points in the first half and then held on during a wild third and fourth quarter that included technical fouls, James jawing with fellow superstar Kevin Durant and Cleveland's crowd roaring like a jet engine.
No team has ever come back from a 3-0 deficit in the NBA playoffs.
But until the Cavs did it last year, no team had ever rallied from a 3-1 deficit to win the Finals. Cleveland took Game 3 at home, lost Game 4 and then won the final three - Game 7 in Oakland - to capture the city's first sports championship since 1964.
As the final seconds ticked off, Cleveland fans chanted ''Cavs in 7.''
''Believeland is not going to give up,'' Cavs coach Tyronn Lue said, ''and we're going to keep fighting. We're going to keep scrapping.''
The Warriors had swept their first three postseason series, dominated the Cavs for much of the first three games and were 48 minutes away from a title they've coveted for a year. Now, Golden State fans are holding their breath.
James said his teammates were upset by comments made by fiery Warriors forward Draymond Green.
''I didn't hear it, but some of the other guys heard it and told me that they wanted to celebrate on our floor once again and they wanted to spray champagne in our locker rooms,'' James said. ''So I just told guys, I didn't stress anything besides just live in the moment.''
Durant, still one win from the coveted championship he left Oklahoma City to get, scored 35 points but got little help from Stephen Curry, who scored 14 on 4-of-13 shooting.
''Just one of those games,'' Curry said. ''Not going to overreact to one. Obviously I can play better and want to play better and will play better.''
James finished with 31 points, 10 rebounds, 11 assists and on one trip threw the ball off the backboard to himself for a dunk.
When Cleveland's locker room opened after the game, trainer Mike Mancias was stretching James over a medicine ball. After several minutes, James stopped and performed a dozen lunges before teammate Tristan Thompson came over and playfully asked, ''What are you doing?''
James said, ''I've got to start getting ready for the next game now. I mean it.''
Kevin Love made six 3-pointers and added 23 points and J.R. Smith knocked down five of Cleveland's 24 3-pointers, another Finals mark.
If not for Cleveland's Kyle Korver missing a 3-pointer in the final minute of Game 3, the series would be 2-2.
In any event, the Cavs are still breathing, and it's now the Warriors who may be feeling the pressure after blowing a 3-1 lead last June.
The third quarter featured a confusing sequence and a scramble on the floor that resulted in two technicals, a friend of James being escorted from the arena and back and forth flurries worthy of a heavyweight boxing match.
At one point, it was announced that Green had been given his second technical foul, and security came onto the floor to usher the volatile forward to the locker room. However, a technical assessed to him in the first half was actually called on Warriors coach Steve Kerr, leading to the confusion.
Later, Warriors center Zaza Pachulia was involved in a pileup of players and delivered two swipes to Iman Shumpert's groin area as the referees tried to get control. Pachulia could have been tossed, but was only given a technical, as was Shumpert.
The Cavs were determined not to let the Warriors sweep them, and it was Cleveland, not Golden State, which busted Finals scoring records in the first half. The champions had 49 points in the first quarter.
''That first quarter, they came out and hit us with that amazing punch,'' Durant said. ''You got to give them credit, they played extremely well tonight.''
TIP-INS
Warriors: Were trying to become the first team to complete a postseason unbeaten. There have been two one-loss champions: the 2001 Los Angeles Lakers (15-1) and 1983 Philadelphia 76ers (12-1). ... Comedian Kevin Hart and NFL star Odell Beckham Jr. were among the courtside celebrities. ... Before the game, Kerr, who missed 11 playoff games because of back pain, said his decision to return to the bench for Game 2 in the Finals was easy. ''It's just fun,'' he said, ''and I felt better. And that was my barometer. If I felt better, I was going to do it.''
Cavaliers: James was swept by San Antonio in his first Finals appearance 10 years ago. ''I stunk in my first Finals,'' he quipped. ''I don't stink anymore.'' ... James jumped Michael Jordan (1,176) on the Finals scoring list, and hopped over His Airness (1,463) for the most made free throws in the postseason. Only Kareem Abdul-Jabbar (1,317) and Mr. Logo himself, Jerry West (1,679), have scored more points in the Finals. ... General manager David Griffin's contract expires after the season, and it's not clear if he will be re-signed by owner Dan Gilbert. Griffin took over after Chris Grant was fired in 2014 and has been responsible for overhauling a roster that is the highest paid in the league. ... Reserve guard Dahntay Jones was called for a technical in the first half for trash talking with Durant from the bench.
---
---