Brook Lopez
Brook Lopez
Can a Trade for Brook Lopez Turn the Houston Rockets Into Contenders
Updated
Mar. 4, 2020 5:44 p.m. ET

Fansided, Coty Davis/FanSided via Space City Scoop
Although they have emerged as one of the top teams in the NBA, the Houston Rockets are still one piece away from contending for an NBA title. With continuous trade rumors surrounding Brook Lopez, can a trade for the all-star center turn the Rockets into contenders?
Despite coming into the season with low expectations, the Houston Rockets have emerged as one of the most dangerous teams in the league. After 33 games, Houston has possessed the third-best record in the Western Conference.
Although they have proved all doubters wrong, the Rockets have yet to establish themselves as championship contenders. Sure, Houston has beaten the top two Western Conference powerhouses once this season. However, in a seven-game series, the Rockets will not have enough firepower to get past the Golden State Warriors nor San Antonio Spurs.
If the Rockets would like to reestablish their championship aspirations, perhaps Daryl Morley should try to make a blockbuster trade. Not one that would completely demolish their current roster, like trading for DeMarcus Cousins. Yet, one that is safe and could take them to the next level.
With that said, perhaps the Rockets should try and strike a deal for Brooklyn Nets' Brook Lopez. Over the past three season, Lopez has been one of the hottest trading targets around the league.
Other than some young and valuable assets like Sam Dekker and Clint Capela, Brooklyn would probably want a team's first-round pick more than anything. For a player like Lopez, it may be worth the Rockets to look into, now, and in the future.
Since entering the league in 2009 Lopez has established himself as one of the top centers in the league. In my opinion, Lopez is just as talented if not better than Cousins and Anthony Davis.
With his ability to score both inside and out, Lopez would be a perfect fit Houston's high-scoring offense under Mike D'Antoni.
For his career, the 7'0 foot center is averaging 18.3 points per game. According to the NBA Player Tracking stats, Lopez has shot 50.9 percent from the field over his eight-year career. Which easily makes him one of the best jump-shooting bigs in the league.
Since centers have now evolved to stepping out beyond the arc, Lopez has added the three-pointer to his offensive repertoire. This season he is shooting a career high 37.8 percent from downtown.
If the Rockets can get an additional big who can score, imagine how unstoppable Houston's pick-and-roll offense will be with Lopez and James Harden.
If their defenders decide to double Harden when coming off the pick, Harden would have an additional player in Lopez to kick it out too. Or, if Houston's defenders decide not to double off the pick from Lopez, we all know how deadly The Beard is when isolated on offense.
Not only will their offense get an upgrade, but so will Houston's defense. With a career average of 1.7 blocks per game, the Rockets will have an intimidating presence in the paint.
So, in case the Rockets are looking to make a safe blockbuster trade, Morey should take a look at Brook Lopez. A 28-year old veteran who can dominate alongside an MVP candidate like James Harden. Sounds like a championship team to me.
Enjoy the season Red Nation.  Be sure to stay connected with Space City Scoop as our amazing team of writers keep you on top of all things Houston Rockets.
More from Space City Scoop
This article originally appeared on
---
---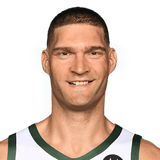 Get more from Brook Lopez
Follow your favorites to get information about games, news and more
---