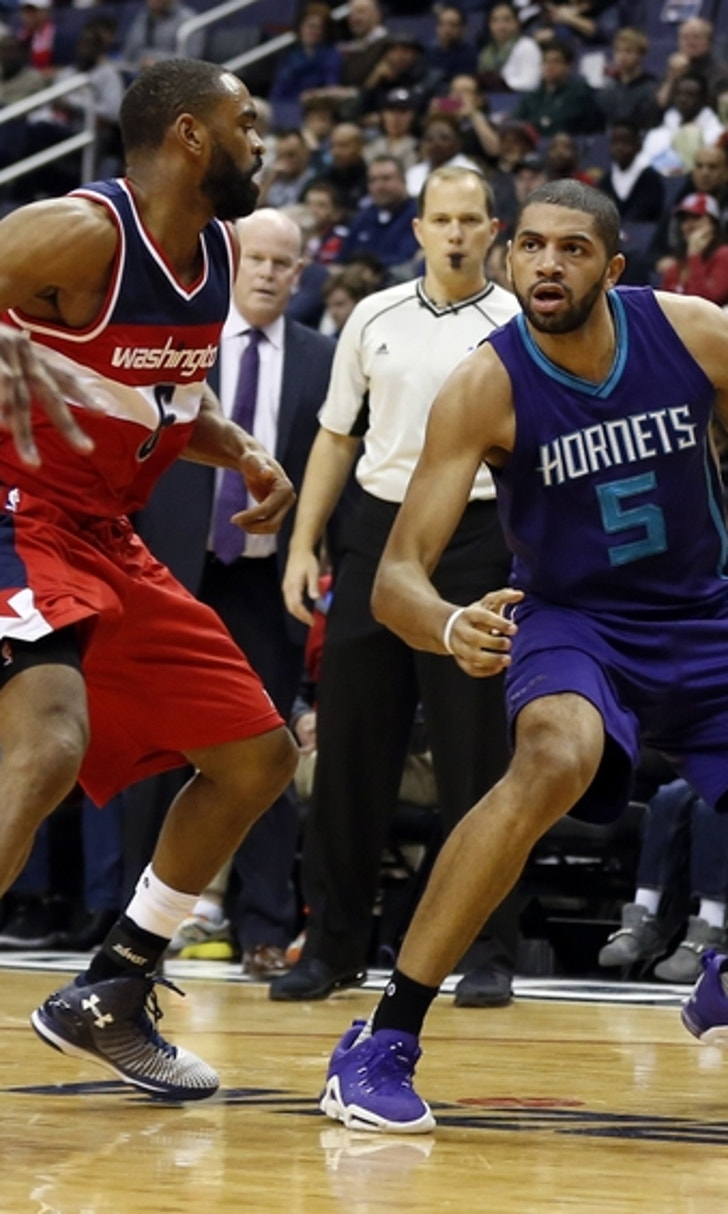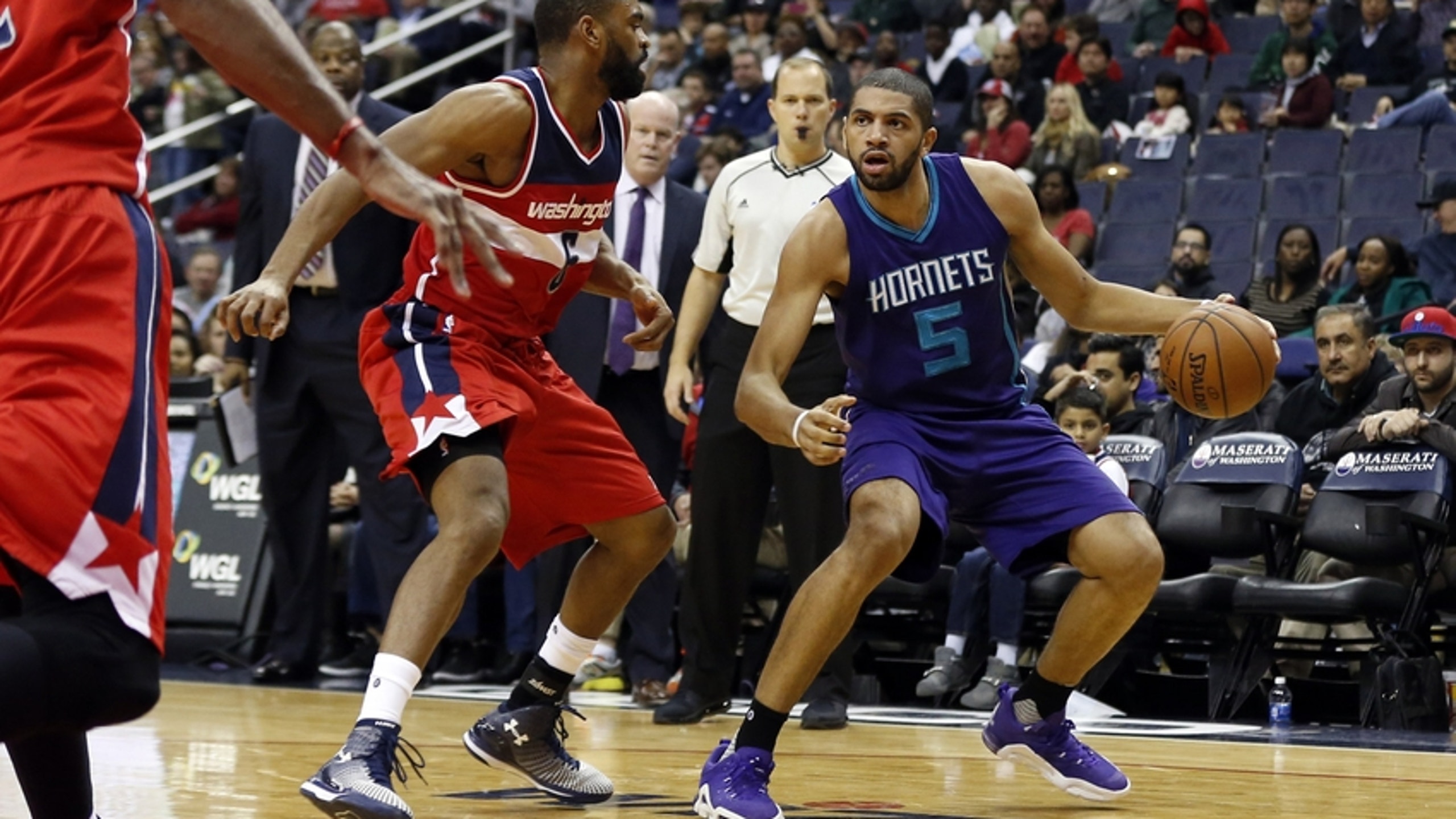 Buzz City Beat: Charlotte Hornets Dream Trade Scenarios and MKG's Inability to Close
BY Fansided and Jerry Stephens/FanSided via Swarm and Sting • December 14, 2016
Welcome to Buzz City Stings, Swarm and Sting's daily roundup of the best Charlotte Hornets' stories from around the web.
Buzz City Stings is your daily destination for the latest and best news from around the internet about the Charlotte Hornets. The team is looking to snap their two-game losing streak as they travel to the Nation's Capital to take on the Washington Wizards. In this edition, we look at dream trade scenarios, reasons why Kemba Walker should be an All-Star, why Michael Kidd-Gilchrist isn't a finisher, and the Greensboro Swarm's most recent game.
Dream Trade Scenarios
"The last real possibility for the Hornets to drastically improve their overall talent would be through the wheeling and dealing of a few trades. If GM Rich Cho doesn't want to wait half a decade to secure a high draft pick, nor believes the Queen City can lure the cream of the crop in free agency, then nailing a few blockbuster trades could be the answer." (AmicoHoops.net)
Trades involving Klay Thompson, DeMarcus Cousins, Anthony Davis, and Blake Griffin joining Charlotte? Yes, please. Obviously, none of these are close to or even have the smallest chance of happening but they are dream trade scenarios. Each of these would dramatically help the Hornets' team this season. Which is your favorite? I would love to see Blake Griffin or DeMarcus Cousins in purple and teal because I feel like those two have the best chance of actually happening.
More from Swarm and Sting
Reasons Why Kemba Should be an All-Star
"This coming February, the city of New Orleans will play host to the 66th NBA All-Star Game. Lately, one candidate has been strengthening his case to be a part of this season's festivities. He wears jersey No. 15 for the Charlotte Hornets. Below are fifteen reasons why Kemba Walker should be an NBA All-Star:" (Sports.abs-cbn.com)
15 reasons why Kemba should be an All-Star? You just need one. He's good. There is no doubt that Walker is playing at an All-Star level and it would be the ultimate snub if he didn't make it this year. To me, he has already locked up that spot if he continues on the path he's on.
Why MKG is a Starter but not a Closer
"Kidd-Gilchrist is a big part of this team's plans, primarily for his wide-spectrum defensive prowess. But in the fourth quarter of a close game, Kidd-Gilchrist has all but disappeared from the rotation, in favor of veteran reserve Marco Belinelli. Generally, Clifford prefers to put his best defensive team on the floor to start a game. In the fourth quarter, he morphs toward the best offensive group he can assemble without surrendering defense." (CharlotteObserver.com)
Want your voice heard? Join the Swarm and Sting team!
The rotation of starting with MKG and ending with Belinelli has worked well so far this season for Charlotte. Marco has been better than anyone could have expected and until Kidd-Gilchrist sorts out his poor shooting, the Italian international should continue to close out games. Being able to spread the floor is a huge plus for Kemba and company down the stretch of fourth quarters.
"Greensboro was paced by Archie Goodwin's 24 points on 8-of 15 shooting in 40 minutes. Xavier Munford added 20 points, five boards and six assists in 33 minutes. The 19-point win margin was Canton's largest so far this season." (dleague.nba.com)
Even with Aaron Harrison and Christian Wood on the roster, Greensboro struggled against the Canton Charge in their first ever meeting. Archie Goodwin and Xavier Munford have constantly performed well for the Swarm as their stock continues to rise. The team may only be 4-9 this season but they are doing a great job of developing young talent.
---
---