National Basketball Association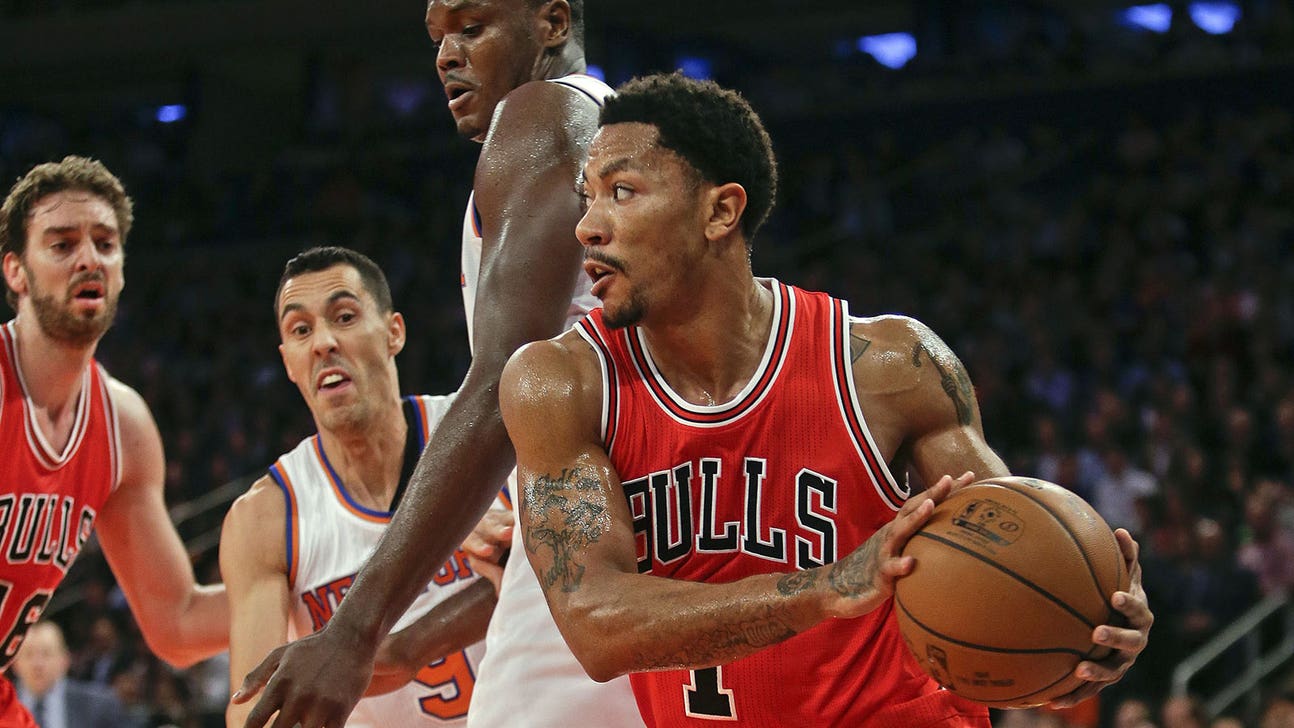 National Basketball Association
Bulls blow out Knicks in point guard Derrick Rose's return
Published
Oct. 29, 2014 10:49 p.m. ET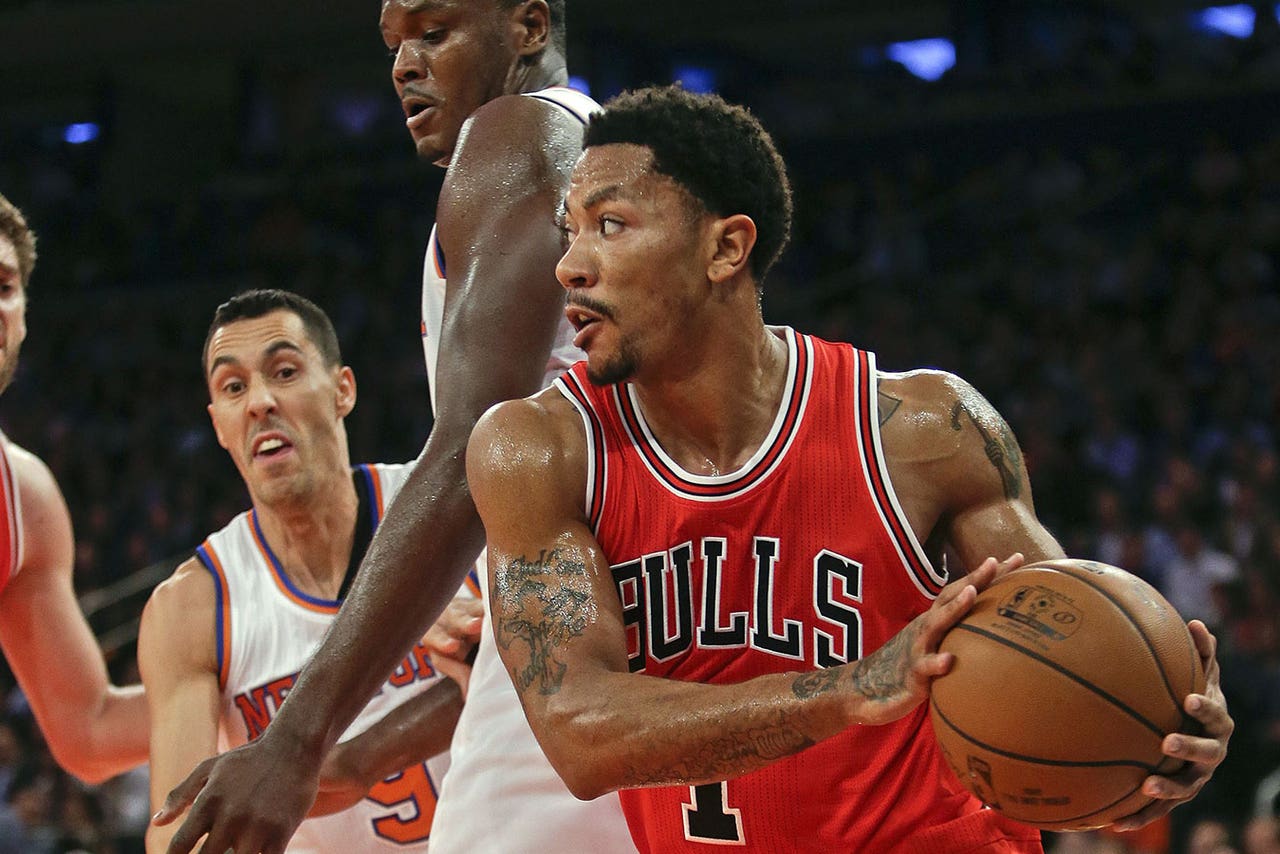 Derrick Rose spent way too much time sitting and watching the last two seasons.
Yet he wasn't bummed at all about playing just 7 minutes of the second half in his long-awaited return.
"It was real fun being on the bench," he said, "being able to laugh, talk basketball to your teammates whenever they come back to the sideline."
Not to mention check out a team he says can be "scary."
Pau Gasol had 21 points and 11 rebounds in his Chicago debut, Rose scored 13 points and the Bulls spoiled Derek Fisher's first game as an NBA coach by beating the New York Knicks 104-80 on Wednesday night.
Reserve Taj Gibson finished with 22 points to lead the Bulls, who with a wealth of frontcourt depth didn't even need a big night from Rose. The former MVP took only seven shots and had five assists in 21 minutes in a game Chicago led by as much as 35.
"I think it's a lot of pressure off his shoulders because we have, I think, a variety of weapons, so he doesn't have that pressure on himself to be able to score and force things," Gasol said.
Carmelo Anthony had 14 points for the Knicks, who won't have it any easier in the second half of their season-opening, back-to-back. They visit the Cavaliers, the other Eastern Conference favorite, on Thursday in the first game since LeBron James returned to Cleveland.
"Embarrassed? No, I am not embarrassed," Anthony said. "We will get better. I believe that. I know that and we have another shot at it tomorrow night."
The Knicks, running the triangle offense that Fisher played in under Knicks president Phil Jackson, shot 36.5 percent. They were missing starting point guard Jose Calderon, who was a late scratch because of a strained right calf. Shane Larkin made his first career start.
"We're going somewhere, but at the beginning of where we're going it's going to be difficult to get wins," Fisher said. "We have to fight really, really hard to win games."
Gasol, the former Lakers star signed by the Bulls this summer after they failed to land Anthony, shot 7 of 11 from the field. His presence, along with Rose's health, could give the Bulls a chance for their first championship since Jackson coached them to six when Michael Jordan was in Chicago.
Rose missed the 2012-13 season after tearing his left ACL in the 2012 playoffs. He returned last season and hit the go-ahead shot to beat the Knicks on Halloween in Chicago's home opener, but was lost again for the season when he tore cartilage in the other knee in November.
He showed a few flashes of his vaunted quickness but there often wasn't need for it. The better options for the Bulls were to just pound it inside to Gasol and Gibson, who combined to make 17 of 23 shots as Chicago shot 51 percent.
"When things run smooth like the way they were running tonight, I think everyone got a look at our whole entire team and they saw how deep we are," Rose said.
The Knicks led most of the first quarter as Amare Stoudemire hit his first four shots, but Chicago scored the final eight of the period to lead 24-20. Gibson then scored 10 in the second as the Bulls took a 53-43 advantage to halftime, and it was never close in a second half that featured the Knicks hearing some boos from the home fans.
TIP-INS
Bulls: Doug McDermott, the nation's leading scorer at Creighton last season, had 12 points in his NBA debut. ... Jimmy Butler missed the game with a sprained left thumb. He tied Anthony last season for the NBA lead with 38.7 minutes per game. ... Coach Tom Thibodeau didn't want to talk much about the Bulls' attempt to sign Anthony over the summer, saying both sides had moved on.
Knicks: Fisher said Calderon had discomfort after his pregame workout. Andrea Bargnani, who may have started in the frontcourt if healthy, remains out with a strained right hamstring.
STAT STARTS
Stoudemire started after coming off the bench in all but one preseason game. He had 12 points and a team-high eight rebounds. 
---
---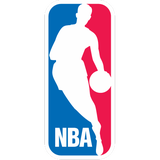 Get more from National Basketball Association
Follow your favorites to get information about games, news and more
---