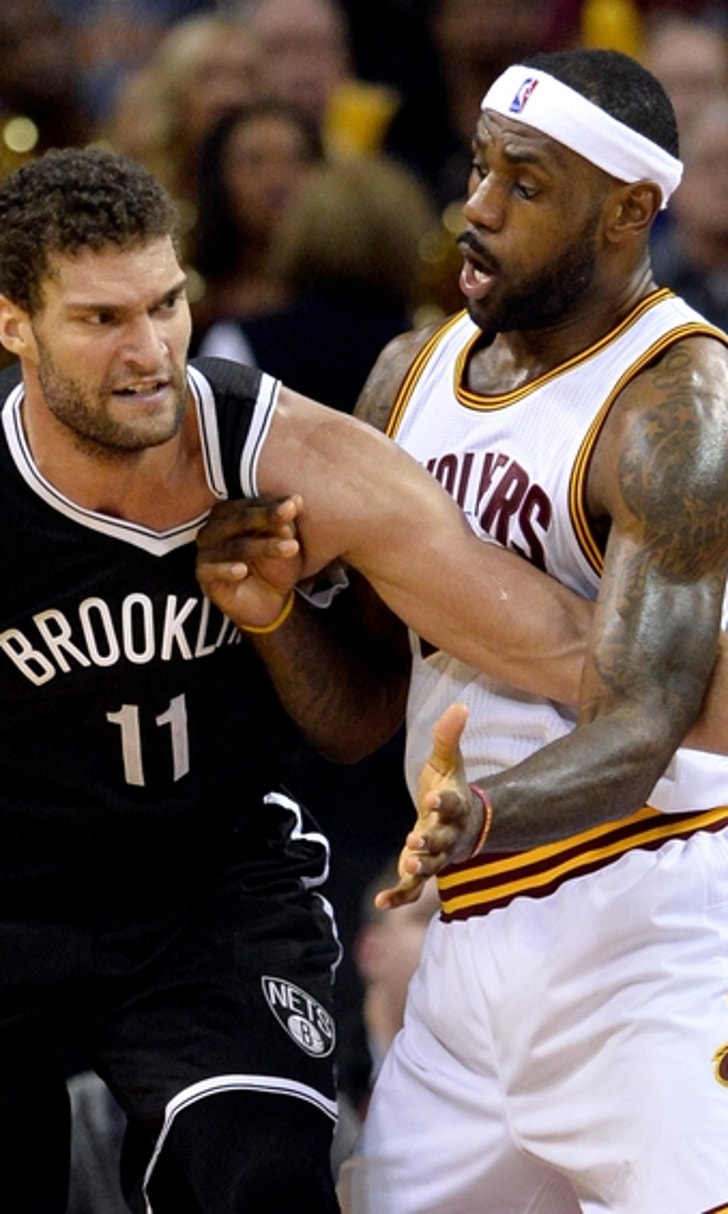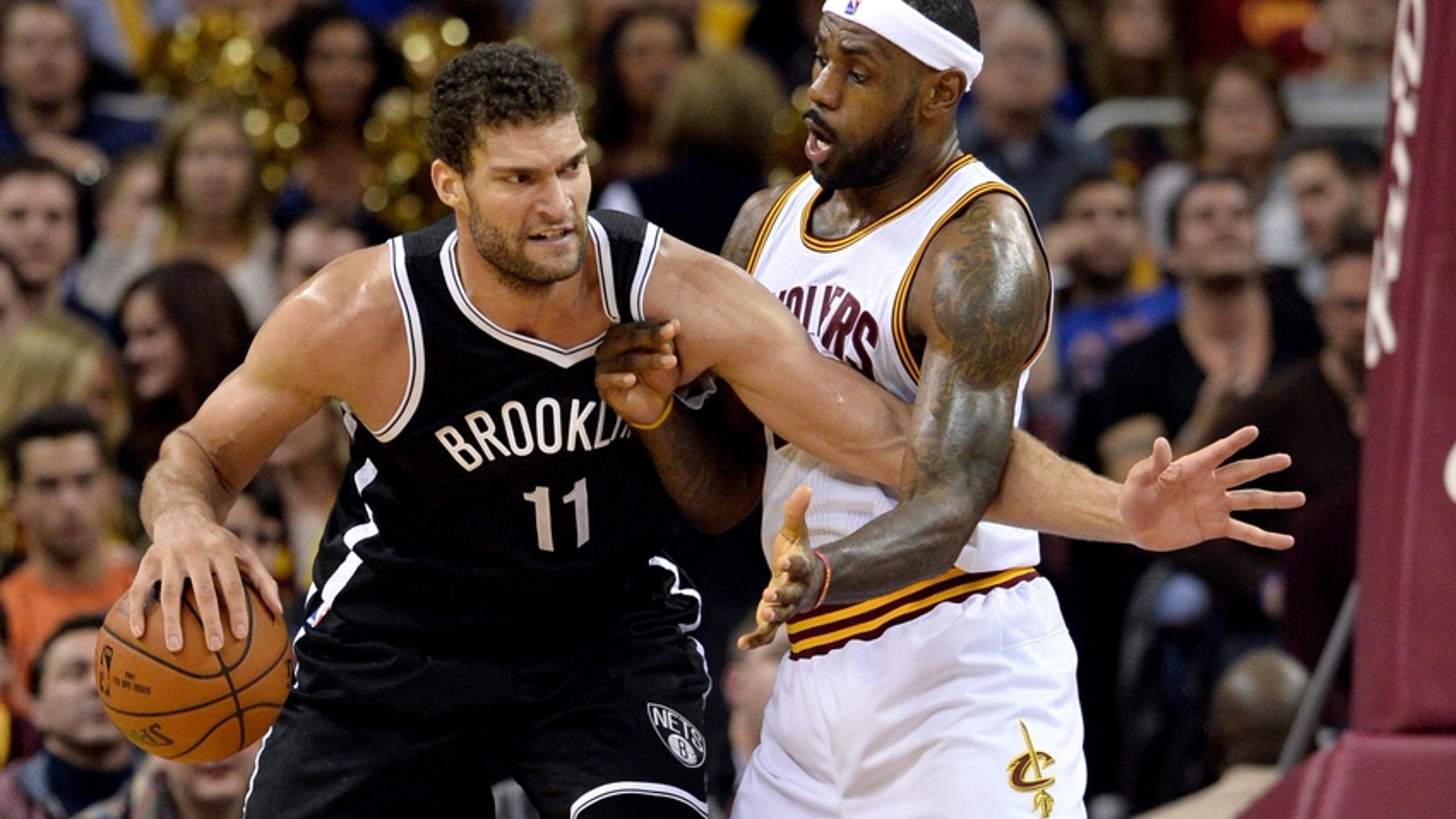 Brooklyn Nets vs. Cleveland Cavaliers Pre-Game Report
BY Fansided and Chris Cirillo/FanSided via Nothin' But Nets • June 30, 2017
Nov 28, 2015; Cleveland, OH, USA; Brooklyn Nets center Brook Lopez (11) works against Cleveland Cavaliers forward LeBron James (23) during the fourth quarter at Quicken Loans Arena. The Cavs won 90-88. Mandatory Credit: Ken Blaze-USA TODAY Sports
The Brooklyn Nets will look to snap a four-game losing streak when they host the banged-up Cleveland Cavaliers. The Cavs won the first meeting, but the Nets showed last season that when they play in Barclay's Center, anything is possible.
The Nets, losers in 9 of their last 10, will host the defending champions, winners in 13 of their last 16.  This game marks the first of a 6-game road trip for the Cavaliers.
Want your voice heard? Join the Nothin' But Nets team!
DON'T MISS OUT! Be the first to get Nets content by following us on Twitter and liking us on Facebook.
More from Nothin' But Nets
These teams met earlier in the season at Quicken Loans Arena, where the Cavs won, 119-99. The Cavs led by as many as 46 points and had a season-high seven players score in double figures.  The Nets split the home series with the Cavs last season, losing the first game, 91-78, and upsetting them in the second game, 104-95.
The Nets have been cold of late, as they are averaging 98 points per game during their 4-game losing streak, a little under seven points below their 105.5 points per game average.
Dec 23, 2016; Cleveland, OH, USA; Cleveland Cavaliers forward LeBron James (23) shoots over the defense of Brooklyn Nets guard Bojan Bogdanovic (44) during the first quarter at Quicken Loans Arena. Mandatory Credit: Ken Blaze-USA TODAY Sports
Keys to the Game:
1. Kill them with depth
The Nets won't have an advantage in the talent department, but will have the depth to combat a banged and bruised Cavs team. J.R. Smith (thumb) is out. Kevin Love (illness) and Kyrie Irving (hamstring) are unlikely to play, while LeBron James (illness) and Mike Dunleavy (ankle) are also not 100 percent.
RELATED STORY: Nets vs. Cavs Takeaways (from 12/24 matchup)
The Nets play the fastest (103.9 pace) and have a bench that scores the third most points (41.4) in the league. They'll certainly need to take advantage of that to test the Cavaliers lack of depth.
2. Defend the basket
If the Nets want to win, they have to do something they have struggled to do all year: defend. The Nets have one of the worst defensive ratings in the league, allowing 108.8 points per 100 possessions, and have allowed 113.7 points per game in their last 10 games. Bojan Bogdanovic has struggled the most of the Nets starting five, so it will be hard for Kenny Atkinson to ask him, or really any one player, to cover LeBron James.
The Nets will have to throw double teams, stunts and traps and force guys like Channing Frye, Richard Jefferson and DeAndre Liggins to beat them.
3. Box out
In the first meeting this season, the Cavaliers outscored the Nets 21-9 in second chance points. Tristan Thompson, who's coming off a season-high nine offensive rebounds on Wednesday, is averaging a career-high 3.8 offensive rebounds per game (4th best in the NBA). He posted a season-high 16 points in 26 minutes against the Nets last month, along with 11 rebounds, six of which were on offense.
MUST READ: What gives with health of Nets' point guards?
Players to Watch:
Brooklyn: Sean Kilpatrick. With no Kyrie Irving, Kilpatrick should be guarded by Kentucky-product DeAndre Liggins or Jordan McRae. While this will obviously be a downgrade for Cleveland, Liggins is no slouch on defense. Opponents are shooting 41.7 percent against Liggins, and he is holding them to 37.3 percent from behind the arc. Kilpatrick, who averages 15.3 points per game this season, has scored just 11.5 points per game during the four-game losing streak. In his first 24 games this season, he scored 20+ points seven times. He's hit that plateau just once in his last nine games. Look for Kilpatrick to break out of his mini-slump tonight. 
MUST READ: Nets should pursue Millsap in free agency
Cleveland: LeBron James. James is just 16 field goals away from becoming the 14th player in NBA history to record 10,000 career field goals. With no Love, Irving or Smith, James will be forced to carry the load offensively for the Cavs. While James is always capable of taking over, the Cavs will especially need him to come through for them tonight. He led all NBA scorers on Wednesday – with Irving, Love and Smith out – with 31 points. Look for a similar performance tonight.
Dec 23, 2016; Cleveland, OH, USA; Cleveland Cavaliers forward LeBron James (23) drives to the basket between Brooklyn Nets center Brook Lopez (11) and forward Rondae Hollis-Jefferson (24) during the first half at Quicken Loans Arena. Mandatory Credit: Ken Blaze-USA TODAY Sports
Projected Starting Lineups
Nets:
Cavaliers:
Injuries:
Nets:  Jeremy Lin (hamstring), Rondae Hollis-Jefferson (hip)
Cleveland: Chris Andersen (right knee ACL tear), J.R. Smith (right thumb fracture), Kyrie Irving (right hamstring tightness), Kevin Love (illness).
The game broadcast on YES Network at 7:30 EST. Join the conversation by tweeting @NetsBlogFS.
—
Like this content? Follow the writer to get his latest updates.
Get ahead of the game by adding the FanSided app and selecting Nothin' But Nets and be alerted the second our articles are posted.  Visit the app store or link here.
---
---