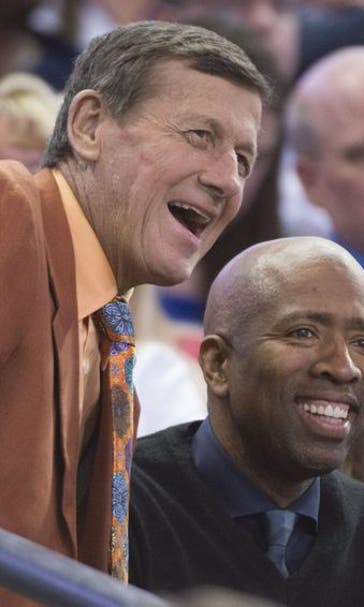 Brooklyn Nets Pay Tribute to Beloved Sideline Reporter Craig Sager
BY Fansided and Sandy Mui/FanSided via Nothin' But Nets • December 17, 2016
Longtime sports reporter Craig Sager passed away on December 15, 2016 from leukemia. Prior to their matchup against the Orlando Magic Friday night, a few Brooklyn Nets players spoke about the famed NBA on TNT sideline reporter.
Craig Sager is the epitome of courage and hope for his refusal to give up even when fighting leukemia for the past two years. A few Brooklyn Nets players remember him for his cheery self, humble personality, and love for his job.
Want your voice heard? Join the Nothin' But Nets team!
In a video aired on YES Network during the Nets' game against the Magic last night, a few Nets players commented on the flashy, beloved sideline reporter.
More from Nothin' But Nets
"When you think of Craig Sager, you just automatically smile because he smile on his face," said Trevor Booker. "So that's the first thing that stands out to me. He just brought so much flavor to the game that's going to be missed."
'Flavor' can be seen from Sager's outrageous outfits, or simply from his curiosity and desire to ask question after question. Or maybe even from his funny bouts with San Antonio Spurs head coach Gregg Popovich, who also gave a touching tribute to the TNT reporter. Either way, Sager's legacy will always be remembered.
"It's obvious when someone loves what they do and I think it's contagious," said Jeremy Lin. "And then I think it's really hard to fake it… when you see passion, it's very obvious."
Passion, flamboyance, and exuberance easily define Sager's personality, but even these three words are not enough to define how Sager lived all 65 years of his life.
"I just think his personality shines immediately to me," said Brook Lopez. "Just the kind of person he was. He always took time to stop by and have a little conversation and just how charismatic he was. He was such a fun person to be around. And I think you can tell… just by the outpouring of love, support, and warmth from the sports community and the world in general."
Other Nets have taken to Twitter to express their condolences to the Sager family. Sager's death has piqued support from throughout the NBA community and even more reputable figures, including President Barack Obama.
This past summer, knowing that he only had a few months left to live, Sager was given the opportunity to cover the 2016 NBA Finals alongside Doris Burke for ESPN. A month later, in July, Sager was awarded the Jimmy V Perseverance Award at the 2016 ESPY Awards show.
Sager's ESPYs speech was highlighted by many quotes, including this one: "I will live my life full of love and full of fun. It's the only way I know how." Up until his very last breath, Sager was able to achieve this, and it's no surprise that he was adored by so many people, even if they never met Sager in person.
The loss of Sager is a drastic blow to the NBA community, and his presence will heavily be missed on the court. However, he will never be forgotten, and #SagerStrong will live on while another lovely soul gets added to heaven.
---
---