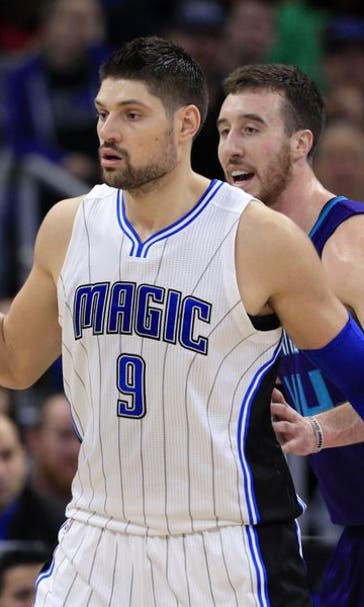 Blowouts become a byproduct of Orlando Magic's inconsistency
December 29, 2016

Fansided, Philip Rossman-Reich/FanSided via Orlando Magic Daily
The Orlando Magic once again took a crushing defeat at home in blowout fashion. This is seemingly a part of who this team is and a flaw in their build.
CharlotteHornets120
There is certainly a sense of frustration every time the score flashed or the Orlando Magic looked at the scoreboard in the third quarter. The score line being that lopsided, and seeing it happen so quickly is certainly frustrating for a team with such high expectations for itself.
They had watched a seemingly manageable seven-point halftime deficit balloon to as much as 31 in the third quarter. It seemingly came out of nowhere. But the frustration was certainly palpable.
One missed shot followed another. Then another. Then another and the Magic could not get it back under control.
Even on one possession, the Magic swung the ball perfectly to Elfrid Payton wide open on the weak side for a 3-pointer. Elfrid Payton took the shot — as he should — and missed. Serge Ibaka grabbed the rebound and dished out to C.J. Watson behind the 3-point line. His shot too was missed.
There was some salvation as Payton grabbed the rebound and fired it back out for C.J. Watson to take another three.
That one too clanked off the rim, as so many other shots did in the third quarter. The Magic could not buy a bucket during a 28-2 run for the Charlotte Hornets that let the game slip completely away in a 120-101 loss. It was a 31-point deficit by then and the game was out of reach.
Again.
The third time in three weeks the Magic have trailed by 30 points at home — the other two to the Boston Celtics and Toronto Raptors — an embarrassing mark that makes the Playoffs seem like a distant pipe dream.
The Magic have had a nasty habit of getting beat up and beat down in embarrassing fashion. And by margins that raise eyebrows. The Magic cannot seem to stem the tide when the ball gets rolling against them.
"You could say it is one of those nights, but we still have to respond," D.J. Augustin said. "They had us up by 11 and then after that it kind of spiraled out of control. We just have to do a better job of taking control of those situations."
The Hornets simply put an avalanche on them. Orlando could not recover.
Despite all the talk of the Magic's improved offense — and it has largely improved — this is still one of the worst in the league. Orlando posts a 100.6 offensive rating, 28th in the league.
The Magic's offensive issues from earlier in the year have not gone away. Many people recognize the Magic need a creator and scorer. Evan Fournier is not a perfect solution, but that is part of his role on the team. He does it better than anyone else.
Orlando is still 27th in effective field goal percentage. This is not a good offensive team, by most statistical measures. That was already a shortcoming for the team.
magic
Orlando Magic Daily 18hOrlando Magic Daily Podcast Episode 61: The Charlotte Hornets method
More headlines around FanSided:
1 d - Orlando Magic talk about making defense consistent1 d - Orlando Magic Rumors: So the Minnesota Timberwolves want some frontcourt help1 d - Orlando Magic Power Rankings Roundup: Ups and downs1 d - Should the Pelicans look into trading for Orlando Magic center Nikola Vucevic?1 d - 2016-17 NBA Power Rankings: Playing Naughty Or Nice In Week 10More News at Orlando Magic Daily

And with the lack of offensive creation and lack of reliable, consistent shooting, nights like Wednesday happen. Unfortunately, but they happen. It is part of this team and their limitations.
"I think it's just part of finding ourselves," coach Frank Vogel said. "I mean the variations in scores a lot of times is predicated by your opponents and the variation in the result is predicated a lot by your opponents as well. We played well the last two games. The Lakers and Memphis were not sharp, you know we jumped on them as a result. These guys were really sharp tonight, so at our best is going to be a total thing down the stretch, they played great we played poorly and the result was what it was."
It seems that has been the response time and time again. This time felt different.
The Magic's problems offensively were not one of effort or a failure to move the ball as it was against the Toronto Raptors. It was simply missing shots.
Orlando worked to get open shots — like on that fateful possession with three missed 3-pointers. The team did not change too much offensively, other than its frustration level. Even Hornets coach Steve Clifford admitted his team did not do much differently defensively after giving up 59.0 percent shooting in the first half.
The Magic just missed shots.
"We were getting good looks and we just couldn't knock them down," Jodie Meeks said. "You have games like that unfortunately. But we've just got to put this one behind us, regroup and get ready for the next one."
Orlando has had games like this. The team has had games like this far too many times. It is a recurring theme — particularly at home — to lose games and lose games big. And it is discouraging.
But ultimately they are just one game. They are one game of 82. And a 30-point loss counts the same as a one-point loss.
What the Magic cannot allow is for this loss to become a second straight blowout loss. A second straight bruising defeat. A second straight game where the offense's struggles lead to defensive let downs. That has happened far too often this year and is a cause for concern.
But it is not a cause for alarm. Not in isolation.
The Magic's occasional offensive struggles are part of the team's identity and the weakness in their roster construction. These are byproducts of this roster. They clearly happen on occasion. Just, the Magic hope, not too often.
Orlando still has to find the resolve to withstand these games and use the team's defense to keep the score close. This remains the piece the Magic are struggling to bring together.
Orlando now has three days to stew on this defeat and fix things in practice to right the ship once again.
More from Orlando Magic Daily
This article originally appeared on
---
---