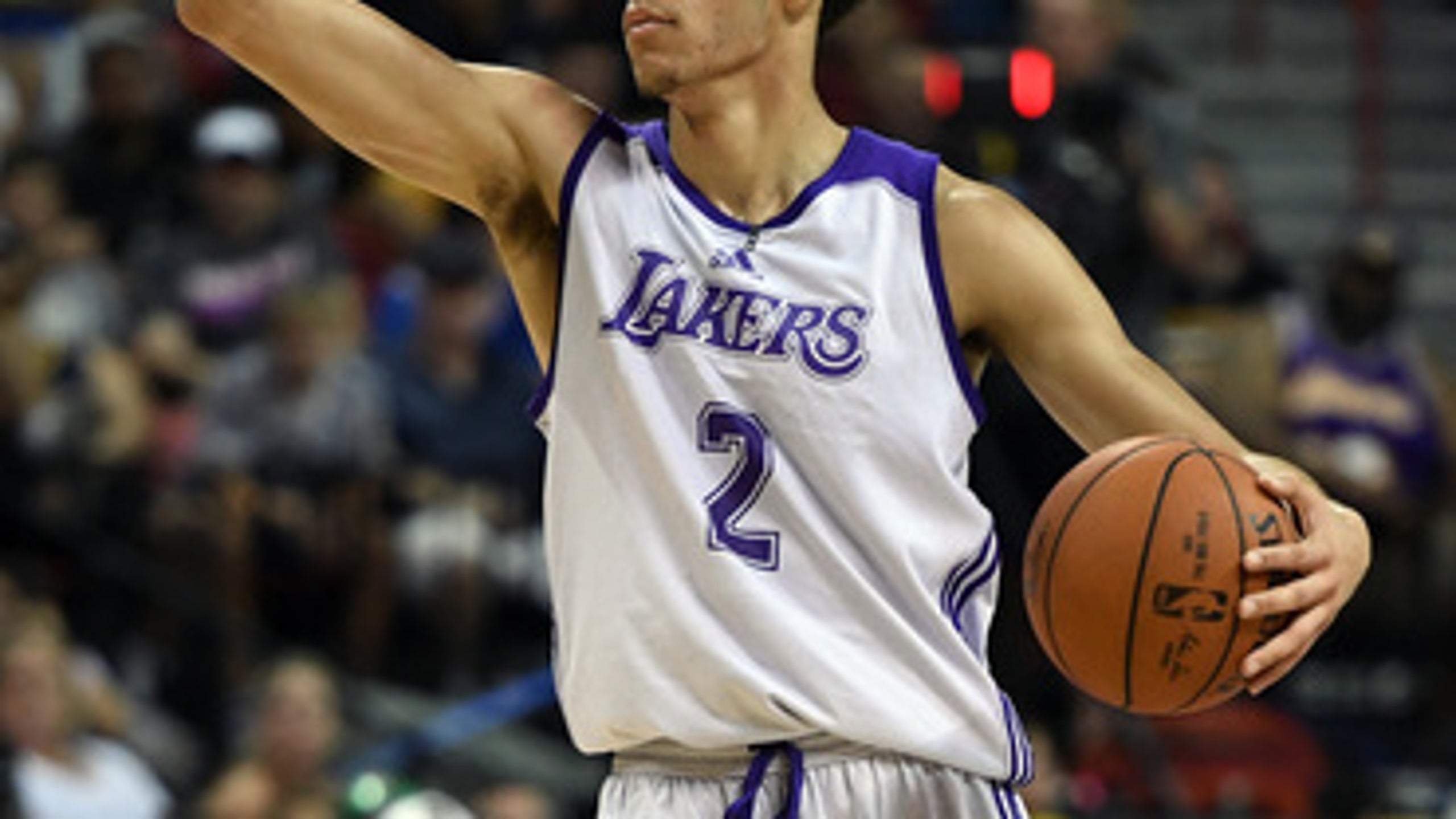 Ball won't face Fox as Summer League loses marquee matchup
BY AP • July 11, 2017
Lonzo Ball will have to wait for another shot at De'Aaron Fox. Their summer showdown Monday was canceled.
The Lakers rested their prized pick because of a groin injury, sitting him out of their NBA Summer League victory in Las Vegas over Sacramento and fellow rookie point guard Fox.
Fox dominated when Kentucky blew by UCLA in the NCAA Tournament, scoring 39 points to Ball's 10. LaVar Ball, Lonzo's outspoken father, would later say his son was playing with an injured hamstring.
If true, the No. 2 pick already knows there's no use trying to stay with the faster Fox at less than 100 percent. The Lakers said Ball, who struggled in his first game but responded with a triple-double in his second, had a sore right groin.
The Lakers got their first victory of the summer without him, blowing a 28-point lead but recovering for a 95-92 victory. Fox scored 12 points but played just 20 minutes, watching the Kings' comeback from the bench with his foot wrapped.
The matchup of California point guards was expected to headline an eight-game day that included a matchup between Golden State and Cleveland, who met in the last three NBA Finals. A look at the games:
LAKERS 95, KINGS 92
Vander Blue led the Lakers (1-2) with 21 points. Alex Caruso, who started for Ball, finished with 18 points and nine assists.
College player of the year Frank Mason scored 24 points for the Kings (0-3) and Buddy Hield had 22. Rookie Justin Jackson added 16.
CAVALIERS 91, WARRIORS 74
Cleveland improved to 3-0, leading by as many as 27 points against the team from the NBA champions.
Brandon Paul scored 21 points and backup point guard Kay Felder had 12 points and six rebounds for the Cavaliers.
Patrick McCaw, a key member of Golden State's rotation late in the season, was 3 for 15 for nine points. Alex Hamilton scored 11 points for the Warriors (0-2), who got eight rebounds in 15 minutes from second-round pick Jordan Bell.
HAWKS 75, BULLS 55
DeAndre' Bembry scored 17 points and John Collins had 15 points and 11 rebounds as Atlanta improved to 2-1. Diamond Stone, acquired from the Clippers in a three-team trade with Denver, had 12 points and six rebounds in 19 minutes.
The Bulls shot 22 percent from the field and were 4 for 35 (11.4 percent) in their pathetic performance. Lauri Markkanen, the No. 7 pick from Arizona, missed all 10 3-point attempts and went 1 for 13 overall. Second-year guard Denzel Valentine, who led the Bulls to the Summer League championship last year, was 1 for 12 and missed all eight behind the arc.
Cameron Payne scored 12 points for the Bulls (0-2).
HEAT 91, WIZARDS 87
Matt Williams scored 17 points and made five 3-pointers as the Heat moved to 2-0. Rookie Bam Adebayo had 16 points and seven rebounds, while Trey McKinney-Jones added 15 points and Okaro White scored 14.
Sheldon McClellan had 18 points and Jared Cunningham 16 for the winless Wizards (0-2).
NETS 95, PELICANS 66
Archie Goodwin had 18 points and eight assists as the Nets led by as many as 36 points and cruised to a 2-1 start.
Caris LeVert added 17 points, while Rondae Hollis-Jefferson and Isaiah Whitehead each had 11. All were part of the rotation last season on a Nets team that finished with the NBA's worst record.
Quinn Cook scored 20 points as New Orleans fell to a Summer League-worst 0-3.
ROCKETS 99, SUNS 94
Troy Williams scored 27 points for the Rockets (2-1), who also got 18 from Isaiah Taylor and 16 from Chris Johnson.
Zhou Qi of China missed all five 3-point attempts and finished with three points.
Marquese Chriss had 26 points for the Suns (1-2), who blew a 15-point lead and made just four baskets in the fourth quarter. No. 4 pick Josh Jackson of Kansas scored 20 points, and fellow rookie Mike James finished with 17.
RAPTORS 82, NUGGETS 81
Jakob Poeltl and Fred VanVleet each scored 17 points as the Raptors (3-0) hung on to remain unbeaten.
Denver had a chance to tie, but Juan Hernangomez made only two of three free throws after he was fouled with 14.5 seconds left. The Nuggets got one more chance, but Pascal Siakam came up with a steal with 2.9 seconds to go.
Siakam finished with 14 points.
Malik Beasley scored 19 points for the Nuggets (0-3).
CLIPPERS 100, BUCKS 93
Montrezl Harrell, acquired from Houston in the Chris Paul trade, scored 21 points on 10-of-13 shooting as the Clippers won for the third time in three games. He was 4 for 4 in the fourth quarter, when Los Angeles shot 11 of 14 while outscoring Milwaukee 29-18.
Sindarius Thornwell, who led South Carolina's surprising Final Four run, chipped in 18 points and Jamil Wilson finished with 18 points, eight rebounds and eight assists.
Rashad Vaughn scored 21 points and D.J. Wilson had 17 for the Bucks (1-2).
---
---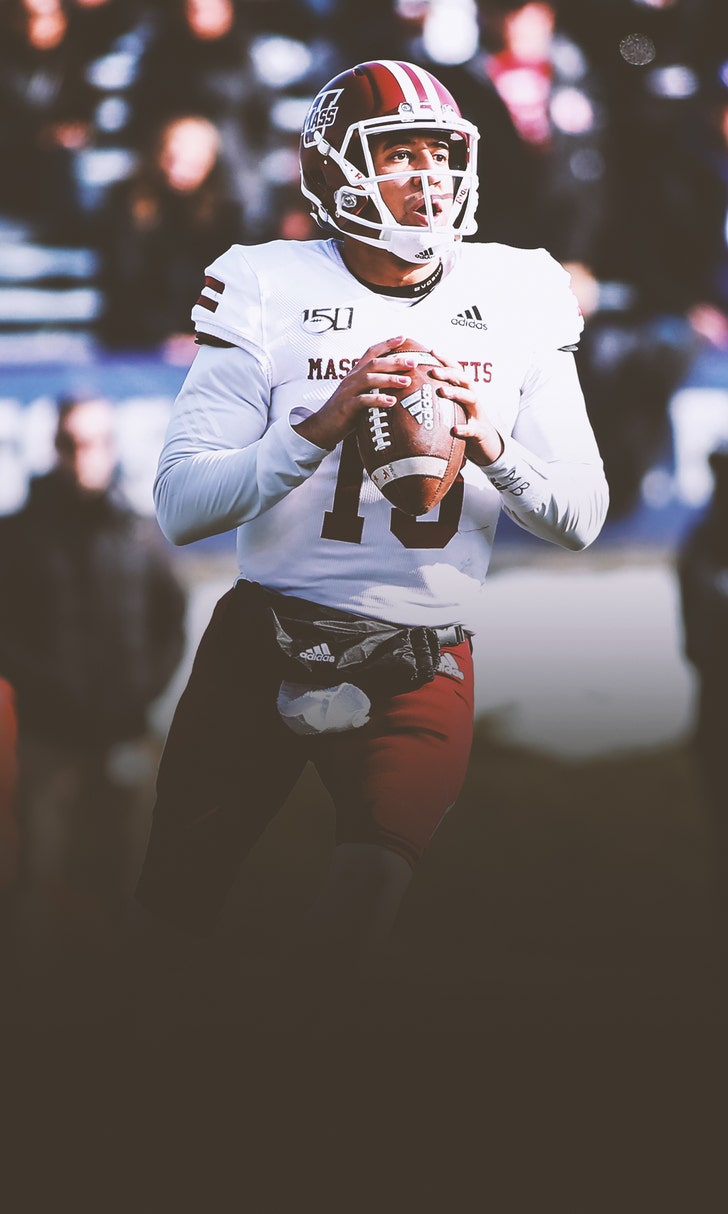 UMass Cancels Fall Football