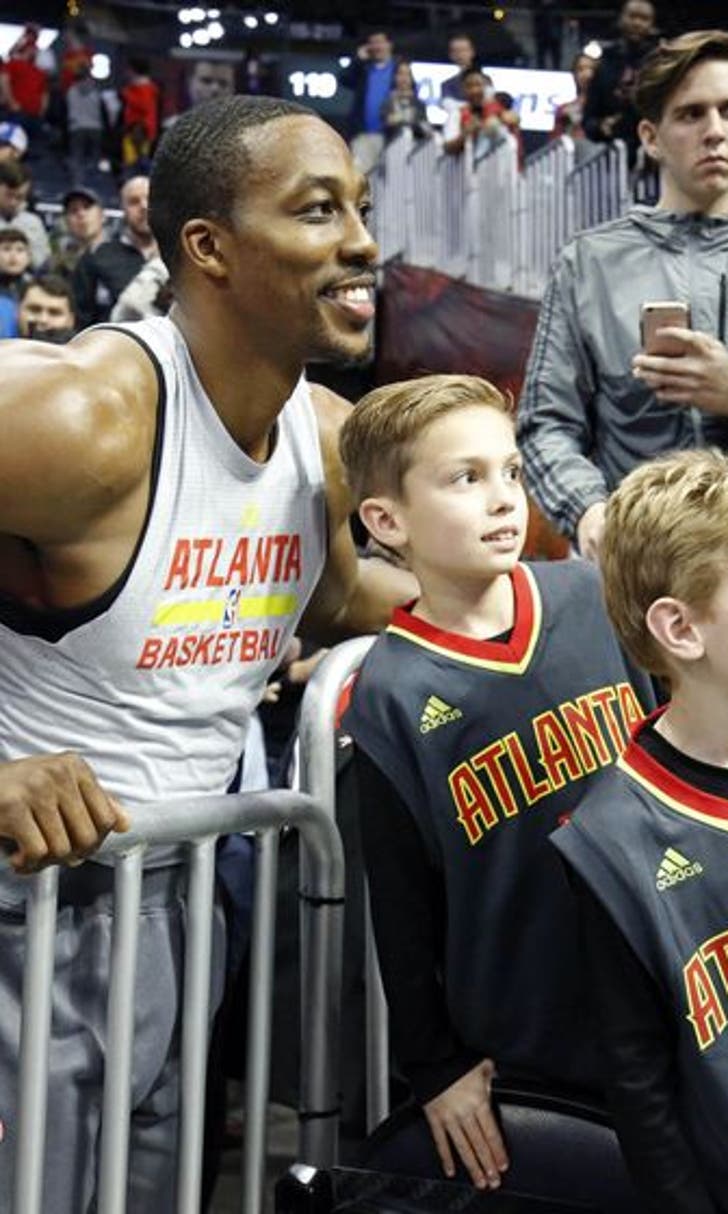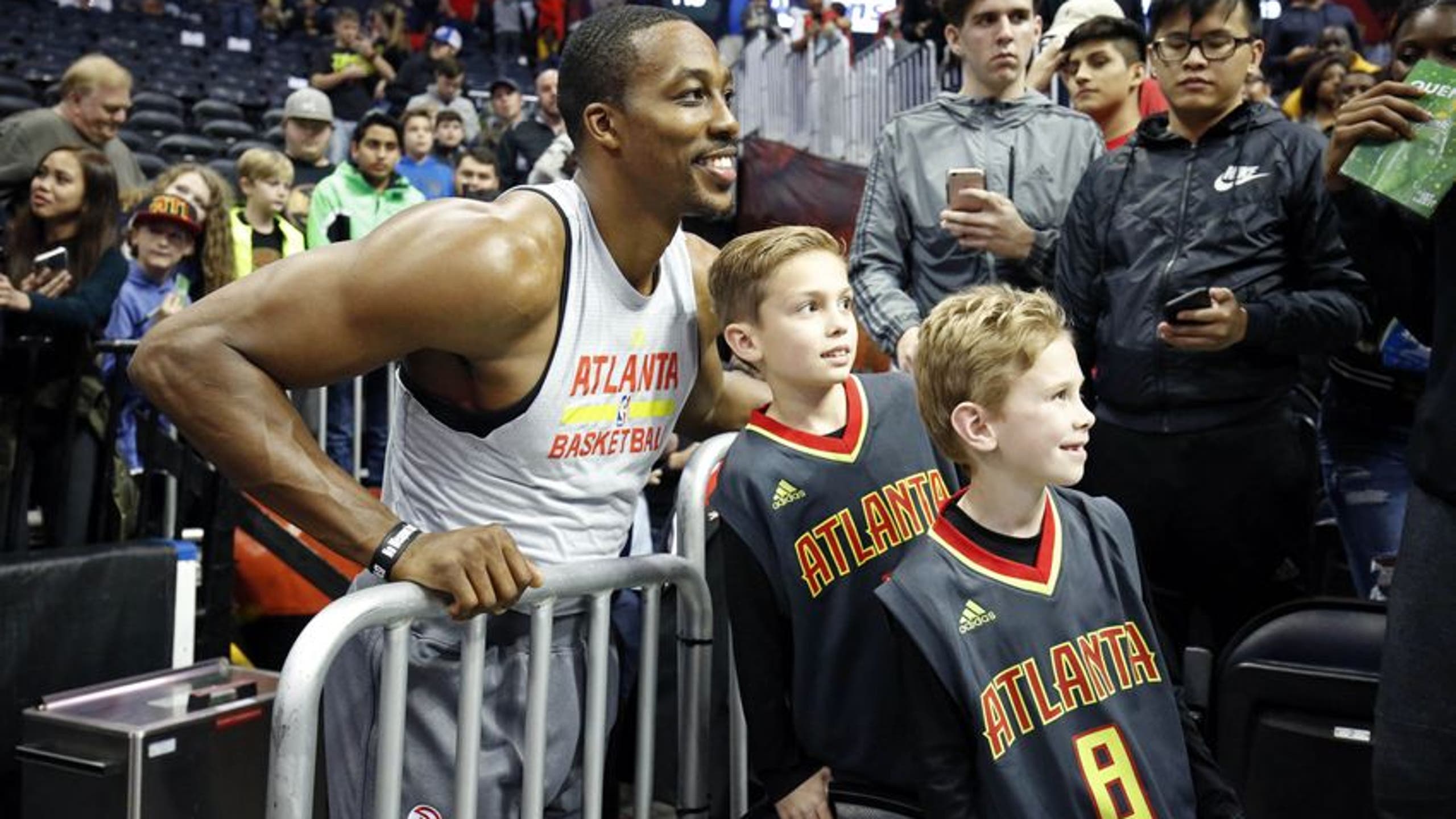 Atlanta Hawks: Will Dwight Howard Be An All-Star?
BY Fansided and Luke Duffy/FanSided via Hoops Habit • December 28, 2016
Despite finding redemption of sorts with the Atlanta Hawks, will Dwight Howard become an All-Star again this season?
The Atlanta Hawks may have lost Al Horford during the offseason, but they rebounded as well as they could have by signing Dwight Howard.
Since returning to his hometown team, Howard has stayed out of the headlines for all of the wrong reasons, unlike in previous tours with the Los Angeles Lakers and Houston Rockets.
Despite being just below .500, the Hawks find themselves in sixth place in the race to the Eastern Conference playoffs.
They have also gone from a bottom-10 rebounding team (24th with 42.1 last season) to a middle of the pack outfit this year (17th, 43.5).
Howard has been responsible for this modest jump and when combined with an image which is on the rise again and some impressive numbers, does he have a chance at making the All-Star team for the first time in three years?
For some this question may seem irrelevant, especially as we are still in December. But at 31 years of age, Howard is further away than ever in his quest to win a championship.
Dec 5, 2016; Atlanta, GA, USA; Atlanta Hawks center Dwight Howard (8) reacts to a play with guard Tim Hardaway Jr. (10) in the first quarter against the Oklahoma City Thunder at Philips Arena. Mandatory Credit: Jason Getz-USA TODAY Sports
If he wants to be considered a Hall of Fame player one day (and really, who doesn't?) then his individual numbers and All-Star appearances are what will get him there.
As of now, Howard is an eight time All-Star, equal with the likes of Yao Ming and Steve Nash, and ahead of names like Grant Hill, Tracy McGrady and Scottie Pippen (all at seven).
His early career persona fit perfectly with the exhibition game, in much the same way Shaquille O'Neal's once did as well.
Looking at what Howard has going in his favor to become an All-Star again, and some of his numbers are once more reaching the lofty heights of his Orlando Magic days.
His 13 rebounds per game is the best mark since the 2011-12 season, when he was in his prime with the Magic.
Even more impressive however, is the fact that Howard is grabbing 25.2 percent of his team's rebounds, a career-high for him.
Meanwhile his effective field goal percentage of 64.6 percent is the third-highest in the league right now, and another career high.
Howard has achieved this despite taking only 240 shots so far this season (making 155 of them).
Which brings us to his usage rate. Howard complained about a lack of touches and offensive involvement while with the Lakers and Rockets.
Playing alongside Kobe Bryant and then James Harden, however, it was always going to be tough to be the offensive focal point.
Despite the Hawks having no clear offensive stud (and that's no disrespect to Paul Millsap, who does a bit of everything for this team) Howard has quieted over his lack of touches.
hawks
Soaring Down South 1 dFormer Atlanta Hawks That Wore Air Jordans
More headlines around FanSided:
1 d - Grades From 104-90 Loss To Timberwolves1 d - 2016-17 NBA Power Rankings: Playing Naughty Or Nice In Week 101 d - College Basketball Power 10: Louisville Cardinals Get Statement Win1 d - Atlanta Hawks Headlines: Dwight Howard Is Still Elite2d - Atlanta Hawks: Dwight Howard Among NBA's Best CentersMore News at Soaring Down South

His usage rate of 20.9 percent is the third lowest mark of his career (ahead of only his rookie year, and last season, when the Rockets gradually froze him out).
His Player Efficiency Rating (PER) of 23.3 is also his best since his last season with the Magic, while also being the 21st-best mark in the league.
With Howard being as productive around the hoop as ever, rebounding at an elite rate again and not complaining about his situation, he really is back as a force in the league.
It's almost a pity that this version of Howard the player didn't exist in Houston, as that Rockets team would have been real contenders to win it all while he was there.
With output like that too, it's hard to argue with his inclusion in the All-Star game in 2017. However there are still two key stumbling blocks.
The first is the fact that a traditional center is no longer needed, meaning Howard may not get voted in by fans, or make the reserves through the selection of the coaches.
The second, and by far the bigger hurdle, is the fact that there are just better big men in the East than Howard right now.
Hassan Whiteside, although playing for a poor Miami Heat team, is having a monster year statistically.
His 17.8 points and 14.7 rebounds are old-school Howard numbers, while he's adding an estimated 6.6 extra wins onto his team's total, the best mark of all big men in the East.
If any one true center deserves to be an All-Star, it's Hassan Whiteside.
The competition doesn't stop there however, as Andre Drummond is also making a case for inclusion.
An All-Star last season, it's crazy to think that Drummond is still only 23 years of age. His basic numbers may also have dropped on the year before, but he has improved in several key areas.
Just got out of #RogueOne — glad to see the storm troopers' shooting % is still the same as Dwight Howard outside of three feet.

— Rob Perez (@World_Wide_Wob) December 19, 2016
More from Hoops Habit
Free throw shooting (44.7 percent, still a horrendous number, but a career high), rebounding numbers (collects 36.2 percent of his team's defensive rebounds) and defensive plus/minus (3.4, career high and better than both Howard's 2.3 and Whiteside's 1.3).
Drummond is also durable (played in 336 of a possible 400 games since being drafted), consistent (PER never been below 21.2, is 21.3 this season) and is playing on the best incarnation of the Pistons that he ever has.
If Whiteside was to be voted in, there's every reason to think that it would be Drummond sneaking in behind him, as his back up.
You could begrudge neither of those guys there spot on the roster either.
You might think that Dwight Howard's potential exclusion from this year's All-Star game doesn't matter.
But in his 13th season, Howard needs to begin thinking about his legacy. He has made great strides in fixing his tarnished reputation with the Atlanta Hawks.
But in terms of receiving recognition for his efforts, the days where he was an automatic choice to be an All-Star have vanished.
With it goes one small, but notable, part of the case he is trying to put together to one day make it into the Hall of Fame.
---
---