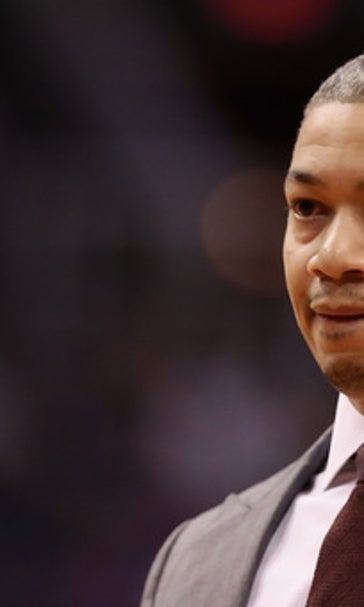 AP Source: Lue expected to return Thursday for Cavaliers
April 4, 2018
CLEVELAND (AP) Tyronn Lue is rejoining the Cavaliers' disjointed season.
Cleveland's coach is expected to return from a medical absence and be back on the bench Thursday night against Washington, a person familiar with the situation told The Associated Press on Wednesday.
Lue, who has been away from the team since March 19 so he could focus on his health, has been cleared to resume his duties, said the person who spoke on condition of anonymity because of the sensitivity of the situation.
Lue had been experiencing chest pains, insomnia and other symptoms when he agreed to take a leave of absence from the three-time defending Eastern Conference champions. Lue's illness is among several setbacks this season for the Cavs, who have encountered numerous injuries and revamped their roster with three trades in February.
The 40-year-old Lue is coming back with four games left in the regular season and the Cavs clinging to the No. 3 seed in the postseason. After hosting the Wizards, the Cavs will play at Philadelphia and play the New York Knicks twice next week.
Lue recently returned in an advisory capacity and has been at home games, but stayed behind the scenes at Quicken Loans Arena. He has been attending the team's shootarounds for the past week and working his way back into a normal routine.
''He's kind of been gradually getting back into it,'' associate coach Larry Drew said before Tuesday's win over Toronto. ''I can see that the guys have already embraced him. So it's just a matter of him being more hands-on now once he does get back.
''Just from what I've seen, it looks like everybody has rolled their sleeves up and just waiting for the day he comes back so they can get to work. Right now, it looks no different than when he left.''
Lue is in his third season with Cleveland. He replaced David Blatt midway through the 2016 season and guided the Cavs to an NBA title, the first for any of Cleveland's three major pro sports franchises since the Browns won an NFL championship in 1964.
While Lue was away, the Cavs went 8-1 under associate coach Larry Drew, a former head coach who smoothly handled the transition and kept the Cavs from falling in the standings.
Drew refused to take any credit, but Cleveland's players acknowledged his steadiness has been important.
''He's been excellent,'' LeBron James said. ''He's been an extension from our head coach and we're all working toward the same goals and it's great to have him. He's been a head coach in this league for years as well so it's great to have that security blanket.''
Drew's main job during Lue's absence was to keep the team and now the coaching staff has to figure out lineup rotations in advance of the playoffs.
Cleveland's roster has been in nearly constant flux because of injuries and other issues. Forward Kyle Korver played Tuesday for the first time since leaving the team on March 19 to be with family following his brother's death in Iowa. Also, starting point guard George Hill has missed the past two games with a sprained left ankle.
''It's been a really trying stretch,'' Drew said. ''Given what we've already gone through this season, you know, as a team you can only take so much. The way our guys have persevered over these last 10 says a lot about the character of this team.''
---
More NBA basketball: https://apnews.com/tag/NBAbasketball
---
---