All-Star coach Steve Kerr didn't rule out playing Russell Westbrook with the Warriors
BY Andrew Lynch • January 28, 2017
The Golden State Warriors have four All-Stars this year — Stephen Curry, Kevin Durant, Draymond Green and Klay Thompson — plus one All-Star coach in Steve Kerr.

On Friday, Kerr told reporters he "absolutely" plans to play all four of the Warriors together in New Orleans, which seems like a no-brainer. The open question, as Klay Thompson pointed out at practice, is who will join the Golden State big four in the All-Star lineup.

If you ask us, the answer is simple: Oklahoma City Thunder point guard Russell Westbrook, whom Durant spurned to join the Warriors this past summer, is the obvious fifth. And when he was asked, Kerr didn't rule out the possibility.

He also didn't say, "yes," but for now, we'll take any reason for hope we can get.

Via ESPN.com:

Asked whether that scenario could play out, Kerr grinned and politely walked away. For now, Kerr wants to savor the accomplishment of four players, plus the coaching staff, representing the Warriors in New Orleans on Feb. 19.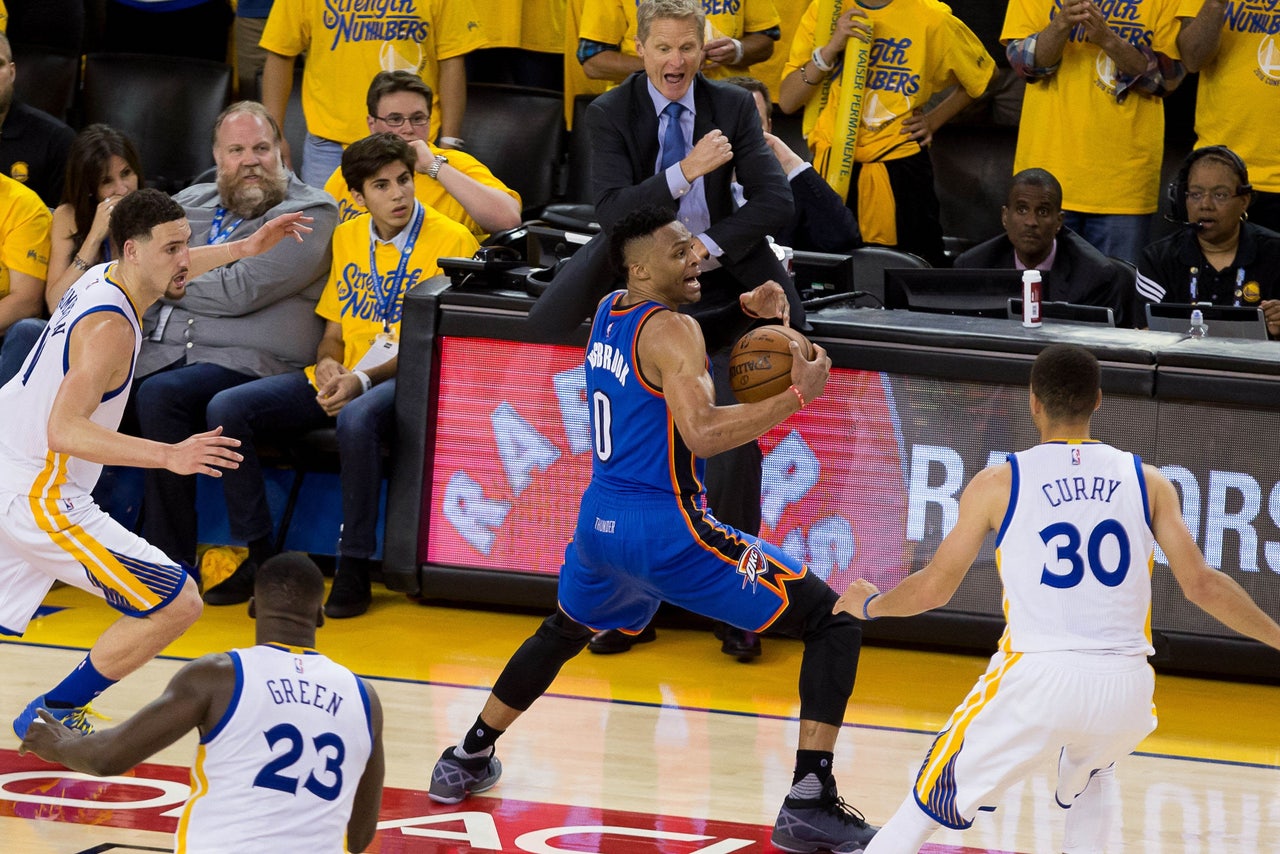 Kerr's a former member of the media AND a former player AND an NBA Coach of the Year. He understands the dramatic side of the Association as well as anyone, so his silence could mean anything. Maybe he's still considering the possibility. Maybe he doesn't want to shoot down our dreams. Maybe he already knows he's going to play that lineup, and he's keeping that decision close to the vest. Or maybe he just didn't want to answer the question.

Whatever the case may be, Kerr was focused on celebrating his team's accomplishment.

"It's a great honor for those guys individually and for us as an organization," Kerr said. "It's pretty remarkable to have this group together right now and to see them all playing so well together along with the rest of our guys. It doesn't always work that way -- where you put a group together, a group of stars -- and it doesn't always click. But it's clicked because our guys are unselfish and they enjoy playing with one another, so we're really happy for all four of them."
---
---