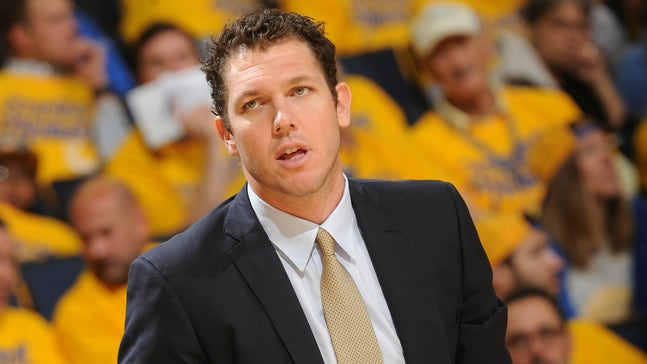 A Warriors executive pulled a ruthless prank on new Lakers coach Luke Walton
Published
May. 18, 2016 9:14 a.m. ET

The Los Angeles Lakers dodged a bullet Tuesday night in the NBA Draft lottery, and came away with the second overall pick to help speed up the rebuilding process under soon-to-be head coach Luke Walton.
There was a chance the Lakers could have been bumped out of the lottery entirely - if the Lakers didn't land in the top 3 picks, they would have had to forfeit their pick to the Sixers, a deal stemming from Los Angeles' trade for Steve Nash in 2012. Fortunately for Lakers fans, the odds played out they way they statistically should have and LA will now have the chance to (likely) select either Ben Simmons or Brandon Ingram. 
Walton will take over as the coach of the Lakers whenever Golden State's playoff run comes to a close, but as of now he's still on the Warriors bench - and a Warriors executive had a bit of fun at Walton's expense Tuesday night. 
According to O.C. Register reporter Bill Oram, Warriors vice president of communications Raymond Ridder broke the news to Walton that the Lakers drew the fourth pick (and therefore lost it to the Sixers), and Walton fell for it.
That's just mean.
---
---