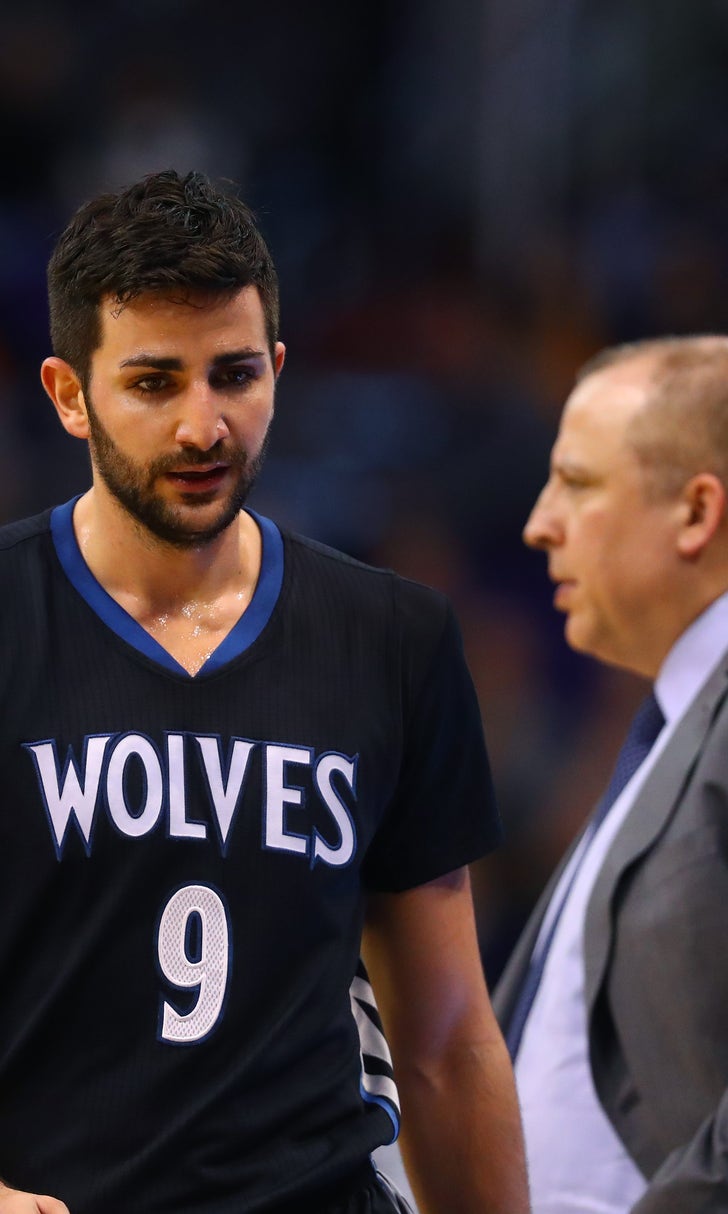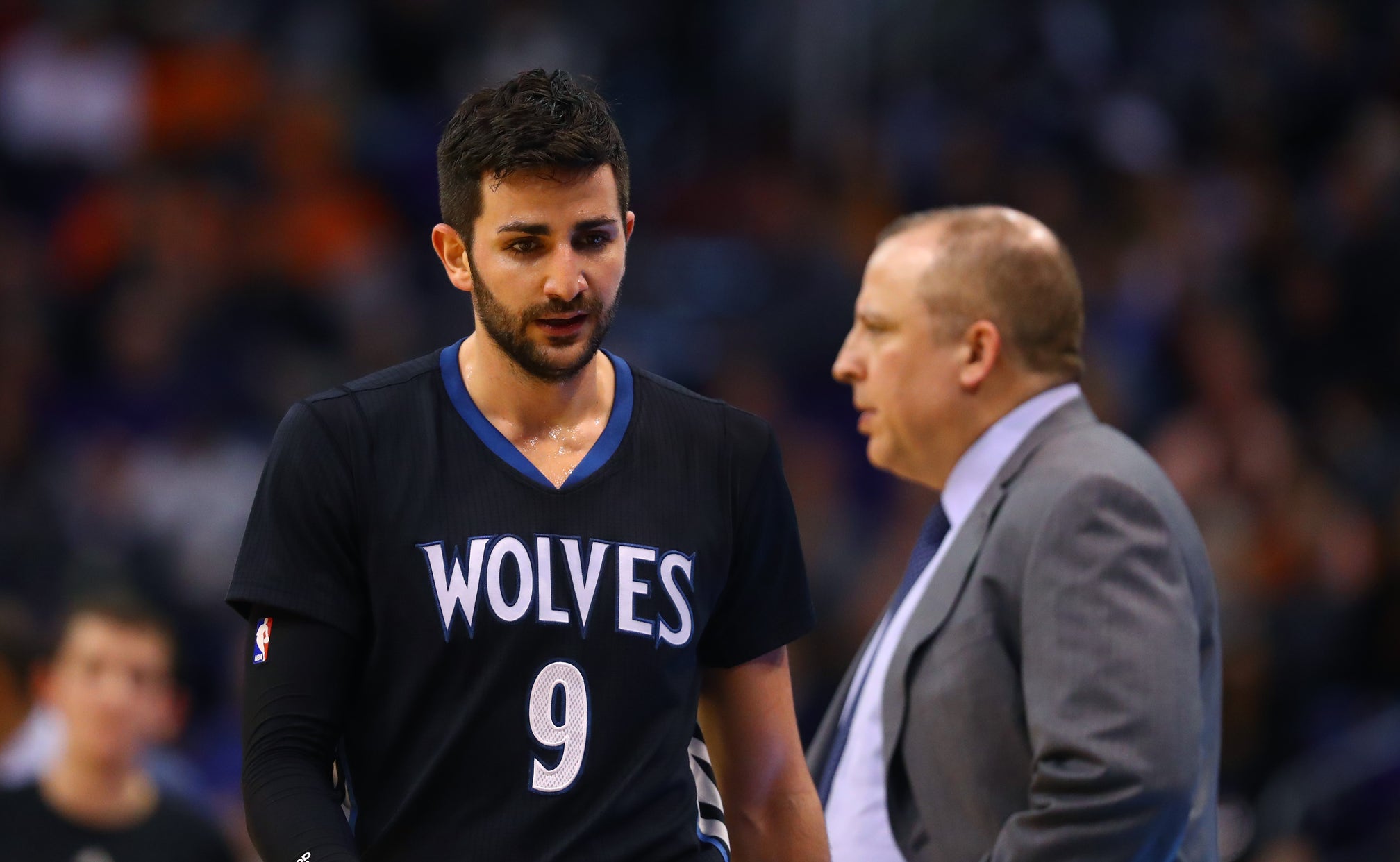 5 Ricky Rubio trades that we all can live with
BY Fansided and Dan Voicescu/Fansided • June 30, 2017
With the young Minnesota Timberwolves out of contention for a playoff spot it is likely that Tom Thibodeau and Scott Layden will look to shake things up at the deadline and turn the former Spanish golden boy Ricky Rubio into assets for next season.  We look at five potential destinations for Rubio.
Zach LaVine's season-ending injury changes the calculus for the Timberwolves and with a playoff spot potentially out of reach it might be time to address the cluttered point guard position — Ricky Rubio, Kris Dunn, and Tyus Jones. Jones and Dunn are more about potential right now, but in the near future all three of these guys could be starters on a dozen of NBA teams. It makes perfect sense to shop one of them. Tyus Jones is a local kid who is still 20-years old, and obviously the jury is still out on Kris Dunn who also offers the benefit of playing on a rookie contract for the next three years.
The main trade bait being dangled must be Ricky Rubio.
Oct 30, 2015; Philadelphia, PA, USA; Philadelphia 76ers center Nerlens Noel (left) and center Jahlil Okafor (right) watch from the bench during the final minutes of a game against the Utah Jazz at Wells Fargo Center. The Utah Jazz won 99-71. Mandatory Credit: Bill Streicher-USA TODAY Sports
5. Rubio for a 76ers' big man
The Sixers boast a strong frontcourt made up of recent high draft picks, Joel Embiid has come back strong after battling foot injury and has taken the league by storm. Ben Simmons could be back before the season's end. With Nerlens Noel and Jahlil Okafor also in the mix, the Sixers frontcourt is stacked. However, T.J. McConnell and Sergio Rodriguez are not your point guards of the future. Ben Simmons may well end up being used at the one spot at times, but this team still needs an upgrade at point guard.
Ricky Rubio would make a lot of sense, at 26 he is still young and would be able to continue to grow alongside the young Sixers.
In return, the Sixers could send some variation of a package involving Nerlens Noel along with Gerald Henderson or Ersan Ilyasova to make the salaries work in the trade. Noel has been playing well lately and it seems like the Sixers would prefer to trade Jahlil Okafor, but Noel will net a more intriguing return.
Noel is limited on offense but has immense defensive potential. As a rim-runner he would nicely complement Karl-Anthony Towns' inside-out offensive game, and Noel and KAT would could make for a devastating defensive duo.
Mar 14, 2016; Toronto, Ontario, CAN; Chicago Bulls forward Taj Gibson (22) talks to forward Jimmy Butler (21) against the Toronto Raptors at Air Canada Centre. The Bulls beat the Raptors 109-107. Mandatory Credit: Tom Szczerbowski-USA TODAY Sports
4. Rubio as a Chicago Bull
This trade would imply that Tom Thibodeau engages in trade talks with his former team, a somewhat unlikely scenario given the way the two sides broke off their relationship, but let's assume better judgment and cooler heads prevail. Thibs has experience working with a few guys currently on the Bulls payroll (ahem, Taj Gibson) and would probably push for a guy in the Taj Gibson mold, who would bring some much-needed grit and strong defensive ability to a Minnesota team desperately lacking in both.
The most likely trade scenario involving the Bulls would have to include a third team willing to take on Rajon Rondo and his $14 million year 2017-18 contract. Otherwise the trade would make no sense from a personnel perspective, as both the Bulls and the Wolves are deep at the point guard position. The "Rondo factor" may ultimately be an unsurmountable obstacle, but if another team is willing to hump in, then this trade becomes much more likely. With Gibson entering free agency this summer, the Bulls brass may need to trade him away to avoid losing him without getting anything in return.
MINNEAPOLIS, MN – JANUARY 09: Ricky Rubio #9 of the Minnesota Timberwolves looks on during the game against the Dallas Mavericks on January 9, 2017 at the Target Center in Minneapolis, Minnesota. NOTE TO USER: User expressly acknowledges and agrees that, by downloading and or using this Photograph, user is consenting to the terms and conditions of the Getty Images License Agreement. (Photo by Hannah Foslien/Getty Images)
3. Rubio to the Milwaukee Bucks
If there is one team on the cusp of making the playoffs that would benefit from a point guard upgrade it is the Milwaukee Bucks. Malcolm Brogdon has had a tremendous rookie season, but the experience and versatility of Ricky Rubio should be an upgrade for the Bucks at this point (or whatever we're calling the complement to Giannis Antetokounmpo). It's hard to conceive of a scenario where either Brogdon or Matthew Dellavadova could lead the Bucks to playoff success, either in the short or medium term.
Jabari Parker's knee injury could complicate things but with Khris Middleton returning from injury, a backcourt of Rubio and Middleton with Parker and Giannis in the frontcourt, along with Greg Monroe/John Henson in the paint gives the Bucks a young core able to challenge in the East for years.
A combination of Mirza Teletovic, Michael Beasley and draft picks going back to Minnesota would make sense here. The Timberwolves would receive one of the Bucks big men that would provide shooting range, be able to stretch the floor and add another dimension to an offense that relies can see things get clogged up in the lane.
Nov 30, 2016; Minneapolis, MN, USA; Minnesota Timberwolves guard Ricky Rubio (9) during a game at Target Center. The Knicks defeated the Timberwolves 106-104. Mandatory Credit: Brace Hemmelgarn-USA TODAY Sports
2. Rubio heads to Broadway
The New York Knicks, the league's favorite redheaded stepchild possess two attributes that make Madison Square Garden a likely destination for Ricky Rubio:
The first is a surprisingly strong inclination to recruit and build around Euro players. The "Euro Knicks" feature three key components who all plied their trade in Spain (Kuzminskas, Porzingis and Hernangomez), although neither of them is a point guard. Adding point guard Ricky Rubio is the next logical step here.
A dire need for a "pass-first" point guard. As the season has progressed, the chances of Derick Rose being re-signed decreased exponentially. Rose averages only four assists per game and has not been exactly a nurturing veteran presence. Brandon Jennings is a viable back-up option, as he has thrived off the bench at times, but he's not a quality starting point guard. This is all to say the Knicks are very much in need of some help.
This trade would hinge on a variety of factors; the willingness of the Wolves to take on Rose's expiring contract, the Knicks' willingness to build around a guy like Rubio who has had injury woes of his own. With Phil Jackson focusing on a potential Carmelo Anthony trade, what is the appetite around the Knicks organization to focus on a separate deal not involving Melo?
Dec 23, 2016; Minneapolis, MN, USA; Minnesota Timberwolves guard Ricky Rubio (9) reacts to his foul against the Sacramento Kings in the first quarter at Target Center. The Kings win 109-105. Mandatory Credit: Bruce Kluckhohn-USA TODAY Sports
1. Ricky goes to Disney World
Following a number of peculiar moves in the summer free agency period, the Orlando Magic are in an interesting predicament. They have some young pieces in place who are (arguably) still in the process of gelling together, making it premature to blow up the roster as it stands. Elfrid Payton, Mario Hezonja, Evan Fournier, Aaron Gordon are all young players with plenty of unfulfilled potential. The Magic are headed for the lottery again this year and while another rookie contract will bode well for the salary cap, the team might benefit from an infusion of veteran leadership in the backcourt.
One of  the things the Orlando Magic are lacking is a veteran presence in the backcourt. Even though he is still in his mid 20s, Ricky Rubio is a mature 26, having been in the league for five seasons, and would fit the bill. Rubio would also potentially serve as tutor to the young Elfrid Peyton, who has struggled this season and is failing to live up to his lottery pick potential.
More from FanSided
This article originally appeared on
---
---