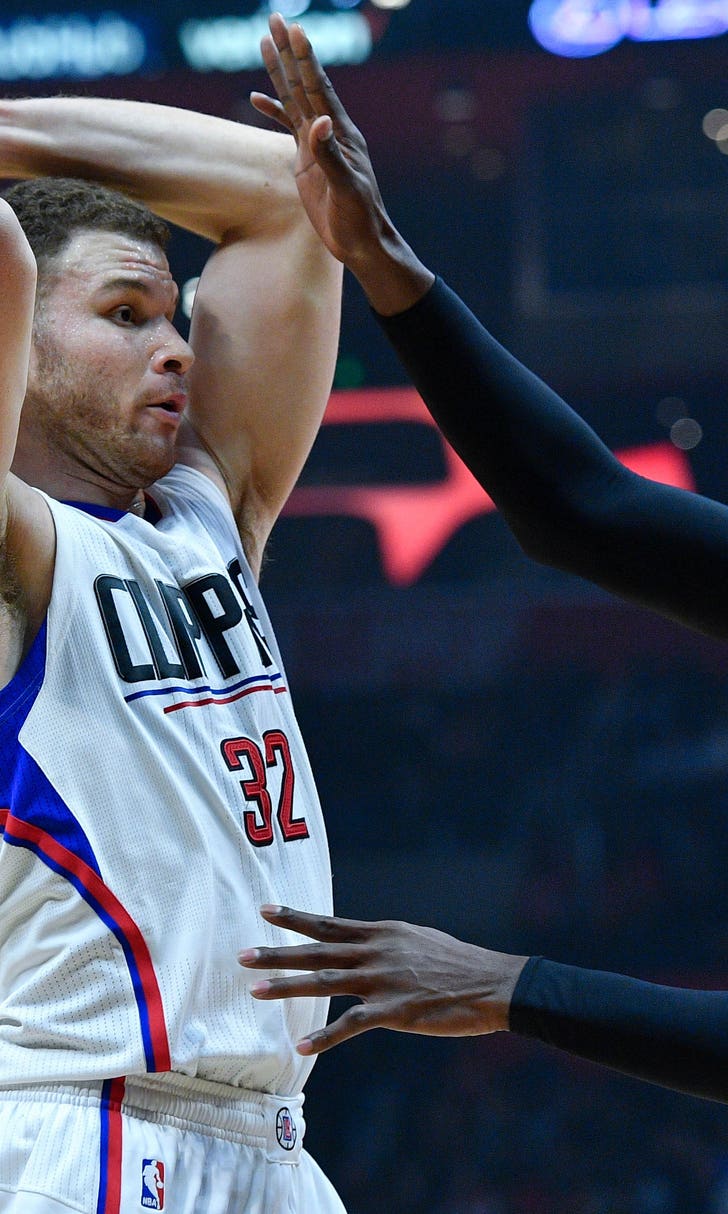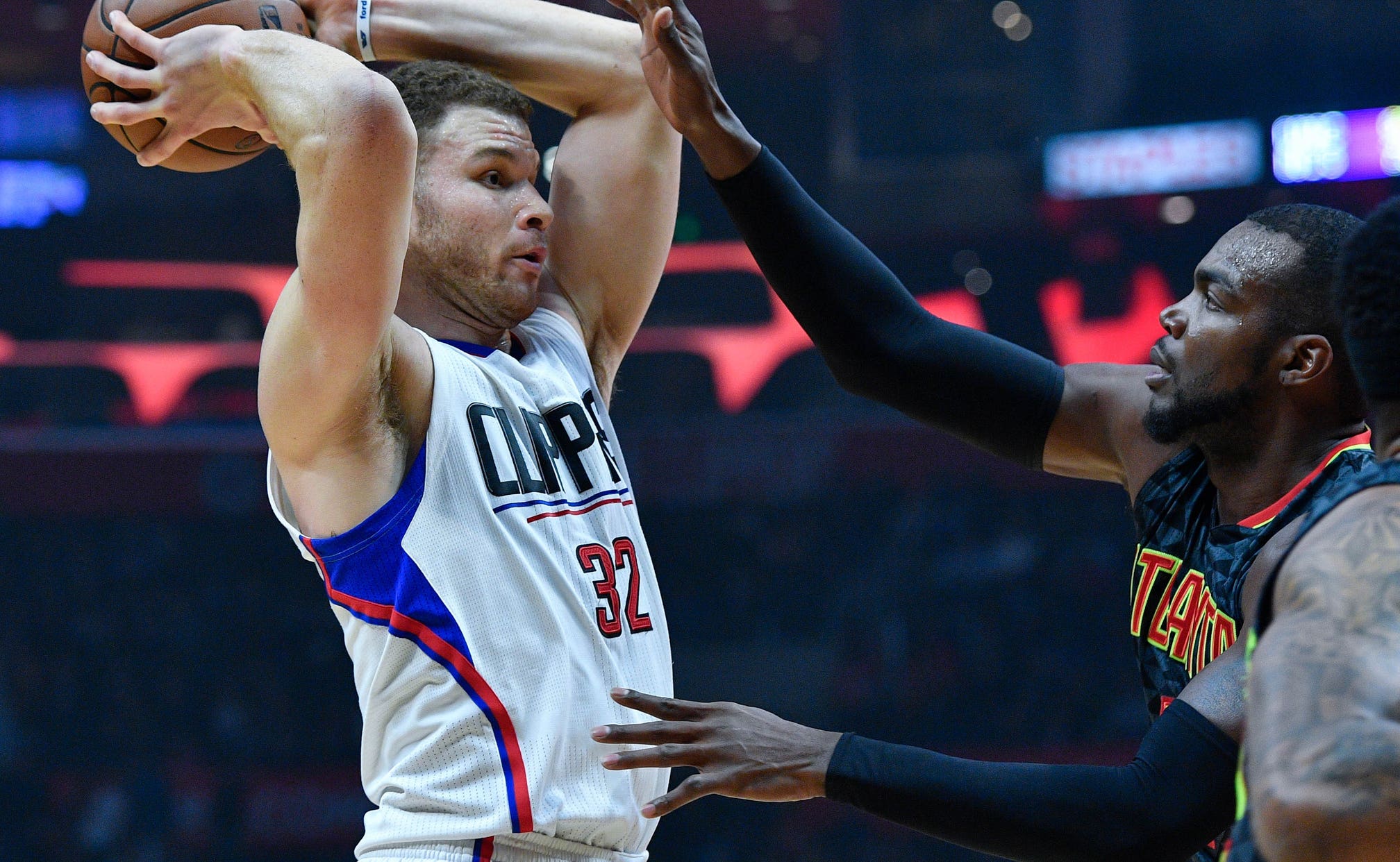 2017 NBA free agency: Is Blake Griffin or Paul Millsap better?
BY Fansided and Brian Sampson/FanSided via Hoops Habit • June 30, 2017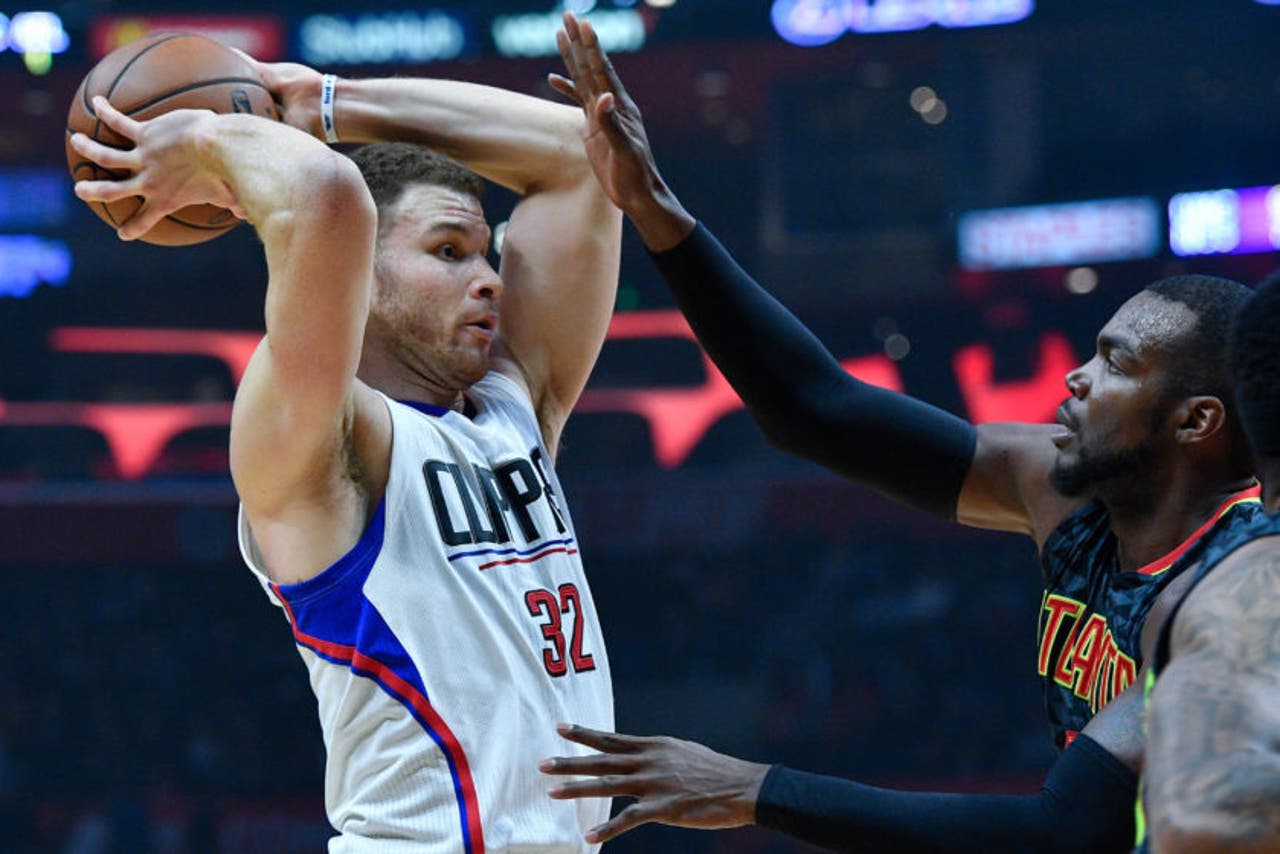 Feb 15, 2017; Los Angeles, CA, USA; LA Clippers forward Blake Griffin (32) controls the ball as Atlanta Hawks forward Paul Millsap (4) defends during the first half at Staples Center. Mandatory Credit: Robert Hanashiro-USA TODAY Sports
Paul Millsap and Blake Griffin have both opted out of their contracts and are set to be free agents come July 1.
Paul Millsap and Blake Griffin, both power forwards, will be two of the league's most coveted players once the 2017 NBA free agency period begins on July 1. They have each taken different paths to stardom, but deserve the recognition of two of the best power forwards in the game today.
Paul Millsap had a $21.4 million option for next season with the Atlanta Hawks but has chosen to test the free agency waters. Millsap played the previous four seasons with the Hawks, making the All-Star team each season. Before coming to Atlanta, he spent the first seven years with the Utah Jazz.
Last season he averaged a career-high 18.1 points and 3.7 assists per game to go along with 7.7 rebounds. He also tacked on 1.3 steals and 0.9 blocks per game.
Blake Griffin has also reportedly opted out of his contract, exercising his early termination option with the Los Angeles Clippers. Ironically enough, he was also set to make $21.4 million next year.
Griffin averaged 21.6 points, 8.1 rebounds, 4.9 assists and 1.0 steals per game last season. He has struggled with some untimely injuries recently, missing out on most of the playoffs the last two years. He also hasn't played in more than 67 regular season games since the 2013-14 season.
Given that both of these stud power forwards are set to become free agents in less than a week, let's dive into their film and the numbers behind the film to figure out who is the better option for your favorite team this summer.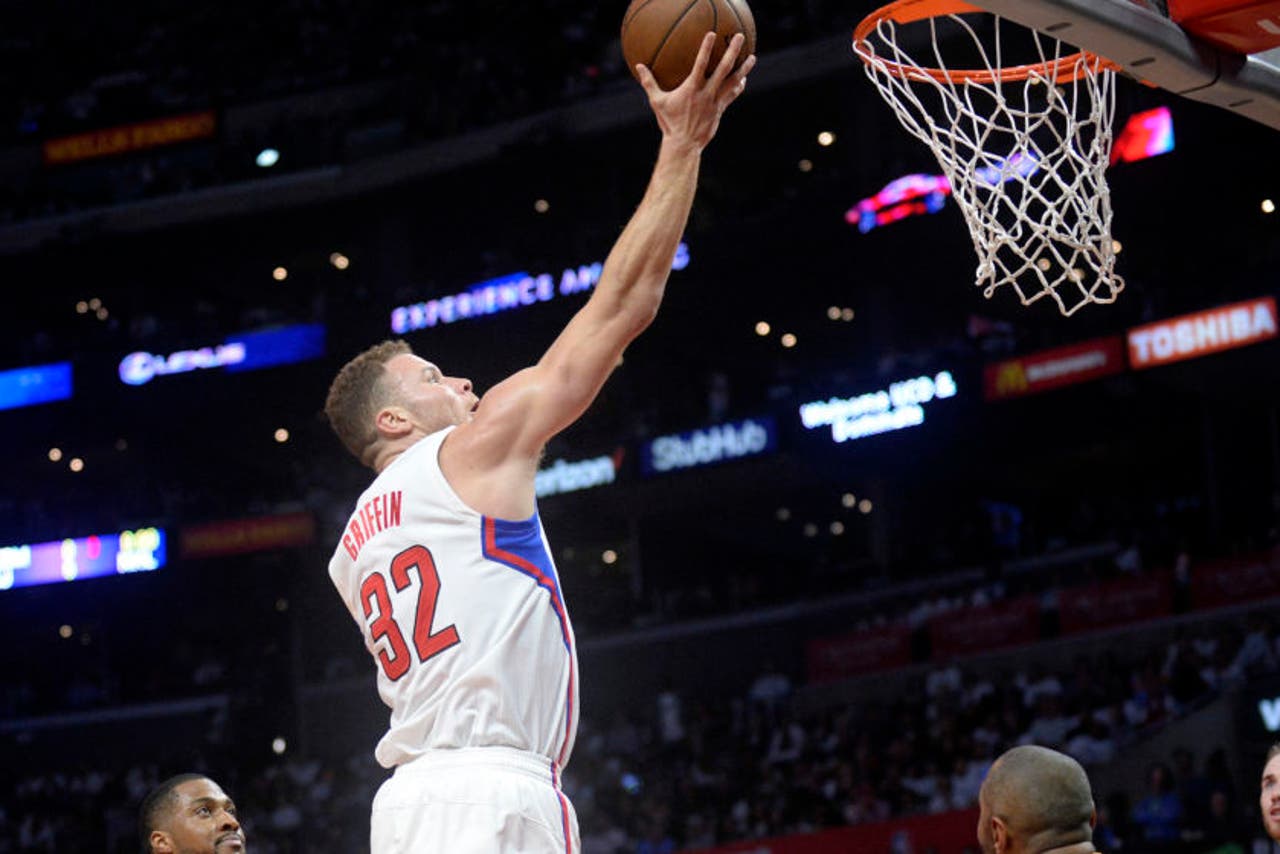 April 18, 2017; Los Angeles, CA, USA; Los Angeles Clippers forward Blake Griffin (32) scores a basket against the Utah Jazz during the second half in game two of the first round of the 2017 NBA Playoffs at Staples Center. Mandatory Credit: Gary A. Vasquez-USA TODAY Sports
Inside game
Neither one of these guys is known for his inside game. That's not to say they shouldn't be though, as they are both very underrated in this department.
Griffin is far from your typical back-to-the-basket post-up big. In fact, you'll hardly ever see him post his man up in this fashion. He usually catches the ball at the high block area and will turn and face his man. This allows Griffin to see the whole floor and utilize his vision and passing ability.
After Griffin faces up, he uses his above-average footwork to get him into position to score. He loves to shoot over his left shoulder, so most of his shots are predicated at getting into that right hook. He can do this in numerous ways, whether it be with a spin back to his left shoulder, a running hook or a simple baby hook.
A lot of the times, he looks sloppy on these moves. I'm not sure if this is due to a lack of upper body strength or Griffin simply trying to draw a foul. Regardless, most of the plays end up like the one below.
Griffin is just a tad bit out of control and his method is a little unorthodox. While he is able to push his way into the lane, he doesn't get very good lift on the hook and it barely hits the rim. Although it may look funny, you can't argue with the results as he shot 43.8 percent on 105 hook shots last season.
However, Griffin's inside game is much more than hook shots. We also have to account for his elite jumping ability, which allows him more alley-oop opportunities than most forwards.
Overall, he shot 64 percent from the restricted area, but that dropped significantly to only 36 percent when he was inside the paint but outside the restricted area.
Millsap, like Griffin, prefers to face the basket on his post up as well. However, his moves are a lot move diverse as he has a plethora of spins, turnarounds and drives he can rely on. He will also mix in more backdowns, often resulting in a turnaround jumper.
Where Griffin is very right hand dominant, Millsap can rely on either hand to get the job done. Although he prefers to use his right, the defense has to respect his ability to go left as well.
On this play, Millsap catches the ball with his back to the basket but quickly realizes he's a little too far out to post up. Therefore, he turns and faces his man. After doing so, he uses a nice shot fake and a dribble at his man's left shoulder to set up the drive.
Millsap gives his man another fake towards the baseline before driving middle. He then uses his left hand up and over the defender for a nice finger roll from a few feet out.
Millsap shot 57.7 percent from the restricted area, which wasn't as high as Griffin's percentage. However, I'm sure that is due to a number of dunks and alley-oops Griffin gets. What is significantly better is Millsap's field goal percentage from the painted area at 45.5 percent.
The biggest separator between the two is the amount of inside moves that Millsap can rely on. He's harder to defend in that area as he isn't nearly as predictable as Griffin.
Advantage: Paul Millsap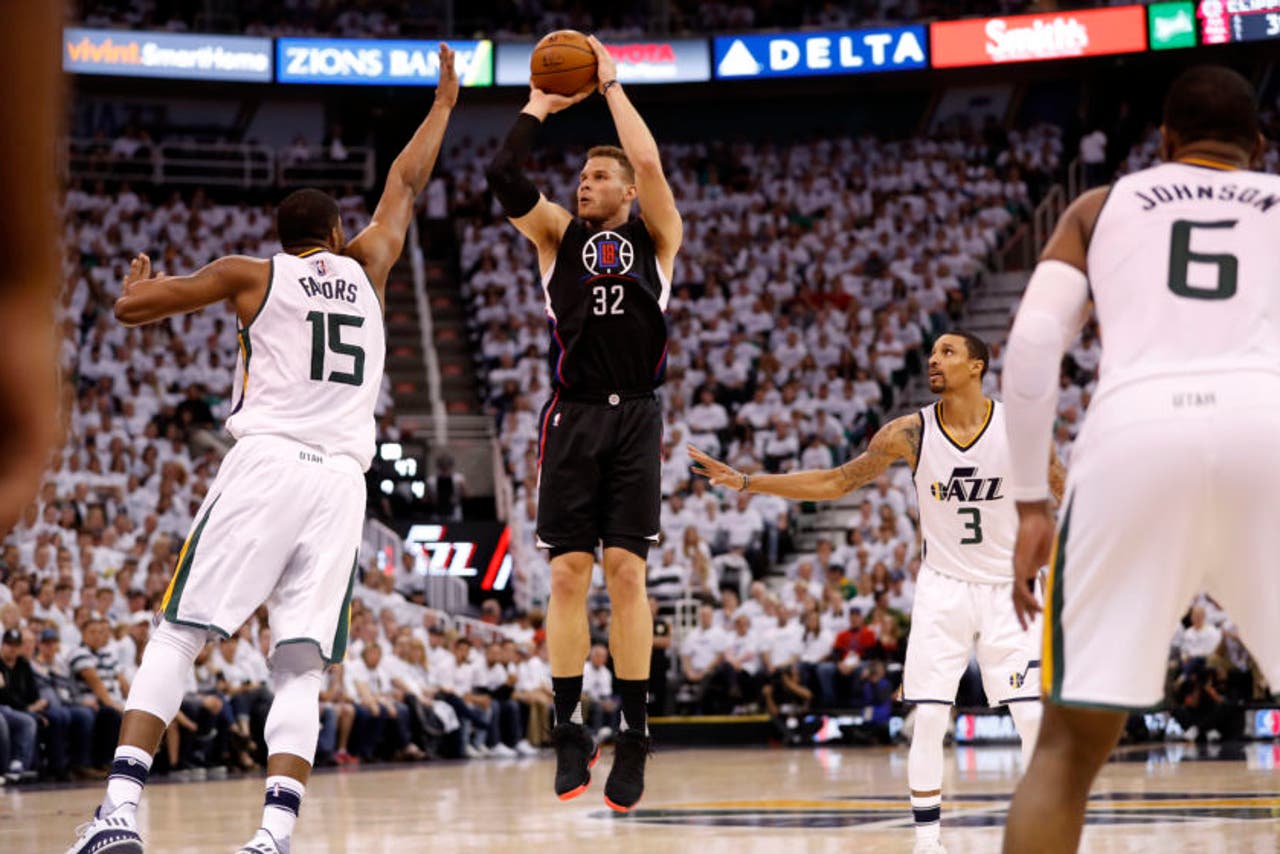 Apr 21, 2017; Salt Lake City, UT, USA; LA Clippers forward Blake Griffin (32) shoots against Utah Jazz forward Derrick Favors (15) in the second quarter in game three of the first round of the 2017 NBA Playoffs at Vivint Smart Home Arena. Mandatory Credit: Jeff Swinger-USA TODAY Sports
Outside game
For this section, the outside game is considered both midrange and three-point shooting.
The Clippers rely heavily on pick-and-rolls or pick-and-pops. A lot of this is due to the personnel of Griffin, DeAndre Jordan and Chris Paul. Griffin certainly excels in both of these aspects. We all know about his rolling abilities but let's dive deeper into his popping abilities.
Last season, Griffin attempted four shots a game that was labeled the catch-and-shoot variety. It's safe to assume that most of these came from pick-and-roll or spot up shooting. On these shot attempts, Griffin shot an okay 39.8 percent overall and 35.2 percent from downtown. The percentage from downtown is higher than his season average of 33.6 percent.
The left corner three was Griffin's hot spot as he shot 42.8 percent from that area last year.
Overall, Griffin relied heavily on being set up for his three-point attempts as 97.4 percent of his makes were assisted on.
Once again, Millsap's game is much more diverse than Griffin's. Although Millsap doesn't have nearly the same amount of moves from the perimeter as he does inside he still has a couple of options.
The most notable move is his step-back jumper. Millsap shot an incredible 52.3 percent on step-backs last year which accounted for 7.4 percent of his total shots.
Millsap also shot 41 percent from midrange and 31 percent from the three-point line last year. Both of those are worse than Griffin.
When it comes to perimeter shooting, Millsap may have a few more moves to go to, but Griffin has worked hard and turned himself into a more reliable outside shooter.
Advantage: Blake Griffin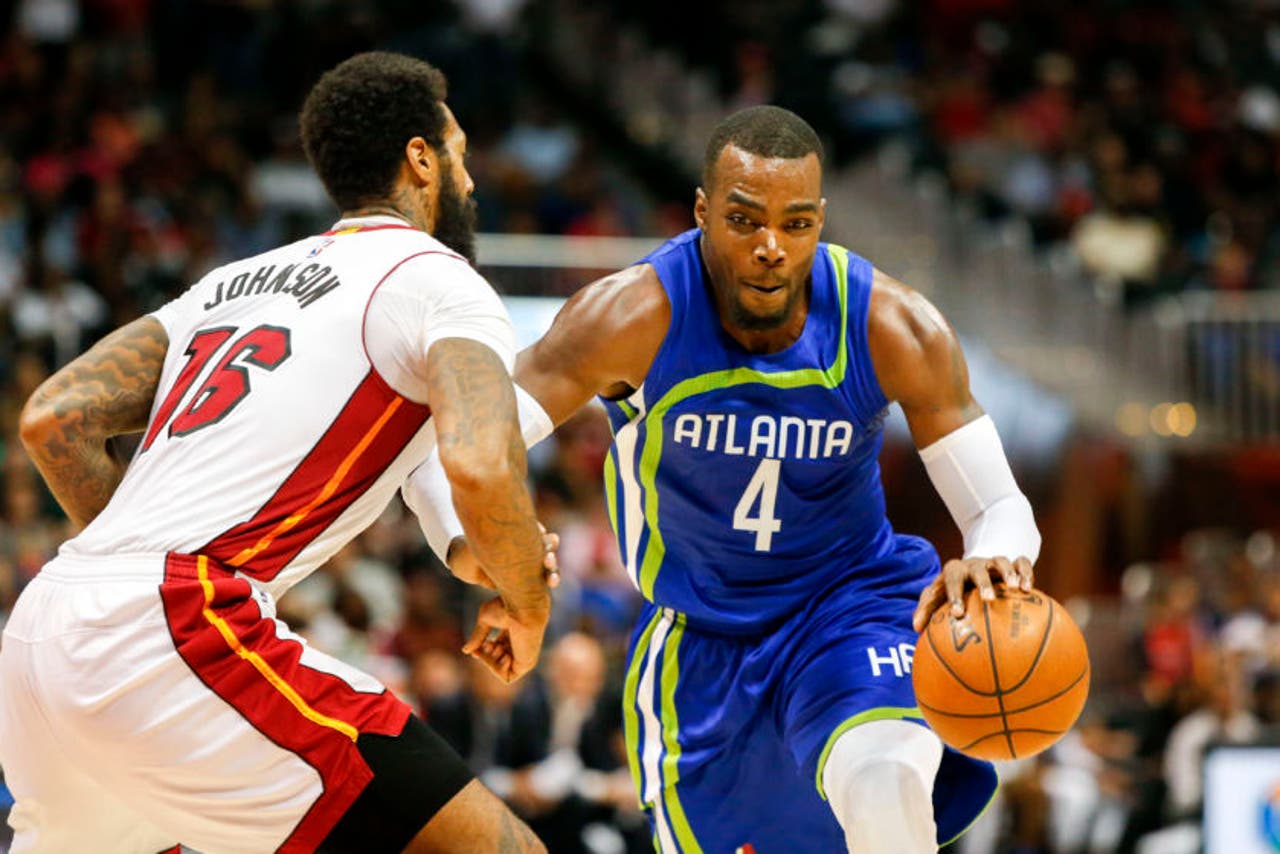 Feb 24, 2017; Atlanta, GA, USA; Atlanta Hawks forward Paul Millsap (4) is defended by Miami Heat forward James Johnson (16) in the third quarter at Philips Arena. The Heat won 108-90. Mandatory Credit: Brett Davis-USA TODAY Sports
Playmaking
Both Millsap and Griffin are two of the better playmaking power forwards in the NBA. Either one can initiate an offense in the half-court or create open looks for others. While you may not want to depend on that very often, it is a tool they can use from time to time.
Griffin is one of the most underrated passers in all of the NBA. He has averaged at least seven assists per 100 possessions each of the previous three seasons. Last season he ranked seventh out of all forwards (small forwards included) who played at least 50 games. He's right up there with the likes of Jimmy Butler and Giannis Antetokounmpo.
When we look at more advanced stats, Griffin's numbers stick out even more. He assisted on 23.5 percent of his team's baskets when he was on the floor. He also posted an assist-to-turnover ration of 2.11. That ranks him eighth and 12th, respectively, of all forwards who played at least 50 games.
The above play is a staple of the Clippers' offense and is rarely seen in the NBA. It's a center- power forward pick-and-roll.
Griffin does an excellent job reading the floor and realizes that his defender is trying to fight through the screen instead of staying with DeAndre Jordan. Griffin waits until exactly the right moment to flip a pass towards the rim. Of course, it helps when you have a player who can grab anything and everything in the rim's vicinity.
This is a perfect illustration of why Griffin's passing ability is very underrated. He has great vision and passing accuracy for a man of his size.
Even though Millsap isn't as notorious of a passer as Griffin, he can still hold his own. Millsap averaged 5.3 assists per 100 possessions last year, which was a career high.
Millsap's assist percentage (17.2 percent) and assist-to-turnover ratio (1.59) were both lower than Griffin's as well. Part of this is due to the fact that Millsap was not asked to create as much as his counterpart.
Millsap is mostly a complementary piece to the offense which stresses ball movement and precision passing. That's not to say that Millsap can't be a creator for his teammates, as he did have eight games last year with seven or more assists.
Take this play for instance. Millsap does a great job of rolling down the middle of the floor after he sets the screen. This gets home open to receive the pass. The ball touches his hands only for a second until he quickly diagnosis the situation. He whips a pass to the far corner to a wide open Ersan Ilyasova. Ilyasova is then able to knock down the wide open three.
It's plays like this that make Millsap so desirable in free agency. He has good passing ability and court awareness to make the necessary plays and passes.
Unfortunately for Millsap, his passing abilities don't match up to Griffin's. Unlike the previous two categories, Griffin is the one bringing the wide range of tools to the table as he is a multi-faceted playmaker.
Advantage: Blake Griffin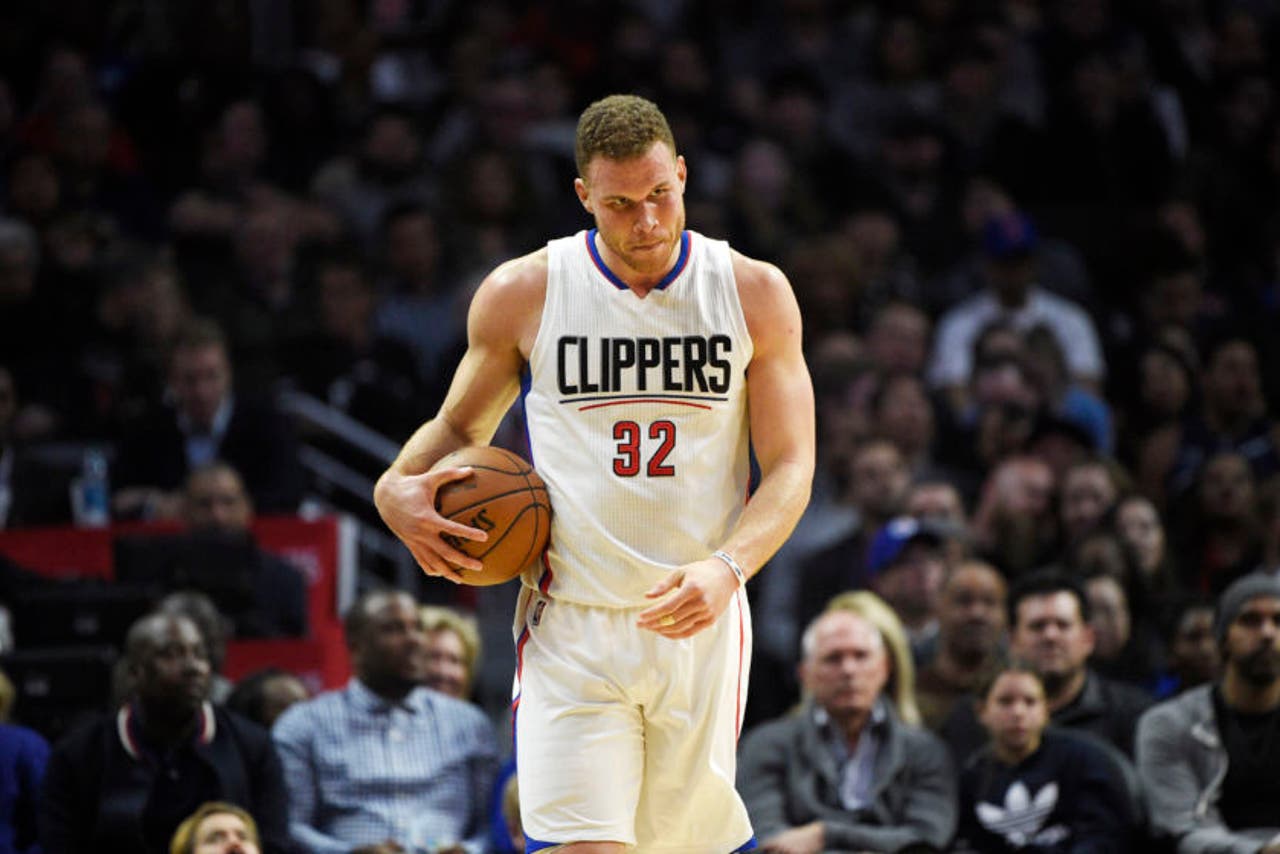 Feb 24, 2017; Los Angeles, CA, USA; Los Angeles Clippers forward Blake Griffin (32) in action against the San Antonio Spurs during the third quarter at Staples Center. The San Antonio Spurs won 105-97. Mandatory Credit: Kelvin Kuo-USA TODAY Sports
Defense
Neither one of these guys is known for the defense but that doesn't mean they're slouches on this end of the floor. Both dudes are sneaky good defenders who battle night in and night out.
Last season, Griffin saw his Defensive Rating slip to a career low, 108. This was in part due to his lack of steals and blocks. He averaged a career-low 0.6 blocks per 100 possessions to go along with 1.4 steals. The steals number isn't bad, but the blocks is not a very good number for a big man.
When you look at Griffin's defensive numbers on a percentage basis, they may not pop out at you immediately but they are actually quite decent. Griffin records a steal on 16.9 percent of possessions and blocks in 12.2 percent of possessions. That means that more than a quarter of the possessions he's on the floor for end in either a block or a steal by Griffin himself.
Per 100 Poss Table

| Rk | Player | Season | Age | G | STL | BLK | PF | ORtg | DRtg |
| --- | --- | --- | --- | --- | --- | --- | --- | --- | --- |
| 1 | Blake Griffin | 2016-17 | 27 | 61 | 1.4 | 0.6 | 3.8 | 115 | 108 |
| 2 | Paul Millsap | 2016-17 | 31 | 69 | 1.9 | 1.3 | 3.9 | 108 | 104 |
Provided by Basketball-Reference.com: View Original Table
As for Milsap, his Defensive Rating slipped to 104 this past year, the first time in three years it was in triple digits. Millsap isn't necessarily known for his blocking ability but instead for his quick hands and ability to read the passing lanes. Millsap averaged 1.3 blocks per 100 possessions and 1.9 steals. The steals number is actually Millsap's lowest since the 2009-10 season. Last year, he averaged 2.7 steals per 100 possessions.
Millsap's percentage numbers are very impressive. He averaged a 21.4 percent steal percentage and a 25.8 percent block percentage. The reason Millsap's block percentage is higher even though he recorded more steals is that block percentage only accounts for the two-point attempts an opposing team takes while that player is on the floor.
At the end of the day, Millsap is your man on the defensive end of the floor. He understands how to play the game and isn't afraid to mix his game up.
Advantage: Paul Millsap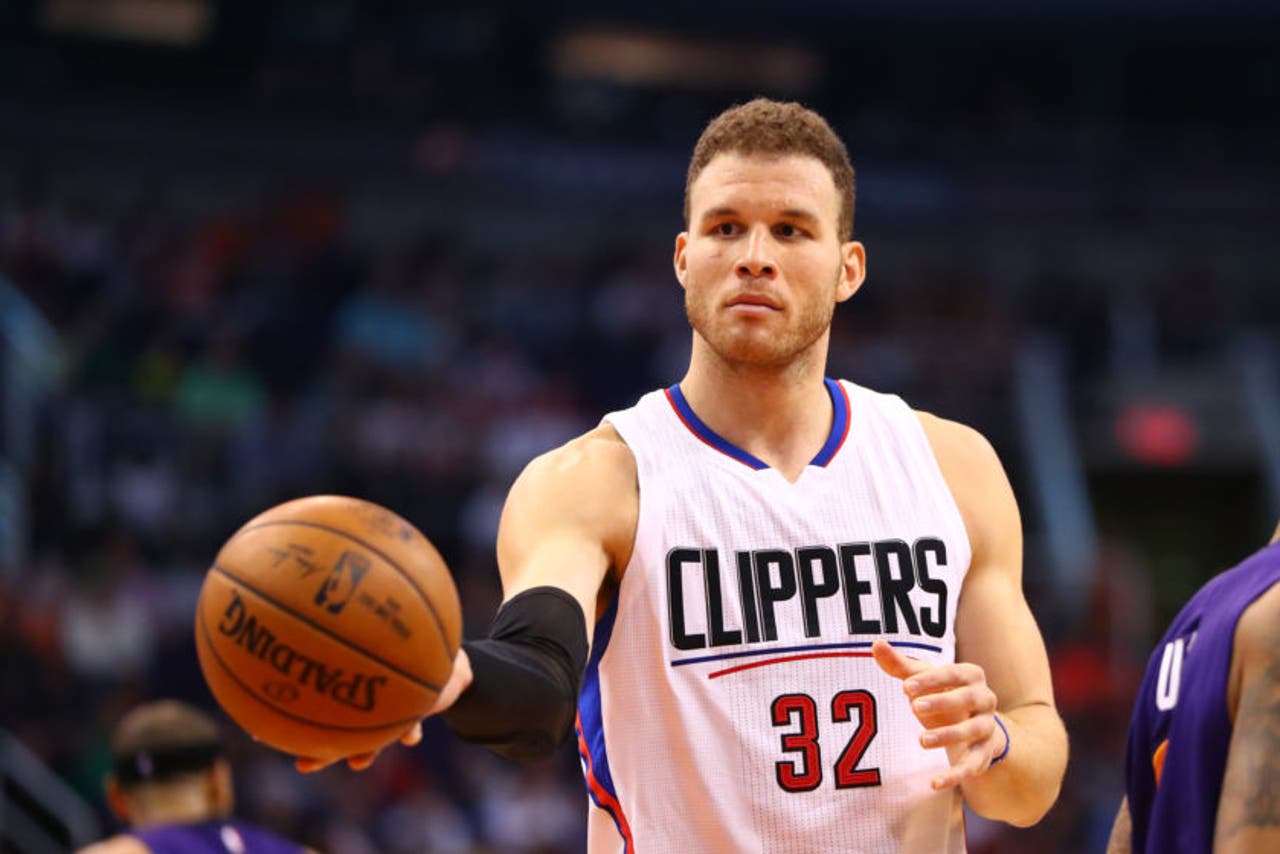 Mar 30, 2017; Phoenix, AZ, USA; Los Angeles Clippers forward Blake Griffin (32) against the Phoenix Suns at Talking Stick Resort Arena. The Clippers defeated the Suns 124-118. Mandatory Credit: Mark J. Rebilas-USA TODAY Sports
Overall
This is as close to a toss-up as you can get. Blake Griffin has the playmaking and outside shooting advantages, while Paul Millsap has the nod in inside scoring and defense.
Both of these players have a lot going for them but also have some warts.
More from Hoops Habit
Griffin has dealt with a fair amount of injuries, especially these past three seasons. It's also been rumored that Griffin hasn't exactly been thrilled to play Chris Paul. However, Griffin is only 27 years old and should just be entering his prime.
Millsap, on the other hand, is 31 years old and probably has his best basketball behind him. Although he was a bit of a late bloomer, it's hard to count on a soon to be 32-year-old to continue to put up consistent numbers worthy of the contract Millsap deserves.
Both of these players have legit chances to sign with a new team and each guy is deserving of a max contract.
Since I have to pick one of these players, I'm choosing Blake Griffin as the superior player. His defense may not be on par with Millsap's, but his offense and playmaking abilities make up for that gap.
Griffin is multi-dimensional and is just beginning to find his outside shot. This past year he attempted 113 3-pointers. Before that, his career high was 44 back in 2013-14. If he can continue to improve his shot and take strides in increasing his shooting percentage, he will be that much more dangerous.
As for his playmaking skills, this is what really separates him from Millsap. Teams and coaches can be comfortable allowing Griffin to initiate half-court sets. He can also excel in both roles of the pick-and-roll. There are very few players we can say this about.
Even though Griffin hasn't made the All-Star team since 2014-15, he has his best basketball ahead of him. That's something I can get behind.
---
---