NASCAR Cup Series
NASCAR Cup Series
Vickers parachutes into Daytona
Published
Jun. 1, 2011 1:00 a.m. ET

NASCAR Sprint Cup driver Brian Vickers dropped in on Daytona International Speedway Wednesday for a visit — literally.
A skydiving enthusiast since 2007, Vickers became the first driver in series history to parachute into the speedway as a promotional kickoff for the July 2 Coke Zero 400.
Vickers, 27, came to a sliding, tumbling stop on the grass in the speedway's tri-oval after his first jump in the rain that started from about 5,000 feet above the track.
''It's not the first time someone has barreled rolled through the front stretch at Daytona,'' he said. ''The only problem is sticking the landing when you're sliding through the water, the mud and grass.''
Vickers, who has between 70 and 75 jumps, had planned to jump into the speedway last year but it never happened because he was diagnosed in May with a hole in his heart and blood clots down his left leg. Heart surgery in July repaired the hole but also showed he was suffering from May-Thurners syndrome, which caused the clots. He had surgery for the clots the next day and missed the last 25 races of the season.
''This one's been a long time coming and I think that's what increases the significance of it for me is that we had this planned last year,'' he said. ''To be able to come back and finish what we started was pretty special.''
After 12 races this season, Vickers' Red Bull Toyota is 28th in points with one top five and four top 10 finishes.
Vickers, from Thomasville, N.C., said he has felt better in the car this year than before his health problems because his workout regimen changed.
''It's actually better than before,'' he said. ''I'm just in better shape. I spent all last year training and preparing for this season and taking health to a whole other level. I was in good shape before, now I'm just better.''
He said he's gained muscle but kept his weight at about 157. Vickers said there were plenty of times he questioned where he was headed.
''Yeah, absolutely,'' he said. ''There were a lot of times when I had no idea if I was going to skydive again or race cars or any of this stuff for that matter. To be able to come back and to jump into this race track meant a lot.''
He also said the tri-oval grass doesn't look very big from 5,000 feet.
''It's small. It's small and not only is it small but there's a lot of stuff to hit around it,'' he said. ''Most drop zones are about that size but there's nothing around them. If you miss the drop zone there's nothing around them. Here there's grandstands, buildings, light poles, towers, scoring towers, a lot of stuff.''
---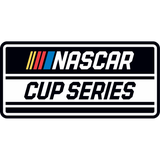 Get more from NASCAR Cup Series
Follow your favorites to get information about games, news and more
---