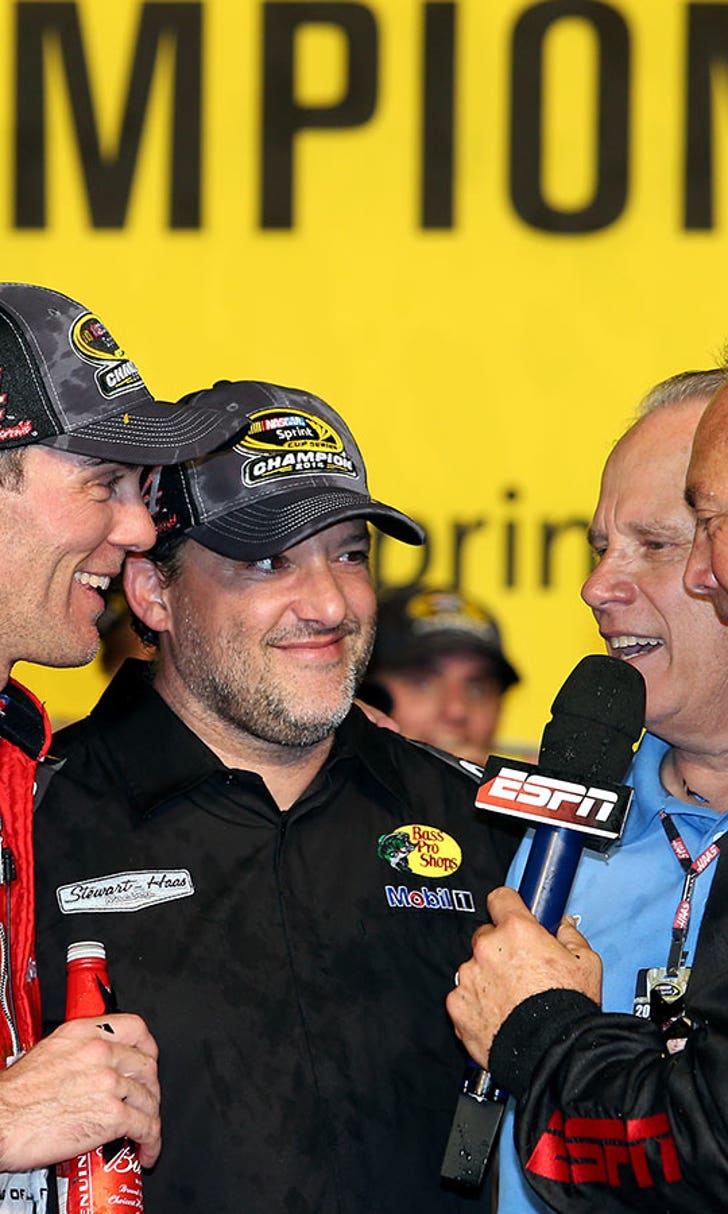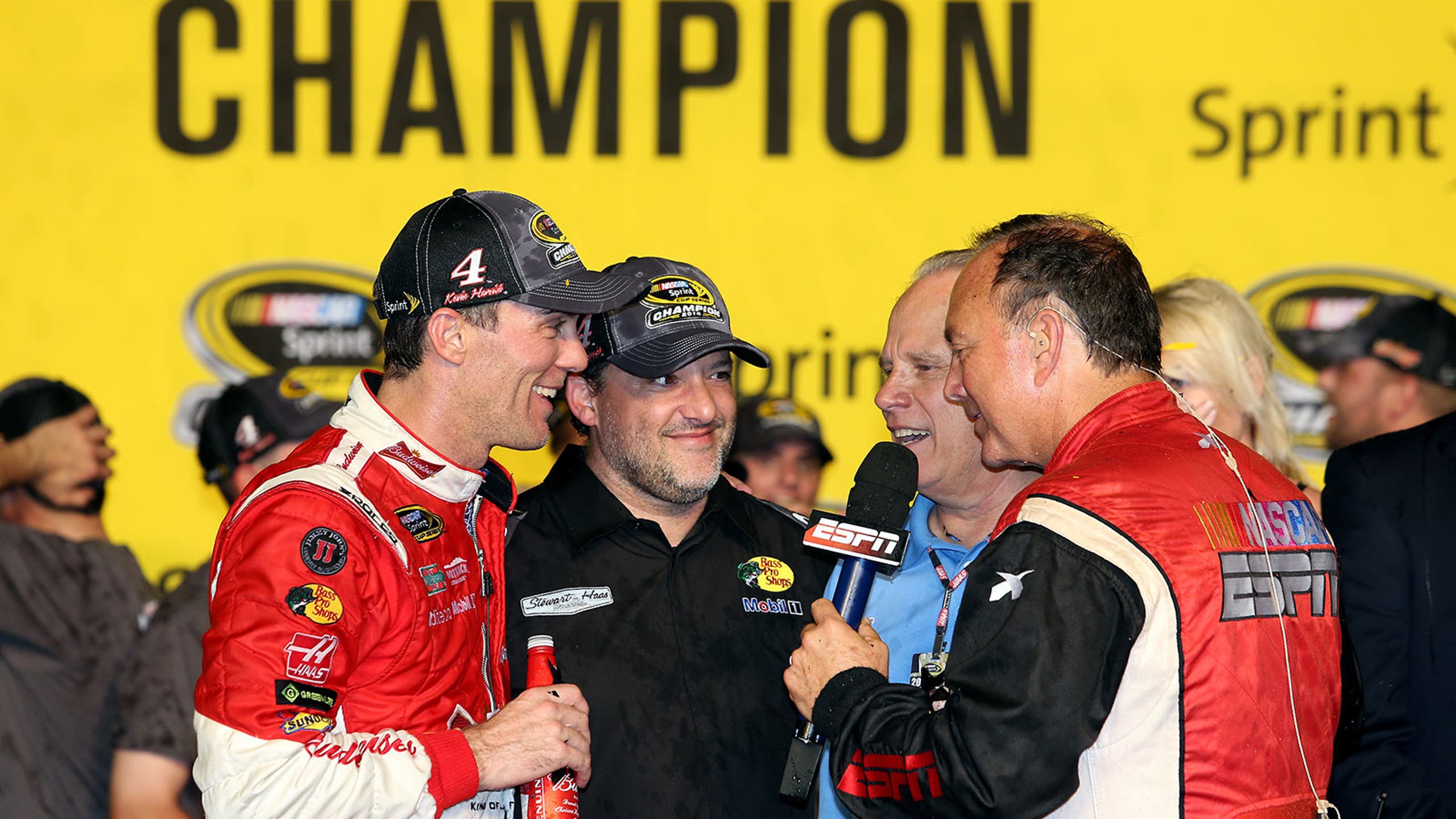 Tough year for Tony Stewart ends on high note as winning owner
BY Tom Jensen • November 17, 2014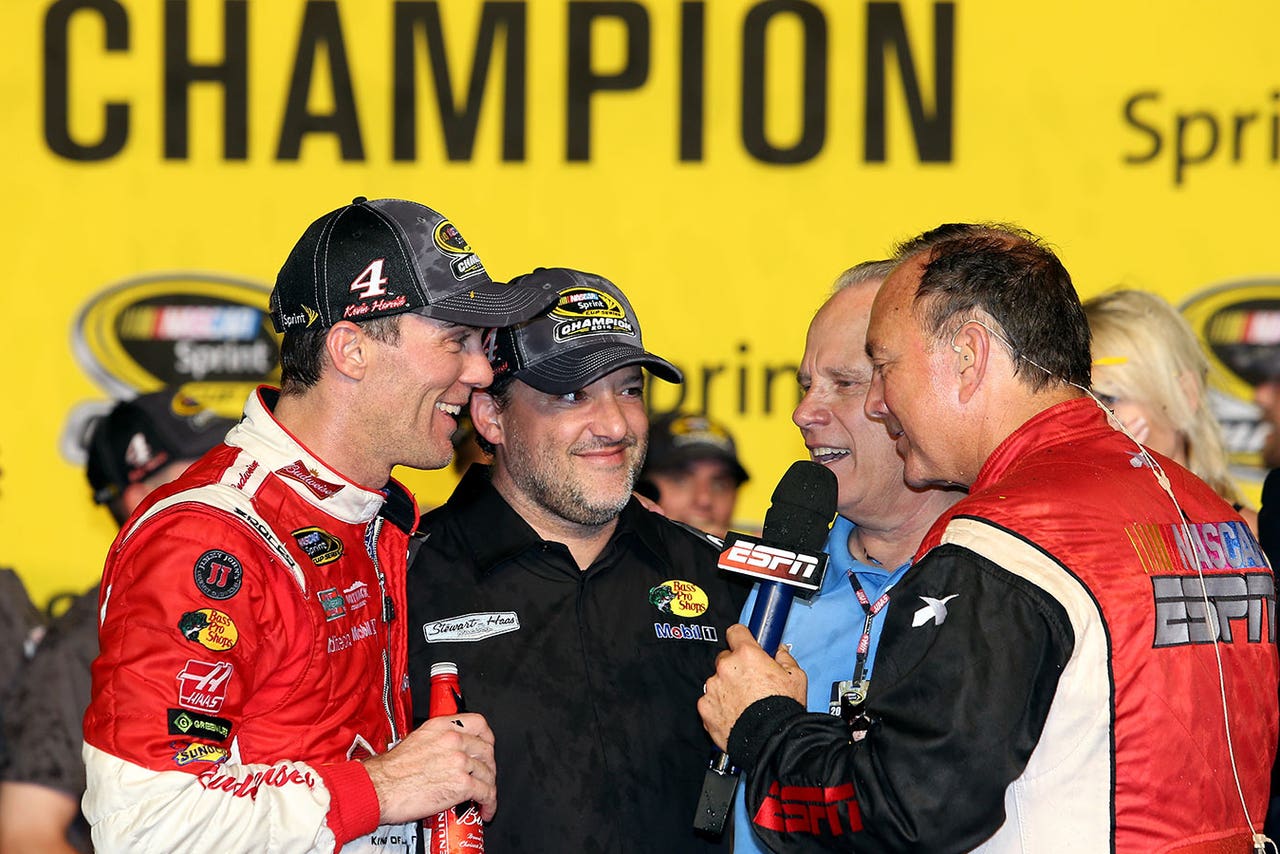 It's hard to imagine anyone having a more bizarre and tragedy-touched year than Tony Stewart, but the three-time NASCAR Sprint Cup Series champion's season ended on a high note when Kevin Harvick delivered a second series title in four years for Stewart-Haas Racing. 
During the winner's press conference following Harvick's thrilling victory in the Ford EcoBoost 400 at Homestead-Miami Speedway Sunday night, the relief in Stewart was evident as he spoke. Usually a man of few words, the co-owner of Stewart-Haas Racing talked at length about Harvick's victory. 
The key to the victory was a call by crew chief Rodney Childers to have Harvick take four tires on a pit stop on Lap 249 of the 267-lap race. Harvick rejoined the race 12th, but was able to make up ground quickly. 
On Lap 255, a caution for an accident reset the field, with Harvick now up to sixth on the freshest tires. The race restarted on Lap 259, and by Lap 260, Harvick had a lead he would not relinquish. 
"I'm proud of Rodney," said Stewart. "It takes guts to sit up there and see a guy stay out and then have to sit there and make that call. It was a gutsy call by Rodney to stick to his guns and do what they had been doing, but it also shows the depth and how good Kevin Harvick is at digging his heels in in those moments, just like Charlotte and just like Phoenix. When it comes to the bottom of the ninth and you've got to make something happen, that's the guy I want in my corner and that's the guy that Gene (Haas, team owner) and I want behind the wheel of our cars. To be able to know that -- I think he demonstrated those two weeks why he was capable of being in that scenario at the end and making this happen."
Stewart, like everyone watching the race, was on pins and needles all night and really, for the entire Chase for the NASCAR Sprint Cup.
"It's just unbelievable to see how this championship played out, all 10 weeks," Stewart said. "But you know, you expect one of the four (championship contenders) or two of the four to have a problem tonight, and it really didn't materialize. All four guys had speed and were competitive all night. It came down to the last pit call of the night for each guy and the drivers doing their part. It was pretty exciting to see how it played out."
This has been a harrowing year for Stewart. There was the sprint car crash that killed Kevin Ward Jr. on Aug. 9, the slow recovery from horrific leg injuries and the latest Kurt Busch controversy. This was also the first winless season of Stewart's career as a Cup driver.
Asked about his emotions, Stewart showed relief as much as joy.
"I'm just glad tonight turned out," he said. "You know, the rest of it's history. We've talked about it over and over. Honestly, I'm tired of talking about it to be honest at this point. I'm more excited about what this organization and what this group of people has done together. You know, there's a lot of things I would love to change about the last 18 months of my life, but tonight is not one of them. I'm going to enjoy this moment, and I'm going to enjoy it with this group and this young man. We're going to go celebrate and enjoy this because this group of people here have deserved it, and this is a great family and this is a great group of people to lean on."
At the end of the press conference, Stewart at last flashed some of his sharp-tongued humor.  
Asked if he thought it was crazy to assemble a cast of four high-intensity drivers on one team, Stewart shot back, "Do you think we're crazy now?"
"Crazy works," added Haas.
"Don't underestimate why we think the way we think is the moral to the story," Stewart said. "You guys are pretty smart, but we're smarter."
VIDEO: Kevin Harvick talks to the FOX Sports Victory Lane crew after the big win at Homestead
---
---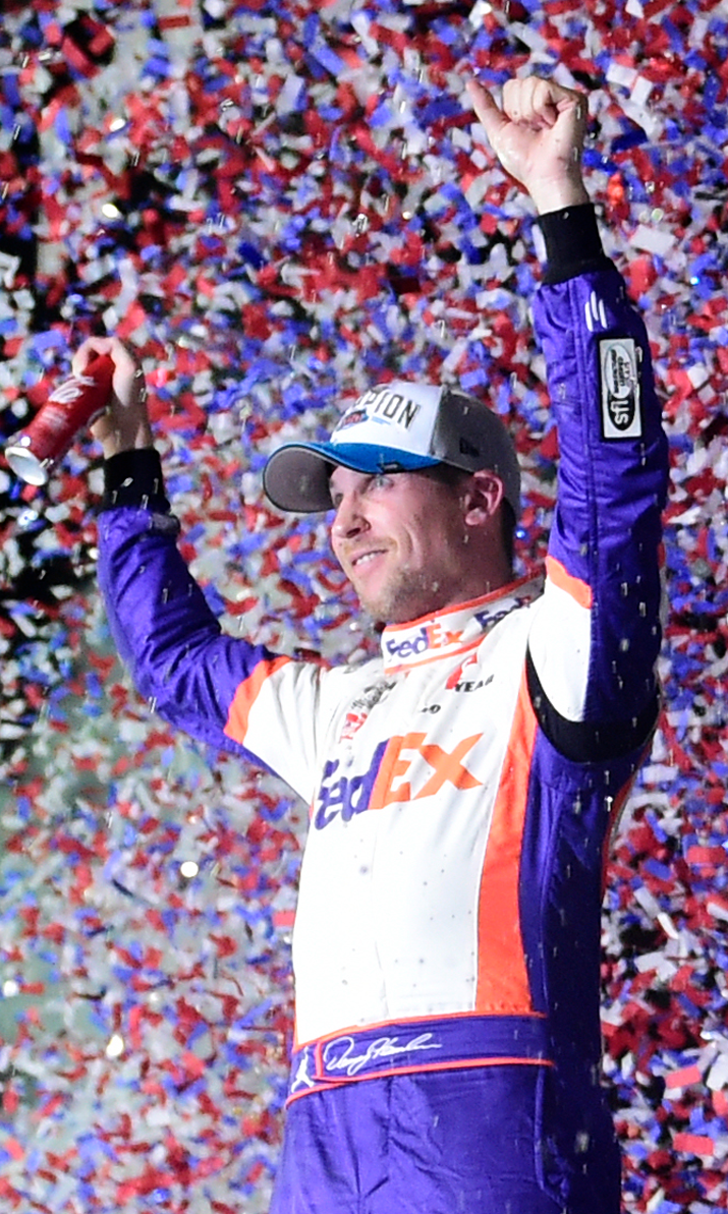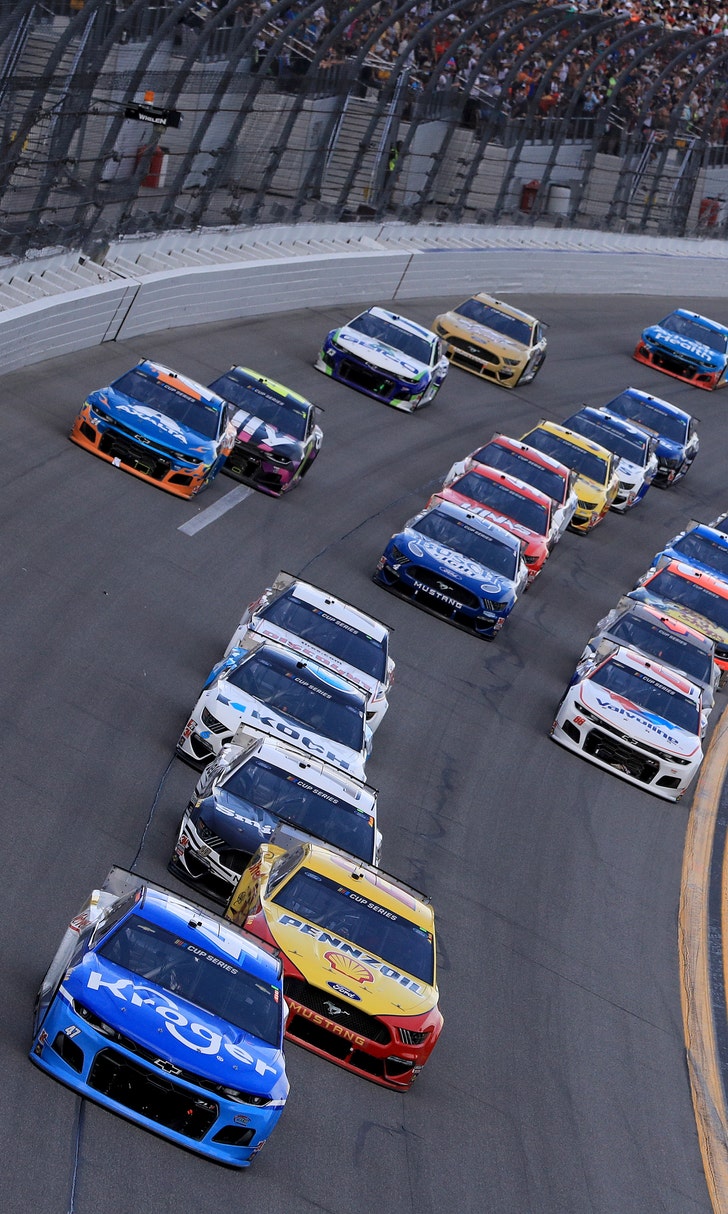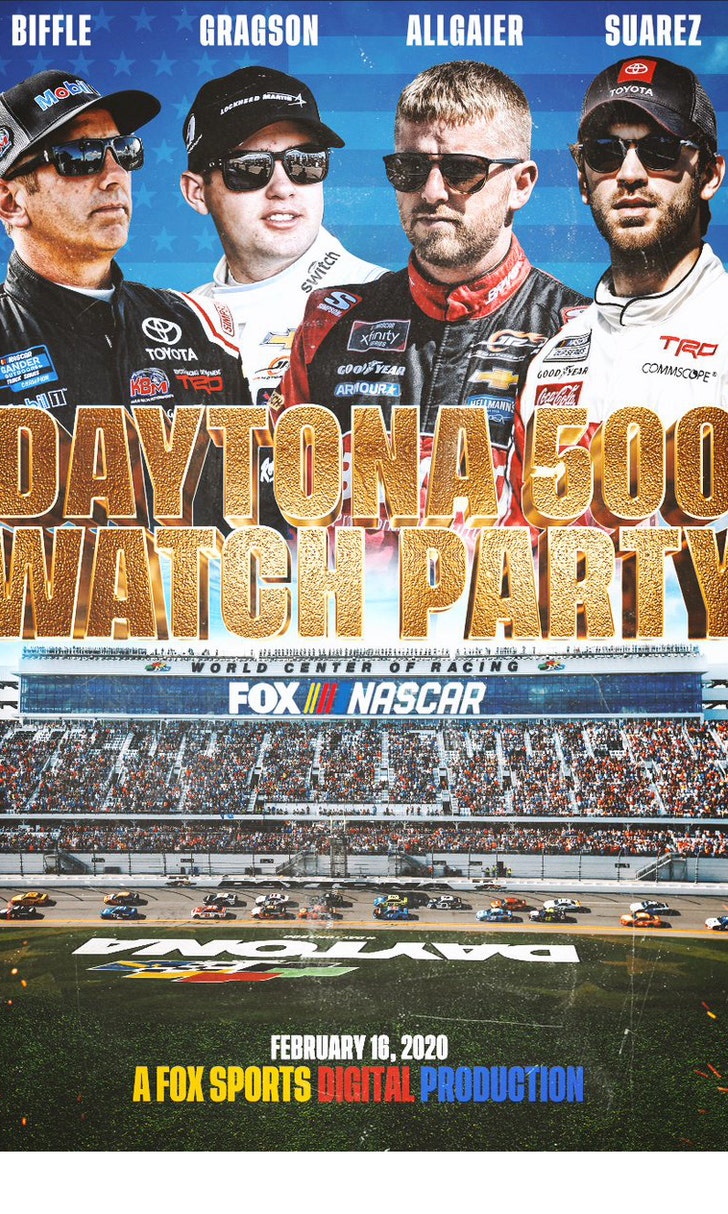 The Daytona 500 Watch Party!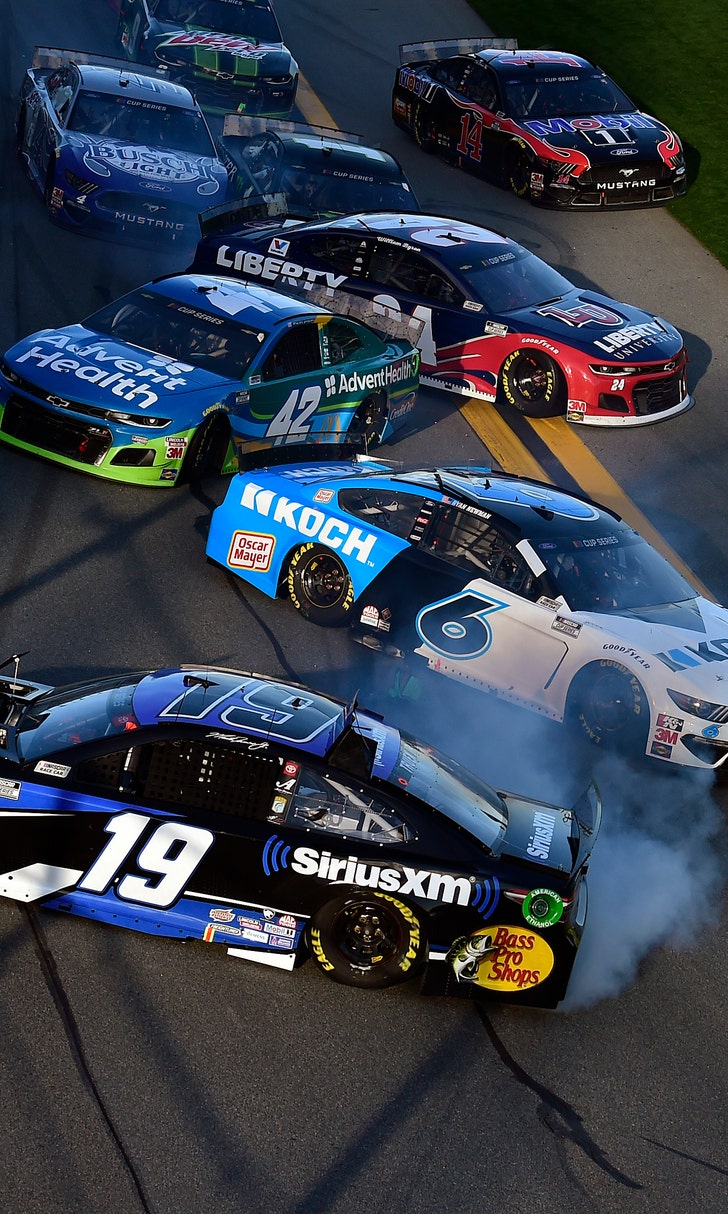 The Numbers Game At Daytona