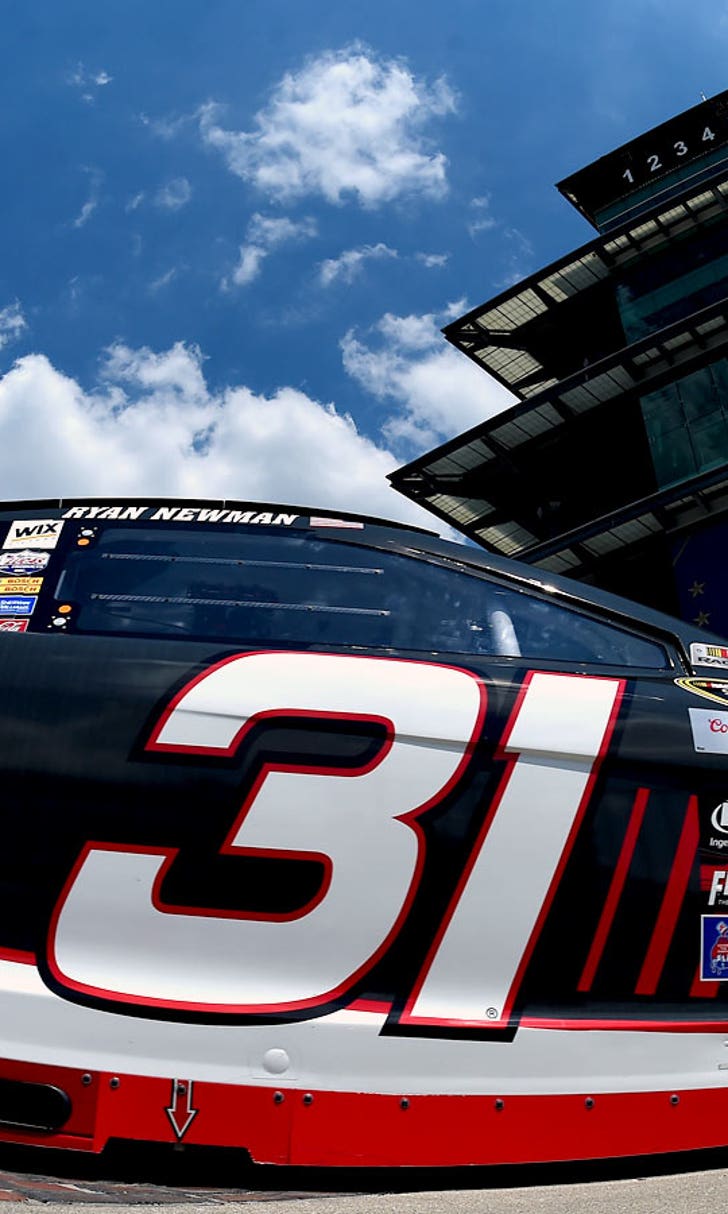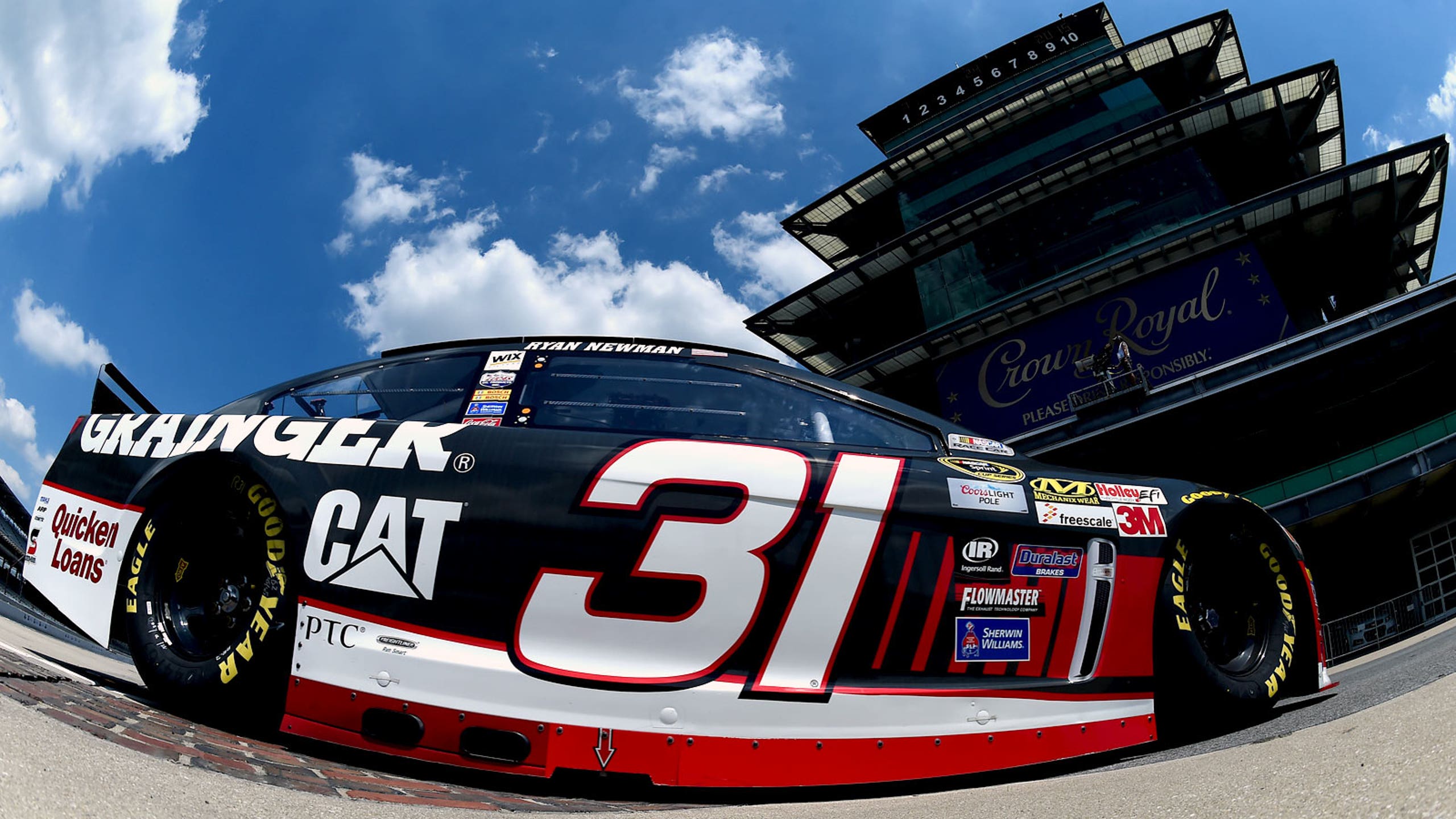 Ryan Newman salvages day at Indianapolis after starting last
BY foxsports • July 24, 2015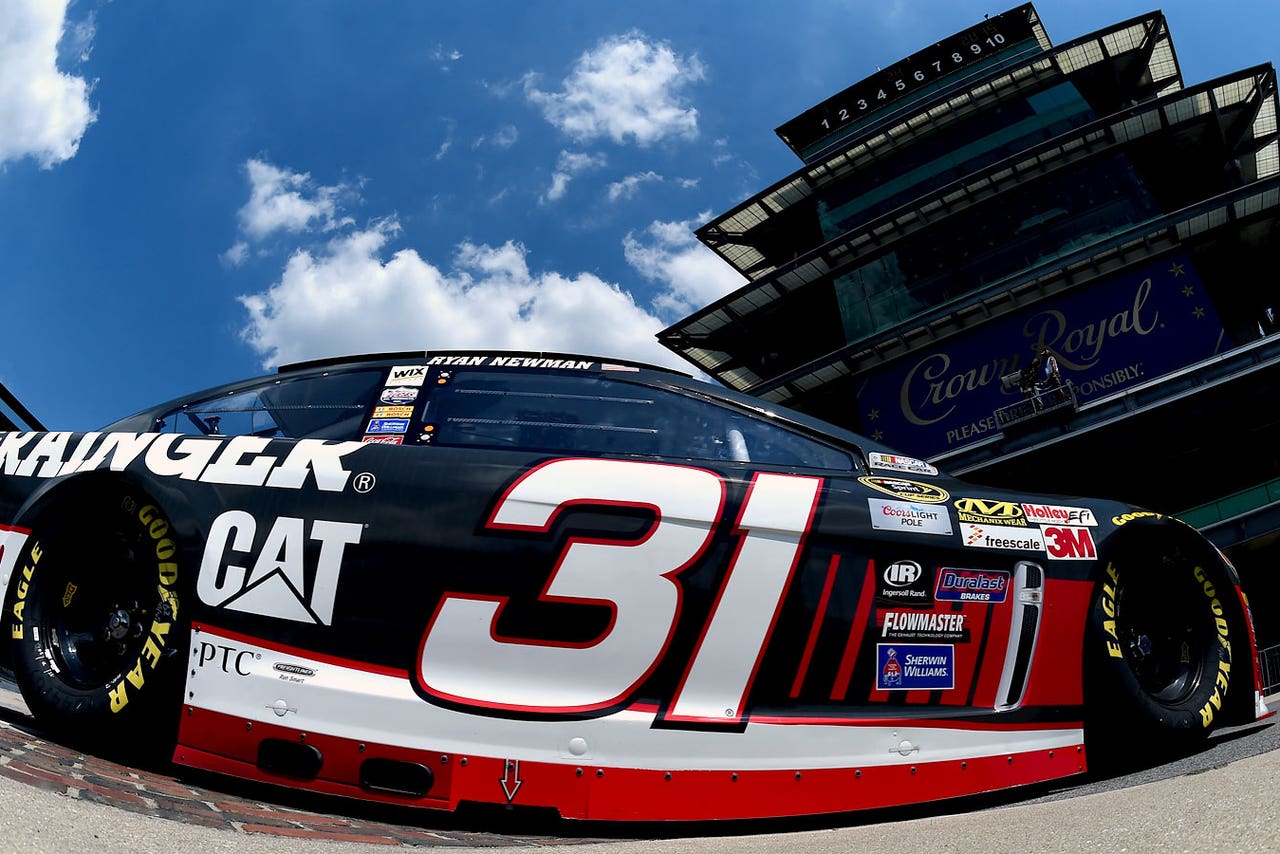 Editor's note: FOXSports.com has exclusive access to driver Ryan Newman, crew chief Luke Lambert and the No. 31 Richard Childress Racing team this weekend at Indianapolis Motor Speedway. This post will be updated throughout the weekend with exclusive content.
Sunday, July 26 – 6:50 p.m. ET
Starting 43rd on the field, Richard Childress Racing's Ryan Newman knew he had his work cut out for him during Sunday's Brickyard 400 at Indianapolis Motor Speedway.
Aside from starting last on the field, the day did not get off to a great start, as Newman immediately had a problem from the drop of the green flag. On the first lap, Newman felt as if the car hit something and had a loud popping noise under the car below his driver seat. The noise continued throughout the opening stages of the race, when Newman was off the gas and on the brakes in Turns 1 and 3.
The team brought the car to pit road to diagnose the issue when the caution flew on Lap 49 for an incident involving Clint Bowyer and Jeff Gordon. Despite the lengthy stop, the popping noise remained.
"On the first lap, it hit so hard it kind of made me wonder what it was," Newman said of the issue, comparing it to hitting a piece of tungsten. "When you're following everybody, you never know.
"It was like a real loud pop, like somebody was hitting it with a sledgehammer. That's the first time I've had a race car do that."
After the race, Lambert said the team never figured out the cause of the popping under the car, but would look at it back at the shop to determine what happened.
"We came back in to pit, jacked the car up and nothing visually looked bad, but it could be something internal in the gear," Lambert told FOXSports.com. "It seems like there must have been something in the ratchet that was coming apart and making the locker not behave the way it's supposed to. We overcame it anyway."
Despite the issue, Newman and crew chief Luke Lambert continued to work on the car throughout the entire race, consistently making their way to the front of the field. By Lap 70 Newman was in the top 15, but his march forward was far from over.
"We weren't as good as we needed to be at the start of the race," said Lambert. "We had our work cut out for us again. Aside from not having track position, we had to work on the car a lot."
A consistent figure inside the top 20, Newman used a two-tire stop under the seventh caution of the day to line up 11th for the restart with 14 laps to go. When Carl Edwards slipped on the restart, Newman was able to jump inside the top 10.
As a string of late-race cautions set up numerous restarts, Newman was shuffled back to 11th as Kyle Busch took the checkered flag to win the race.
While it was not a victory, both Newman and Lambert were proud of their efforts to come back from starting 43rd on the field. 
"We fought back hard," said Newman. "We could have been eighth if the debris wouldn't have came, but nonetheless, it's a good run for the Grainger Chevrolet."
"That was a long day," said Lambert. "I'm proud of everyone on the Grainger Chevrolet for doing a heck of a job. It's days like today that show you what a group of guys this race team is made of. I'm just proud of that and everyone's effort in not giving up.
"Ryan did a great job giving feedback and the guys did a good job in the pits getting us back in contention and we almost got a top 10 out of it," he said. "It's certainly something to be proud of."
Still searching for their first win together as a driver-crew chief combination, Lambert believes it is efforts like they had on Sunday that could lead to another run to the championship round of the Chase at Homestead-Miami Speedway. Last year Newman made it there despite not winning a race and finished second to race winner and Sprint Cup champion Kevin Harvick.
"This is a testimony to all these guys and everybody at RCR," he said. 
Sunday, July 26 – 12:30 p.m. ET
After a costly mistake in Saturday's qualifying session, Newman's No. 31 Grainger Chevrolet will roll of the starting grid in the 43rd spot for Sunday's Brickyard 400 at Indianapolis Motor Speedway.
While the mistake of not installing the right-side window for the qualifying lap cost them a shot at a solid starting spot, crew chief Lambert is determined to have his team move forward and not dwell on what happened.
"Well, there are two things," Lambert told FOXSports.com prior to Sunday's race. "First, you have to put it in perspective. It's qualifying. Second of all, you have to move forward. Just like anything in racing, sports, life, no matter what, things happen -- mistakes, bad things, whatever -- you can't dwell on them. You've got to figure out what happened, make sure it doesn't happen again, and then focus forward to make sure you attain your goals a the end of the day. Thankfully it's only qualifying, so it's not directly related to points position."
Despite the mistake, Lambert remains confident about the team's chances to get to the front of the field, but a lot of unknowns remain ahead of the race.
"The biggest thing we have to do is get the car right for the race and have a great race," said Lambert. "There are a lot of questions that we all have here in the garage as far as what kind of race we're going to have and how the cars are going to race in the dirty air. I don't think anyone in here could really tell you what they know is going to happen."
Starting at the rear of the field, strategy is going to be key to the No. 31 Grainger team's success at the end of the day. However, the team is going to have to make some forward progress before making those strategy calls.
"We're going to have to drive our way back into playing some strategy, and then start work on the right strategy to get there at the end," he said. "Whether it starts out with green flag runs or a lot of cautions early, that's going to dictate what our options are. This track doesn't allow you all of your strategy options until you get closer to the front."
With weather threatening the race as well, Lambert and his team have to be prepared for a multitude of strategies.
"It helps us actually," Lambert said of the possible weather. "It affords us more opportunities. The only thing that hurts us is if the rain shortens the race, but if we get some delays that break it up before halfway, it foils some of the clear-cut strategy plans by the other teams and puts us in the opportunity to seize some track position."
Saturday, July 25 – 1:45 p.m. ET
With track position looking to be crucial to success in Sunday's Brickyard 400, each team in the NASCAR Sprint Cup garage put extra emphasis on Saturday's qualifying session.
Unfortunately for Ryan Newman and his Luke Lambert-led No. 31 Grainger team, human error cost them a shot a solid starting position.
"We had a personnel error and forgot to put the window in the right side, so that's definitely a big mistake and not something you can overcome on an aerodynamic track like this," a frustrated Newman told FOXSports.com. "Accidents happen, I guess you can say, but this is not the place for accidents."
As a result, Newman qualified 36th of the 46 cars. However, NASCAR disallowed his time for not having the right-side window, which means Newman will start 43rd on the field for Sunday's race.
Despite the frustration, Newman is confident they have a good car, but says they have to "overcome the emotion" of the human error.
"We still have a good Grainger Chevrolet," he said. "We felt the car drove pretty good at the end of practice yesterday and hit on a couple of things. We're going to need that because we're going to have to pass a lot of cars."
Starting shotgun on the field, Newman and Lambert will spend the rest of Saturday coming up with a plan for Sunday's race.
"Our baseline will be what we were happiest with in practice with race trim and we've got to figure out the strategy part of it, look at our tire wear, figure out what we can kind of put into perspective on how the race is going to play out, and do it better than everyone else," he said. 
Saturday, July 25 – 12:30 p.m. ET
Prior to Saturday's NASCAR Sprint Cup Series qualifying session at Indianapolis Motor Speedway, Luke Lambert discussed Friday's lengthy practice sessions with the new rules package for Sunday's Brickyard 400. The Richard Childress Racing crew chief was like many in the garage, wondering exactly what would be seen when the green flag drops on Sunday's race.
"I don't think anybody knows," Lambert told FOXSports.com about how the race will play out. "That's what we spent most of our time talking about after the session, how are we going to adjust the car for when we start the race with a 43-car field. I don't think anybody knows. I think the guys that have done the best job of anticipating what that's going to be will be the ones that shine during the race, but I think it's going to catch some guys off guard."  
With no testing before the start of the weekend on Friday, the No. 31 Grainger Chevrolet team has been preparing for this weekend's race by using everything at their disposal -- simulations, wind tunnels, etc. -- to wrap their head around this new high-drag aero package.
"The only thing that really makes it difficult is not being able to get on the racetrack and test it before we got here," he said. "Coming here with the whole field trying to get things rolling right off the bat is definitely a challenge. We definitely had to straighten a few things out and we had our work cut out for us when we got here. We feel like we got a lot better over the course of the test session, but it was definitely a long day. A lot of work and information to go through to make sure you made the most out it."
Despite the unknowns, Lambert is confident he and driver Ryan Newman can deliver RCR's fourth Brickyard 400 victory.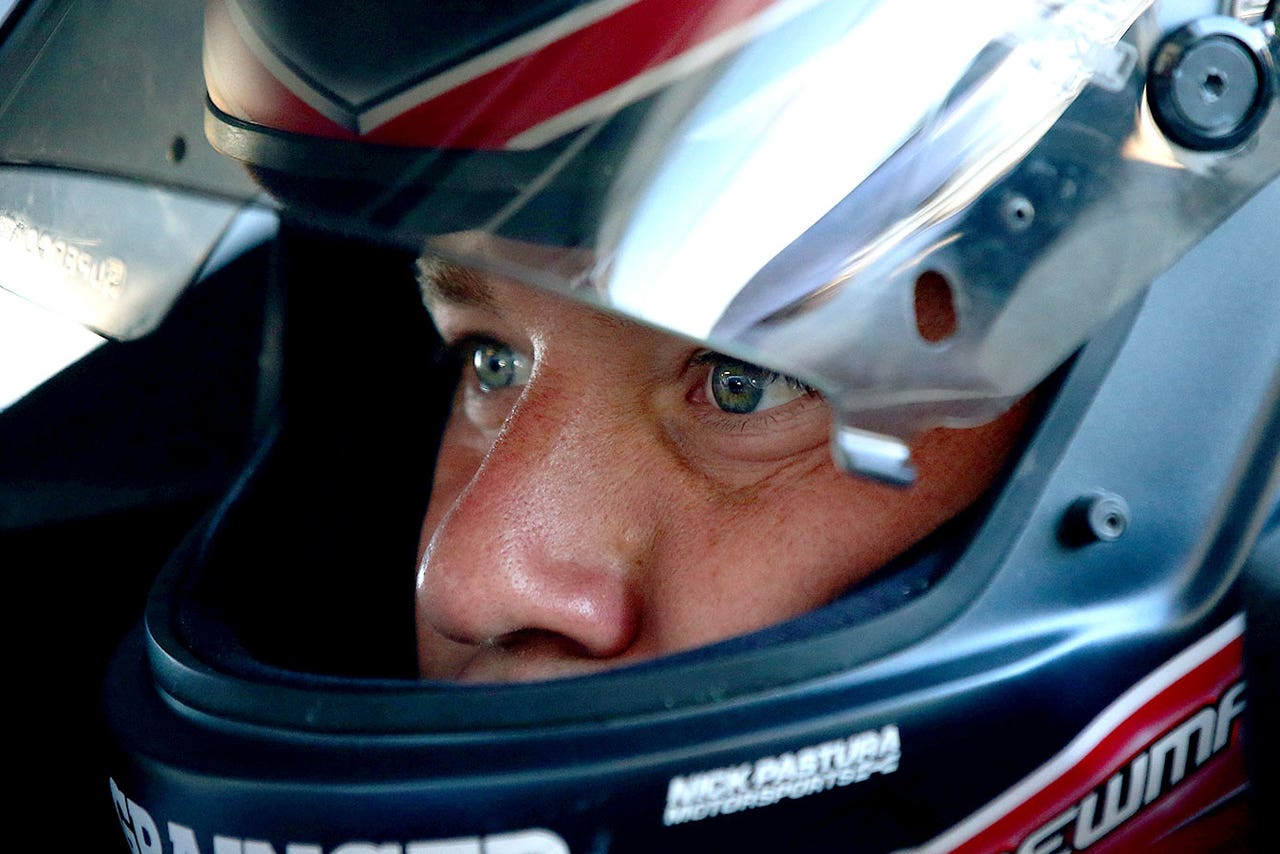 "We've got all the things we need," said Lambert. "We've got a great driver. We've got a great company. We've got great engines with ECR. We've got a great race team. We just have to put all the pieces in place, make the most of it and execute." 
Friday, July 24 – 6:15 p.m. ET
Practice has wrapped up for the day at IMS, with Newman's No. 31 Grainger Chevrolet ending the final session 11th on the speed charts. After being 26th in the day's first practice and 25th in the second, Newman jumped up the speed charts in qualifying trim.
"It's kind of a mixed bag, everybody's been switching between race and qualifying trim," Newman told FOXSports.com after final practice. "We definitely got the Grainger Chevrolet better. It's drivable now. We've got to work on our speed just a little bit. We ended up in qualifying trim a little on the tight side, so we know there's more speed in the race car, we've just to get it out of it."
With final practice in the books, the work for the Luke Lambert-led team was far from over. NASCAR allowed the teams to use data acquisition during Friday's three practice sessions, due to the new rules package, something typically reserved for testing. The team will have to remove all of the data acquisition items from the car, go through the information and make a game plan for Saturday's qualifying session and Sunday's race.
"It's really a mess to come here to a big race like this and have something like this where the guys have to spend so much time -- they've been doing so much testing, wind tunnel testing and everything else -- it's just not really fair for all the guys," Newman said.
While Newman is not confident he can win the pole during Saturday's qualifying session, he expects to find more speed in the car and secure a starting spot near the front of the field.
"I think we have a competitive car. It drives really good," he said. "We're seven-tenths off on the quick time, which doesn't take a whole lot to get here because of the straightaways. We can definitely make it better, I know we're still too tight."
Friday, July 24 - 12:10 p.m. ET
Before hitting the track for the day's second practice session at IMS, Newman stood in his hauler relaxed and ready for action.
The 2013 Brickyard 400 winner sits 13th in the driver standings, coming off an 11th-place finish at New Hampshire Motor Speedway. Posting the 26th fastest lap in the first practice session, Newman was not concerned as the team was working primarily on the race setup on the No. 31 Grainger Chevrolet.
On the track for the first time with the new high-drag rules package, Newman does not believe the race will look much different than in years past.
"You don't see any difference when you're driving by yourself," Newman said. "The drag will just be compensated by horsepower."
One of the key factors to the team's success this weekend is crew chief Luke Lambert. Suspended six races by NASCAR for manipulating tires at Auto Club Speedway, Lambert returned to the track three weeks ago at Daytona International Speedway. Since returning to the pit box, things have not been easy for Lambert.
"We've just had to rebalance ourselves," Newman said of his crew chief's return. "Our situation changed when he was away. Long story short, he's coming back to a lot of different situations and scenarios. Daytona was his first race back, which is Daytona. You can't really do a lot as a crew chief. We go to Kentucky with a different rules package, so it's not like he's jumping on the same horse. Then, two races later we come here and it's a whole different horse again."
Not a huge fan of the high-drag package being run this weekend at Indianapolis and again at Michigan, Newman believes there are a lot of unknowns headed into Sunday's race.
"I don't know that (the package) will work at all," he said. "Do we know? We didn't know if the Kentucky package would work until we doubled up on lead changes and everything else."
Newman prefers the low downforce package run at Kentucky Speedway and is one of the many drivers in the garage that would like to see more of that in the future. However, the focus for now remains on this weekend's race and contending for the win on Sunday.
Newman believes his overall results have not reflected how the team has run, but is confident the team will be a part of the Chase once again this season.
"Pocono and Michigan were two tough hits for us," he said. "At Pocono we got crashed out going for the top five. Then at Michigan we got caught a lap down and then the 42 (Kyle Larson) stayed out and tried to rob a win and locked us a lap down instead of taking the wave around. We lost a lot of spots in that deal. We were a top-10 car there as well. That's 40 points right there, not to mention the 50 that NASCAR took from us (as a result of the tire manipulation penalty).
Last season, Newman raced his way into the championship round of the Chase for the Sprint Cup at Homestead-Miami Speedway despite not having a victory on the season. Still searching for his first win of the season, Newman does not believe the team needs to win to be a part of the 16-driver Chase field.
"We don't need to win, that's an obvious to me," he said. "I think with the guys that are competitive and the number of open spots right now, you've basically got 11 winners -- Kyle Busch, you can count him in -- you're going to have five spots that are open."
---
---