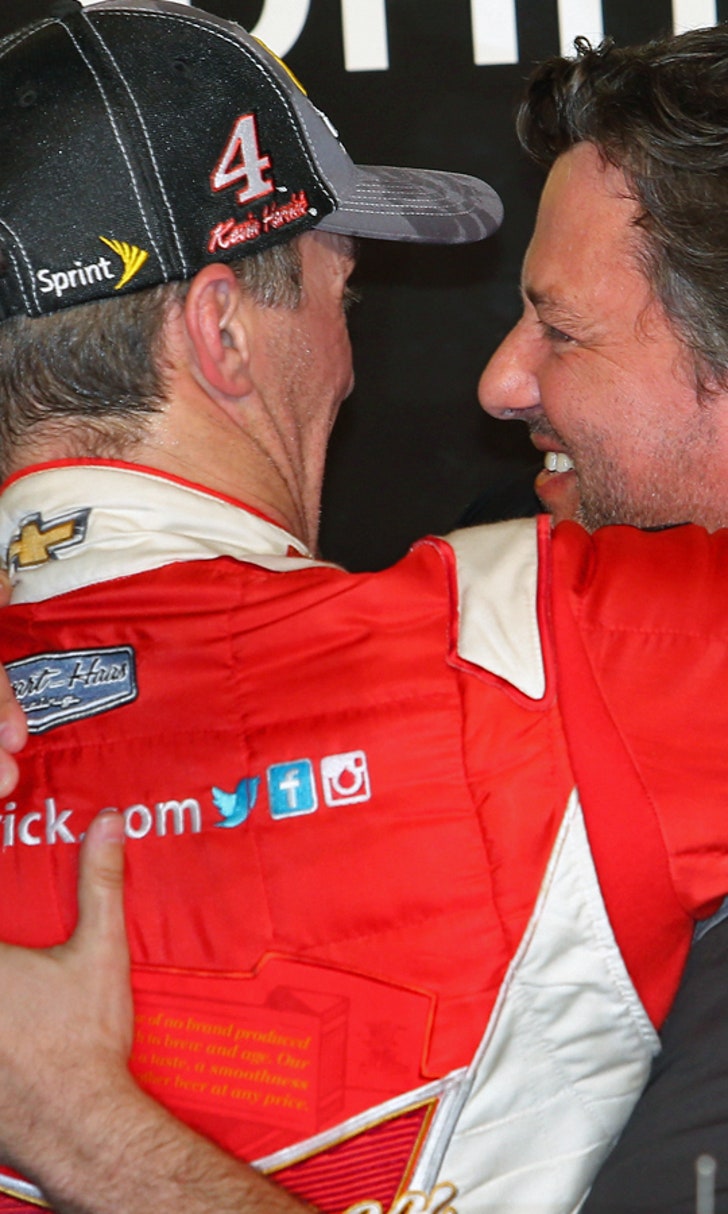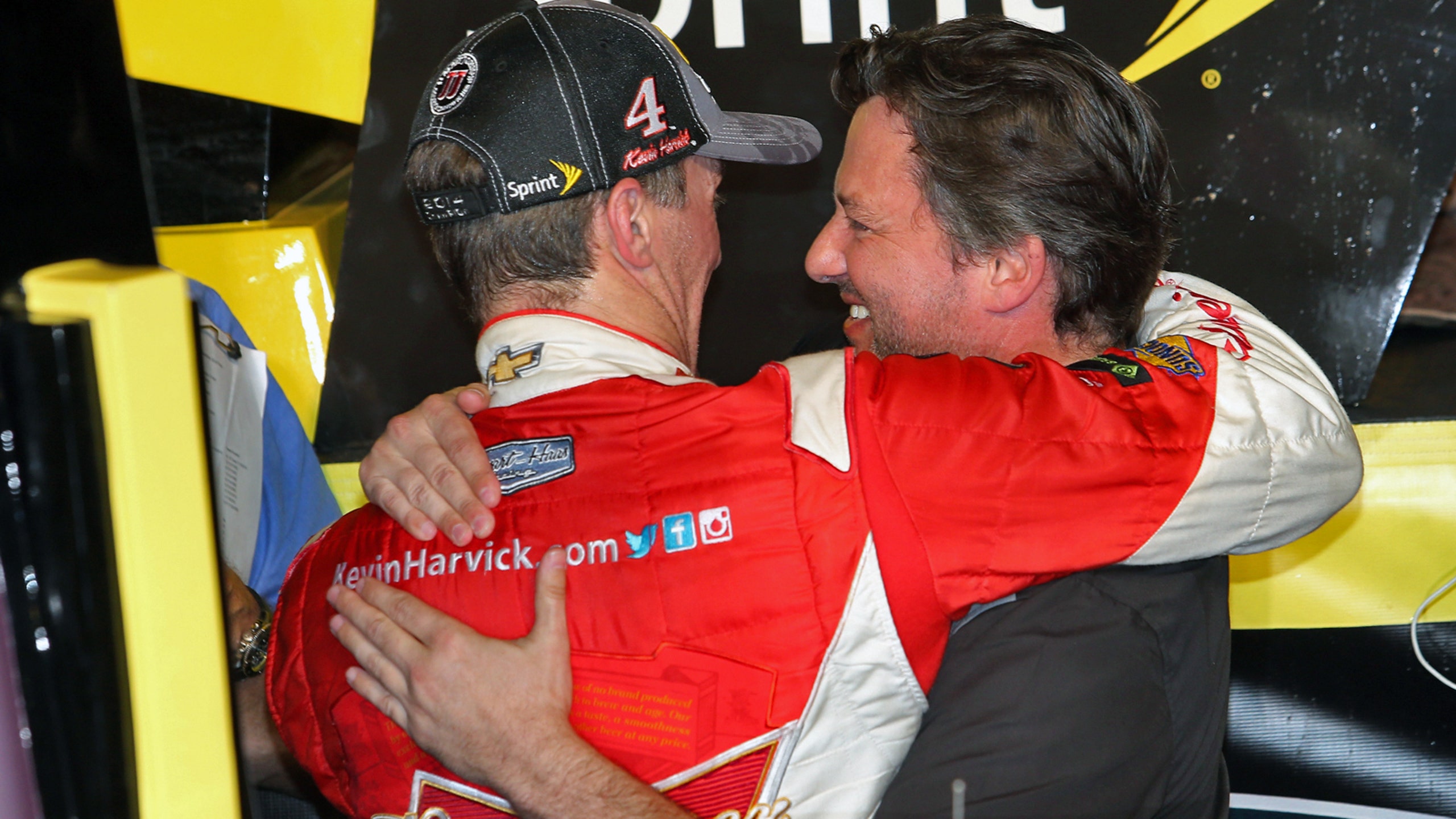 Postrace embrace between Stewart, Harvick was special
BY Darrell Waltrip • November 18, 2014
One thing I can assure you about our new 2014 NASCAR Sprint Cup champion is that Kevin Harvick is never afraid to step out of his comfort zone. He's not afraid to try something on and off the racetrack when it comes to risk versus reward. I've seen it in him coming up through the truck ranks all the way to Sunday evening in Homestead.
Kevin and I have been buddies for quite a while. I used to call him "Rookie" and he would call me "Old-Timer." We watched Richard Childress put him in an impossible position of basically taking over the re-numbered No. 3 car after Dale lost his life in Daytona in 2001. Then in only his third race in the No. 29 car, Kevin pulls off the upset and wins at Atlanta.
Since 2001, Kevin has won races but was never able to close the deal and win the championship. When you look at what he, crew chief Rodney Childers and the entire Stewart-Haas Racing organization did this year, it is nothing short of a miracle.
Kevin made the bold decision to leave Richard Childress Racing 12 years into his Cup career and go join his buddy, Tony Stewart. They get Kevin in place and then get Rodney Childers to come over from Michael Waltrip Racing. I said clear back in 2013 when that pairing was announced that the potential was there for something special to happen.
We all saw it wasn't going to be long in happening. These two guys had never worked together but in their very first test in December at Charlotte Motor Speedway, they were bad fast. They never stopped being bad fast this entire year. Both owners, Tony Stewart and Gene Haas, made it clear to them that they would want for nothing. They had the necessary resources at their fingertips at all times.
Obviously, one of those key resources was the affiliation that Stewart-Haas Racing has with Hendrick Motorsports. If you are going to be in the Chevrolet camp, the premier Chevy organization is owned by Rick Hendrick. Stewart-Haas Racing gets Hendrick's engines, chassis and technical data, so they put the new No. 4 car light-years ahead in their learning process.
Now granted, like any new team, the No. 4 bunch suffered through growing pains this year. Early on they had some mechanical issues. We also saw some miscues on pit road but, again, that's to be expected as a team begins to jell. The key, however, was they always had a fast race car. Kevin seemingly was always at or near the top in practice, qualifying and the race itself. Honestly, had it not been for some of those growing pains early on, Kevin could easily have had eight, nine or even 10 wins instead of five this season.
Again, not being afraid to take a risk, the No. 4 car swapped pit crews with the No. 14 car in the Chase just to give them that potential edge that they needed. It was another roll of the dice that paid off in a big way. That's the thing I've always admired about crew chief Rodney Childers. He was that way at MWR and was the same at SHR. He's a problem-solver. He attacks things head-on and gets it right. They got the mechanical and pit road gremlins fixed, and look where it got them at Homestead -- in Victory Circle for winning the race but even more importantly they became our 2014 champions.
You all know I am a big fan of irony, and Homestead set the stage for a boatload of it. You had Kevin Harvick who drove for Richard Childress Racing in 2013 competing for the championship against Ryan Newman who drove for Stewart-Haas Racing last year. Trust me when I tell you that there was definitely some one-upsmanship going on there. Both drivers wanted to show their old owners that they had made the right decision in moving on. You had Darian Grubb, who won the championship as Tony Stewart's crew chief in 2011, now trying to win the championship with finalist Denny Hamlin.
Kevin had worked with sponsor Shell/Pennzoil for a couple years there before they moved over to Team Penske. So you had that irony tying Kevin and Joey Logano together. In addition on Sunday evening, Kevin gave long-time sponsor Budweiser only its second NASCAR Sprint Cup title and first since 1985 when I won the championship for them. The irony there was it marked 29 years between championships -- yes, Kevin's car number from the last 13 years at RCR. If all that wasn't enough, Kevin had to win the race to win the championship Sunday, just like car owner and teammate Tony Stewart had to do three years ago in 2011.
So those were a few added storylines that made that final race under this new Chase format even more intriguing. What can you say about the final race of the season? It was everything we had hoped it would be. The action was intense. Everyone was on the edge of their seats during that see-saw battle.
It was a gutsy call by Darian Grubb to not bring Denny to pit road at the same time it was also as gutsy for Rodney to have Kevin take four fresh Goodyear tires. Kevin at one point there at the end was mired back in 12th spot. Quite honestly, the No. 11 car's strategy failed, but had the cautions not fallen where they did, we could very easily be talking about Denny Hamlin as our new champion. Unfortunately for the No. 11, it simply didn't play out that way. On that last restart, Kevin started sixth, shot to the lead and pulled away, holding off Ryan to win the race and the championship.
So what an amazing year for Kevin Harvick and everyone at that No. 4 car to do what they did in such a short period of time to become our champion. What a great year for NASCAR as a whole. We set track records, it seemed, every other week. The new qualifying format brought a lot of excitement to the table. The new Chase format did everything they had hoped it would. I thought it was funny to hear Kevin say in Victory Lane that the stress and pressure of the new format will shorten some drivers' careers, but that it was awesome for the fans to watch.
If NASCAR doesn't want to make any changes to the Chase for 2015, I'm okay with that. I still maintain it could use some minor tweaks. Based on the kind of racing we've seen this year, I am concerned that NASCAR is going to have rule changes to both the car and the engines for 2015. Based on what we saw this season, I just don't see where it is warranted, but hey, they run the sport and they probably see things that others don't.
The one thing that capped it all off for me Sunday night was "The Hug." When I saw Kevin Harvick and Tony Stewart embrace after the race, it brought tears to my eyes. Here were two great friends, and they held onto each other tight. It had to be such a relief to Kevin to be standing there as our champion after making that big decision to change direction this deep into his career and join Tony at Stewart-Haas Racing.
At the same time, it had to have been such an incredible moment of satisfaction and quite a bright spot for Tony after the past year-and-a-half he has been through. You could just see it that it was just more than your everyday hug. That was two guys savoring a moment of time of pure joy and satisfaction.
So it was a fantastic ending to a fantastic year. I also want to congratulate young Kyle Larson for being our NASCAR Sprint Cup Rookie of the Year. Congratulations to Matt Crafton on winning his second consecutive NASCAR Camping World Truck Series championship and to Ben Kennedy on being that series' Rookie of the Year. Then you have that young man over there in that No. 9 car who did both in the Nationwide Series. Congratulations to Chase Elliott for winning both the Nationwide title as well as Rookie of the Year.
The future of NASCAR is bright. The sport is on an upswing. I know it's only mid-November, but I am ready to head to Daytona now to get the 2015 season under way in Daytona. Our NASCAR on FOX team will be back again with some new faces next year. We also will pick up the Saturday races in the first half of the season. I also want to welcome back our friends at NBC who are returning to the sport in 2015 and will cover the second half of the season.
The 2015 season should be an even bigger year than we just experienced, and I'm thrilled to be a part of it. 
VIDEO: Kevin Harvick celebrates championship
---
---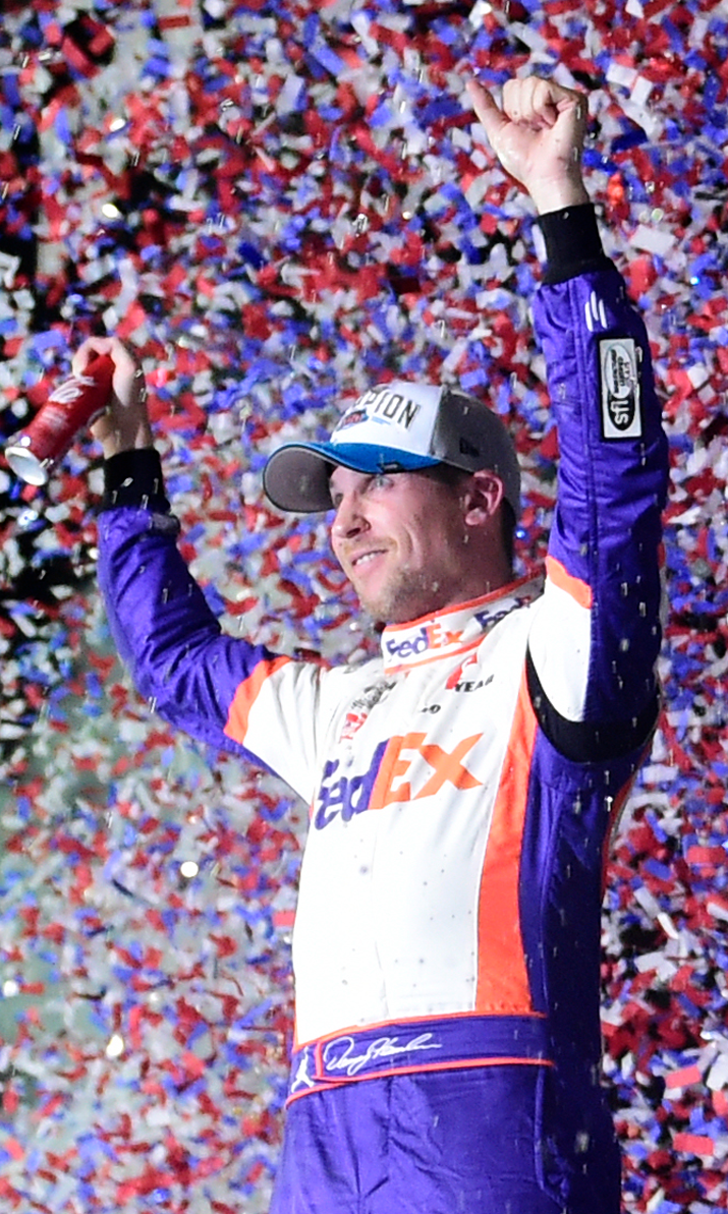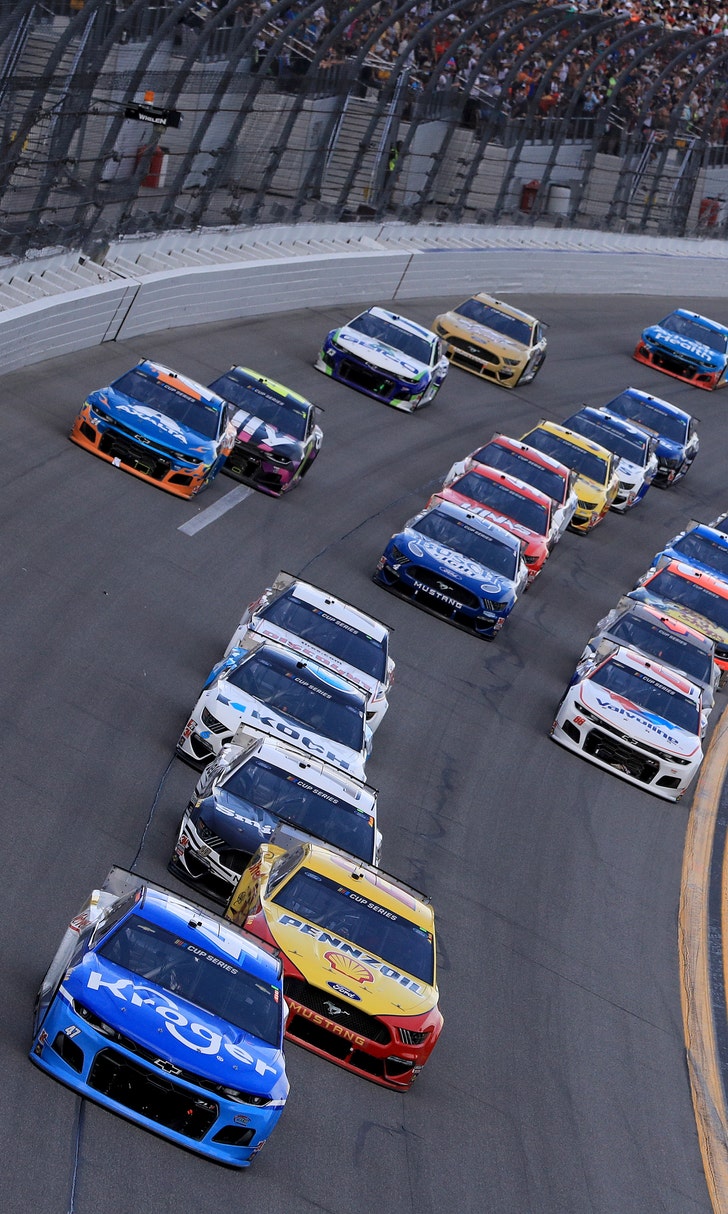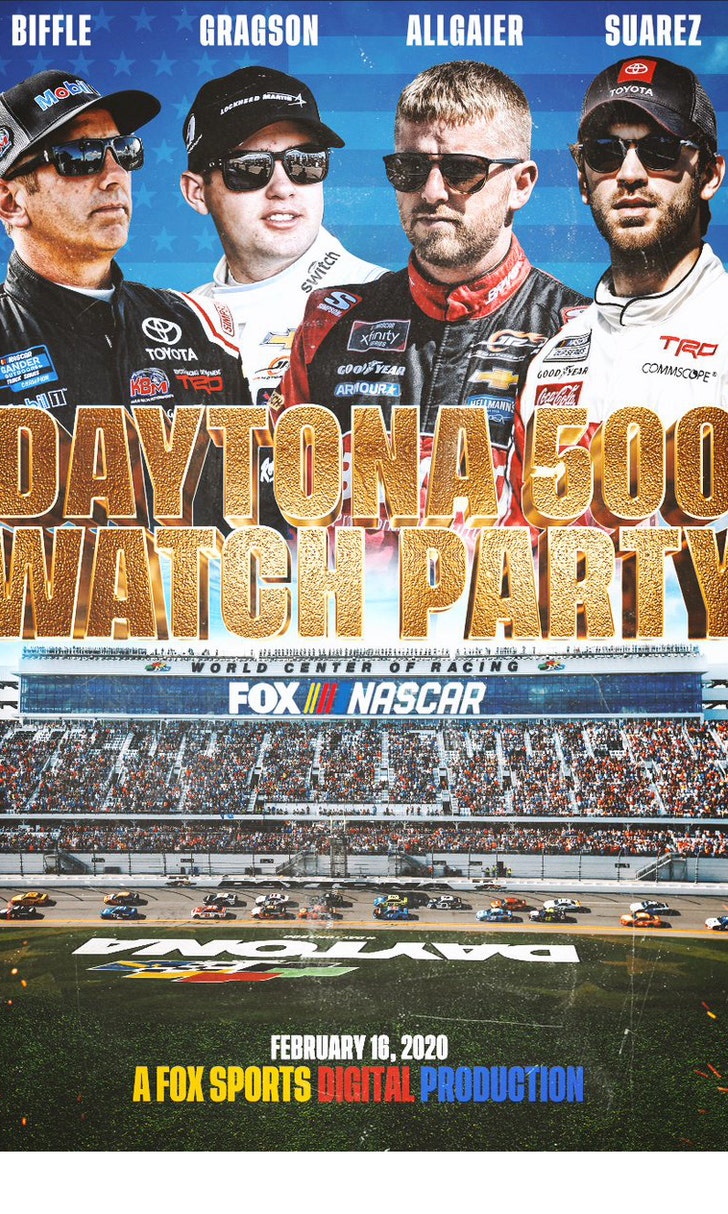 The Daytona 500 Watch Party!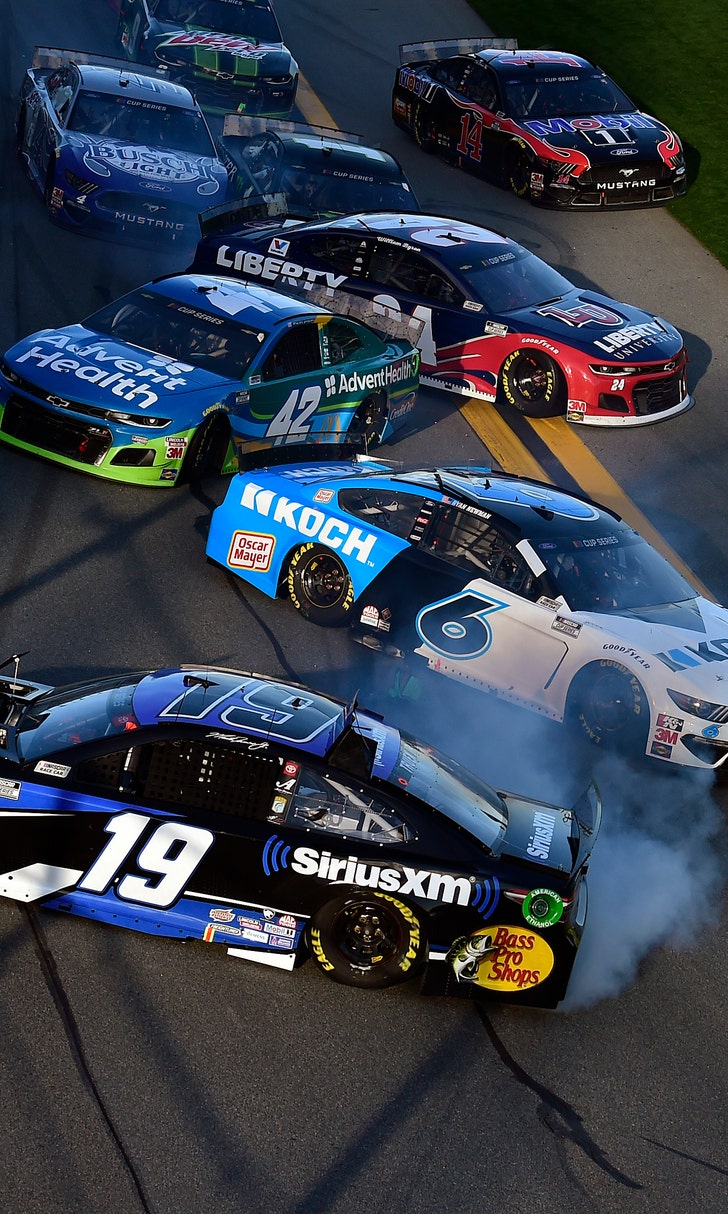 The Numbers Game At Daytona