On the road with NASCAR on FOX
BY foxsports • March 2, 2012
Ever wonder what it's like to travel the NASCAR circuit every week? Come along for the ride with the NASCAR on FOX team as they share their tales from the road.
Checking out
The FOX portion of NASCAR Sprint Cup racing's 2012 season ends this weekend. We began in Daytona where neither rain (first ever Daytona 500 rain-out) nor fire (remember Juan Pablo Montoya and the jet dryer) could stop our coverage. It was the strangest Daytona 500 in that it took three days to run. On Sunday, we had driver introductions followed by rain. The green flag started the race on Monday night and after delays for more rain and the fire, I interviewed the winner, Matt Kenseth, at around 1 a.m. ET on Tuesday.
The rest of the season has gone more smoothly.
Greg Biffle has emerged as the strongest point gatherer of the year to date. He's led the points in all but two weeks of our coverage. I personally like Biffle, but I especially like the way he drives. Nobody can get as much speed out of a car that's not handling as Biffle. We've seen him sideways coming off the turns, make miraculous saves and week after week get the job done. He's finished all but one lap so far this year and is certainly a championship contender, one of the most fun to watch.
It seems that every week we figure Dale Earnhardt Jr. is finally going to win one. Remember last year at Martinsville when Kevin Harvick passed him with just two to go to take the win away? Or last May when Junior ran out of gas in Turn 4 of the last lap while leading the Coca-Cola 600? Or this year's races at Daytona and Richmond — he finished second in both of them! Earnhardt has now failed to win 141 consecutive NASCAR Sprint Cup points races. He did win the Showdown last week and the final of four 20-lap segments of the all-star race. He's also won in Nationwide competition. But, we all know that the prize is a points-paying Sprint Cup event. I promise you a win is close for Earnhardt and it may come this weekend.
We head to Dover, Del., this weekend, a track many drivers compare to a roller coaster. There's a big dip going into Turn 1, which puts some of the largest pressures on tires and suspensions of any track where the Sprint Cup cars race. Turn 2 has a short field of vision. Can't see very far ahead coming off that one, so when someone gets messed up coming out of 2, usually he brings other competitors into the action. Turn 3 is the site of Joey Logano's big barrel roll in September 2009. Turn 4 is just for the fans in the grandstands. It's the spot on the track where guys like Biffle, Harvick, Carl Edwards and other gas mashers put on a thrill show as they run hard and often sideways.
Jimmie Johnson has the best recent record of any Dover driver. He has led more laps than anyone else in each of the last six races, winning three of them. Half! In the last six Dover races, Johnson has led 56 percent of the laps. If history repeats, and it sometimes does, the FOX cameras will be on Jimmie Johnson's No. 48 Lowe's Chevrolet a lot on Sunday afternoon.
When you watch the race on FOX on Sunday afternoon, think Martin Truex Jr. Truex is enjoying the best season of his career in 2012. Dover is the site of his one and only win to date, the June 2007 event 179 starts ago. Might just turn out to be his second win come this Sunday.
As always for the past 12 years, I'll be on pit road to tell you what's going on there. But Sunday will be the last of my NASCAR on FOX broadcasts. It's been a grand run. The hardest part of leaving will be to not see the FOX folks I've so enjoyed working with and being with. I leave knowing I've been part of the very best broadcast team that's ever covered auto racing.
I hope I've occasionally been able to put a smile on your face and share some insights that helped you understand and enjoy racing more. My most important job has been to share stories of people who are heroes to me, the drivers and crew members. I've always felt a responsibility to do right by the sport's competitors.
My future will continue to be filled with racing. I'm not retiring. I head a group intent on building a museum for Northeast motorsports at New Hampshire Motor Speedway. We want to save our region's racing history. I remain active as a writer and photographer in Speedway Illustrated magazine. You'll still be able to find me sitting in the grandstands of local speedways most every Saturday night during the summer. And, who knows, I just might pop up on your TV screen again some day.
— Dick Berggren, May 31
 
What now?
As we leave Richmond in the rearview mirror and head for Talladega, think about this:
Dale Earnhardt Jr. has not won a points-paying race in nearly four years — 138 starts. But, Junior is one of the hottest drivers in today's big-league NASCAR.
He finished second last week in Richmond, was second at Daytona and third at both California and Martinsville. That's four top-three finishes in four of the season's first nine races. If a guy keeps finishing in the top three, he's going to win some races. And soon.
So now we head to Talladega, which is Earnhardt's best track. He's won five Sprint Cup races at NASCAR's biggest track, more races at Talladega than anywhere else. Things are lining up for Junior to drive into Victory Lane on Sunday afternoon.
This weekend's race should be very much like the Daytona 500. In some respects. We do not anticipate rain or a crash into a jet dryer or a Victory Lane celebration in the middle of the night! But the rules that made tandem racing for more than a lap or two impossible at Daytona are in place for this weekend's race in Talladega. Unlike the race here last year, when everyone ran two-by-two, nose-to-tail, we'll see more pack racing this time.
We'll still see teams racing together. Childress drivers will race with other Childress drivers, Hendrick drivers will race with their teammates. And they will pit together, as well.
Pack racing promotes crashes. More drivers crashed out of this year's Daytona 500 than in all of the rest of the races this year combined. But there have been two races here without a single caution flag since 2001. Nobody crashed in either one of them.
For Krista Voda, Matt Yocum, Steve Byrnes and I on pit road, Talladega presents some unusual challenges. Talladega's pit road is huge, so it's a long way from one pit to another. We'll be running between pits to keep you as informed as possible about what's going on with the top drivers.
And there are times when "the big one" happens and 10 or more drivers are off track with their crews working hard to get them back on track. Some of us have to stay in the pits while others are in the garage. We're lucky to have a veteran, Pam Miller, as our pit producer because she is incredibly good at deploying us to wherever we should be to give you the information you're looking for.
Talladega has a large museum on the property, a portion of which is dedicated to the International Motorsports Hall of Fame. On Thursday night, that Hall hosted its annual induction ceremony. Richard Childress, John Force and Kenny Bernstein were inducted and Tony Stewart was honored as 2011 Driver of the Year.
The race is on FOX on Sunday afternoon, with coverage starting at noon ET.
— Dick Berggren, May 3
 
Clean racing alters pit road
Texas sure was a strange race. No caution periods caused by crashes or blown engines, just two yellows for debris on the track. I think the drivers were giving each other a lot of extra room because the wind was tossing the cars around so much.
The lack of cautions didn't give people time on pit road to adjust their cars, so those who were dialed out in the beginning stayed dialed out. Even with a strong car, a problem on pit road was hard to recover from. Note Carl Edwards, who repitted for a lug nut issue and spent the rest of the night catching up.
So, now we go to Kansas Speedway, another 1.5-mile superspeedway that, like Texas, is showing its age. This will be the final race at Kansas before the track is repaved. The drivers who struggle crossing Kansas' paving seams will be thrilled once it's repaved. And those who enjoy the handling issues produced by those seams will make the most of the track this final time around.
Kansas and Texas have a recent reputation for few caution flags (although Saturday night's Texas race was to the extreme). For Matt Yocum, Steve Byrnes, Krista Voda and me, green-flag pit-stop calls are very different than covering pit stops under yellow.
Rather than the lead lap cars coming in all at once and each of us covering one or, at most, two stops, we go from one car to another quickly, sometimes with only a few seconds to tell the story before it's time to toss to another pit stop. We do it using pit monitors, small TV sets that show the action in real time. We call what's happening on camera using what we've heard through our scanners in driver-crew chief conversations and what we've seen before the pit stop.
There have been five or six cautions in the past four Cup races at Kansas, so there will be lots of green-flag pit stops this weekend.
It's tough to pick the favorite based on past performances at Kansas. Four drivers (Greg Biffle, Tony Stewart, Jeff Gordon and Jimmie Johnson) have won twice apiece. Jeff Gordon has the most top-fives, Jimmie has led the most laps, The Biff has the best average finish. Go figure which should be the favorite going in.
I'll tell you this: Those Roush Fenway guys really have their act together on the 1.5-mile tracks, and this is one of them. Carl Edwards considers Kansas to be his home track, and I like his chances. His big-league NASCAR career began here in 2002 when he drove Mike Mittler's Camping World Series Truck to an eighth-place finish. For a complete rookie to finish that high said a great deal about Edwards' abilities and his future. Edwards calls his Kansas Truck series win in 2004 one of the biggest of his career.
But Jeff Gordon's stirring run last weekend from 34th to fourth puts him in the running as a potential race winner. Same could be said of Jimmie Johnson, whose driving was brilliant, whose pit crew was fabulous, whose crew chief called for the right adjustments all night. Johnson led the most laps and won the race there last October, so he should be considered a contender.
And I like what I see out of Michael Waltrip's bunch. Martin Truex Jr., Mark Martin and Clint Bowyer have all run well, and one of them could break through this weekend.
— Dick Berggren, April 19
 
Tough road ahead
We sure were fortunate to get last weekend's California race in. For days leading up to it, weather forecasts predicted rain. It was supposed to begin two hours before race time, but instead waited until the race had gotten past halfway. We all got to go home on time after the race ran without a caution flag to slow it down.
I think if the race had run its course, Tony Stewart would have had a great finish. He sure was hooked up, and that crew of his was on its game. The big surprise was Denny Hamlin, who dominated practice and started on the pole. But Hamlin led only two laps before finishing 11th. It was unusual to see Jeff Gordon's team earn two pit-road penalties. One came when gasman Brad Pickens, a 10-year veteran, was dragged as he hung onto his can, which was stuck in the car. When Pickens' gas can left the pit box, it was penalty one. Penalty two came when a lost tire was bunted clear across pit road. There's a lot of new on that pit crew — half of the crew is in its freshman year with Gordon.
Now it's on to Martinsville Speedway, as Greg Biffle continues to lead the points and Stewart is smoking hot.
Martinsville is the smallest track NASCAR Sprint Cup cars race on and it is certainly one of the flattest. The place is so tiny, the office trailer Steve, Matt, Krista and I work in doesn't fit into the infield. So it is parked on the hillside.
The track puts a lot of pressure on engines, brakes and drive trains. From 60 mph mid-corner, speeds reach 120 mph at their peak. As the drivers pick up the gas, there's a lot of pressure on rear gears, which sometimes break. The change in RPM does engines no good, and they sometimes fail. As for brakes, to cut speed in half twice each lap, Martinsville requires more of the braking system than any other track we go to.
Unlike Auto Club Speedway last weekend, we'll see lots of yellow flags at Martinsville. In fact, there were more caution periods there last year than at any other track. Racing at Martinsville goes back to the very beginnings of the sport, and there never has been a caution-free race in NASCAR's top division there.
So, who's good there? Stewart was dazzling as he won last year's fall race. Hamlin's best tracks are Richmond and Martinsville, the only tracks in his home state of Virginia. Gordon has won Martinsville seven times and has led 3,094 laps, the most of any driver who will run this weekend's race. But, Gordon showed his teammate how to run the place, and Jimmie Johnson used what he learned to win six of his 20 Martinsville starts. Junior almost won last spring (finished second) but was passed by Harvick with just a couple to go. Maybe finally Junior will win one this coming weekend.
I fly into Charlotte and drive to our hotel in Greensboro, NC. Takes around 3-1/2 hours of driving, but I usually stop somewhere along the way. Team owner Richard Childress' museum of his own racing history is on the way, as is the Childress winery. I visited the museum last trip. If I get there before the winery closes for the day, I'll stop in and buy a couple of bottles for friends. It always puts a smile on a racing person's face when they received a bottle of wine with a Childress label on it.
— Dick Berggren, March 27
 
Celebrities, green-flag racing on tap
It is with great relief to Jimmie Johnson that his crew chief, Chad Knaus, and his car chief, Ron Malec, will be with him at the Auto Club Speedway in California this weekend. Both had appealed a six-week suspension issued by NASCAR following what were termed "illegal" C-posts in the team's Daytona 500 car. On Tuesday, John Middlebrook, who is the final judge for appeals of penalties, threw out virtually every penalty against the team, including the loss of points and team member suspensions.
The timing could not be better, because Auto Club is Johnson's best track. A considerable amount of credit for that success goes to Knaus' calls of the races. Together, Johnson and Knaus have finished first or second in 10 of their 17 races together at Auto Club. At Auto Club, Johnson has more wins and has led more laps than anyone else who will take Sunday's green flag.
For those of us working the pits, Auto Club Speedway seems haunted. Built on the site of an old World War II steel mill, the ground is full of "stuff" that interferes with electrical signals. An abundance of strange things happen to our electronic equipment at the track and I'm not looking forward to that.
Strangely, Bristol used to be our worst track for electronics. Because the huge grandstand holds the sound in, it's so loud there it's hard to hear and even more difficult to say things into microphones which can be clearly heard and understood when they come through your TV set at home. BSI, which provides our electronic equipment, has made huge strides and we can now hear clearly in our headsets and the sound you hear from our microphones at Bristol is worlds better than it used to be.
We see more movie stars at Auto Club than any other track we go to. The place is, after all, just down the road from Hollywood so it's a short haul for the headliners of today's TV shows and movies. I was admittedly disappointed to have not seen Elvis when we were in Las Vegas, so I hope to see someone who starred in a racing movie when we are in California this weekend.
Watch for fuel mileage to play a major role in this weekend's race. It usually does. That's because the track is so big and wide, there's plenty of room to avoid crashes, which means fewer yellow flags. Last year, there was an average of 7.7 cautions across all Sprint Cup events, but there were just four yellows at Auto Club. Teams hate to pit under green, so they stretch their fuel. You will see the drama of green-flag pit stops when you watch the race on FOX on Sunday. Someone always seems to run out of gas with victory in sight at Auto Club and the winner usually has stretched his fuel.
Several years ago, I dyed the hair on one side of my head purple (this is a true story, folks) so I'd fit in better at Auto Club. Nobody noticed. I was on camera and even the folks in the truck who always spot a credential left on or a pen that is in a pocket (another no-no) missed the purple hair. I guess I fit right in.
Wondering if you think I should try a more obvious color this time: bright yellow or red maybe?
— Dick Berggren, March 22
 
Setbacks and treats from Vegas
To follow up on last weekend in Las Vegas, when the race was over, my pit-road spotter Jeff Propst and I went to a show after which we spent some time listening to the dueling pianos in Paris (that's a casino as well as a country). A grand time.
I did buy Indy the High Speed Airedale a bacon cheeseburger on my way home from the airport. And she ate it all!
It's grand when good people win races, and Tony "Smoke" Stewart is surely one of racing's good people. The night before the Cup stuff started at Vegas, he was pounding around the Vegas dirt track in a sprint car, finishing eighth. The guy just can't get enough racing.
I worked Matt Kenseth's pit last weekend, and it broke my heart to see the look on the face of his crew chief (Jimmy Fennig) when Kenseth was forced into the wall late in the game. The team had executed an excellent event and was in position to win. That bounce off the fence ended their chances for another first-place trophy.
As we're in Bristol this weekend, I can't help but think of the Busch brothers. Together they have won 10 of the last 20 races at that place, an amazing stat. Even more amazing is that Kyle, who has won on the old track and the new, has won five of the last 10 here. He has won with three different crew chiefs (Dave Rogers, Steve Addington, Alan Gustafson), so give the driver a lot of credit. Kurt has yet to win with the new car or on the newly configured track. Yet he nearly won the spring 2010 race, leading the most laps and finishing third.
I'm guessing Kurt will be cautious at Bristol since he's been involved in four crashes this year. He told me that, given the equipment he has to work with at Phoenix Racing, he has the best shot to win at short tracks like Bristol and Martinsville, and the plate tracks. The combination of caution, desire and skill make Kurt Busch a good bet to win Bristol.
Kurt, Kyle and Jeff Gordon have each won five times at Bristol, and Jeff, like Kurt, has never won on the new track or there with the new car. But last August, Gordon led the most laps, which tells me he's caught on. The purse is $5.5 million, an incomprehensible figure for those local racers who compete on half-mile tracks near their homes on Saturday nights for a few hundred dollars to win. Finally, a reminder to be wary of the camera radar in Piney Flats near the Burger King. Speed limit drops just before the camera, so be watchful.
— Dick Berggren, March 15
Pet projects on the road
Many of us involved in the NASCAR on FOX family have dogs. Mine is a 10-year old Airedale named Indy (after the Indianapolis 500). Indy likes gifts and opens her own Christmas presents. Her favorite gifts are eating presents, so sometimes I stop on the way home after a race weekend to buy her a burger. She's particularly fond of Wendy's bacon cheeseburgers, but McDonalds cheeseburgers are her No. 2 choice. She'll get a gift when I return home from Las Vegas.
Last weekend, many of us began the Phoenix NASCAR on FOX weekend by going straight from the airport to In-N-Out Burger. The Double-Double is a huge favorite among not only the TV folks but the racers, too. You'll see team members and drivers at the In-N-Out near the track on Dysart Road.
Unlike In-N-Out, the Phoenix race left a bad taste for some drivers. Tony Stewart had fuel problems at Phoenix, and he wasn't alone. Remember that Kevin "The Closer" Harvick couldn't close on eventual winner Denny Hamlin because he ran out of gas. Carl Edwards told me after the race that his engine would not restart after he shut it off at the end trying to save fuel. Greg Biffle says he's learned how to be able to shut the engine off and get it started again. And Scott Maxim, one of Hendrick Motorsports' top engine men, said it'll take another six months on top of the enormous amount of time already spent learning the new injection/ignition systems to conquer all there is to know. In the meantime, there will be still more drama to come on the fuel-injection front.
The Vegas track was reconfigured for the 2007 race. Both of Carl Edwards' Cup wins here have come on the new track. His last Cup win was here last year — Carl has now gone a full year in the top series without a win.
The driver with the strangest record here? Kyle "Rowdy" Busch, a Vegas native. Talk about drama — in 2009 Busch won the pole, lost an engine in practice, had to start dead last as a result and was in the lead by Lap 54. He won the race. Last year, his race was finished when his engine blew up in flames! Kyle has a new car this year and he'll be someone to watch.
Jimmie "Five Time" Johnson has the best record here. He has won four times (most of all drivers), has the best average finish of all drivers and will have his crew chief (Chad Knaus) and car chief (Ron Malec) with him. Their appeal from the Daytona C-post issue has not yet been heard and they are welcome at the track until (and if) a negative decision results from the appeal. By the way, one of Jimmie's wins here (2006) came without Chad as his crew chief — Darian Grubb was on the box because Chad was on suspension because of a rules violation.
— Dick Berggren, March 9
The Big Photographer
It's not unusual to see athletes in the pits at NASCAR races. Over the years, I've met Reggie Jackson, Magic Johnson, Jonathan Stewart, Kellen Winslow Jr., Roger Clemens and Cal Ripken Jr., to name just a few.
But this past weekend in Phoenix, I saw a five-time Cy Young winner working at the racetrack.
The Big Unit, Randy Johnson, walked by me while I was in Jimmie Johnson's pits. I recognized him instantly — at 6-foot-10, he's easy to spot! What was unusual, though, was that he was wearing a light-blue "photographers" vest that NASCAR issues each week to credentialed photographers. He stood down in Turns 1 and 2 for about 50 laps.
I grew up in the Washington, DC, area and was a big Baltimore Orioles fan — still am, although I haven't had much to celebrate in recent years. I pitched in high school, so I've always watched pitchers closely. The Big Unit threw the 17th perfect game in MLB history and had more than 4,800 strikeouts. I knew it was unprofessional to ask for an autograph, so I didn't — but I was tempted. Nobody bothered the former Arizona Diamondbacks ace, and he easily navigated the pits, stopping to take pictures of pit stops.
Really wish I could have shaken his hand. Find out what he's up to these days in this exclusive interview.
— Steve Byrnes, March 6
Race is only the beginning
The greatest post-Daytona 500 pressure was on the transport drivers who bring the cars and equipment to each track. It's an 8-1/2 hour drive from Daytona to Charlotte, where the teams are based. Once they arrived, everything Daytona was taken off and the Phoenix cars and equipment were loaded. Then it's a 34-hour drive to Phoenix.
Every team uses two drivers for the long hauls. Because the Daytona 500 took the checkered flag in the wee hours of Tuesday morning, NASCAR helped the transport drivers by allowing them to park in the Phoenix garage later than originally scheduled.
Sunday afternoon's Phoenix race will be the first on FOX on a newly reconfigured Phoenix track. A $15 million project includes concrete pit stalls, new paving, a wider frontstretch and a different backstretch dogleg. There's just one Sprint Cup race on the new track.
Although I don't have much time for it, I like to grow roses. As such, the hotel we stay at in Phoenix is a favorite of mine because there are roses everywhere. Early in the morning, you can go for a walk on the grounds and really smell the roses and I'll do just that a couple of times while I'm here.
— Dick Berggren, March 2
Stealing the Show
If you had told me Jimmie Johnson would wreck out of the race on Lap 2 and a day later lose 25 points, putting him 23 points in the red to start the season, and that wouldn't be the biggest, second biggest or even third biggest story to come out of the Daytona 500, I would have said you're crazy!
The biggest three stories, at least in terms of mainstream mentions, from the 2012 Daytona 500: fire, rain and Twitter.
When Juan Pablo Montoya's car slammed into the jet dryer, causing it to ignite in an inferno, mainstream media outlets were paying attention.
And when Brad Keselowski took the opportunity to tweet pictures and send messages via social media during a two-hour red flag, mainstream media outlets were definitely paying attention.
Of course, when rain delayed the race over a day and a half, the audience became prime time, on a Monday, for the first time in history.
I spent a large portion of the red flag in Dave Blaney's pit stall, talking with crew chief Ryan Pemberton. The entire team was sitting on pins and needles. They all knew that if NASCAR couldn't repair the track adequately or if rain came, they would win the Daytona 500. Interestingly, Blaney took the lead when he stayed out while the rest of the field pitted. Blaney stayed out so he could lead a lap and get the bonus point, not because he anticipated a fireball erupting on the backstretch.
Some of Blaney's crew members kept lifting their heads to the sky, wondering if they really felt raindrops or if their minds were just playing tricks on them.
I actually snapped a photo of this and posted it to my Twitter page. I thought it was a great visual reminder of the night.
Speaking of Twitter, I also had some fun with Blaney. Despite the fact he does not (at least he didn't at the time of the race) have a Twitter account, he was trending worldwide. I reported that fact, and immediately Pemberton (Dave's crew chief) got on the radio and asked Dave if that was true. Dave confirmed I was right.
Now, there is a Dave Blaney in Twitterville, but it's not our Dave Blaney. And that Dave Blaney hasn't written anything in over a year.
After I did the report, I immediately tweeted Dave's daughter, Emma. She joked that it's her mission to try to get her dad to join social media.
By the way, Dave's son, Ryan, is followed by Mark Martin. Ryan is an up-and-coming racer. Having Mark Martin as a follower is something Ryan considers a huge compliment.
— Krista Voda, March 2
Do the math
A lot of cars got wrecked in Daytona. In all, over three divisions, 91 drivers of the 122 who participated were involved in a crash sometime over Speedweeks. Eight crashed out of the Daytona 500, 13 crashed out of the Nationwide Series race. Some people crashed more than others. It's especially hard to take when a driver is an innocent victim. Danica Patrick ran three races — the 150-mile Duel, the Nationwide race and the Daytona 500. She crashed in all three, but none of the wrecks was her fault and it was hard to imagine how anyone could have avoided them.
Matt Kenseth's take-home pay for winning the Daytona 500 was the largest in NASCAR history for any race winner — $1,588,887. In addition to the 500, Kenseth won his 150-mile qualifying race, the first time he had done that.
Four of the top-five finishers in the Daytona 500 led 175 of the race's 202 laps. Of the top five, only Dale Earnhardt Jr. (he finished second) didn't lead a lap. So much for running out back to save the car. Running up front in this year's Daytona 500 was the place to be, given the results. In fact, at the end, nobody was able to make a run on Kenseth who led the final 38 laps.
How much racing was there at Daytona? In all, counting all of the drivers laps in all of the races, 38,750 miles were run!
On the personal side, I got to my hotel in Orlando at 3 in the morning after the race (left Daytona at 1:30 a.m.). My wake-up call was at 6 a.m. so I could catch my flight home. With just three hours of sleep, I felt as if I was revisiting my college days, when I'd stay up all night studying for exams the following day.
— Dick Berggren, March 2
Is there such a thing as too much racing?
We've just come out 36 hours of running Daytona with the way the weather turned out — I'm sitting here reviewing my notes from the weekend and the whole time I've had the movie "Grand Prix" playing on the television.
So I'm sitting here watching what is probably one of the greatest racing movies that's ever been filmed, and it just hit me: Is there something wrong with us that we've spent all that time in Daytona and yet we find ourselves watching a racing movie? I know I'm not alone, I know I've gone on to Twitter a number of times and I've seen people tweeting about how they are watching "Talladega Nights: The Ballad of Ricky Bobby" or "Days of Thunder" to name a few flicks.
Seriously, has this sport that we love turned us into such gearheads?
— Jeff Hammond, Feb. 28
---
---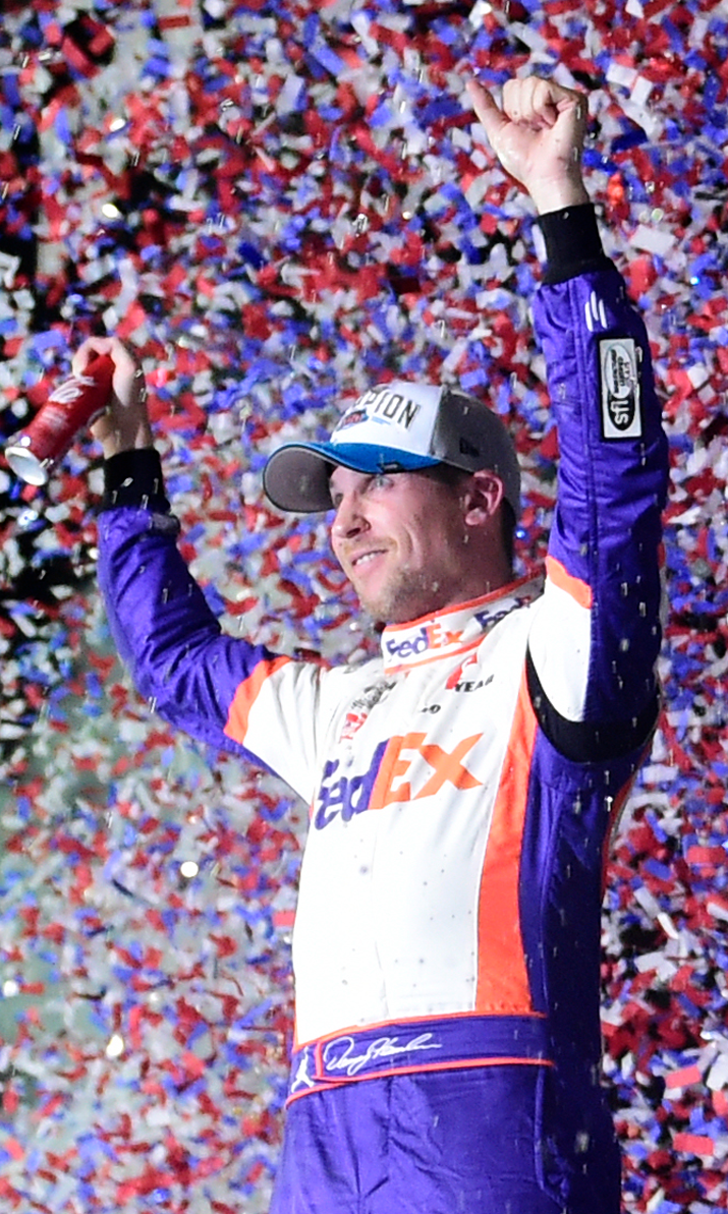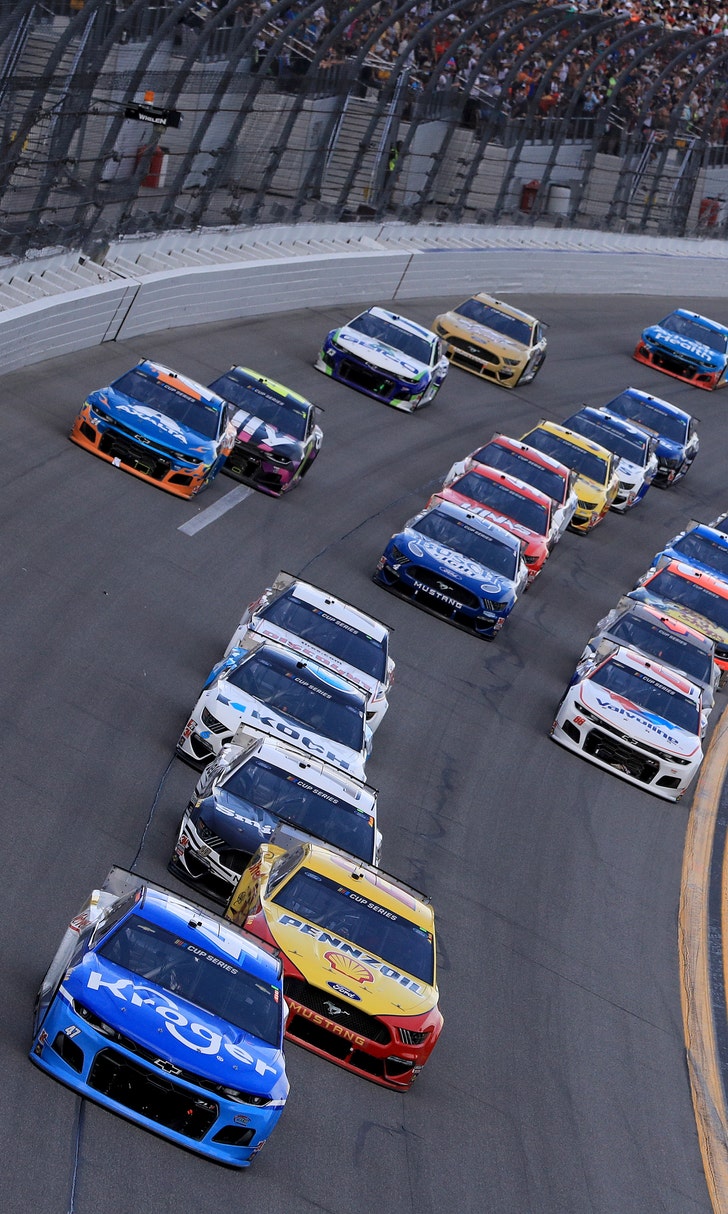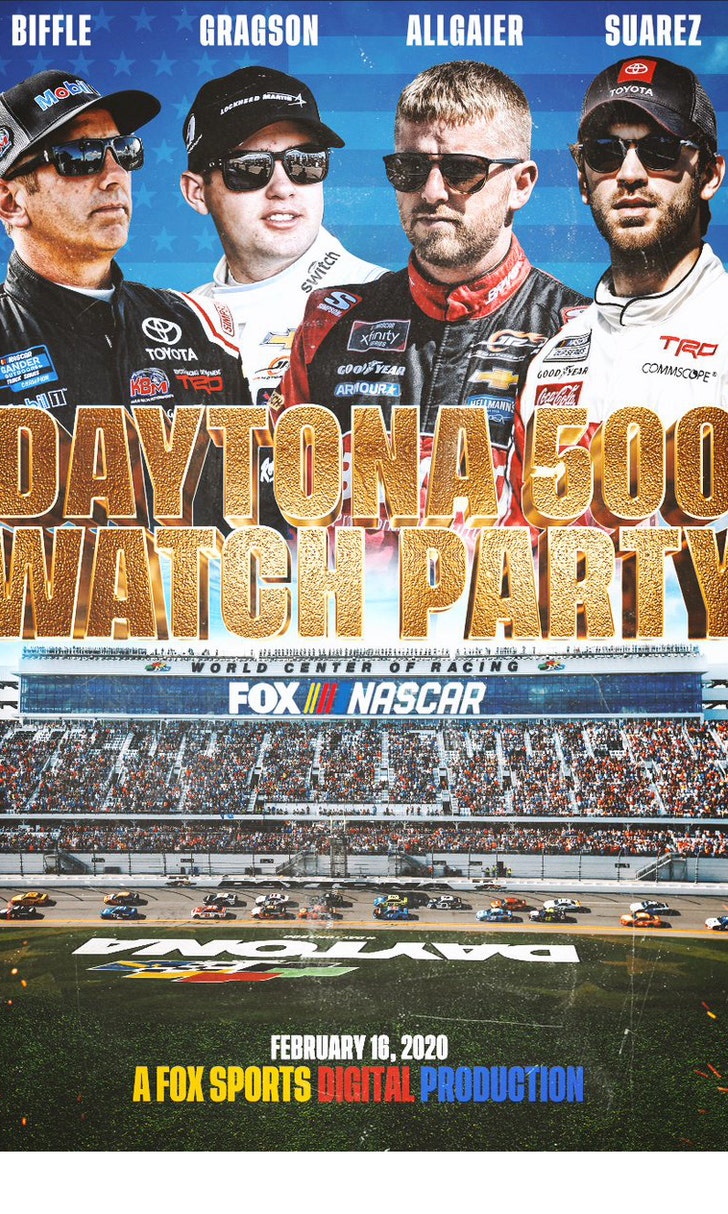 The Daytona 500 Watch Party!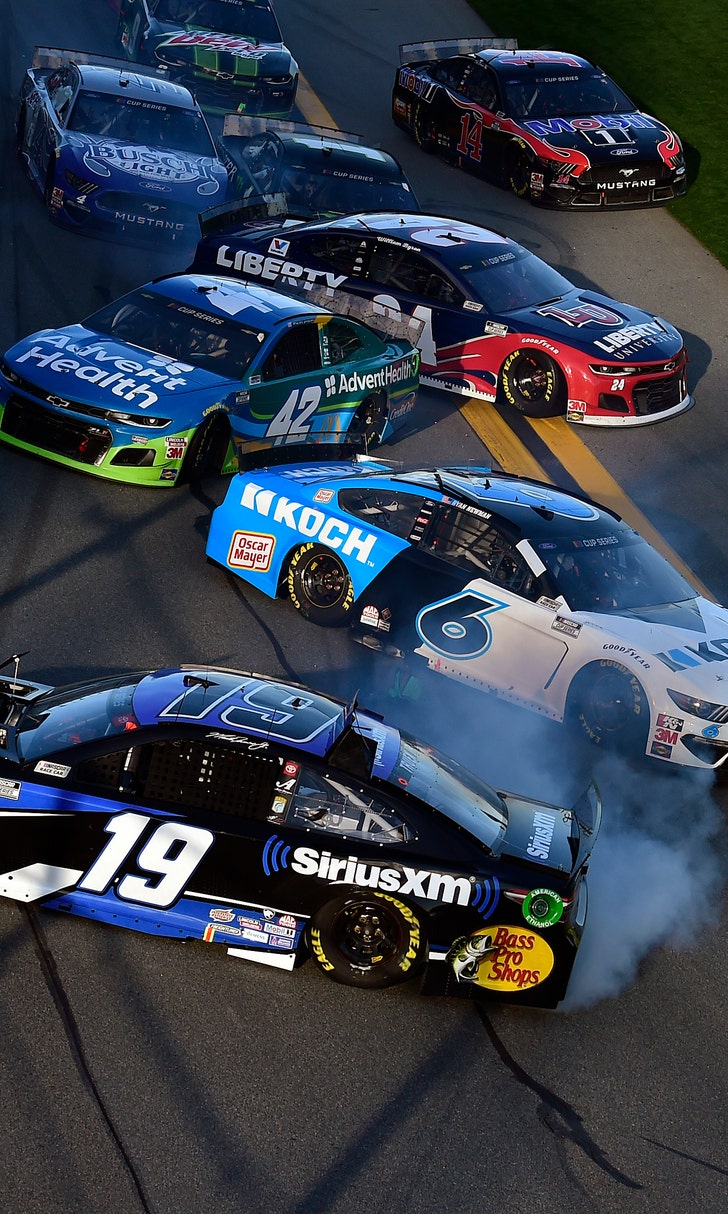 The Numbers Game At Daytona