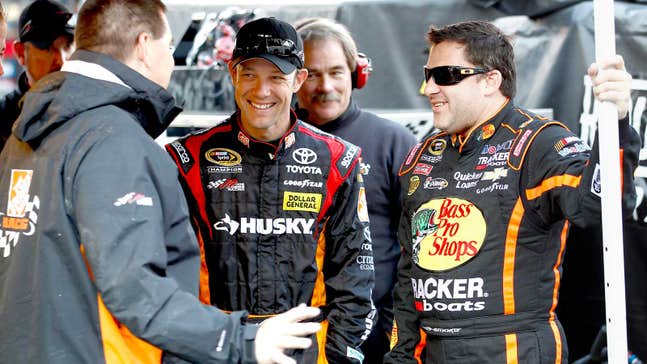 No place like home: Repeat Kansas winners could get it done again
Published
May. 8, 2014 9:34 a.m. ET

With eight different winners in the first 10 races of the NASCAR Sprint Cup Series season so far, there's already been a lot of different faces in victory lanes from Daytona Beach to Southern California.
And by the time the checkered flag falls on the 5-Hour Energy 400, the first Saturday night Sprint Cup race at Kansas Speedway, there's a good chance there could be another first-time 2014 race winner.
The numbers tell the story: Kansas has hosted 16 previous Sprint Cup races. Only three drivers have won on both this 1.5-mile track and in other races earlier this season: Brad Keselowski (June 2011), Denny Hamlin (April 2012) and Kevin Harvick (October 2013).
But there are plenty of drivers entered in Saturday night's race who are running well and are yet to win this season. Here are five past Kansas winners who could get it done again on Saturday night.
JEFF GORDON -- Despite getting crashed out at Talladega last week, Gordon continues to lead the Sprint Cup points and has run well at intermediate tracks this season. Gordon has two victories and nine top-five finishes here, as well as an excellent average finish of 10.625.
GREG BIFFLE -- If you look at Biffle's Kansas numbers, they are surprisingly close to Gordon's: two victories, seven top fives and an average finish of 10.333. On top of that, Biffle's been hot lately, with three finishes of sixth or better in the last four races, including a runner-up effort at Talladega Superspeedway last Sunday.
JIMMIE JOHNSON -- Everyone wants to know when the six-time Sprint Cup champion is finally going to win his first race of 2014. Well, it could be this weekend. Johnson's average Kansas finish is 7.533, far and away the best in the field, and he's led 562 laps, most in history. In the last 10 Kansas races, Johnson has two victories, six top fives and 10 finishes of ninth or better.
MATT KENSETH -- The defending Kansas winner and the fall 2012 winner here, Kenseth has led 500 laps at this track, second only to Johnson. Kenseth has led laps in nine of the last 10 Kansas races.
TONY STEWART -- It's been kind of a quiet season so far for the three-time series champion, who won here in 2006 and '09. But when the weather heats up, so does Stewart, and it's about time for him to step up.
---
---