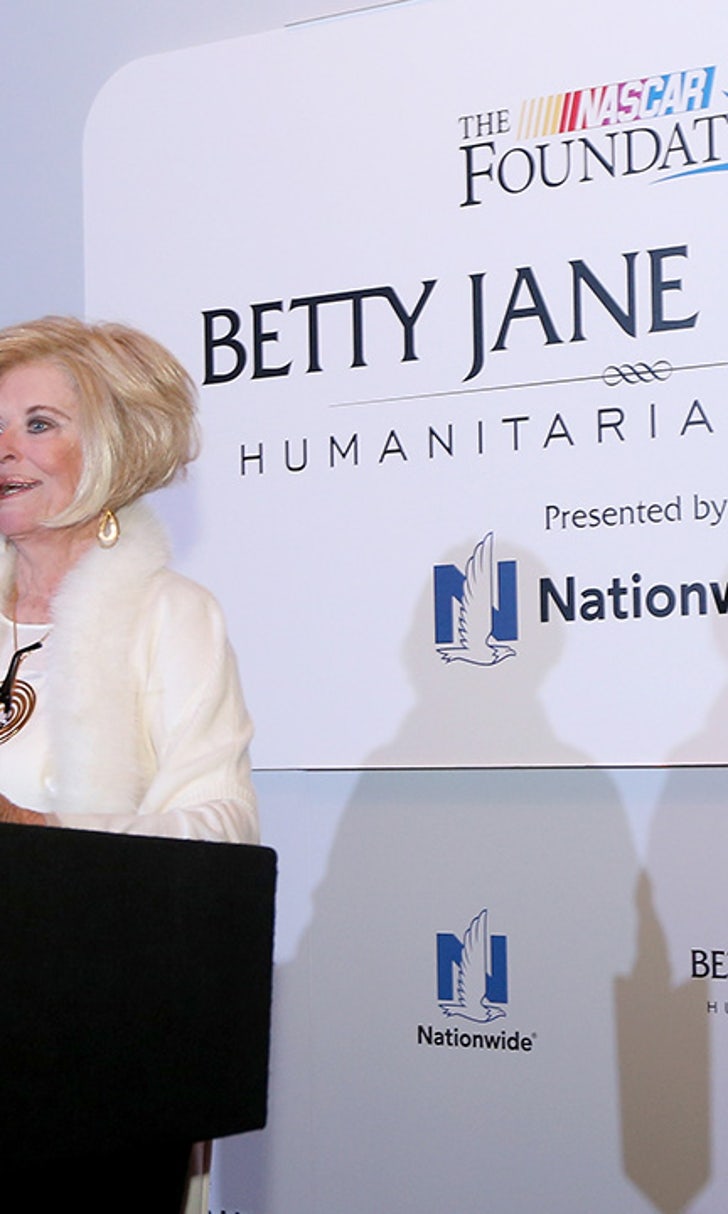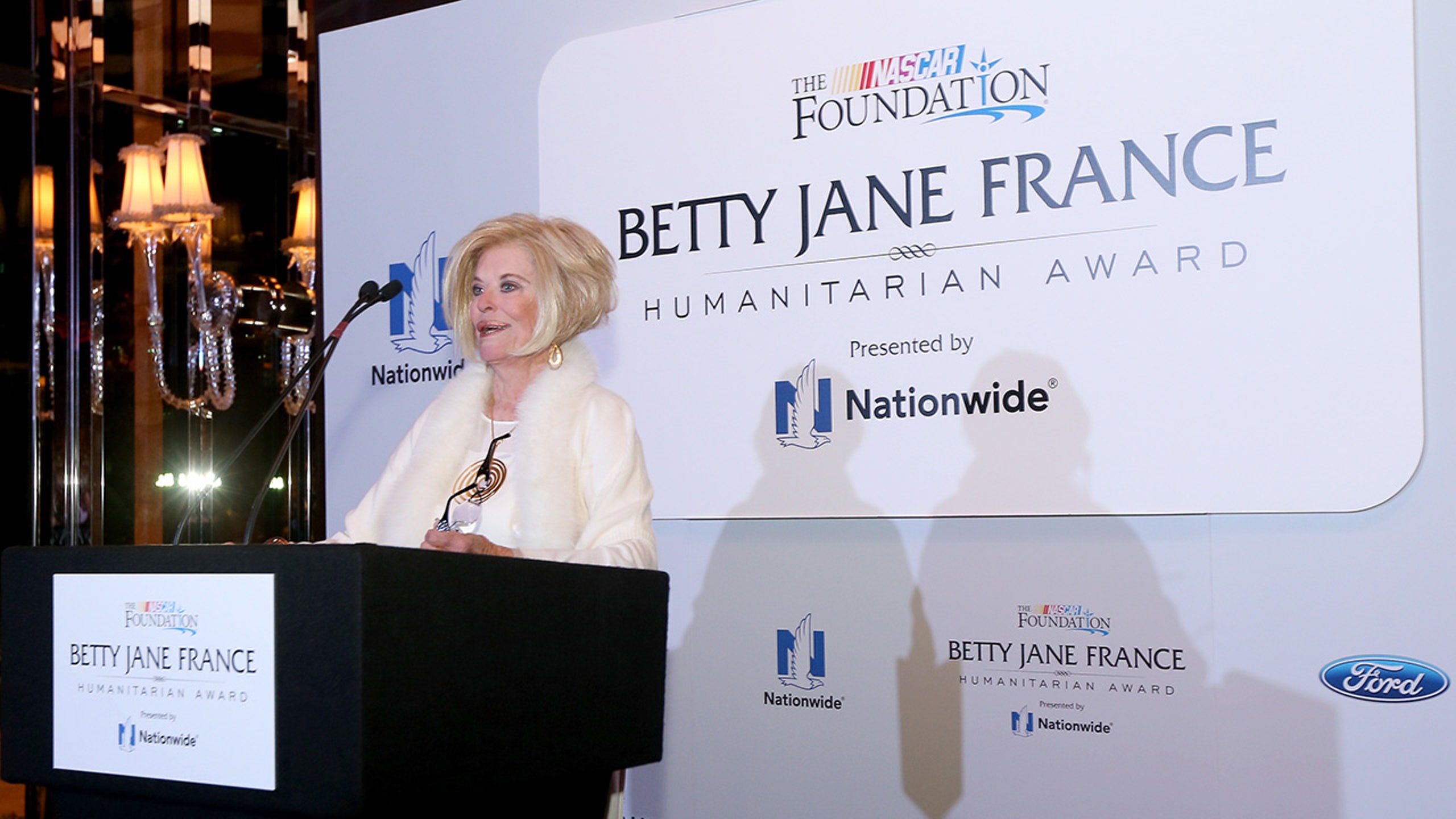 NASCAR Executive Vice President Betty Jane France passes away
BY foxsports • August 30, 2016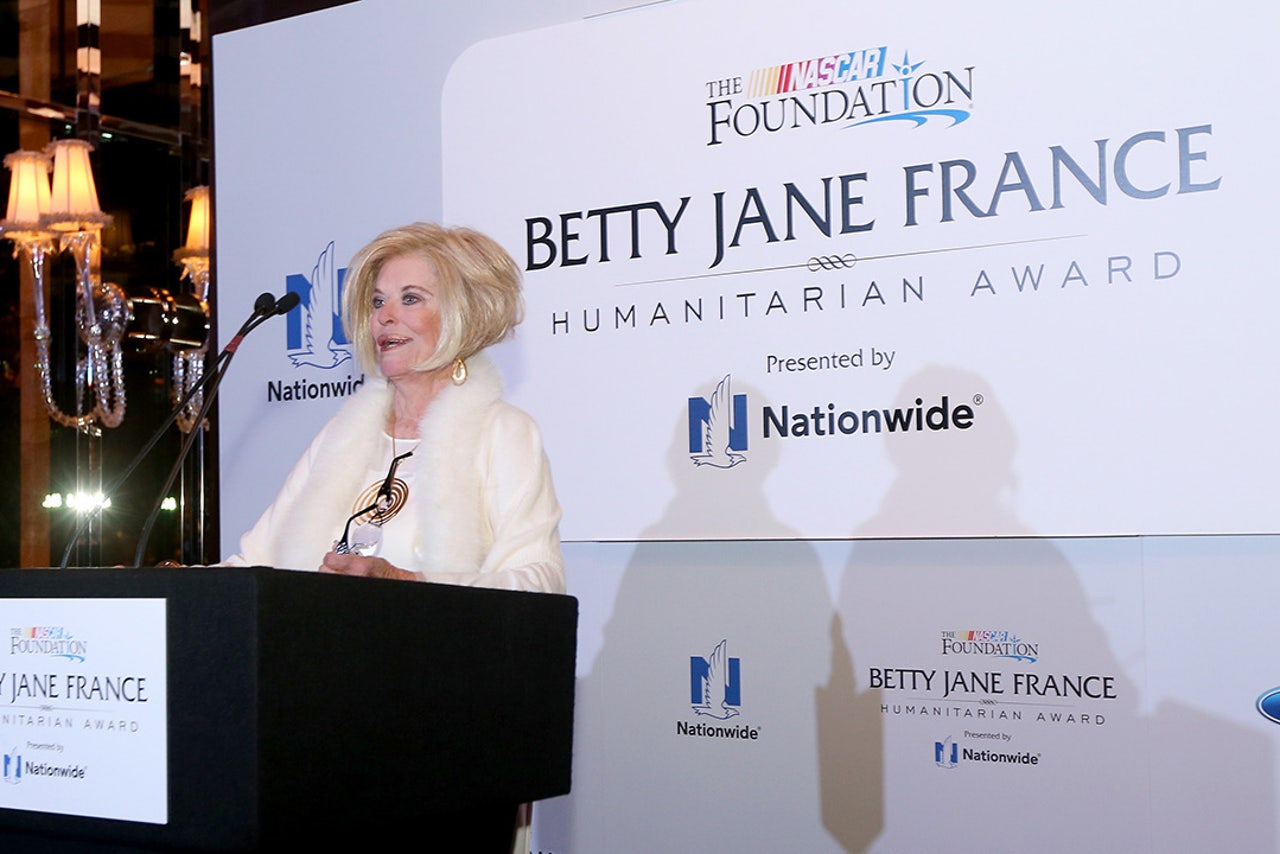 NASCAR's founding family has lost one of its most cherished leaders with the passing of Betty Jane France, the executive vice president and assistant treasurer of NASCAR and chairperson of the NASCAR Foundation.
Born Betty Jane Zachary in Winston-Salem, NC, France, met her husband NASCAR Chairman and CEO William C. France, better known as Bill France Jr., in her hometown. They married and relocated to Daytona Beach, Florida. Bill France Jr. passed away in June, 2007.
Betty Jane was the mother of Lesa France Kennedy, CEO of International Speedway Corp., and NASCAR Chairman and CEO Brian France.
"Last night, the NASCAR family lost a mother, a grandmother, a friend and the light that guided the sport's charitable arm," said Brian France. "My mother taught us incredible values, that of love, patience, compassion and joy. She embraced life every day, and nothing fueled her passion more than children. Her unmatched efforts in building The NASCAR Foundation improved the lives of millions of children throughout this country. And because of that, her legacy will live forever. 
"My father leaned on my mother throughout his life, relying on her wisdom and calming demeanor to help grow the sport of NASCAR. She was there, every step of the way. When we lost my father, her positive presence remained, as she used her immense skill to grow NASCAR's heart and soul, The NASCAR Foundation.
"My mother was a special woman, and an impressive person, and she will be dearly missed."
A longtime community leader in Daytona Beach, Betty Jane was best known as a steadfast champion of health care for children.
She assisted in establishing of the "Speediatrics" children's care unit at Halifax Health in Daytona Beach and was also instrumental in the establishment of a similar unit at Homestead Hospital, Homestead, Florida. She was the driving force in fundraising and design of these units.
She was a member of the Junior League of Daytona Beach and served on boards of numerous area community service organizations including the Volusia/Flagler chapter of the American Red Cross and the Garden Club of Halifax County.
In 2003, Betty Jane was presented the Halifax Medical Center Foundation's Humanitarian Award in recognition of her advocacy, commitment, support and advancement of health care and human services for women, infants children and families.
France became chairwoman of the NASCAR Foundation upon the foundation's inception in 2004. The foundation, based in Daytona Beach, Fla., is a  non-profit entity that embodies the compassion of the NASCAR Family and its commitment to serving communities. The foundation's flagship charitable initiative, the annual NASCAR Day held each May, has benefited a variety of causes, including Speediatrics.
In July 2008, she was named as an honorary co-chairperson for the Childress Institute for Pediatric Trauma, a project headed by longtime NASCAR team owner Richard Childress in Winston Salem, NC.
The Betty Jane France Humanitarian Award was created in her honor in 2011. Through the NASCAR Foundation, this award recognizes outstanding charitable and volunteer efforts of NASCAR fans. She presented this award annually at the NASCAR Awards Banquet.
---
---