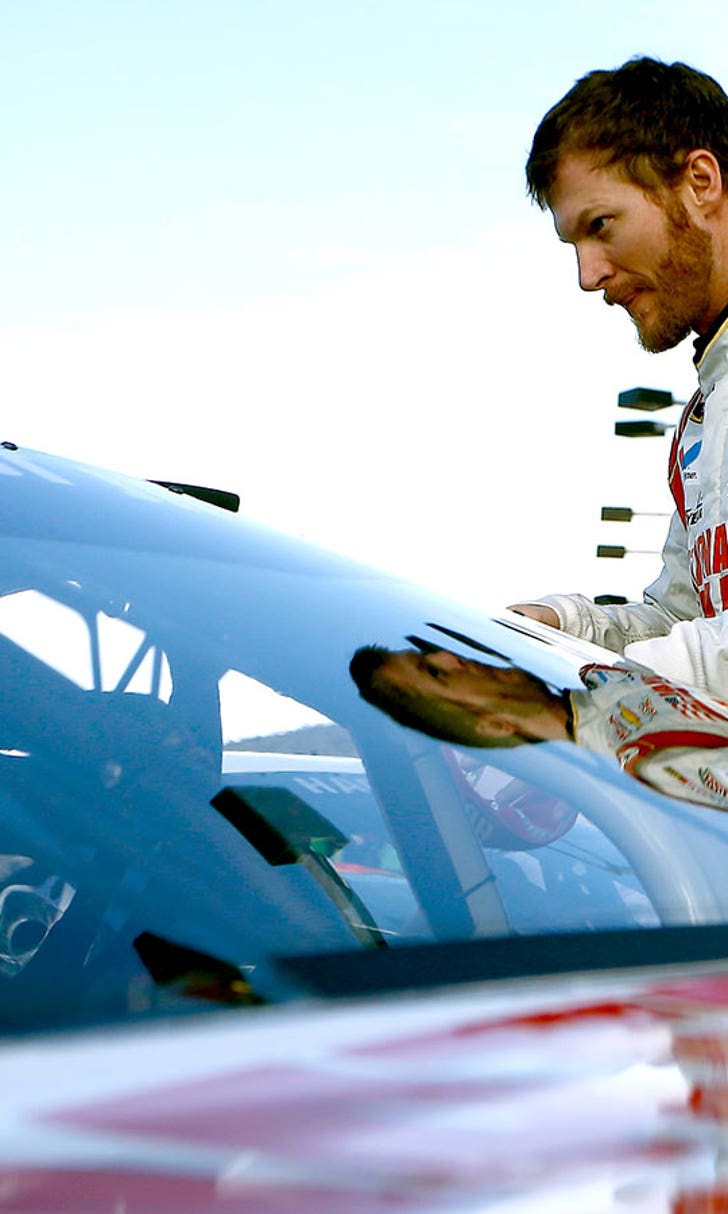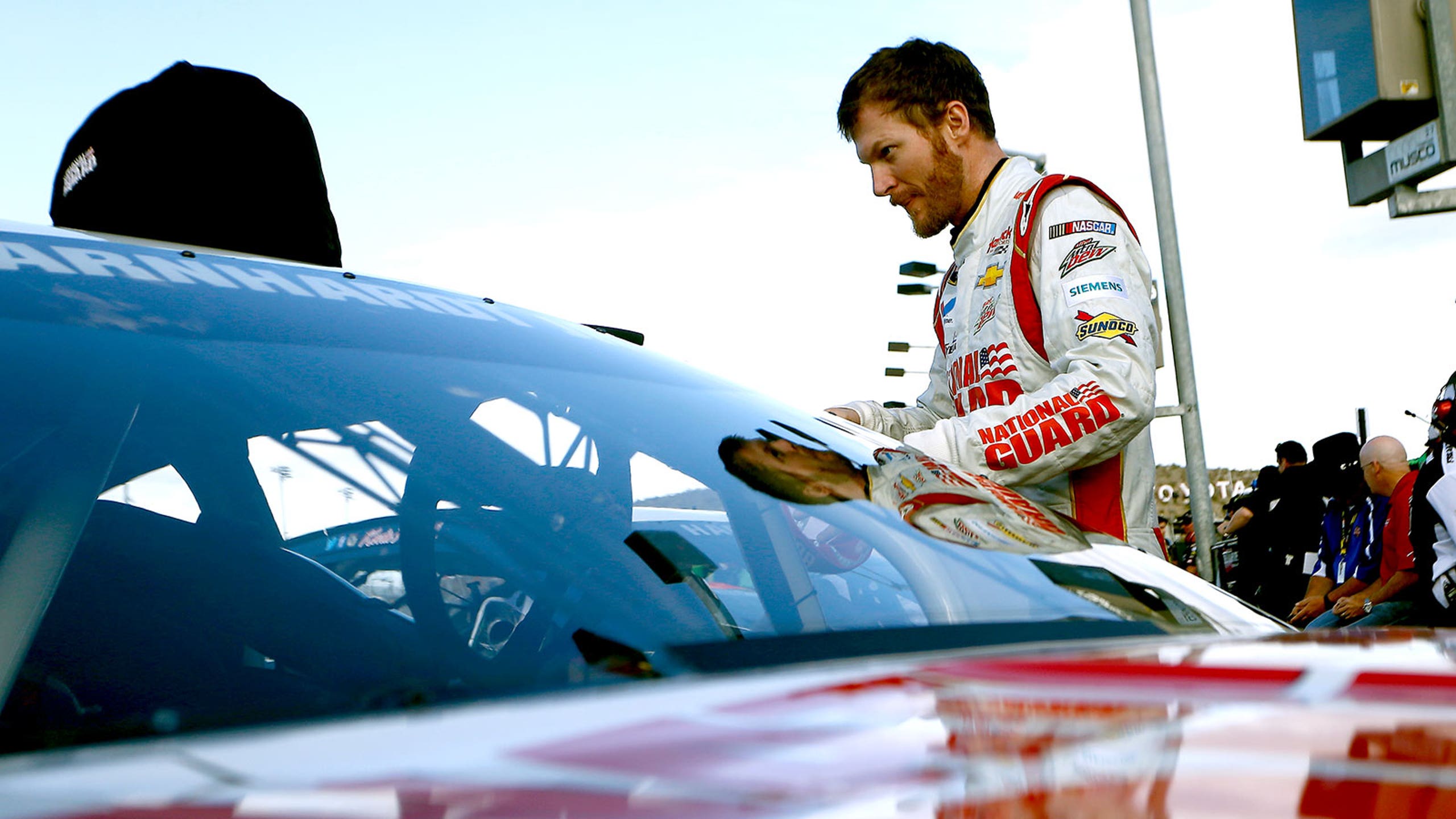 Moments in the sun: Phoenix International Raceway notebook
BY Tom Jensen • February 28, 2014
TOP OF THE BOARD - With heavy rain forecast in the Phoenix area from late Friday afternoon until early Sunday morning, Friday's lone 90-minute round of NASCAR Sprint Cup practice was critically important as Saturday practice likely will be washed out entirely. And going to the top of the board at the end of the Friday session was none other than Daytona 500 winner Dale Earnhardt Jr., driver of the No. 88 Hendrick Motorsports Chevrolet.
In practice, Earnhardt ran a best lap of 138.723 miles per hour, tops among the 46 cars setting times. He was followed by Joey Logano, Kyle Busch, Greg Biffle and Austin Dillon.
Earnhardt, who went on to qualify fifth behind Brad Keselowski, Logano, Jamie McMurray and Jimmie Johsnon, said he relished the media tour activities he went on this week as the Daytona 500 winner and said it was a big improvement from when he won his first 500 in 2004.
"As far as weeks go, yeah this is probably my funnest week if you pack it all into a week," said Earnhardt. "I wish I could remember everything we did in 2004. I don't think it was like this for whatever reason. Where we are today in social media and where we are today with our network relationships it seems like we were just everywhere all week long doing something.  Everything was interesting and fun."
That typically is not the case.
"Normally truth be told drivers complain about being run ragged and taken all over the place to do media," said Earnhardt. "I would have said that before the race, 'Man I hope I win, but I'm not looking forward to that media tour,' but as soon as I crossed the finish line I was thinking, 'Man I've got to go on that media tour that is going to be fun.'  I don't know what flipped the switch, but I looked forward to it as soon as we crossed the finish line."
VIVA LAS VEGAS - When the NASCAR Sprint Cup Series rolls into Las Vegas next week, the teams will get an extra four hours of practice on Thursday to help them adjust to some subtle - and some not-so-subtle - aerodynamic tweaks for the NASCAR Generation-6 cars for 2014. Ryan Newman said Friday that he views it as a good news-bad news situation.
"We've done a little bit of testing between Charlotte and Nashville and tracks like that and so I think that Vegas that Thursday is going to be extremely important," said Newman. "Especially not knowing what the weather is going to be like out there. We seem to be pulling rain wherever we go. But, just getting a good vibe for what is our backbone core of racing on the 1.5-mile race tracks is going to be important for everybody at Vegas."
Important or not, Newman doesn't favor the new arrangement.
"I really wish we didn't have it. I wish Friday practice and qualifying," said Newman, who qualified 15th for Sunday's race. "It's just a waste of time for all of us. It's extra effort, extra money, extra everything for all of us. It's not going to change the way that we race on Sunday."
TOLD YOU SO - Dale Earnhardt Jr.'s sudden explosion into the Twitterverse came to no surprise to his Hendrick Motorsports teammates Jeff Gordon and Jimmie Johnson, who figured NASCAR's perennially most popular driver would love it.
"I think we all knew that once he got on it that he would probably enjoy it,"  Gordon said Friday at Phoenix International Raceway. "It looks like he's enjoying it.  I've never seen the guy with a permanent smile on his face like this before.  ...  Seeing him on Twitter is something that a lot of us have been pushing him towards, 'C'mon man, you can do it.'  I think winning the Daytona 500 is a great way to get that kick started so I applaud him on that.  He's done a great job this week."
"He has taken it and run with it, huh? I, among many others, have been pushing him," added Johnson. "There have been a lot of people involved on social media - even people from Twitter - who have put pressure on him and have come to me to put pressure on him over the years. It just wasn't something he was interested in. As sharp as he is and as much time as he spends in the digital world, I knew that when he got involved that he would love it and it would work well for him."
MISCELLANY -  Tony Stewart said he's good to race this weekend.  "I'll be honest, I'll be more happy when everybody quits asking me how I feel," said the three-time champion, who suffered a double compound fracture of his right leg last year.  "I'm not 100 percent.  I'm not going to be 100 percent for a while. ... I appreciate everybody checking on me, but it's not going to change in a week." Stewart qualified 20th for Sunday's race.
Because of where they finished in the Daytona 500, Martin Truex Jr. (43rd) and Clint Bowyer (42nd) didn't have garage stalls available to them Friday at PIR. Instead, their cars were out on the tarmac and the far end of the garage. "If you're looking for our garage stall this weekend we will be in the parking lot out by the highway," Bowyer Tweeted Friday morning.
To celebrate Phoenix International Raceway's 50th anniversary, the track has an interactive exhibit known as "Memory Lane, presented by Blue Media," which includes a historic display of 14 cars that raced at the 1-mile oval. Included are the 1988 Ford Thunderbird that the late Alan Kulwicki drove to victory in the inaugural NASCAR Sprint Cup race here; USAC Silver Crown cars raced here in 1991 by Jeff Gordon and Tony Stewart; the late Dale Earnhardt's 1996 Chevrolet and a 1964 Watson-Offenhauser Indy roadster that A.J. Foyt drove to victory in the first race here. It's also the same car Foyt won his first Indianapolis 500 with in 1961. The free exhibit is in the fan midway area outside the track.
If the NASCAR Nationwide Series race is rained out on Saturday, the sanctioning body will decide then when it will be rescheduled. A NASCAR official said one possibility in running the Nationwide race Sunday afternoon following the Cup race.
Dale Earnhardt Jr.'s spotter, T.J.Majors, is home this weekend nursing stomach ailments. His place today and tomorrow was taken by former driver Bill Elliott. "That is going to be pretty awesome," said Earnhardt.  "A lot of most popular driver awards right there, like 27 or something like that."
---
---