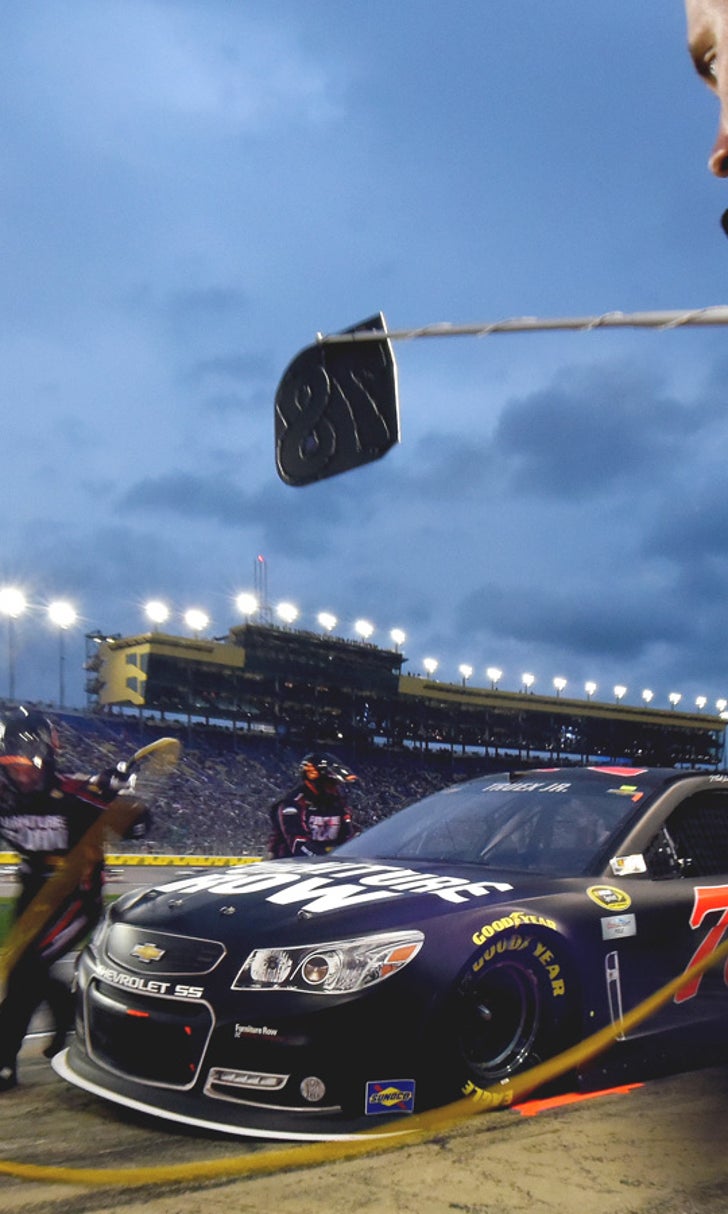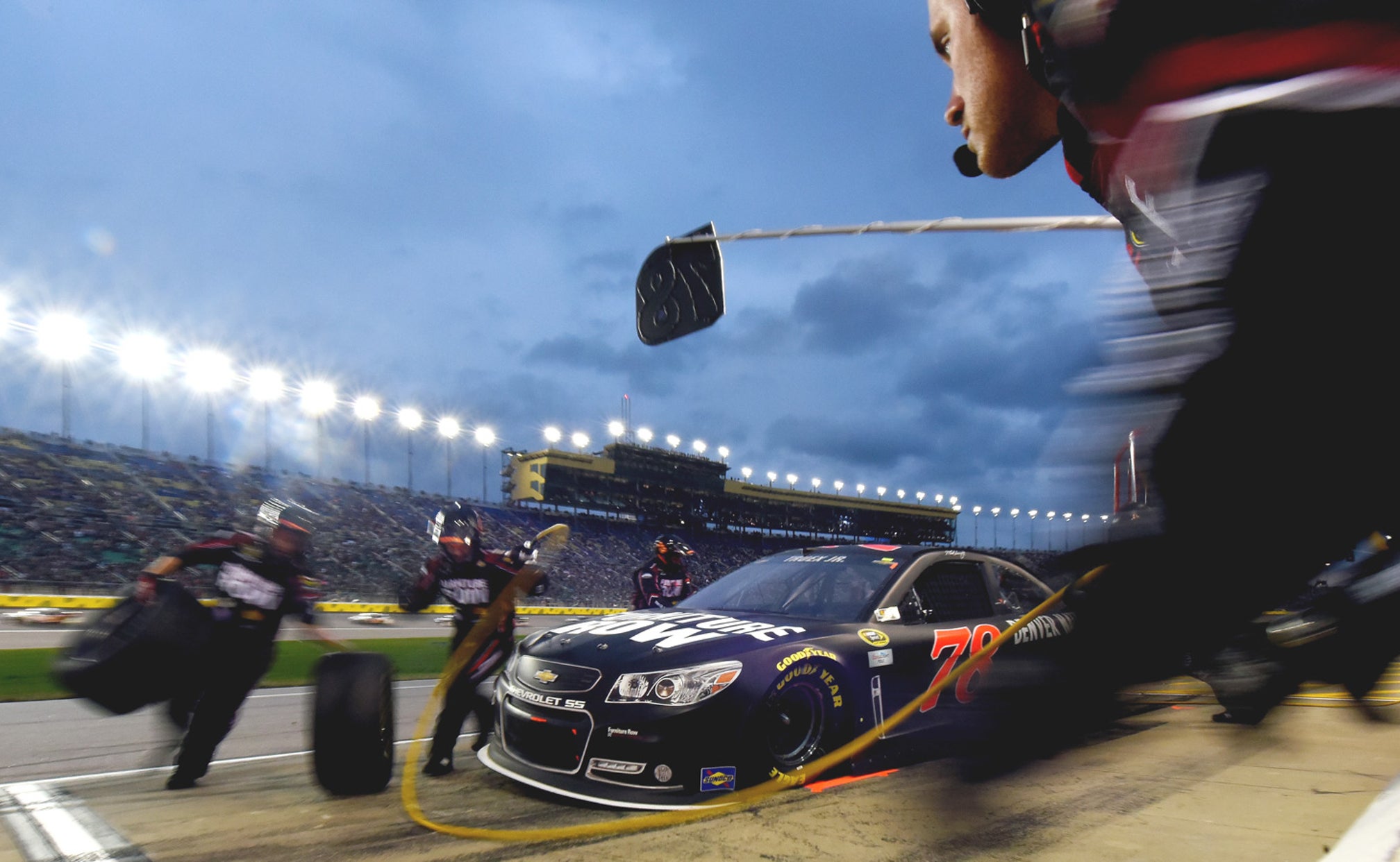 Late pit stop for fuel costs Martin Truex Jr. shot at Kansas win
BY foxsports • May 10, 2015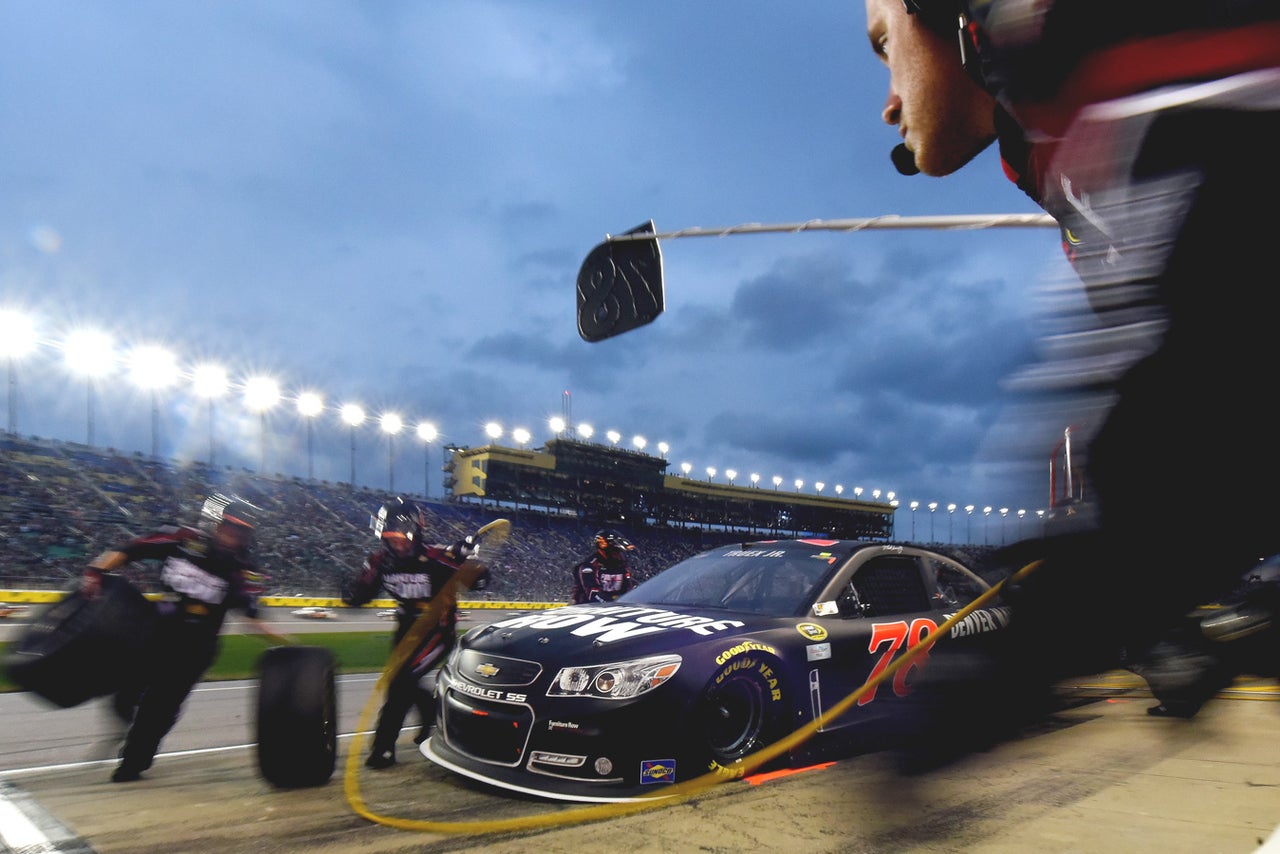 For much of the SpongeBob SquarePants 400 at Kansas Speedway it looked as if Martin Truex Jr. was going to earn his first victory since June 2013 at Sonoma Raceway.
Starting fourth, Truex had a fast No. 78 Furniture Row Racing Chevrolet and was a factor at the front of the field for much of the evening.
Truex led five times for a race-high 95 laps and was second behind Kevin Harvick when the final caution of the night flew on Lap 257. With many teams concerned about fuel mileage, crew chief Cole Pearn called his driver to pit road for a fuel-only pit stop. 
While Truex was able to win the race off pit road, four cars -- Jimmie Johnson, Dale Earnhardt Jr., Kurt Busch and Jeff Gordon -- did not pit and restarted in the first two rows when the race went back to green with six laps to go.
When Busch struggled to get going on the restart, Truex dropped through the field as drivers scrambled for position on the final run of the race. Unable to get back into contention, Truex finished the night in the ninth spot, his 10th top-10 finish of the 2015 season.
Despite the disappointment of finishing ninth, Truex was proud of his team's effort and hated the race came down to a fuel mileage finish.
"Definitely not the finish we wanted, obviously, but proud of the guys for the weekend we had, just had good speed all weekend. We brought a brand-new car here and just proud of that," Truex said. "It's kind of disappointing, but at the same time proud of the way we ran, and I think it's something we can build off of. Felt like we were in a decent position there towards the end.
"Really hate when it comes down to fuel mileage. Seems like I'm always on the wrong end of that deal. But really wishing we could have raced Kevin for it. Seemed like we were both saving gas and then seemed like about 10 to go it we were both kind of hammer down, it would have been fun to see if we could have had anything for him."
Truex admitted this was the first real mistake first-year crew chief Cole Pearn has made, but also said they were in a tough position leading the race with fuel-mileage concerns so late in the running.
By stopping for fuel but not taking any tires, along with Busch backing up the inside lane on the restart, Truex was unable to hold off those with tires behind him.
"I told Cole that he's still new at this, this is his first year calling races, and he's been spot‑on all year long. He's taken gambles when he needed to that paid off, he's been smart when he needed to, he's done everything right, and tonight he just ‑‑ he didn't make the right call," Truex said. "Sometimes you don't always make the right call. Sometimes the circumstances don't play out the way you think they will or whatever.
"Hindsight is 20/20. He's done a great job this year of calling races, like I said, and I just want to make sure that he doesn't get his confidence down, because he's been so good at it. Live and learn. He'll learn from tonight and get better next time around, and he's doing a great job."
The entire No. 78 team has taken a huge step forward through the first 11 races of the 2015 season. Although the team is still searching for its first victory of the year, Truex has 10 top-10 finishes in 11 races, has led a total of 127 laps -- compared to one single lap in 2014 -- and is second in the driver championship standings.
Truex, Pearn and the No. 78 team is not content with their strong start to the season and is looking for more as the season hits the All-Star Race mark.
"We brought a new car here this weekend and it's kind of the newest and latest and greatest that we've come up with and definitely feel like we closed that gap a little bit," Truex said. "We'll just have to wait and see if that plays out on other racetracks, but I feel like if we can keep doing that and keep finding little things here and there to close that gap and keep being consistent putting ourselves in position, I feel like we can win some races.
"We've got a great team, we've got everything we need to do it, and we've got a lot of confidence, so we've just got to keep get ting in that position and try to close the deal."
VIDEO: Martin Truex Jr. talks about his finish in the SpongeBob SquarePants 400 at Kansas Speedway
---
---