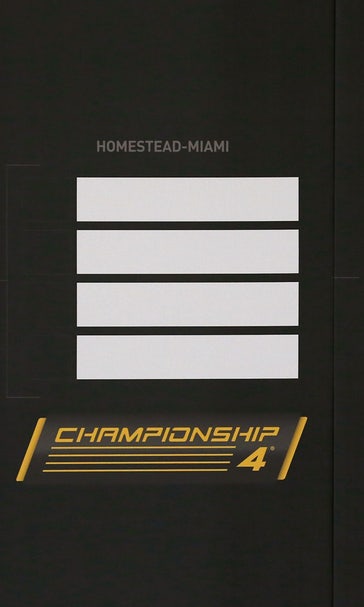 Larry Mac makes his picks for the Championship 4
October 29, 2015

I know that because of his performance of winning three races in a row -- with the pressure of the Chase and against the competition he is facing -- that Joey Logano is the man to beat for the 2015 NASCAR Sprint Cup championship. So, he's in my No. 1 spot for the Championship 4 in the winner-takes-all race at Homestead-Miami Speedway.
I just don't know if Kevin Harvick and the No. 4 team is where they were a year ago. Kevin basically said as much Sunday at Talladega. In his post race interviews, he said they have a lot of "areas that they need to clean up." However, especially with Phoenix being in this Eliminator Round, I think my No. 2 pick for the Championship 4 has to be Kevin.
So that leaves six drivers left for the final two spots at Homestead, and quite honestly, it's a pretty tough call. I honestly could make a case on any of those six being in the Championship 4. I look at the No. 78 car of Martin Truex Jr. and I'm just not sure they are stout enough to go to the next level. The good news is that I do think some of these next three race tracks fall into his wheelhouse.
I feel the same way about Jeff Gordon. What an unbelievable story it would be if he could win his fifth championship in this his last season behind the wheel. Sure, he is consistent right now, but I just don't know if I see him strong enough to overpower those ahead of him. From my bracket, he's already gone two more rounds than I thought he would, but they aren't getting the wins and top fives they need, so I just think the No. 24 team will fizzle out before Homestead.
That brings us down to four for the remaining two spots, and there can be some very spirited debate to make a case for each of them. I don't see us going into Homestead without at least one Joe Gibbs Racing driver in the mix. When you look at Kyle Busch or Carl Edwards, I give the nod to Carl.
I look at Carl's experience and his crew chief Darian Grubb's experience in the Chase, so they are my No. 3 pick to make it to Homestead based on how they are running right now. That then leaves Kurt Busch and Brad Keselowski remaining for that final spot at Homestead.
Honestly, I think you could simply put both their names on separate sheets of paper, put them in your pocket and simply pull one out and you couldn't go wrong with either. That's how identical they are both running right now. To me though, I think Brad is the better of the two. He is running pretty well right now, even though he still can't seem to find Victory Lane.
So at the end of the day, my Championship 4 for Homestead is now Joey Logano, Carl Edwards, Kevin Harvick and Brad Keselowski.
---
---