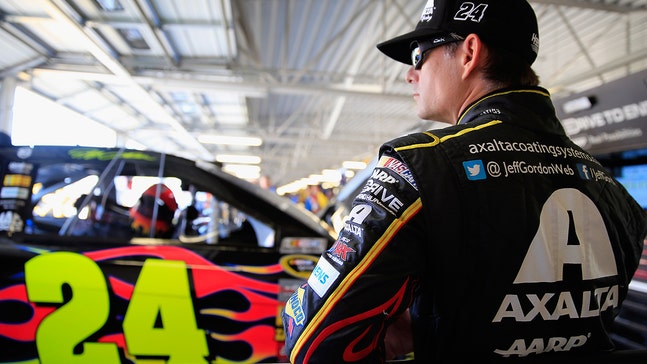 Larry Mac: Jeff Gordon's evolution leading to success
Published
May. 12, 2014 10:45 a.m. ET

I know the competition is tough in the NASCAR Sprint Cup series. Actually to me, the competition is at an all-time high.
You just have to look at the fact that we've had 11 races and nine different winners. We all just felt that the way Jeff Gordon has been running at every track this season, that it was only a matter of time before he went to victory lane. Saturday night at Kansas he did just that.
Honestly though, I didn't think it was going to happen at Kansas. I really didn't think anybody or anything was going to beat Kevin Harvick. Kevin and that No. 4 team simply dominated the event leading something like 120 laps. However the race wasn't 120 laps, and that's why they race each and every lap. So when it came time to step it up and be the strongest, it was Jeff Gordon leading the way with Kevin coming home second.
I also have to say this season we've seen a more motivated, more excited, more fun to be around Jeff Gordon than we've seen in quite a few years. There's just something different about him, and in a good way. It kind of reminds me of Jeff Gordon when he was first in the series. He had said back in March when he lost the race at Auto Club Speedway on that last restart, that in all the races he didn't win over his career, that one hurt the most of them all because he felt like he gave it away.
Jeff has admittedly said that restarts have been one of his weaknesses. I think after losing the race at Auto Club Speedway due to his restart, I actually believe I have seen vast improvement on Jeff's restarts. The restarts are different today than back when Jeff was winning every other week. The way the competition is with these young kids today, plus throw in the fact the double file restarts, there simply is no laying back like back in the day. Restarts have evolved in our sport to where now they are where you make your biggest gains. I think Jeff has finally realized that and has worked hard to improve in that area.
Jeff's 42 years old and just celebrated the 20th Anniversary of his very first NASCAR Sprint Cup win at Charlotte Motor Speedway. I think it's good for our sport to see someone like that go to victory lane and, to be honest, I'm not going to be a bit surprised to see more wins come out of that No. 24 team yet this season.
Overall for the weekend, I thought we had about everything we were looking for in a race. As I mentioned, Kevin Harvick dominated by leading 120 laps. By the way, Kevin also won the pole in knock-out qualifying. Despite the dominance of the No. 4 car, we still had 27 lead changes. Eight cautions obviously led to eight restarts, which are always action-packed.
I know everyone was apprehensive about what the tire situation was going to be there based on what happened there in the past. After Saturday night's race at Kansas we have to give a big double "atta boy" to Goodyear because they were very confident in what they were taking there. Other than Jamie McMurray probably cutting a tire down, we had zero tire issues.
Then we had the action on that last lap. I bet you anything Jeff Gordon is super glad it wasn't a 401-mile race, because I think if it had been Kevin Harvick was going to get him. So, this past weekend in Kansas was great in my book. It had everything we look for. It had a lot of storylines to follow. It definitely had some drama especially right there at the end.
I know like I sound like a broken record, but you know what, I believe in it that much so I am going to continue to sound like a broken record. With the competition the way it is and the product that our sport has on the track, why anyone would want to change anything is beyond me.
Reminder: NASCAR Race Hub moves to 5 p.m. ET on FOX Sports 1 starting today! More information: http://msn.foxsports.com/nascar/racehub
---
---