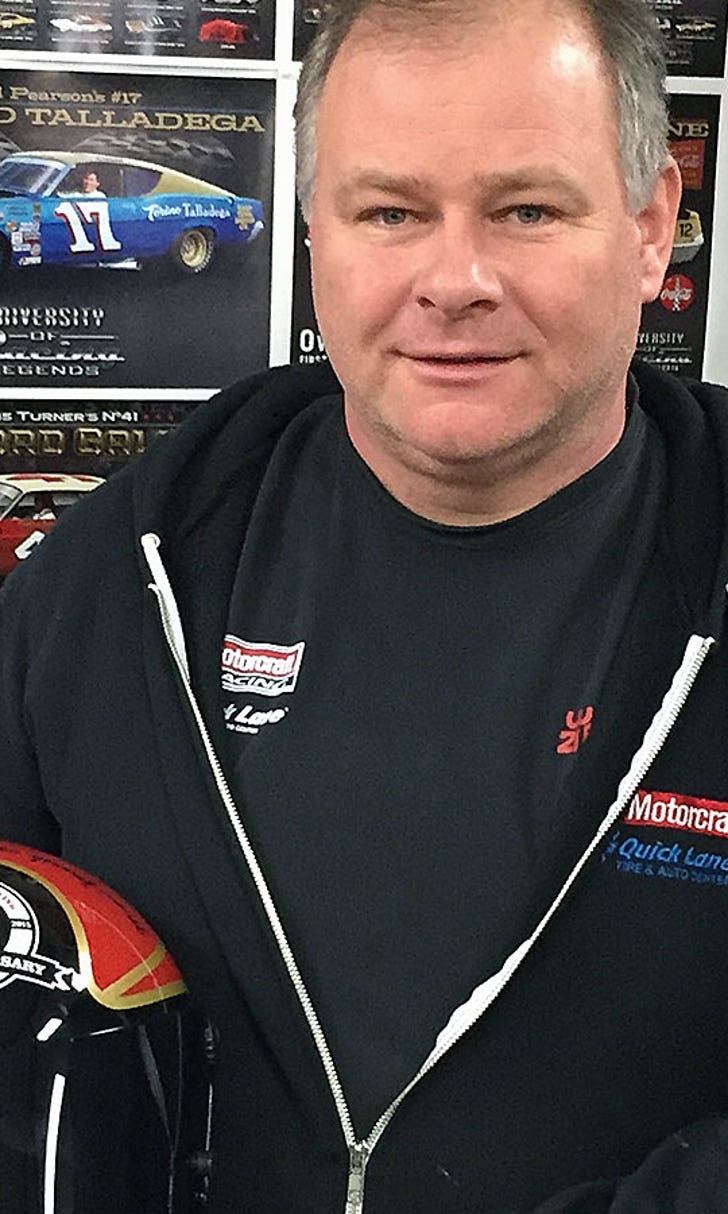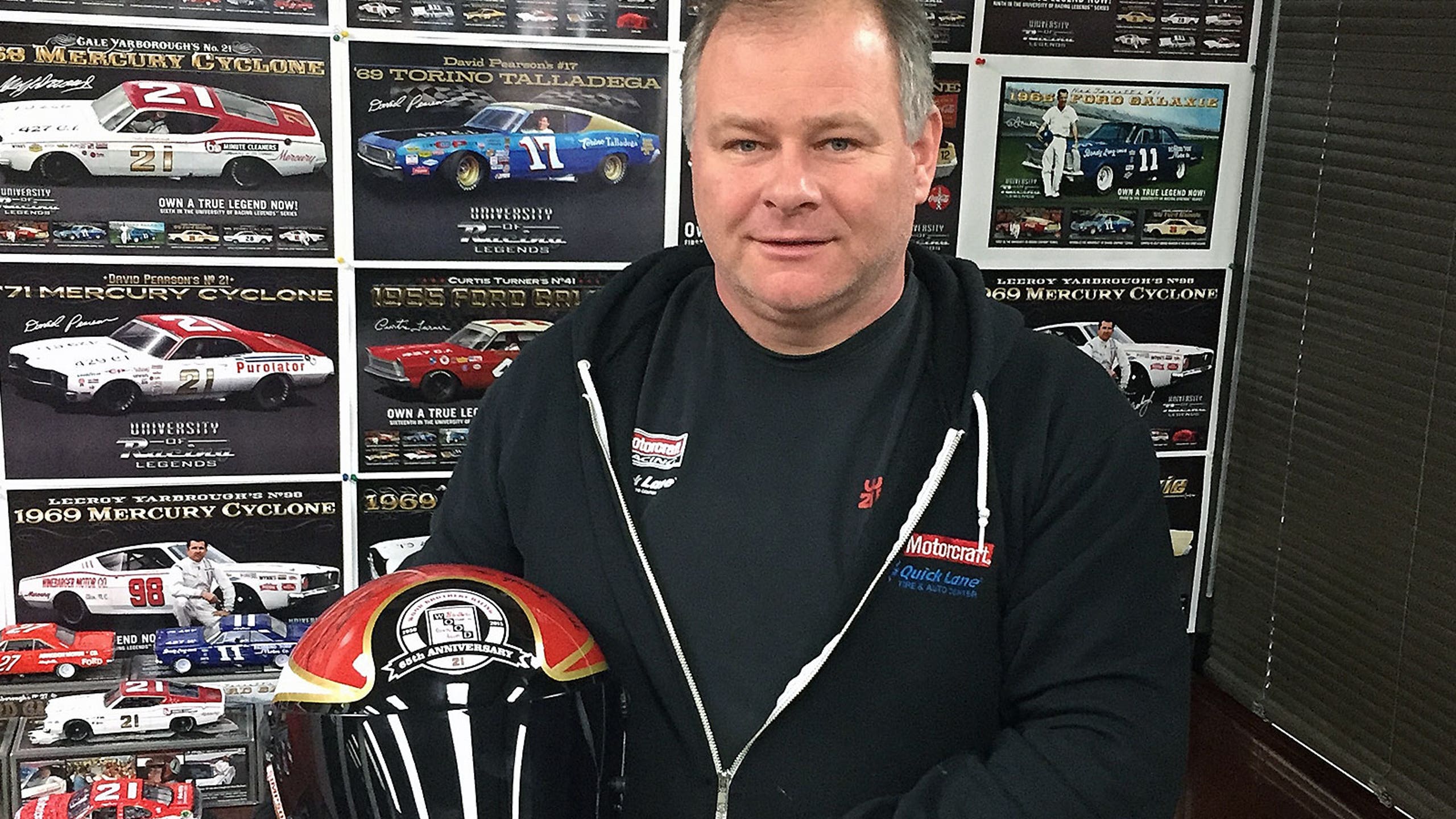 Labor of love: Wood Brothers cherish one-of-a-kind Christmas gift
BY Tom Jensen • February 3, 2015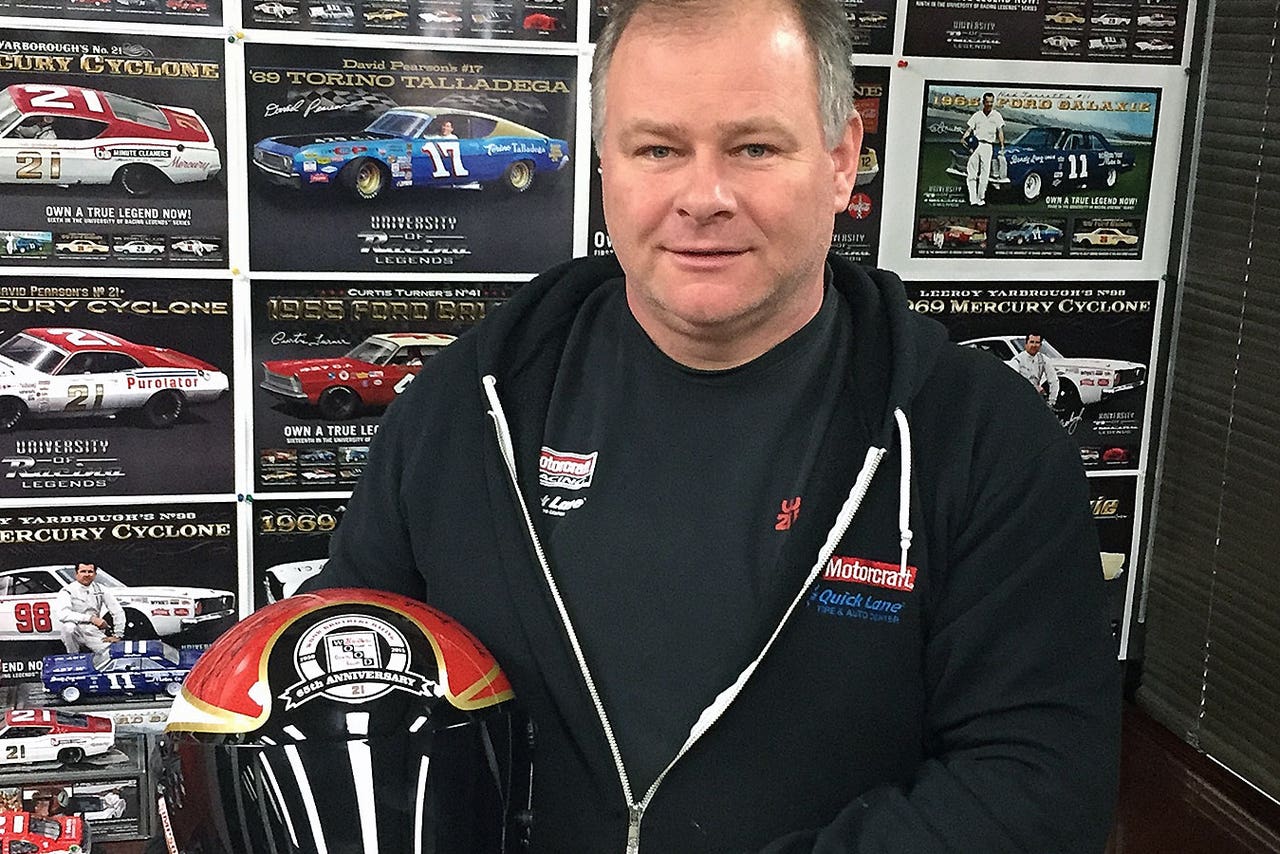 Mike Smith had a problem a lot of people have: What to get some special friends for Christmas.
Smith, a 25-year veteran of the Wood Brothers Racing team, knew that 2015 was going to be the 65th anniversary season for the fabled squad that began in Stuart, Virginia, and now has its shop in sleepy Harrisburg, North Carolina, just up the road from Charlotte.
He didn't know what to get co-owners Eddie and Len Wood, but Smith knew he wanted it to be something special.
"You can't buy them anything," said Smith. "They already have everything."
Then, after a discussion with Eddie and Len's sister, Kim Hall-Wood, came inspiration.
Smith would get them a racing helmet.
But not just any racing helmet. This one would be custom designed, with all the colors the team has used over the years, represented on it. And it would be autographed by as many of the team's living drivers as he could find.
And so began an odyssey that kicked off at Texas Motor Speedway the first weekend of November and ended the Saturday before Christmas. Smith stayed at the shop until nearly midnight on the Monday night before the Texas race, painting the helmet. It was loaded onto the team's transporter the next morning, heading south.
By the time Smith was finished, he had autographs from 26 men who drove for the Wood Brothers. Those 26 collectively scored 84 of the team's 98 victories in NASCAR's premier series.
Eight of the 26 are NASCAR Hall of Fame members: Glen Wood, Junior Johnson, Ned Jarrett, Fred Lorenzen, Cale Yarborough, David Pearson, Dale Jarrett and Bill Elliott. Included also are racing legends like A.J. Foyt, Parnelli Jones and Dan Gurney.
It was a labor of love.
As Smith was getting on the plane to head to Texas, where he had hoped to get Foyt as his first autograph, he found out the IndyCar star had just undergone triple bypass surgery.
"I was like, 'Man.' He was the first one I was going to get, the one that I was all jacked up about. I was devastated," said Smith.
At Texas, Smith got Dale Jarrett to sign it.
"I got Elliott Sadler sitting in his Nationwide car for practice," said Smith. "I got Morgan (Shepherd) when he was decaling the back of his Nationwide car two hours before practice."
Smith also got Michael Waltrip to give his autograph in the motorhome lot of the speedway.
Then he got creative.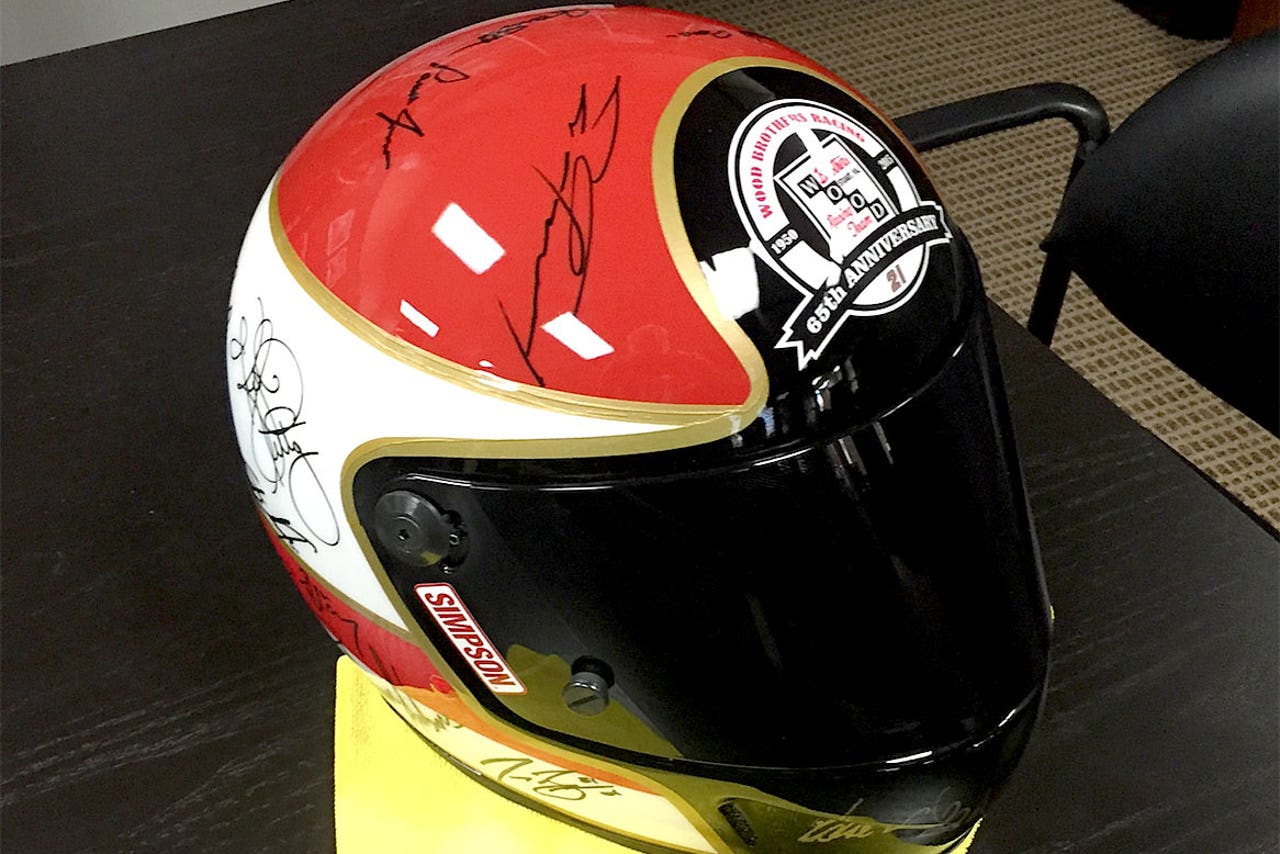 "(Marcos) Ambrose came out of the bathroom at Texas and I stopped and I said, 'You wait right here,'" Smith said. "I hid him behind a tire cart and took off running to get the helmet out of the truck to get it signed."
A trip to Chase Elliott's hauler wound up with his father, Bill, putting his signature on the helmet.
The next week, Donnie Allison autographed it.
"He calls me Friday evening and says, 'I'm headed up 85 and I'm hammer down, where do you want to meet?'" said Smith. The two ended up getting together at a local Waffle House.
Smith then called Marvette Panch, daughter of Marvin Panch, who won the 1961 Daytona 500 for the Wood Brothers. The idea was for the team's hauler to stop on the way to Homestead at the ex-driver's home near Daytona Beach. Only one problem: Panch was in California.
"She said, 'I'll tell you what we do. When the truck comes back home from Homestead, we'll meet you on the side of the road,'" said Smith. "I said, 'Man, it's going to be 2 a.m.'"
"She said, 'I don't care. I'll bring him in his pajamas,'" Smith said. "And sure enough, they met him in a Lowe's parking lot at 2:15 a.m. or something like that. He jumped out of his car in his pajamas and signed it."
Smith got a bunch of additional autographs at Homestead, including Edsel Ford.
When the season ended, Smith shipped the helmet to Gurney, Jones and Foyt with prepaid labels to send it on to the next destination. "It worked out perfectly," he said. Then it went to Lorenzen, whose daughter, Amanda Gardstrom, had her father sign it.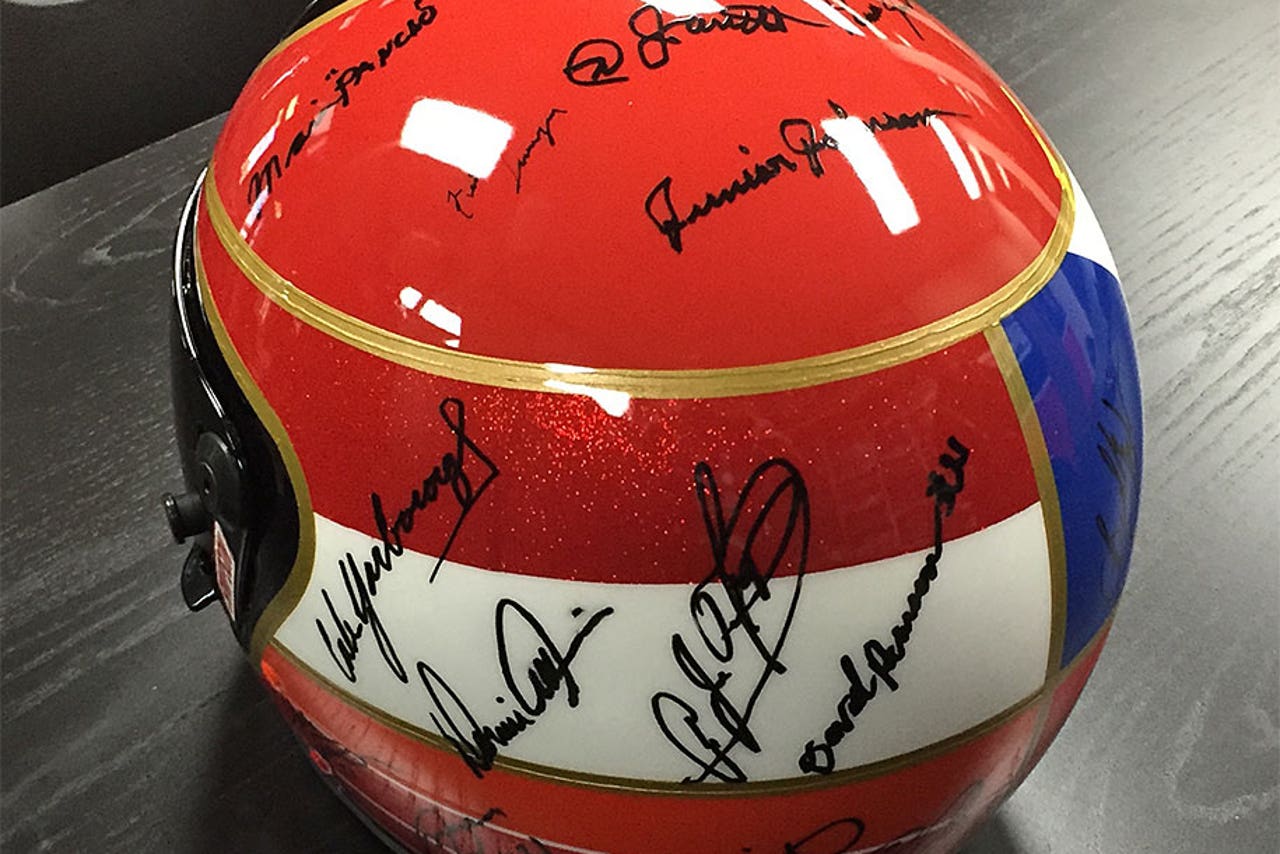 Once the helmet returned, Kyle Petty autographed it at his Charity Ride office in Concord, North Carolina.
Smith kept going.
"Buddy Baker lives right across from a guy who's our shop foreman," said Smith. "So I rode home with him one day and we just walked across the road and got it signed."
Then it was Cale Yarborough and Ricky Rudd. Both times, Smith wound up staying at their respective homes for an hour and a half, trading old racing stories. "We just talked about old times," he said.
"Going and talking to Buddy Baker and Kyle, Cale, the people like that -- talking to them for an hour -- I wouldn't take nothing for that," said Smith. "Cale was talking about grandkids. He grabbed my boy -- I've got a son who's 11 years old -- Cale grabbed him up (and said), 'Boy, let me tell you something: A young'un raised on a hunting dog won't never do you wrong. You always remember that, boy.' That's stuff you'll never forget."
On Christmas Eve, Smith took the helmet to Eddie's house, where the family had gathered, and presented it to Eddie and Len.
"We were speechless. They all did it without us knowing anything about it," said Len of the efforts by Smith and the crew. "It was amazing to see how many old-time drivers and new drivers signed it."
The helmet is slated to go on permanent display in the Wood Brothers museum facility in Stuart.
"It's been a heckuva project, just to be honest with you," said Smith. And one with a lot of heart and a lot of history behind it."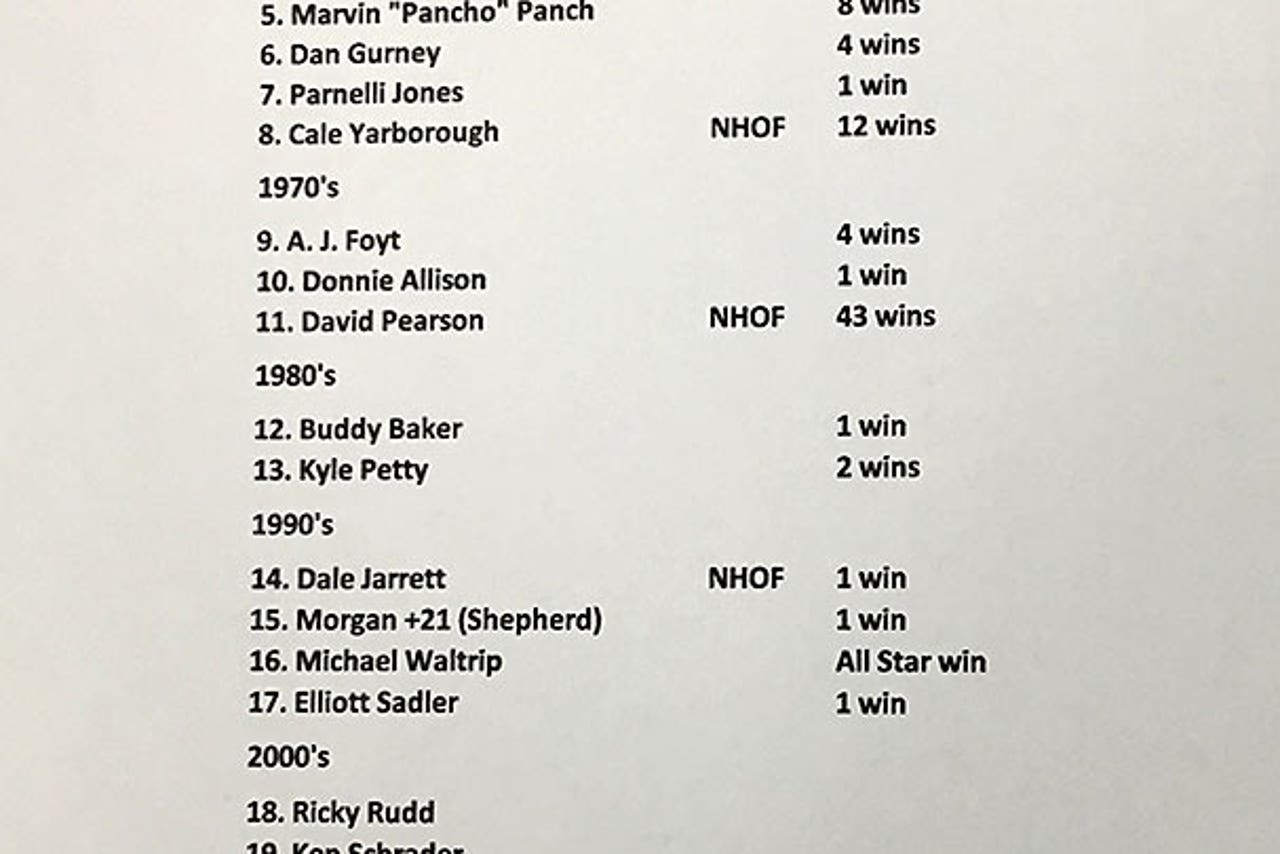 ---
---