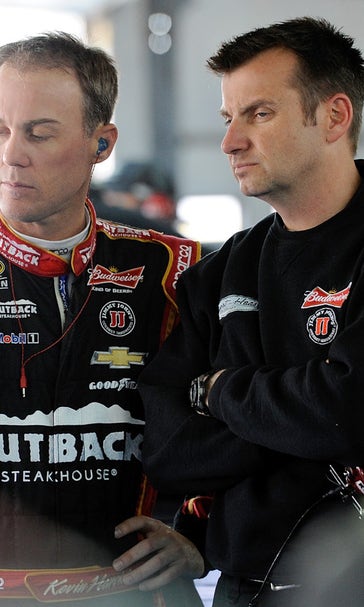 Kevin Harvick's crew chief, Rodney Childers, defends his driver
October 31, 2015

Rodney Childers, the crew chief for Kevin Harvick, has heard the persistent claims this week that his driver deliberately caused a wreck late in last Sunday's Chase elimination race at Talladega.
When Harvick ran into Trevor Bayne, triggering a final caution that ultimately enabled the reigning Sprint Cup champion to advance in the Chase, fellow drivers and overly zealous critics on social media were quick to cry foul, suggesting Harvick tried to bring out a yellow to keep from falling through the field with an engine that was going sour.
About an hour after the race, NASCAR vice chairman Mike Helton told reporters there was no evidence -- at least at the time -- that Harvick or his team had done anything wrong, and on Tuesday morning the sanctioning body issued a statement saying there would be no penalty against Harvick or the No. 4 bunch.
Later that day, at an event at the NASCAR Hall of Fame previewing the Chase Eliminator Round, Harvick denied intentionally trying to wreck Bayne or alter the outcome of the race.
In the meantime, Childers has been tasked this week with keeping the team focused on Sunday's opening Eliminator Round race at Martinsville Speedway, despite the distractions and accusations swirling all around from fans and competitors alike.
"Honestly, we don't talk about any of that outside stuff," Childers told FOXSports.com Friday in an exclusive interview in the Martinsville Speedway garage. "We just talk about what we've got to do better with our team. We had a two-hour meeting, but we didn't bring any of that stuff up. It doesn't really matter. We don't care what anybody else thinks, and I don't think there's another guy in the Chase that would have done anything any different. They all want to say stuff, but until you're in that position . . . You don't really have any option. You've got to fight for everything you can. Other than that, our race team has never listened to what anybody else has got to say. We just go do our thing."
Childers said he wasn't concerned prior to NASCAR's official statement clearing of the team of wrongdoing that the sanctioning body might hand down a last-minute penalty, knocking Harvick out of the Chase and elevating another driver into the Eliminator 8.
"I really wasn't," the veteran crew chief told FOXSports.com. "I thought we did everything the way were supposed to. You've got to fight for everything you can, and our car was . . . the engine was damaged but other than that, you've still got to do everything you can. We've just gotta move on and look forward to these next four races, and I feel like they're good racetracks for us and we should be OK."
Even after a thorough review of the radio transmission between Harvick and Childers moments before the contact between Harvick and Bayne revealed no ill intentions on Harvick's part, naysayers on social media continued to insist that he meant to cause a wreck.
Harvick's wife, DeLana, even heard from numerous fans calling out her husband on Twitter.
"That's just the way people are. That's just what it's turned into," Childers said. "I think we all wish we could go back a few years, and wish that Twitter and all this other stuff would have never started, because it's going to end up . . . stuff like that's just making it hard to handle.
"And from the sport's standpoint, it's hard to keep things positive within the sport, but we all have to deal with it the best we can, and hopefully the fans start to realize they don't really know what they're talking about. I don't know. It's not really that. It's just nobody understands what's going on, really, until you're sitting there on pit road and you've been involved in the sport for a long time. Then you understand what's going on. It's just part of it."
Also among those who accused Harvick of deliberately wrecking Bayne were Chase drivers Denny Hamlin, Matt Kenseth and Bayne himself. Then, no sooner than competitors began casting blame, Twitter blew up with fans comparing Harvick's move to the 2013 "SpinGate" scandal at Richmond where Clint Bowyer allegedly spun on purpose to bring out a caution aimed to help a teammate make the Chase.
Asked why he believes people were so quick to assume the worst about Harvick and the No. 4 Stewart-Haas Racing team after Talladega, Childers offered a candid explanation.
"That's really just what it's turned into these days," he said. "This sport has changed a lot and people want to voice their opinions all the time and they don't think about if they were in those shoes and what they would do. It's easy for people to say stuff and throw stones and that kind of thing, but when it really comes down to it, they wouldn't have done anything any different."
If there's any positive to be gleaned from such a tumultuous week, it's that Childers believes all the chatter just serves as extra motivation for his driver and team.
"I love it," he said. "I hope everybody keeps doing it and just keeps pouring fuel on the fire. But he (Harvick) handles stuff well. This race team handles stuff well. You just can't worry about what anybody else thinks. It's not really about anybody else. It's about our race team and doing the best job we can."
---
---