NASCAR Cup Series
NASCAR Cup Series
Kenseth wins Charlotte Nationwide race
Published
May. 28, 2011 1:00 a.m. ET

Matt Kenseth had never driven the new Nationwide Series car and was in unfamiliar territory as a one-time, fill-in driver.
It didn't matter on a hot, steamy Saturday afternoon. Not with Roush Fenway Racing dominating like it is.
As former Formula One champion Kimi Raikkonen struggled through a miserable day in his Nationwide debut, Kenseth passed teammate Carl Edwards with two laps to go and hung on to win the 300-mile race at Charlotte Motor Speedway.
Edwards, who won last week's All-Star race at the same track, held on to finish second and Roush Fenway's Ricky Stenhouse Jr. was fourth to move within one point of series leader Elliott Sadler.
Only Kyle Busch, who failed to match Mark Martin's Nationwide Series record of 49 career wins, could come close to Jack Roush's team with a third-place finish.
''That was fun,'' Kenseth said.
There's been a lot of fun lately around the team. Roush Fenway drivers have won the last six Nationwide and Sprint Cup races, counting two non-points events, in a resurgence for the team and Ford's NASCAR's program.
''I'm thinking what a difference a year makes,'' Roush said. ''Last year it didn't seem for a long time we couldn't buy a victory.''
Kenseth was filling in for Trevor Bayne, who has been sidelined with an inflammatory condition, in the No. 16 Ford. The Sprint Cup regular came in with 25 Nationwide wins, but none since the series shifted to the new car. Kenseth said he felt comfortable after a few laps.
''You have to drive them a little different because of the horsepower difference, but they're really a lot like the Cup car,'' Kenseth said.
Kenseth was far more comfortable than Raikkonen, who finished four laps down in 27th amid uncertainty about his stock-car racing future.
''It really turned out to be a really bad day,'' Raikkonen said.
A week after finishing 15th in his NASCAR debut in the Truck Series, Raikkonen started 22nd and soon ran into trouble.
The Finland native complained early over his radio of his No. 87 Toyota being too tight. He also wasn't wearing heat shields on his shoes and said his feet were ''burning.''
He was having trouble turning his car and used colorful language to express his frustrations as he tried to keep his feet cool while repeatedly asking for larger water bottles. About halfway through he radioed in that he scraped the wall, and even after climbing to 15th he complained his car wasn't responding.
Raikkonen's first green-flag pit stop in NASCAR competition ended with him getting caught speeding. The pass-through penalty with 58 laps to go dropped him to 27th and two laps down. Raikkonen then ran over some debris and damaged his splitter, forcing another green-flag stop.
The next step is uncertain. Car owner Kyle Busch said Raikkonen has not paid for any future races with his team.
''I have to go back to Europe and do some Rallies and then we'll see what happens,'' Raikkonen said.
Kenseth, Busch and Kevin Harvick shared the lead for much of the first two-thirds of the 200-lap race. Edwards had the lead on a restart with 46 laps to go, and Harvick blew a tire shortly thereafter to fall a lap down.
Kenseth and Edwards traded the lead with five laps to go, but Edwards had nothing left after Kenseth's late pass.
''That was hard racing,'' Edwards said. ''Matt there at the end, he was better and he had the kid gloves on with me there.''
Reed Sorenson was fifth, while Sadler recovered from early handling problems to finish 10th and maintain a slim lead over Stenhouse.
Cole Whitt, the 19-year-old Truck Series points leader finished 15th in his Nationwide Series season debut.
Stenhouse, who became the first non-Sprint Cup regular to win a Nationwide Series race a week ago, will make his Sprint Cup debut Sunday filling in for Bayne. But Bayne, the Daytona 500 champion, is expected to return to his Nationwide Series car next week at Chicago.
He'll be rejoining NASCAR's hottest race team.
''One of the things I worried about when he had his problem was that the team would go stale,'' Roush said. ''We managed to keep the team going.''
---
---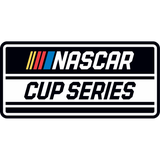 Get more from NASCAR Cup Series
Follow your favorites to get information about games, news and more
---