NASCAR Cup Series
NASCAR Cup Series
Harvick wins at Charlotte
Published
May. 29, 2011 1:00 a.m. ET

Dale Earnhardt Jr. came so close to victory he could taste it. Instead of holding the checkered flag, he was pushing his car to the garage after he ran out of fuel on the last lap.
Kevin Harvick won the Coca-Cola 600 after an action-packed, nail-biting final two laps at Charlotte Motor Speedway on Sunday. David Ragan, Joey Logano, Kurt Busch and A.J. Allmendinger rounded out the top five.
"Today, we were lucky," Harvick said.
This was Harvick's 17th career Cup win and third this season. Over those three victories, he's led just nine laps.
"It's just one of those deals, I guess," he said. "The last two we earned and this one we conserved gas to be around at the end."
What's more amazing is that the driver of the 29 car accomplished this at a track he doesn't like.
"This is a great facility, great management, great people running it, but it's just been a race track for me where I've struggled every time I've ever been here," Harvick said.
With 23 laps left, Earnhardt passed David Ragan to move into the third position, 2.5 seconds behind leader Greg Biffle. With no cautions since the last one at Lap 342, fuel strategy came into play. Who had enough fuel to win if it was green-flag racing until the checkered flag?
With 10 laps left, Earnhardt closed the gap but Kasey Kahne looked like he had the best shot of challenging Biffle for first. With seven laps to go, Matt Kenseth had to pit to take a splash of gas. Jeff Gordon did the same with six laps to go.
Jimmie Johnson blew up his engine with five laps to go and the 14th caution was called. At first, the top cars stayed out of pit road, but Biffle had to come out and took tires and fuel. On the restart, a lot of contact occurred between a lot of cars, but no caution was called and Earnhardt took the lead.
"The crew chief said we ought to be out of gas before that green-white-checkered even happened."
It looked like Earnhardt would finally snap that futility streak but his legion of fans left CMS once again left the track disappointed.
"I'm disappointed about running out of gas, but we knew we were short," Junior said. "I'm disappointed, we came so close to winning but, I was sitting there looking at maybe a 20th place finish if we would have run out of gas sooner."
All in all, it was a day of soaring temperatures and wrecks ... lots and lots of wrecks.
Mark Martin and David Gilliland had their race end early when both got tangled and hit the wall, collecting Ryan Newman in the process. It was fourth caution in 21 laps. Gilliland's right front side was almost welded to Martin's left front. All three cars sustained heavy damage.
Kyle Busch lost control of his car twice, but on the second he didn't escape without consequence — damage was visible on his right side after he hit the wall. Busch ended up going to the garage.
The sun finally set for the second half of the race, but Gordon's radio chatter was indicating something unusual for a Hendrick Motorsports car. "As soon as I get clean air, we're good," Gordon said. "But, we definitely have a motor issue."
The sixth caution was called when Mike Bliss' car came to a halt out of Turn 4 right before pit road. While Bliss suffered misfortune, Biffle got the Lucky Dog and restarted on the lead lap. Kurt Busch was also celebrating as he was in 10th on the restart.
Meanwhile, David Stremme was standing by in the event Biffle couldn't finish the race. Biffle had received a bag of ice during his pit stop but asked for a smaller bag. "I've got a limited amount of space," Biffle was overheard saying on the radio.
If Biffle wasn't overheated physically, he appeared to be mentally. His radio chatter indicated increased frustration with his crew. "Just fill me in on the plan," Biffle said on his radio after his crew changed out his helmet hose instead of his Koolbox. That device, designed to keep control the driver's temperature, started acting up early. To add salt to his wounds, Biffle ended up getting a drive-through penalty for exiting pit road too fast after his first stop.
The eighth yellow flag came out on Lap 281 for debris on the track. On the restart, six cars broke away amid jostling and position changing — Ragan and Carl Edwards almost got tangled up. While the action appeared to be at the front of the back, Kahne got into David Starr, who hit the wall on Turn 4 and another caution was called.
It wasn't much later when Landon Cassill appeared to get tapped by Regan Smith. Cassill had a spectacular slide through the tri-oval grass and his front end was destroyed when he went airborne after hitting a dip.
The heat was a constant issue — Johnson's and Kyle Busch's in-car cameras showed them pouring bottled water down the inside of their firesuits with the track temperatures hovering around 120 degrees. One in-car camera showed the interior of Stewart's car at 134 degrees.
The third caution was called on Lap 170 for debris on the track, erasing Kenseth's seven-second lead. On the restart, Jaime McMurray made a smooth move to get in front of Marcos Ambrose, but a few laps later, McMurray's engine blew up and the fourth caution was called. "It was huge, whatever we broke," McMurray said over his radio. "We're done."
Biffle made a pit stop while pit road was closed, and though he did have to take a penalty by starting at the tail end of the lead lap, he would have probably restarted there anyway since his crew was struggling to fix his cooling system.
On the restart, another caution was thrown after Cassill bumped Casey Mears. With his car smoking, Mears weaved all over the track while his car spewed debris. That's three cautions in 17 laps, for those who are counting.
On the restart, Marcos Ambrose grabbed the lead with Kenseth, Edwards, Allmendinger and Denny Hamlin following. Earnhardt was in the 12th spot. Kenseth took back the lead on Lap 198 in what looked like the best car on the track, halfway through the race.
With not even 10 laps in the books, two drivers — Ricky Stenhouse Jr. and Mike Skinner — got too high in the groove and rubbed the track wall hard. No harm, no caution called.
After the leaders finished their pit cycle, Allmendinger emerged as the new leader. But five laps later, Edwards grabbed the lead and, by Lap 71, had a five-second lead over Hamlin.
The first caution was called on Lap 73 for debris on the track. Jeff Burton was the fastest one out, but Hamlin screamed past him off Turn 2.
Bobby Labonte spun out on Turn 4, and a second caution was called. While Labonte's wheels were locked up sliding sideways down the track, Joey Logano made a terrific move to avoid T-boning Labonte by ducking up high at the last second.
The NASCAR Sprint Cup series is at Kansas next Sunday.
 
---
---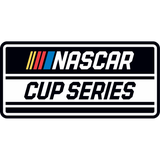 Get more from NASCAR Cup Series
Follow your favorites to get information about games, news and more
---