NASCAR Cup Series
NASCAR Cup Series
Hamlin relishes first Bristol win
Published
Aug. 26, 2012 1:00 a.m. ET

Denny Hamlin used old-style short-track racing techniques to tame the new Bristol Motor Speedway.
With his third win of the season, Hamlin likely locked his way into his seventh consecutive NASCAR Chase for the Sprint Cup.
But Hamlin characterized his accomplishment at Thunder Valley as "the greatest win of his career."
"It's Bristol," Hamlin said on the radio. "I don't know what to say man. I'm so damn happy!"
Hamlin battled to the point for the first time on Lap 85 and led one circuit. He would cycle through three more times before he caught Carl Edwards on Lap 458 and passed him four laps later.
Hamlin described the opportunity as "my only chance" as he used a textbook slide job to take the lead for the fifth and final time.
"I knew I had to do everything I could just to slide up in front of him," Hamlin said. "I knew if there was any chance of us having a caution, I was going to get on the inside because he was going to take the outside, so I had to take the lead as soon as possible.
"That's the way Bristol is supposed to be — rooting and gouging."
Hamlin and his fellow competitors used dive-bombing and door slamming to improve position because passing was nearly impossible on the one-groove racetrack.
Fans witnessed flames flying from the cars of Sam Hornish Jr. and David Ragan, then superstars such as Jeff Gordon and Dale Earnhardt Jr. losing control in the high line and getting pinched into the wall.
Some feuds were reignited, such as when Juan Pablo Montoya nailed nemesis Ryan Newman and collected Jeff Burton in the process on Lap 191. And new rivalries blossomed — including a battle for the ages between NASCAR champions Tony Stewart and Matt Kenseth on Lap 332 — that ended with two crumpled cars against the frontstretch wall. Stewart muttered a "mother******" before firing a two-handed helmet shot to the front of Kenseth's No. 17 Ford as it limped down pit road.
Even Stewart's protégé Danica Patrick got into the act. After she was dumped by Regan Smith on the frontstretch to trigger the race's 13th and final caution, competitors were taking bets over the radio as to whether Patrick would follow suit and toss her helmet at Smith, but she simply chastised the driver by shaking her finger as he drove by.
Once the wrecker carried Patrick's car away, Edwards and Brian Vickers led the cars to the restart for the final 56 laps. Hamlin reached Vickers' bumper 11 laps later and nearly caused him to lose control of his car in Turn 2. Then Hamlin set his sights on Edwards. Six laps later, Hamlin slid in front of him for position on the backstretch.
The win could not have come at a better time for the No. 11 Joe Gibbs Racing team. It's been three races since Hamlin posted a top 10. An accident at Pocono Raceway and an engine failure at Watkins Glen had knocked Hamlin from fifth in the points standings to a precarious 10th place entering Bristol.
Saturday night's win elevated Hamlin to eighth in the standings, 75 markers behind leader Greg Biffle. And with a third win, Hamlin is tied for most victories with Jimmie Johnson, Brad Keselowski and Tony Stewart for when the points are recalculated for the Chase.
While Hamlin has had great success at his hometown track in Richmond, which hosts the final race before the Chase begins, winning the Bristol night race was something he'd always dreamed of while growing up in Chesterfield, Va.
"The night race at Bristol, it's just you talk to a casual race fan and you talk to anyone that doesn't know a whole lot about NASCAR and they will always ask you, if I want to go see a race where should I go, and everyone says, 'the Bristol night race,' " Hamlin said. "It's where the most eyes are on us.
"It's the most exciting racetrack that we have on our circuit far as competition is concerned, and you know, just this is one of the races that me and my dad and my mom used to just love watching.
"This is one that we could not wait to get home Saturday night to see this race, and so that's what makes it so special for me is watching this race for so many times."
And on Saturday night, all eyes were on Hamlin.
Wild-card war
Kasey Kahne (11th) maintained his top spot in the wild-card standings and trails 10th-place Tony Stewart by just 16 markers after finishing ninth.
Kyle Busch (13th) moved into the second wild-card spot after finishing sixth on Saturday and closed the gap between Kahne by 23 points. Carl Edwards remains in 12th place in the points standings but without a win would be knocked out of contention.
Newman's Chase for the championship hopes took a major hit after Montoya slammed into his No. 39 Outback Chevrolet on Lap 191. Crew chief Tony Gibson waved the white flag before halfway, conceding the car was too damaged to return to the track. Newman tied a season–low 36th-place finish and dropped to 15th in the standings. He's now 58 points outside of the Chase.
Numbers game
20: Career Sprint Cup wins for Denny Hamlin
22: Top-10 finishes for Jeff Gordon in 40 career Bristol starts.
200: Wins for the No. 11 in NASCAR Cup competition. The No. 43 has 198 wins in NASCAR history
Say what?
After Patrick was wrecked while running 22nd in her Sprint Cup debut at Bristol Motor Speedway, her spotter Tab Boyd and crew chief Greg Zipadelli came to her defense over the radio.
Boyd: "(Expletive) 78 ran straight over . . . (expletive) wrecked you. Piece of (bleep) . . ."
Patrick: "That's been the whole (expletive) night. He's been a (bleep) all night."
Zipadelli: "How bad is it?"
Patrick: "It's done."
Zipadelli: "Bring it to the pits, please."
Patrick: "It won't go."
Zipadelli: "You've done a hell of a job. I'm proud of you. I'll choke that little (bleep) when we get done here."
 
---
---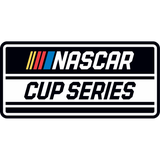 Get more from NASCAR Cup Series
Follow your favorites to get information about games, news and more
---