Full results from Daytona 500 final practice for Monster Energy Cup Series
BY Joe Menzer • February 25, 2017
The most notable aspect of the final Monster Energy NASCAR Cup Series practice for Sunday's Daytona 500 was not so much what happened on the track as it was who wasn't on the track at all.

Only 28 of the 40 drivers who will battle in the Great American Race live on FOX at 2 p.m. ET elected to participate in Saturday's Happy Hour.

Ricky Stenhouse Jr. was fastest among those who did take part, turning a top lap in his No. 17 Roush Fenway Racing Ford at a brisk 198.938 miles per hour.

Stenhouse was followed by five other Ford drivers on the speed chart – Team Penske teammates Joey Logano (196.751 mph) and Brad Keselowski (196.747), and then a trio of Stewart-Haas Racing teammates in Kevin Harvick (196.726), Kurt Busch (196.700) and Clint Bowyer (196.674).

And while that was impressive, it was interesting that nearly every driver in the Toyota armada – every one, in fact, except for dark-horse qualifier D.J. Kennington – took the afternoon practice off.

That included the entire Joe Gibbs Racing fleet that includes defending Daytona 500 champion Denny Hamlin, Kyle Busch, Matt Kenseth and Daniel Suarez, as well as Furniture Row Racing teammates Martin Truex Jr. and Erik Jones. All are expected to be fast on Sunday.



On the opposite end of the spectrum were the Hendrick Motorsports Chevrolets of teammates Dale Earnhardt Jr. and Kasey Kahne. They ran the most laps of anybody after both switched their engines from qualifying engines to their race engines (one engine change per team is permitted for the Daytona 500 only, as the rest of the season an engine change will send a driver to the rear of the field for the start of the race).

Kahne ran a total of 36 laps, with a top lap of 196.365 mph that ranked 10th-fastest. Earnhardt ran 30 laps and was only 19th-fastest at 189.266 mph, but said not to read too much into it.

"We took the qualifying motor out of the car (Friday) night," Earnhardt said. "I thought our car was a little bit better in practice (on Friday). In the pack, it developed runs a little bit better. It just seemed like I had to get a little bit luckier today with what was happening behind me.

"The thing is that you can get out there and not change anything, and how your car reacts kind of depends on what's happening around you. Your car's performance can change, and it can fool you a little bit. … Today was a little more laid-back. There weren't as many cars out as active in the draft, so maybe that's why we didn't see our car respond like it did (on Friday)."

See below for full results from Daytona 500 final practice.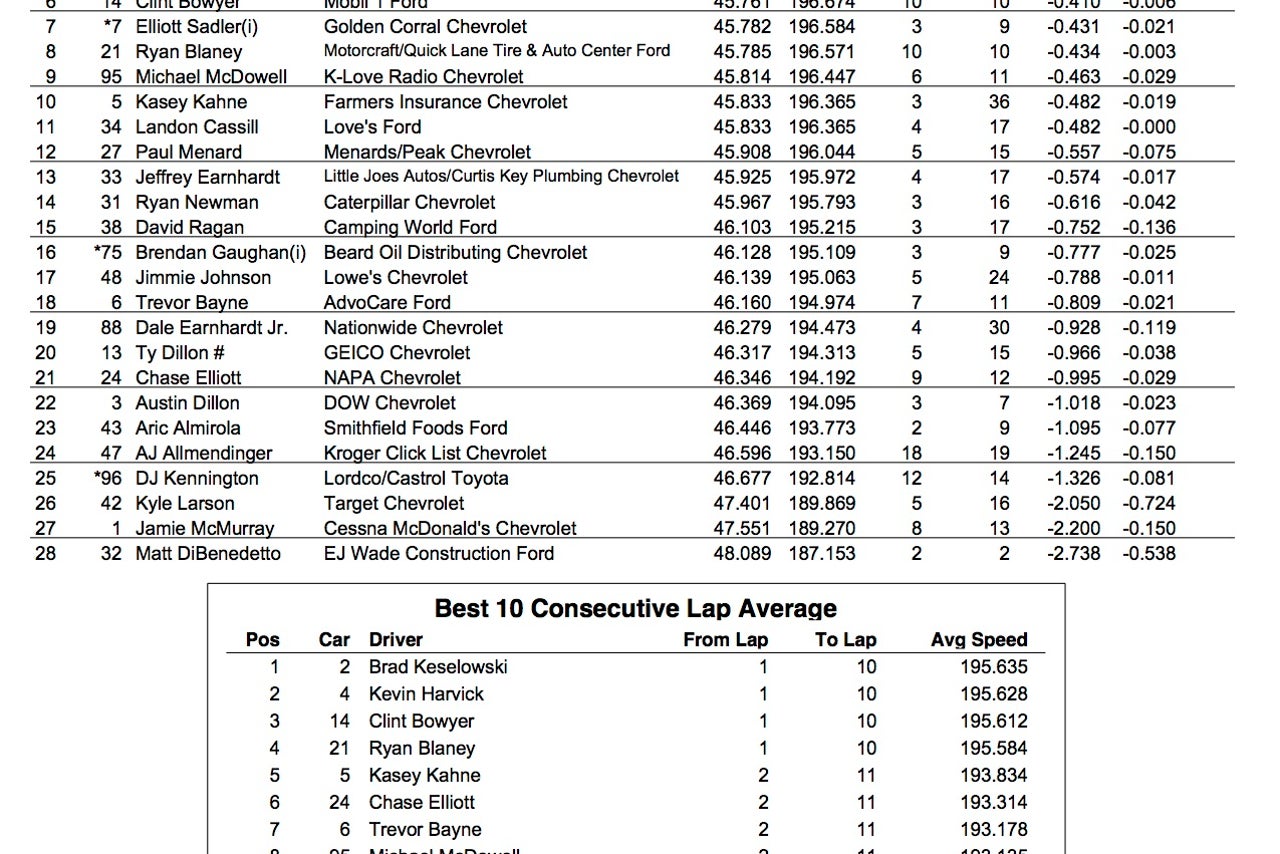 ---
---