NASCAR Cup Series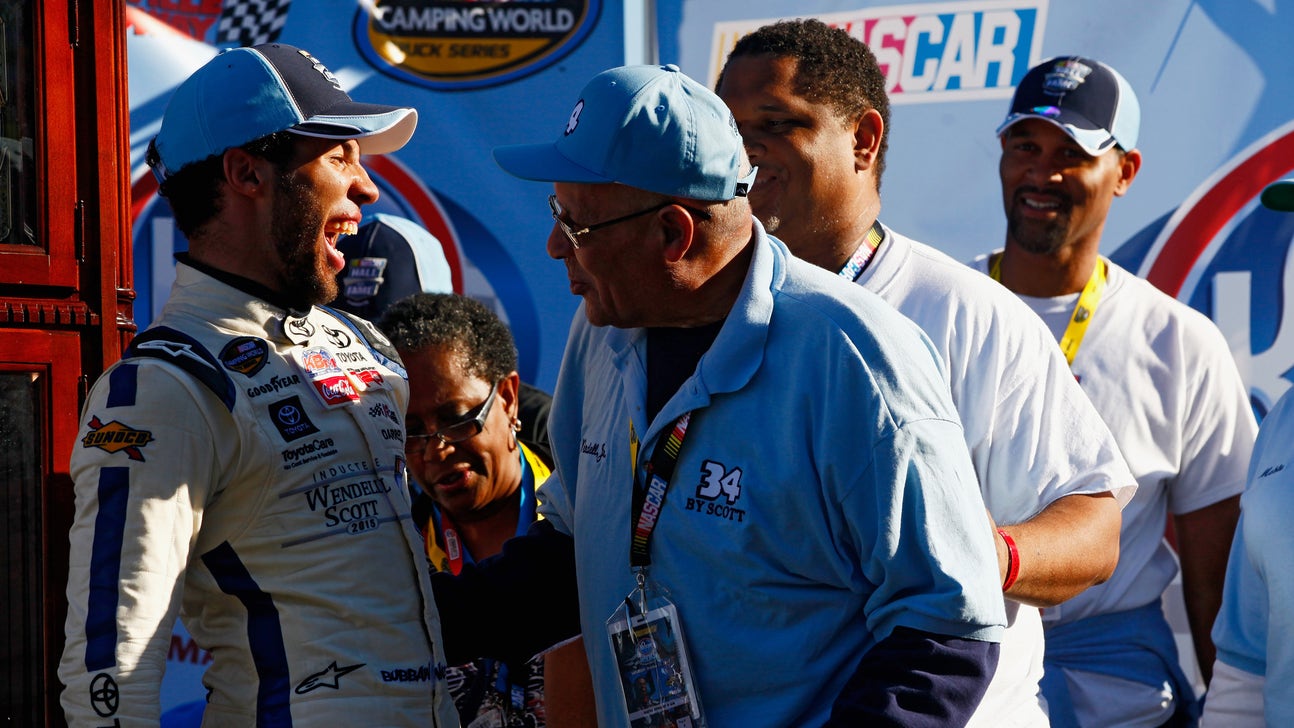 NASCAR Cup Series
Fresh off huge win, 'Bubba' Wallace not ready to talk truck title
Published
Oct. 28, 2014 3:00 p.m. ET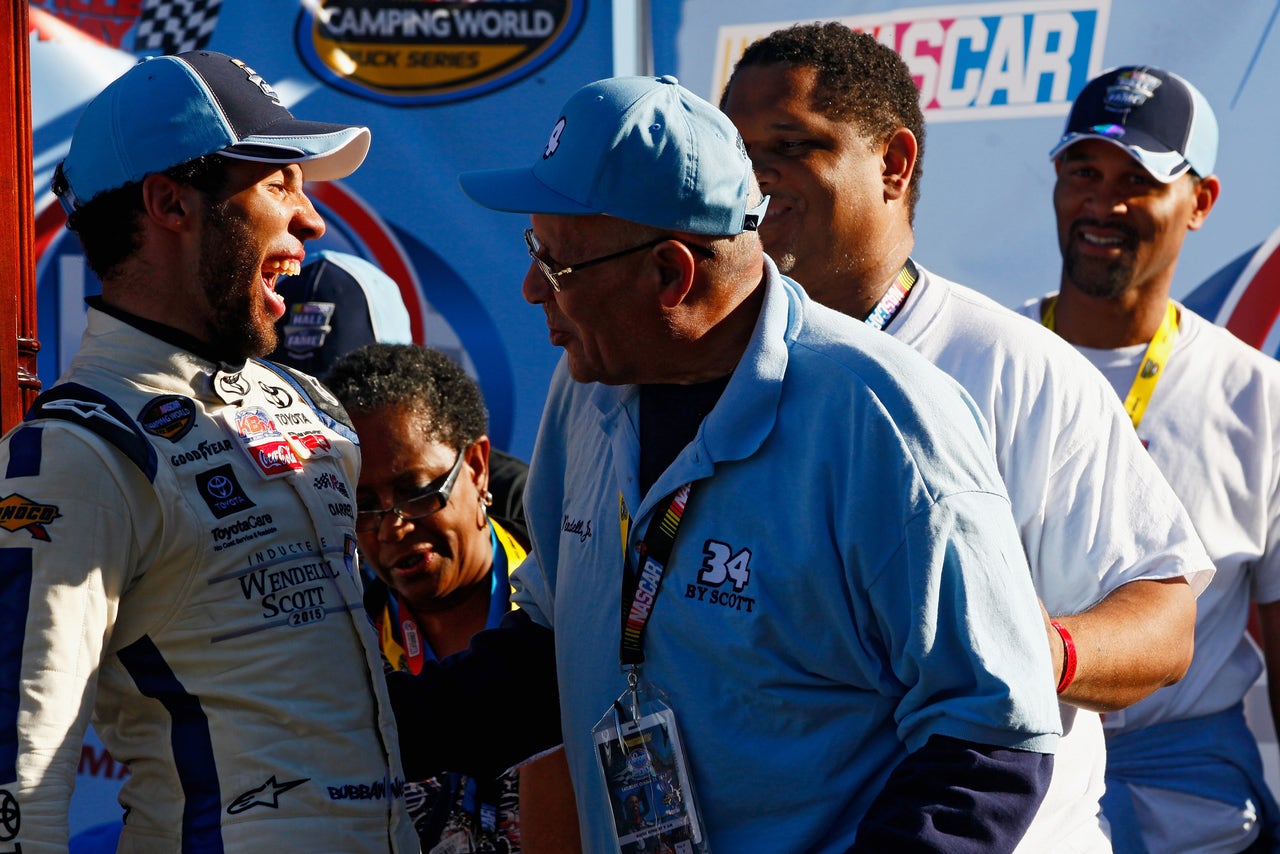 After winning last Saturday's Camping World Truck Series race at Martinsville Speedway, Darrell Wallace Jr. was joined in Victory Lane by the family of the late NASCAR driver Wendell Scott.
Scott, who will be enshrined posthumously in the NASCAR Hall of Fame in January 2015, was the only African-American driver to score a major NASCAR series victory until Wallace triumphed at Martinsville last fall -- nearly 50 years after Scott won at Speedway Park in Jacksonville, Fla., on Dec. 1, 1963.
Back at the site of his first career truck win this past weekend, Wallace drove a special paint scheme with the No. 34 to honor the upcoming Hall induction of Scott, who hailed from nearby Danville, Va.
Fittingly, Wallace won for the second time in the last three Martinsville truck races and celebrated his fourth overall series victory after executing a bold move to the inside of race leader Johnny Sauter -- who was briefly flanked to the inside by two other trucks -- with 13 laps remaining.
Wallace -- widely known in the truck series garage as "Bubba" -- also captured the pole at the .526-mile paperclip-shaped short track.
"That was a big weekend having the Wendell Scott tribute paint scheme, the Wendell Scott family there, No. 34 -- it was a unique weekend," Wallace, who swung by the NASCAR Race Hub studios in Charlotte, N.C., on Tuesday, said in an exclusive interview with FOXSports.com.
"It was different in many ways, and to be able to win was just icing on the cake. After practice it was kind of like, 'Yeah, we'll see how we shake out here.' We qualified on the pole -- it didn't really matter where you start -- and it ended up playing in our hands. I kept telling the guys, 'This is our weekend.' I had a little four-wide move there and we came out on top, and that's when I really said, 'You know, what? We're winning this race just because of that. Nothing's going to take us out of this.'"
Wallace, who led 97 of 200 laps at Martinsville, doesn't ever recall being more motivated to win a race.
"That was a special one," said the 21-year-old Kyle Busch Motorsports driver and member of Joe Gibbs Racing's driver development program. "That's the one we circled on that calendar that we wanted to win -- and that was before we even knew we were having the Wendell Scott paint scheme. We knew we could go to Martinsville and get two wins this season. We came up a little short in the spring, so this one was double circled to bounce back for that one, but then when everything started tying up a month in advance (for the Scott tribute), it was like maybe another circle around that one to win. We definitely wanted to win that race not for myself but for the Scott family, for the whole sport of NASCAR."
Before and after the race, Wallace was able to spend time with the Scott family, which included Wendell's sons Wendell Jr. and Franklin, and daughter Sybil.
Then, just to put a little icing on the cake, Sprint Cup Series driver David Ragan -- who, like Wallace at Martinsville, was running a special paint scheme honoring Scott -- went out and finished a season-best 10th in Sunday's race.
"That was cool," Wallace said. "I think I said, 'Oh, wow. Dang. David Ragan finished 10th.' That's cool to see with the No. 34 on there and the whole Wendell Scott paint scheme, so it was a good weekend for the Scott family, for sure."
Martinsville was just the latest in what has been a terrific 2014 for Wallace, who has eight top-five and 12 top-10 finishes -- including three wins -- in 19 starts, all but Saturday's coming in his familiar No. 54 Toyota.
As a rookie last season, Wallace won just once -- at Martinsville in October -- and recorded only five top fives.
"Last year was a big learning curve and you jotted down the notes in the notebook, and this time you can go back to the notebook and see what was done, the comfort level, the communication level with the team and the crew chief, so that's definitely helped out," Wallace said. "We can go to these races and now we can both share ideas on what we expect, where last year it was kind of more, 'I don't know what to expect, so whatever happens, happens.' We can control our own destiny, for sure, and we're just having fun."
With his triumph at Martinsville, Wallace remained third in the standings but pulled within 22 points of championship leader Matt Crafton, and four points of second-place Ryan Blaney.
With three races to go, including this Friday's event at Texas Motor Speedway, Wallace is in the thick of the hunt for the championship.
He is reluctant, however, to even let his mind wander down the road of what a title this season would mean to him.
"That's a big question," he said. "I haven't thought about it yet. I guess we'll have to wait till the time comes."
VIDEO: Darrell Wallace Jr. wins at Martinsville Speedway
---
---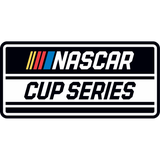 Get more from NASCAR Cup Series
Follow your favorites to get information about games, news and more
---