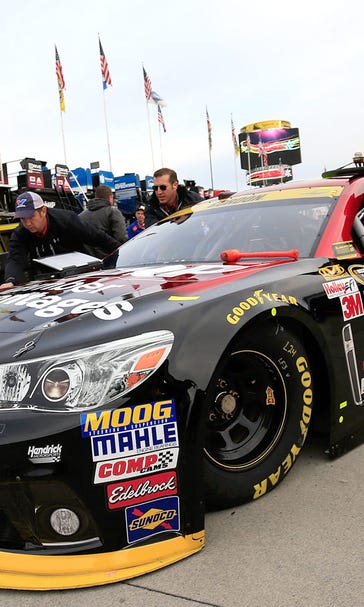 Everything you need to know about Sunday's Chase race at Martinsville
November 1, 2015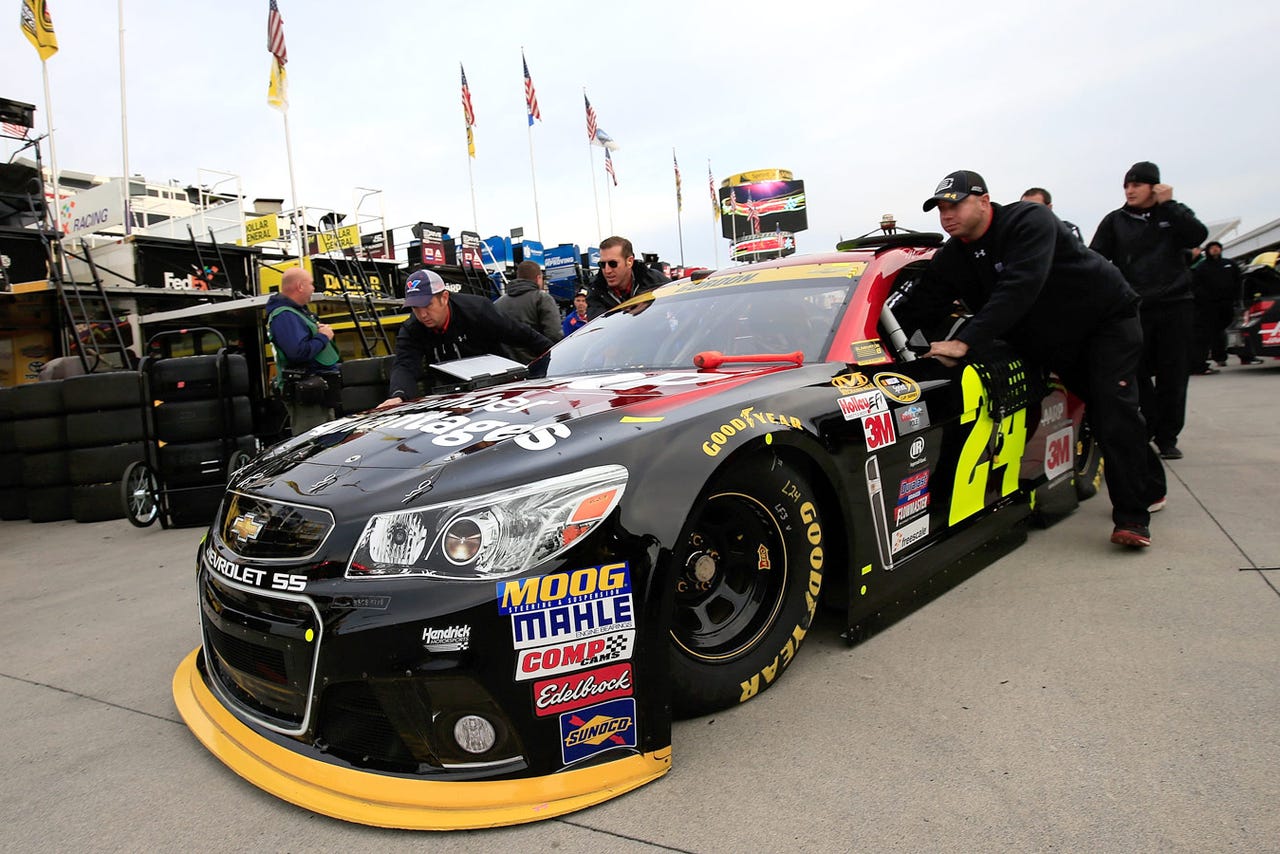 And then there were eight. 
The Eliminator Round of the Chase for the NASCAR Sprint Cup kicks off at the paperclip short track of Martinsville Speedway with Sunday's Goody's Headache Relief Shot 500. 
Team Penske's Joey Logano carried over the momentum from the Contender Round to Martinsville this weekend, as the No. 22 Ford continues to be fast. Logano was fastest in the opening practice session and will start Sunday's race from the pole. 
Veteran Jeff Gordon is making his final start at Martinsville, and the Hendrick Motorsports driver is still searching for his first victory of the season. With eight victories at the short track, Gordon has had this race circled on his calendar for some time. 
Despite winning all three races in the Contender Round, Logano has the same points as the other seven remaining Chase drivers, as the points were reset following last weekend's controversial race at Talladega Superspeedway. 
A win in Sunday's race by any of the eight Chase drivers would lead to an automatic spot in the Championship 4 at Homestead-Miami Speedway, so expect the intensity to ratchet up toward the end of the race. 
Without any further ado, here is everything you need to know about Sunday's Chase race at Martinsville: 
Green flag: 
1:28 p.m. ET 
Forecast:
According to weather.com, the forecast for Sunday's race is calling for rain showers early, with overcast skies later in the day. There is a 40 percent chance of rain, with winds from the southwest at five to 10 mph. The high is forecast for 68 degrees. 
Grand marshals/Command to fire engines: 
NASCAR Hall of Fame member Richard Petty and Tom Harman of Circle K stores
Honorary starter: 
Mark Hurley, senior marketing manager, American Cancer Society
Honorary pace car driver: 
NASCAR Hall of Fame member Ned Jarrett
Invocation: 
Rev. Jonathan Falwell
National anthem: 
N.C. State University Marching band
Flyover: 
Bandit flyover team
Defending race winner: 
Dale Earnhardt Jr. Full race recap here. 
March 2015 race winner:
Denny Hamlin. Full race recap here. 
Fastest in Practice 1: 
Joey Logano. Full practice recap here. 
Fastest in Practice 2: 
Dale Earnhardt Jr. Full practice recap here. 
Fastest in Final Practice: 
Jimmie Johnson. Full practice recap here. 
Chase standings: 
1. Joey Logano: 4,000
2. Carl Edwards: 4,000
3. Jeff Gordon: 4,000
4. Kurt Busch: 4,000
5. Brad Keselowski: 4,000
6. Martin Truex Jr.: 4,000
7. Kevin Harvick: 4,000
8. Kyle Busch: 4,000
Front row: 
Joey Logano and Martin Truex Jr. Full qualifying recap here. 
Starting lineup: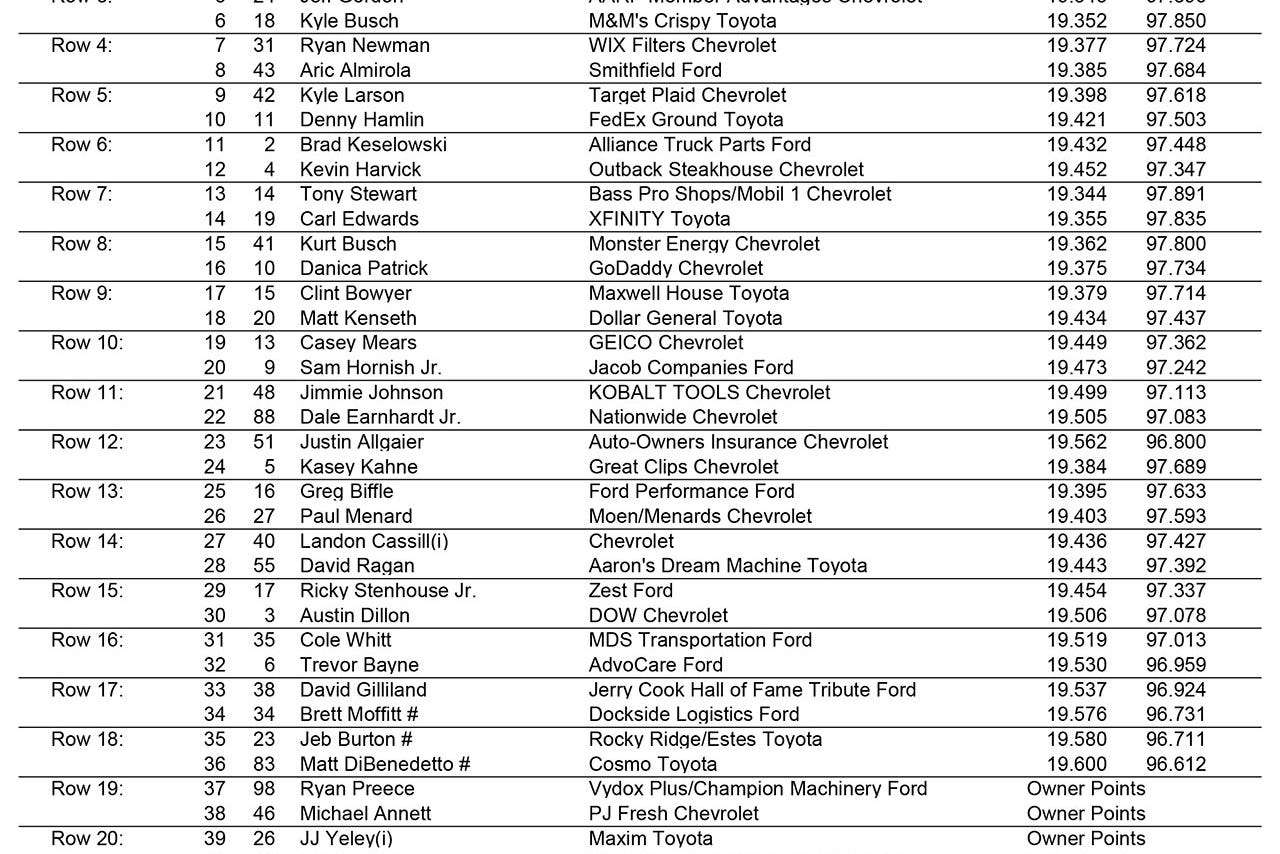 ---
---