Earnhardt still the man at Daytona
BY foxsports • February 8, 2011
For many years, along with the winter thaw, visions of a black No. 3-branded Chevy drafting at Daytona danced in the heads of many fans anticipating the return of the sound of race cars.
After all, Dale Earnhardt was synonymous with Daytona International Speedway, where Speedweeks have always symbolized the start of the NASCAR season. Even now, 10 years since he lost his life on that iconic racetrack, Earnhardt and Daytona are inseparable.
"It amazes me that I've won so many races there and been so close but only won one Daytona 500," Earnhardt said in January 2001, mere weeks before his final race. "But I'm proud that I won that. It's a racetrack. It's a place. There's no magic that I know that other guys don't know, it's just the confidence that I feel when I race there.
"I don't have another thought when it comes to Daytona. I'm there, I'm comfortable. I'm ready for the task. I have no question in my mind that I'm not the best. My confidence going into Daytona is great."
That confidence and attitude marked his career. A seven-time NASCAR Cup champion, Earnhardt was one of the pivotal characters in building the sport nationally. His aggressive driving drew the attention of competitors and fans, earning him the nickname, The Intimidator.
Off the track, Earnhardt was one of the leading voices among drivers and was either idolized or reviled by legions of fans. One of the most polarizing drivers in the sport's history, he won 76 Cup races, 21 Nationwide Series races and was a four-time champion in the International Race of Champions Series.
And he was the master of restrictor-plate racing.
Before that fateful February day a decade ago when the No. 3 Chevrolet failed to cross the finish line and fans lost a hero, the garage lost a friend and Kerry, Kelley, Dale Jr. and Taylor lost a father, it was nearly impossible to get through Speedweeks without seeing the headline "Daletona."
From that first trip through the Turn 4 tunnel to the checkered flag, Earnhardt's presence was felt at the track. Somehow, some way, Earnhardt would factor in at the finish.
Yes, Earnhardt's name appeared on the Harley J. Earl trophy as the Daytona 500 winner just once in 23 starts, but the receiving line that greeted him on the way to Victory Lane on that day was testament to what may be the most popular win ever in NASCAR.
That was Feb. 15, 1998, a day on which Earnhardt started fourth and showcased his trademark restrictor-plate skills.
He led 107 of the 200 laps, including the final 60, to finally head to Victory Lane in his 20th attempt in the race. As he took the emotional win, crew members from other teams lined up to congratulate him, a stirring tribute to the man he was.
Bobby Labonte, who finished second to Earnhardt in that race, remembers the outpouring of congratulations.
"It would be hard to ever see that again — that reception line," Labonte said last week. "For the guy that had done so much for that race — but to have missed it so many times — it would be hard to duplicate."
Earnhardt's body of work over two decades on the 2.5-mile track includes three Cup points-race wins, 12 victories (including 10 straight) in the Gatorade Duel qualifying races, six Budweiser Shootout wins, seven Nationwide Series wins and six IROC wins.
No wonder track officials refer to Dale Earnhardt as "the most successful driver in the history of Daytona International Speedway."
Earnhardt's legendary status simply fueled the shock and utter disbelief that the seven-time champion had died after what appeared to be a typical wreck on the final lap of the 2001 Daytona 500. Earnhardt had walked away from seemingly more violent wrecks before. But not on February 18, 2001.
Throughout the 2001 Speedweeks, Earnhardt predicted that either he or one of his Dale Earnhardt Inc. Chevrolets would be victorious in the 500. Twenty-five laps before the finish, Earnhardt and his drivers, Michael Waltrip and Dale Jr., had avoided a 19-car pile-up. However, Earnhardt had damaged the grille earlier and was playing defense for his drivers since his car couldn't handle from the point. With three laps to go, Earnhardt was doing his best to hold off Ken Schrader and Sterling Marlin. On the final lap, Marlin went to the inside of the No. 4, made contact and launched Earnhardt and Schrader into the Turn 4 wall as Waltrip sailed to the checkered flag.
Hours later in the Benny Kahn media center, NASCAR president Mike Helton made it official, "After the accident in Turn 4 at the end of the Daytona 500, we've lost Dale Earnhardt."
"That's a legacy that will just live on forever, especially when you come to Daytona . . . The guy was just so amazing here," said Jeff Gordon, a four-time NASCAR Cup champion. "He just knew the draft and how these cars worked around the draft better than anybody.
"You couldn't help but be a student of that every time you were out there. And he certainly taught me a lot that led to some Daytona 500 victories, I believe. I still have a hard time really even believing that he's gone. I had such amazing experience racing with him."
Earnhardt schooled many drivers at Daytona, including Gordon, who has won three Daytona 500s.
Gordon remembers an IROC practice session during which Earnhardt offered one of his many lessons. Gordon recalls competing against Earnhardt and Schrader in an IROC race, when he was still new to the series, and experiencing how those cars performed when they were packed together racing around Daytona.
"So I was just kind of a kid in a candy store having a great time," he said.
He thinks he was second to Schrader when Earnhardt gave him a push off of Turn 2.
"I got underneath Schrader and I was like, 'Cool, I'm going to go right by him.' Before I could even look in my mirror, Dale was inside of me three wide down the back straightaway," Gordon said.
"And it just seemed like the longest back straightaway I'd ever experienced. Like in all my laps around Daytona, it just seemed like that back straightaway went on for like five minutes, because the moment stood in time, and I was just there like taking it all in. . . . Back in those days you had no headrest, you could pretty much see all the way inside the car. And I remember looking to the right at Schrader, and he was just looking ahead, focused, because we're three wide. And I looked to my left, and Dale is over here like he's kicked back . . . one hand on the steering wheel, he's looking at me with this big grin on his face."
Suddenly, three cars wide with the two veterans, Gordon had nowhere to go but backward.
"I realized at that moment I'm three wide in between Schrader and Earnhardt," Gordon said. "And back then you couldn't go three wide into Turn 3. And I was like, 'Now, which one of us is going to lift (off the accelerator)? I'm not going to lift. I'm not going to lift.'
"As we got closer to Turn 3 and I look over at Dale, I realize I was going to have to be the bigger person in this moment and lift. And thank God I did, because I lifted and Dale went in there sliding all the way up three lanes, got in front of Schrader, and it would have been a heck of a wreck. But I'll never forget that look on his face and just how relaxed he was in that race car at that moment when I was freaking out because we're three wide."
For Labonte, there was no one more intimidating than Earnhardt at Daytona. Like Gordon, the fellow Cup champion received instruction from Earnhardt at the track. Mind games were part of Earnhardt's arsenal.
"One morning we were at practice, I was second, Gordon was behind me and Earnhardt was out front," Labonte said. "He has this mirror in his car like they have in a school bus. It's not very wide, but it was square and big.
"It was early in the morning and the sun was reflecting on it. I'm behind him and I'm looking through the car at his rearview mirror and I can see his head and I can see his eyes. His eyes are looking at me and I was like, 'See that there, now that's intimidating'. That's how he was at Daytona. He had that visual, 'Look behind you, block you, keep an eye on you' kind of thing."
Although Labonte knew he had a chance for the win in the 1998 Daytona 500 before the caution fell on the final lap, he knew it would be impossible to pass Earnhardt "no matter what."
"For a track that's handling-oriented, but it's also that drafting thing that he had figured out before anyone else in that era, he could intimidate anyone," Labonte said. "What he knew about the draft, how he handled the draft, how to manipulate side-draft, people got to the point where, 'We'll just follow him. It will be too difficult to pass him, we'll just follow him.'
"For years, people took it to the point where, 'We'll just follow him. Sit here and wait 'til the end and see what happens' mainly, because of his intimidation factor that he had — which was everywhere — but more pronounced at Daytona- and Talladega-type tracks."
Marlin built a reputation of his own at Daytona, particularly during the mid-1990s when he won three Gatorade Duels and became just the third driver to win back-to-back 500s. Marlin denied Earnhardt the 1995 Daytona 500 when he held him off at the line by just 0.61 seconds.
"He was an excellent driver in every aspect," Marlin said. "He could work the track good, his cars were always good — and it was the same thing at Talladega. The time we beat him at Daytona in '95, our car was better than his. Might have been different if he had new tires over the last two or three laps.
"That same year in the Busch Clash (now the Budweiser Shootout), I won the first half, he won the second. We had to start in the rear for the final segment — him and me both — and in a lap-and-a-half we were leading. It was a good ride just following him . . . through the inside, outside, bottom — and I was right on his tail. . . . It's just amazing some of the stuff he could do."
Team owner Eddie Wood has witnessed many of the greats at Daytona — including Tiny Lund, Cale Yarborough, A.J. Foyt and the soon-to-be NASCAR Hall of Famer David Pearson, who drove the Wood Brothers No. 21 car to Victory Lane in 1976.
Yet during Earnhardt's era, it was hard to catch The Intimidator.
"He had really good anticipation of what other drivers were going to do," Wood said. "He would do things that they probably wouldn't do — and he made it work."
Just as Earnhardt made his name synonymous with Daytona.
---
---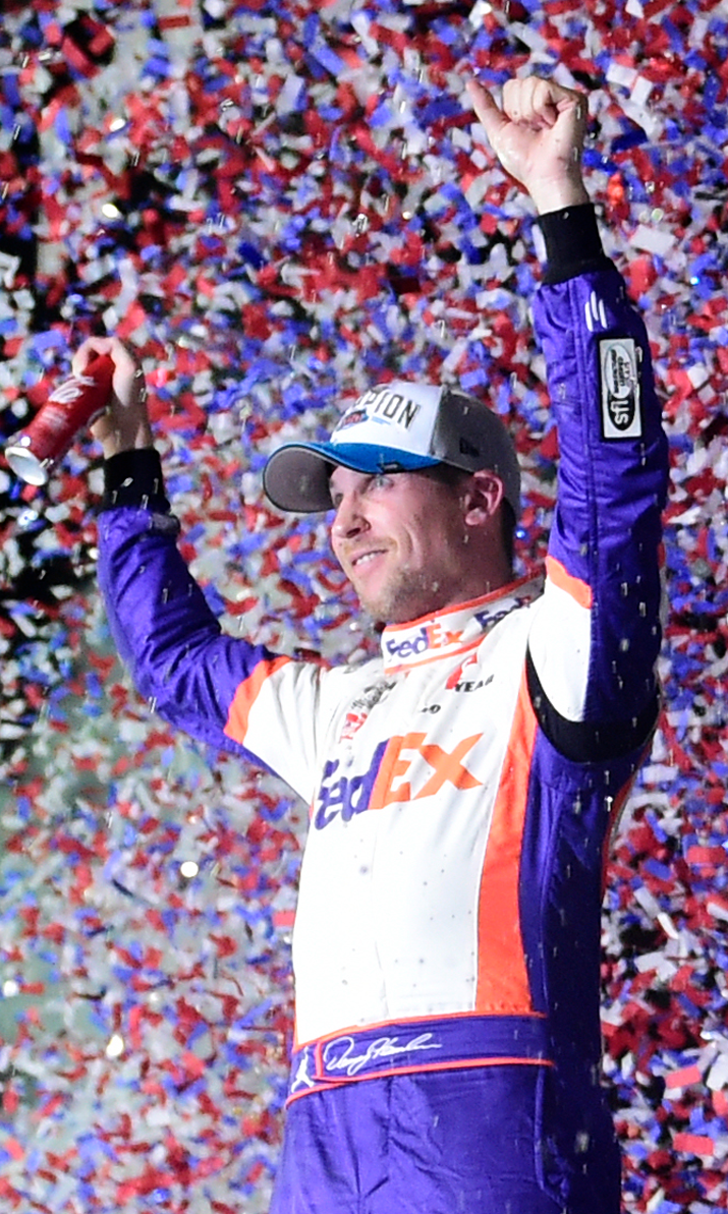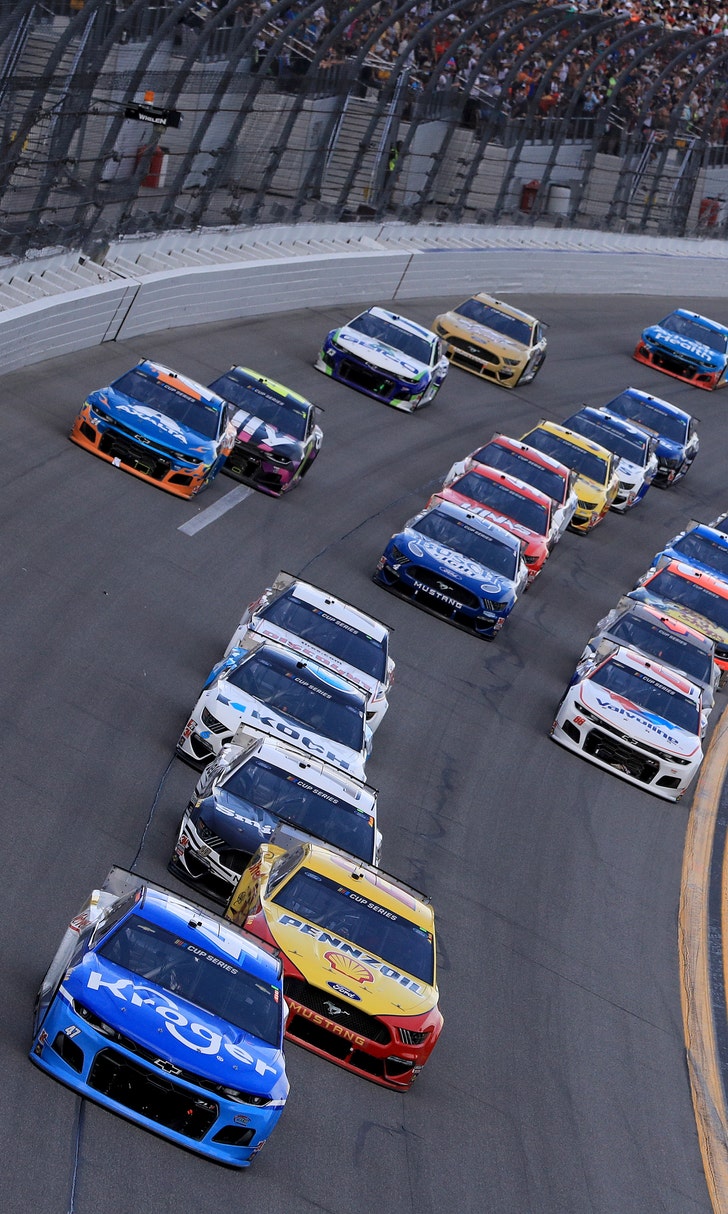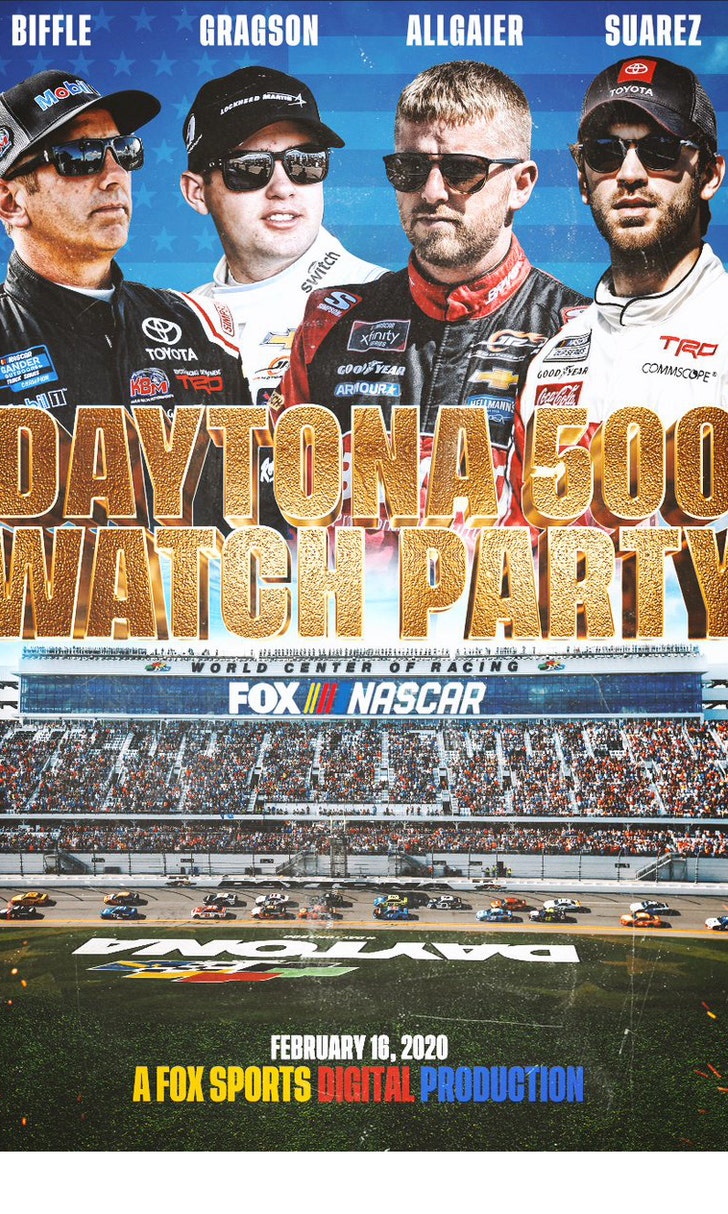 The Daytona 500 Watch Party!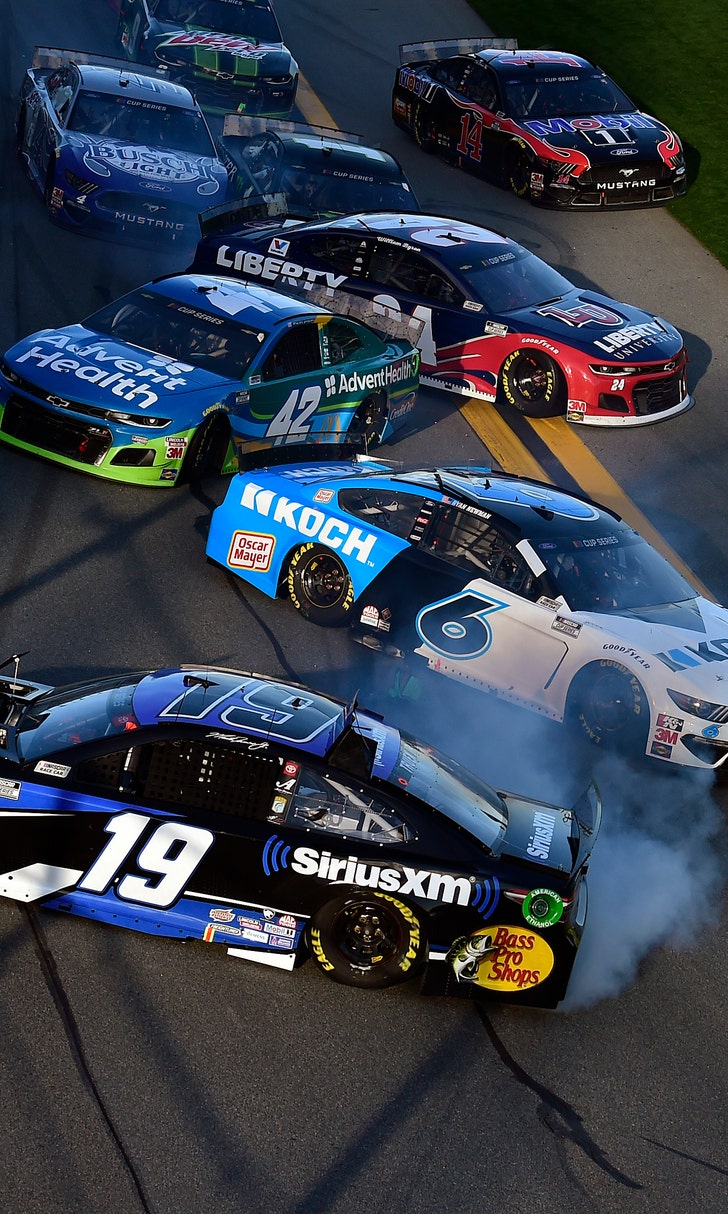 The Numbers Game At Daytona