Danica Tracker: Patrick struggles in Fontana
BY foxsports • February 20, 2010
Danica Patrick made her second career NASCAR start Saturday at Auto Club Speedway, and it proved to be a big struggle.

Check out the coverage of the race.

Related:Danica photos at Fontana


---

Danica Patrick: "Thanks guys. Sorry I sucked today." | Eury: "It's alright. It took Juan (Pablo Montoya) three years to do it."

Crew chief Tony Eury Jr. - "You did a nice job girl!"

Lap 152: Danica Patrick finishes 31st. Kyle Busch passes Biffle on the last corner for the win!

Lap 150: Greg Biffle gets Joey Logano loose and takes over the lead!

Lap 150 - Restart: Danica 31st. Joey Logano leads.

Lap 148: When we restart, it will be the first of three possible Green-White-Checkered finishes. Danica is 31st.

Lap 146: Danica asks "Will there be somebody pitting behind me?" Eury Jr. tells her yes, "You must come in like last time."

Lap 144: Danica will pit for four fresh tires under the caution. She is 30th.

Lap 144: Brendan Gaughan spins out to bring out the caution. Six laps remaining.

Lap 136: Danica 30th with 14 laps remaining in today's race.

Lap 126: Oh by the way - Danica's teammate Kelly Bires is 7th right now. Remember, she took his ride last week at Daytona.

Lap 124 - Restart: Joey Logano leads - Danica up to 29th, first driver three laps down.

Lap 122: Tony Eury Jr.: "Alright right guys stick it right there, we're going to take eight gallons."
Patrick: :Four tires?"
Eury: "Four tires. And a tear off. Good job off getting in there. Take it to the wall"
Ross: "Still inside the 40. 4000. There you go"

Lap 120: Danica asks team to tear off a tear off.

Lap 118: John Wes Townley spun coming off Turn 2 and is able to save it. Unfortunately, Ricky Stenhouse Jr. couldn't see through the smoke of the spin and wrecks trying to avoid Townley.

Lap 109: Danica is asking about how many more laps until the next stop - Tony Eury Jr. tells her "About 23."

Lap 102: Danica asking suggestions as to what line she should run to help her understeer issues.

Lap 100: Danica is 34th, 3 laps down. 50 laps remain.

Lap 99: Danica - "I'm pushing quite a bit."

Lap 91 - Restart: Danica is 38th. Greg Biffle leads up front.

Lap 90: Tony Eury Jr. to Danica - "Be smart. You're running real good laps there. I'm proud with how much you've learned.

Lap 89: Crew chief Tony Eury Jr. is asking Danica to check her oil and water temperatures. Then he tries a different radio, but it's not much better.

Danica isn't the only driver to get busted twice for speeding - former Nationwide Series champion Carl Edwards got his second speeding ticket.

Lap 86: Caution for Debris on the frontstretch. Danica is 36th, 3 laps down. Joey Logano continues to lead.

Lap 82: Danica is asking her team "Where the hell was I speeding?" Team is checking into it.

Lap 82: Danica got another speeding penalty - she will have to serve a drive-through penalty.

Lap 81: Danica pitting this time by.

Lap 80: Green flag pit stops have begun.

Lap 72: Danica is running 33rd, two laps down. Crew chief Tony Eury Jr. just told her to "keep hogging that No. 70 car (Mark Green) - keep after him"

Lap 66: Danica goes down two laps. Asking spotter Chip Ross where to go so she stays out of the way of the leaders.

Lap 62 - Danica radio - "I feel like I'm hurting the left rear tire too much."

Lap 58: Danica is battling a loose condition again - "I'm getting a little loose again." She is 35th, one lap down - but only 15 car lengths ahead of the leader.

Lap 56: Danica's crew is offering her encouragement after running a solid last lap.

Lap 49: Up front, Joey Logano is battling with Brian Scott for the lead.

Lap 46: Danica is up to 37th, still one lap down.Four of the six cars behind her are in the garage.

Lee Spencer: Before the race, Danica's crew chief Tony Eury Jr. told me "I'll be happy if she finishes in the top 20." He also expects her to do better in Vegas.

Lap 41: Chip Ross to Danica - "Nice corner, nice corner - that was a good job right there."

Lap 39: Spotter Chip Ross is telling Danica "Hit your marks, hit your marks - go after it girl!"

Lap 38 - GREEN FLAG: Joey Logano leads, Danica Patrick is 39th - one lap down.

Lap 37: Danica tells her team "I pulled 2nd (gear) and I didn't see any red (lights on the dashboard)." Spotter Chip Ross tells her to pull her belts up and get ready to restart.

Lap 36: Although she beat a few drivers off pit road, spotter Chip Ross tells Danica to start at the tail end - She was caught speeding on exit.

Lap 36: Four tires and fuel for Danica during her stop.

Lap 34: Danica radios in to her crew - "I'm loose when I get off the brake and if I roll off the speed I'm also loose."

Lap 33: Caution for debris in Turn 3. Danica is 40th, one lap down.

Lap 29: Danica is going to start using the low line again.

Lap 26: Danica radio chatter - "I was really loose when (a competitor) was on the outside of me."

Lap 24: Danica is experiencing radio problems with her team.

Lap 23: Danica on the radio - "Feels real loose up on the top."

Lap 22: Danica on the radio - "I'm practicing running higher."

Lap 21: Spoke too soon - TV replays showed Danica slid up coming off Turn 2 and got right in front of Kyle Busch earlier.

Lap 20: Kyle Busch and other leaders are now getting past Danica - she's trying to stay out of the way.

Lap 18: Race leader Joey Logano passes Danica and puts her one lap down.

Lap 12: Danica passes Danny Efland for 40th place.

Jorge Mondaca: Drivers and other key personnel in the garage said this would be a tough race for Danica - and so far that's proving true.

Lap 9: Danica is currently running between six and nine mph behind the leaders.

Lap 8: The only two cars that are behind Danica are start and park cars - their days are done. Danica is last car on the track.

Lap 6: Up front, there's a good battle between Joe Gibbs Racing teammates Joey Logano and Kyle Busch for the lead.

Lap 3: Danica moves up a spot to 41st.

Lap 2: No problems so far throughout the field. Danica dropped to the rear of the field - 42nd.

Green flag!

The parade laps are almost complete, and it's time to go racing.

5:39 p.m. ET - Command is given, we are minutes away from going green here in Fontana, Calif.

Patrick will start 36th in today's 300 mile race.

---
---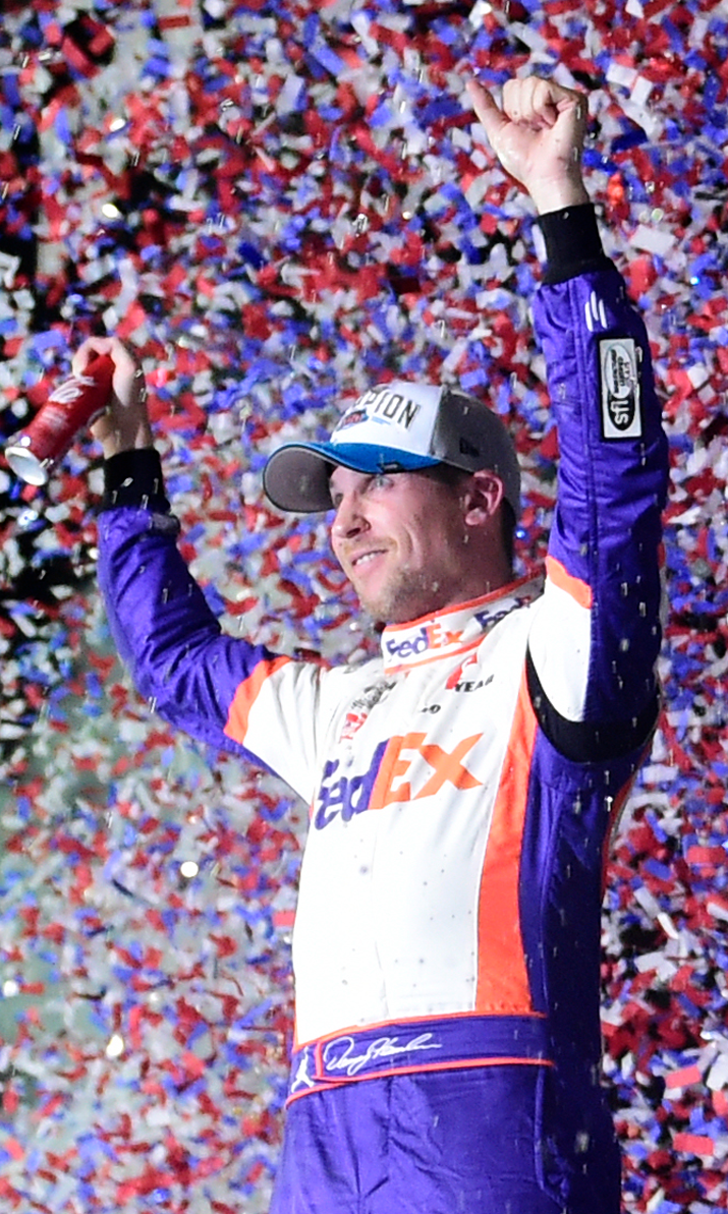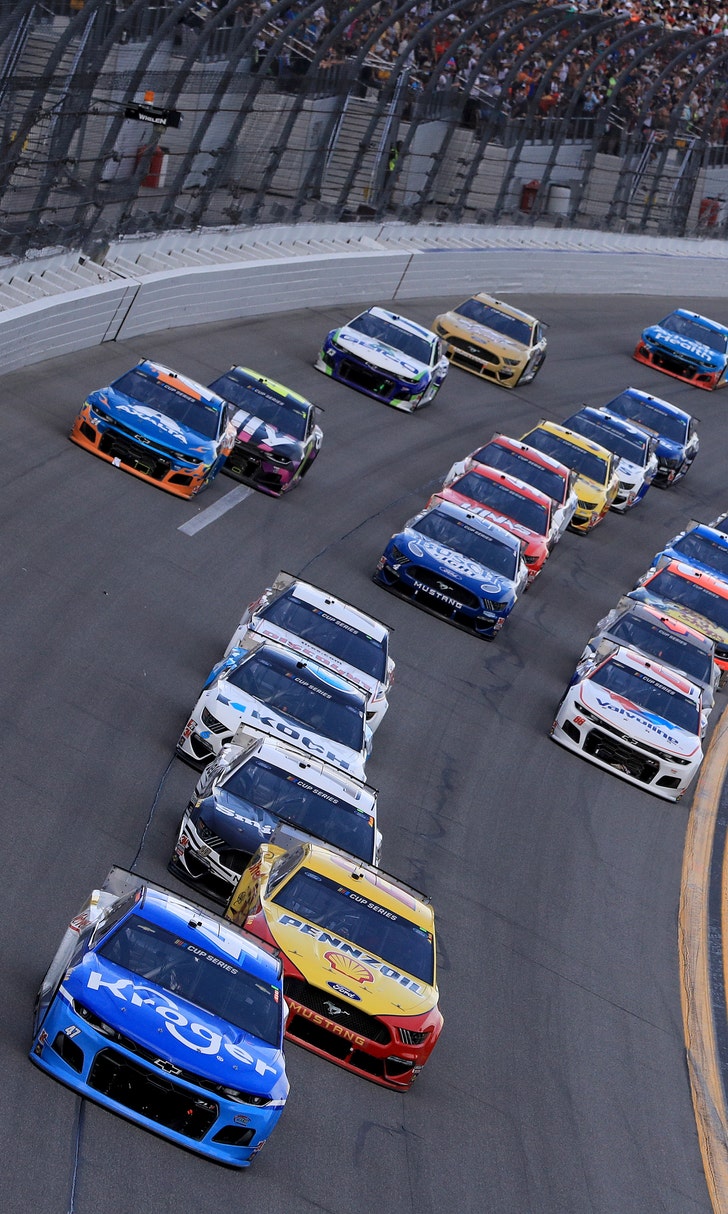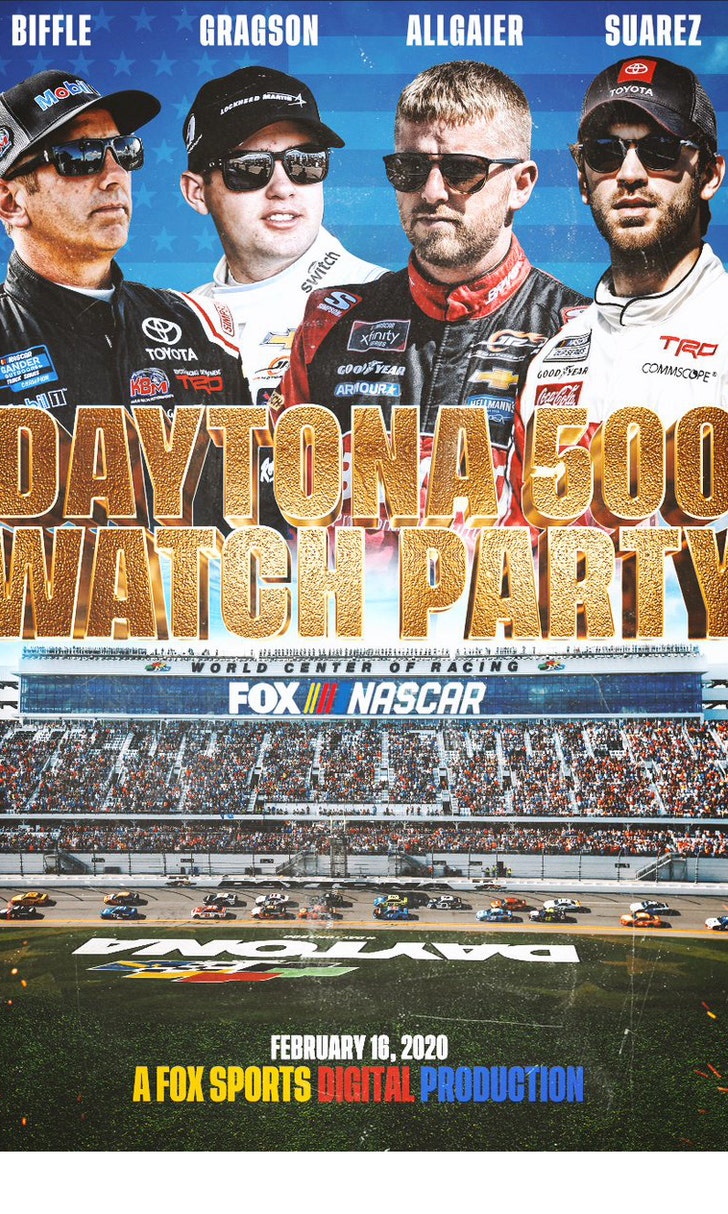 The Daytona 500 Watch Party!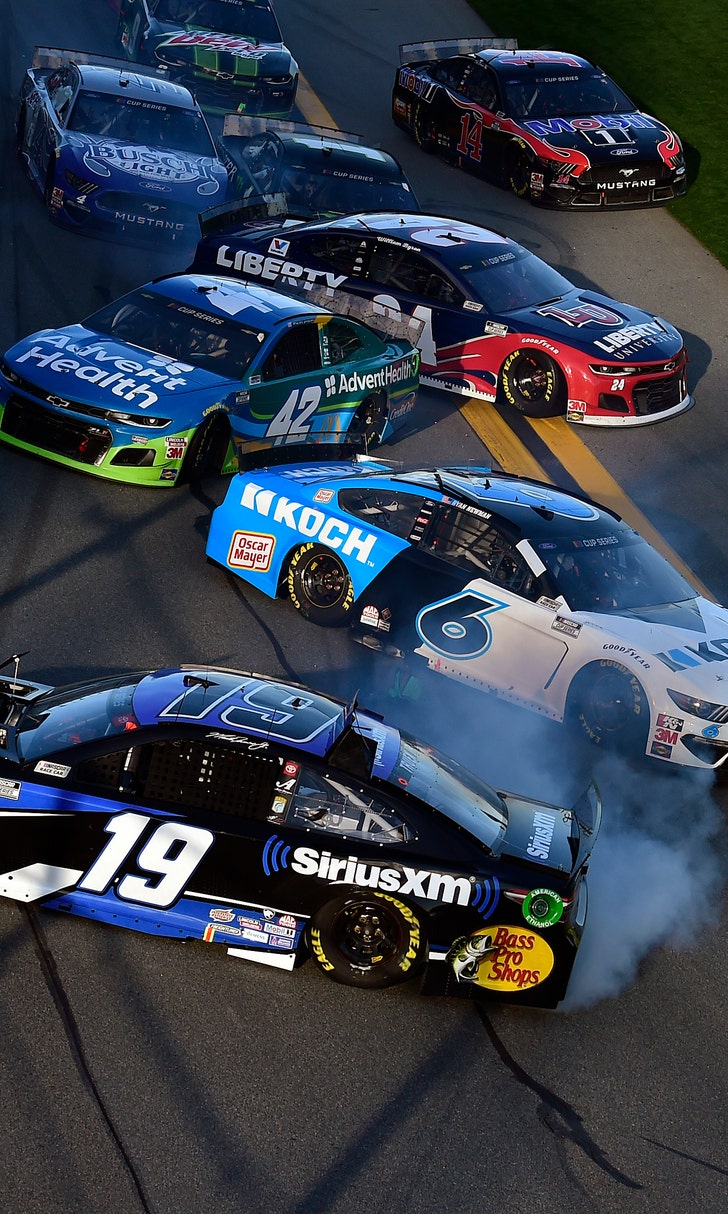 The Numbers Game At Daytona