Cup qualifying rainout at Kentucky leaves some teams unhappy
Published
Jul. 10, 2015 2:15 p.m. EDT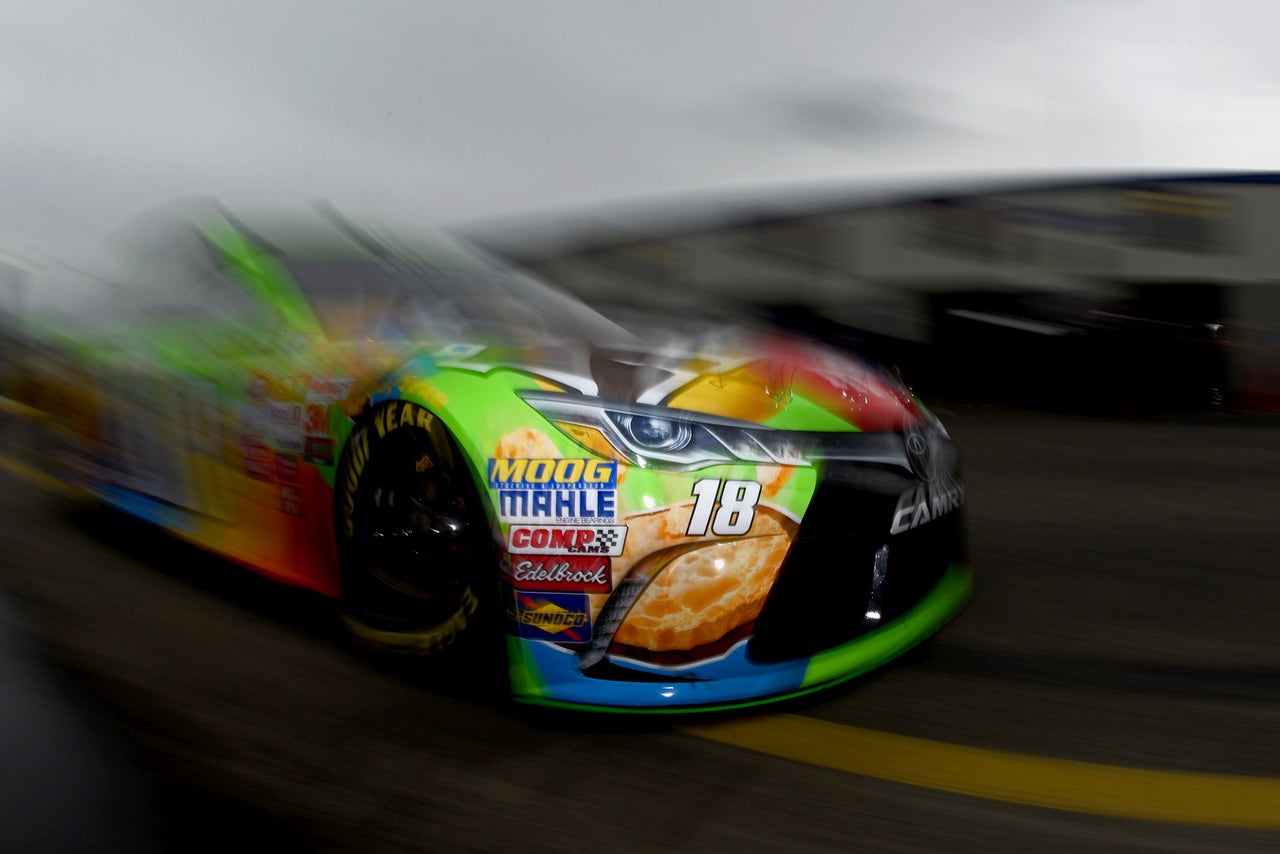 While time trials for Saturday's Quaker State 400 at Kentucky Speedway was not slated until 5:45 p.m. ET, NASCAR officials canceled both Sprint Cup and XFINITY Series qualifying Friday afternoon and remained committed to getting more laps of practice in.
As has been the case for much of the week, heavy rain hit the 1.5-mile after just 50 minutes of a scheduled three-and-a-half hour practice session Friday afternoon.
With Sprint Cup teams running a new aerodynamic package this weekend at Kentucky, the sanctioning body opted for more practice time instead of racing the weather to attempt to squeeze qualifying in. While track-drying efforts continued, NASCAR said Sprint Cup practice would continue until 6:25 p.m. ET once the racing surface is clear and dry.
Under the NASCAR rulebook, the field was set according to the first practice speeds. Kyle Larson will start on the pole with defending race winner Brad Keselowski second. Jeff Gordon, Joey Logano, Martin Truex Jr., Jimmie Johnson, Jamie McMurray, Denny Hamlin, Kyle Busch and Dale Earnhardt Jr. will round of the top 10.
For the second week in a row, Michael McDowell and Ryan Blaney missed the race due to rain canceling qualifying. Neither driver was happy about the situation, with Blaney saying the weather is playing with his emotions, while McDowell saw it as NASCAR making the rules up as they go along. Travis Kvapil also failed to make the race.
Eddie Wood, co-owner of the No. 21 Wood Brothers Racing Ford team, said he understands NASCAR's position. But he also said that doesn't make missing the race any easier.
"The rules are the rules. In the event of a rainout they set the field by attempts, which means how many races you've attempted to race this year. So us and the 95 (of McDowell) have attempted less races than 43 other guys, so we're the ones that are out but that's not a new rule," Wood said. "It's been that way for as long as I can remember, and then they set the field by the practice speeds. A lot of times people get it confused with how it works, but we've gone a long time and not missed a race with weather.
"Missing races, if you're slow and you miss a race because you're not fast enough, is a bad deal. That just kills your soul, but you can't do anything about the weather. We've been really lucky for the past seven years and haven't missed one, but now the numbers seem to be leveling out. I've always heard that numbers always level out and that's kind of what's going on. We're gonna run next week at Loudon, so we'll head up that way and hope we don't get rained out. I'm gonna stop looking at weather apps, I tell you that. I'm done as far as that is concerned."
The Wood Brothers Racing account also tweeted a statement to its fans, preaching patience.
Welp. Qualifying got rained out again. We've done all we can do. We will be back next week ? (Plz read attached note) pic.twitter.com/ZLlKkmBoPU

— Wood Brothers Racing (@woodbrothers21) July 10, 2015
McDowell and Blaney also took to Twitter to make it clear how they felt.
Unreal. Weather is clear and track drying is underway and @NASCAR cancels qualifying again. Let's just make the rules up as we go. #2Weeks

— Michael McDowell (@Mc_Driver) July 10, 2015
---
---