Crash in Daytona practice engulfs Kyle Busch, 9 other Cup cars
Published
Jul. 3, 2015 3:26 p.m. ET

A multi-car incident during Friday's opening practice session at Daytona International Speedway brought out the red flag and sent a number of teams scrambling to pull out backup cars for Sunday's race.
The incident occurred less than 10 minutes into opening Coke Zero 400 practice when Kyle Busch and Brad Keselowski got together while racing in a large pack of cars in Turn 2.
The contact sent Busch's No. 18 Joe Gibbs Racing Toyota down into Greg Biffle's No. 16 Roush Fenway Racing Ford, with both cars sliding up the track and blocking the track.
The chain-reaction crash collected Busch, Biffle, Martin Truex Jr., Denny Hamlin, Jamie McMurray, Ryan Newman, Trevor Bayne, Sam Hornish Jr., Michael Annett and Carl Edwards.
Each car heavily damaged in the incident were forced to backup cars, while Keselowski headed back on track when practice resumed. 
Taking to the high-banked Daytona track for the first time since sustaining injuries to his right left and left foot in the February XFINITY Series race, Busch was left standing in the garage looking at a torn-up race car.
"It just looks like the 2 (Keselowski) got into my left rear," Busch said. "He got away unscathed and trashed everybody else's stuff."
Keselowski accepted blame for the incident after climbing from his Team Penske car at the end of practice, but Busch said he was not expecting an apology. 
"It's his fault and he caused it, but I've also probably been in the same boat and caused them before," Busch said of Keselowski. "It's practice. You don't need to be up a guy's left rear. I rolled out and got out of the gas I don't know how many times during that session just to not run into the car in front of me just because it's not that time of the game to go."
Biffle said he was unsure what exactly happened.
"I was about sixth in line and it looked like the 20 (of driver Matt Kenseth) was looking around, I think it was the 20, I am not sure. He went to the middle or the top and I think the 18 (of Busch) was second in line and the 2 was third in line," Biffle said. "They all moved to the middle and I went to the bottom and the 2 acted like he was going to come back down a little bit. I wasn't sure what he was doing and then he instantly stopped and didn't come down there — but as I pulled up beside the 2, the 18 was sideways in front of both of us. I don't know if the 2 got in the back of the 18 or if the 18 just lost it.
"Thank goodness I didn't cause it but that doesn't help us any when we have a really good car that had good speed all tore up. Now we have to go to a backup car but that happens and I am sure it wasn't on purpose. None of these speedway wrecks are but it is just close quarters and it happens."
Until the wreck, Biffle said that it seemed like everyone was playing nice on the track.
"Yeah, It didn't look like anyone was doing anything stupid at that point to me," Biffle said. "Quite frankly when the accident happened we were technically single file in my eyes. ... These cars get bumping around and suck up quicker than what you might think. Stuff can happen quick."
Prior to the incident, Dale Earnhardt Jr. posted the fastest lap of the session at 202.284 miles per hour. Austin Dillon was second, Clint Bowyer third and Paul Menard fourth. Before being caught up in the incident, Bayne had posted the fifth-fastest time of the session.
Take a look at the complete practice results: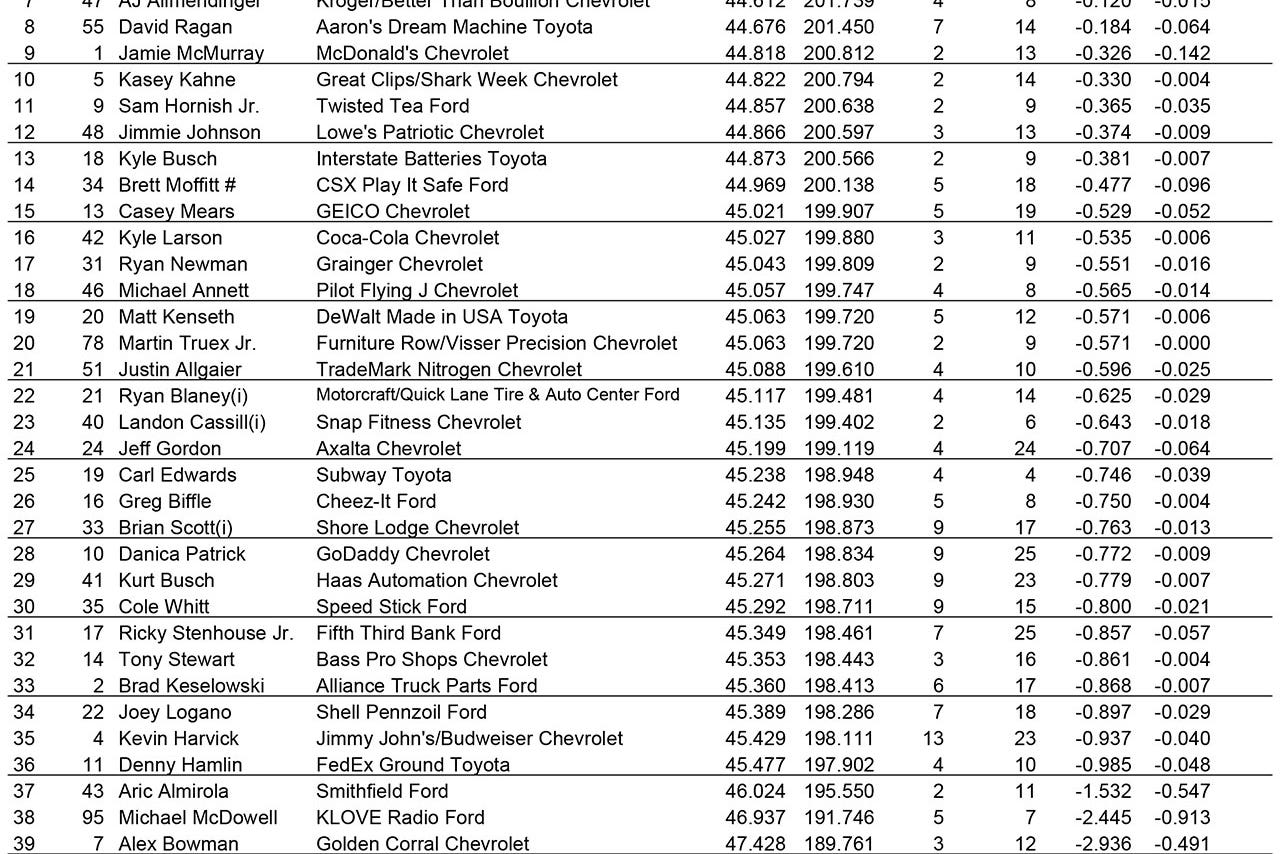 ---
---